Anti-inflammatory Turmeric Dressing (Paleo, AIP, Whole30)
This Anti-inflammatory Turmeric Dressing is the perfect addition to salads, roasted vegetables, and proteins. It's paleo, AIP, whole30, and super delicious!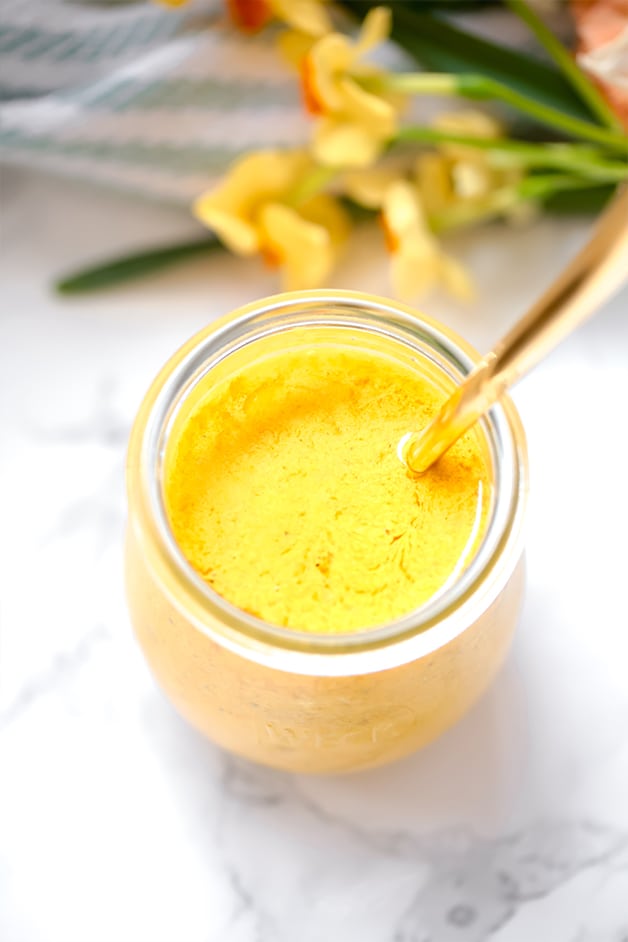 Spring is here and Easter is just around the corner! I love this time of year. I love the feeling of the weather getting warmer, I love the bright colors, and I love the light and delicious flavors. Salads and fresh vegetables are one of my favorite things to eat this time of year, and I realized I was lacking a good sauce or dressing to top them with.
This dressing is paleo, Whole30, and AIP, and simple to make at home. Most turmeric dressings are tahini based (made from sesame) however, many have sesame allergies and as it's a seed, it's not compliant on the autoimmune protocol. I figured it was time to take matters into my own hands and make a dressing that's tahini free!
Even though it's tahini free, it's still nice and creamy and packed with flavor. And can we talk about that color? So perfect for spring!
More importantly this dressing is packed with anti-inflammatory ingredients like turmeric, ginger, and olive oil. The vast majority of conventional salad dressings are made with soybean oil, canola oil, safflower oil, and other seed oils that influence poor inflammation in our body. Even so-called healthier dressings are made with sunflower oil. What's the point of pouring inflammatory oil all over what's supposed to be a nourishing salad?
This dressing does not fall under that fake-healthy dressing category. It's full of real ingredients that are known for aiding inflammation in the body!
The Ingredients You Need For The Turmeric Dressing
Coconut Cream
This is the creamy base that substitutes for what would usually be tahini. If you don't tolerate coconut but can have tahini, I would try that. Otherwise, this isn't a coconut free dressing.
Olive oil
My favorite high quality brand if California Olive Ranch.
Lemon
This is the acid in the dressing.
Turmeric
Of course!
Honey (optional)
This is an optional addition if you want a bit of sweetness. If you're vegan, following a Whole30 or are avoiding sugar, you can leave it out.
Parsley and ginger
More flavoring.
Salt and black pepper
Omit the black pepper if you're AIP, but note that it helps with the bioavailabity of turmeric.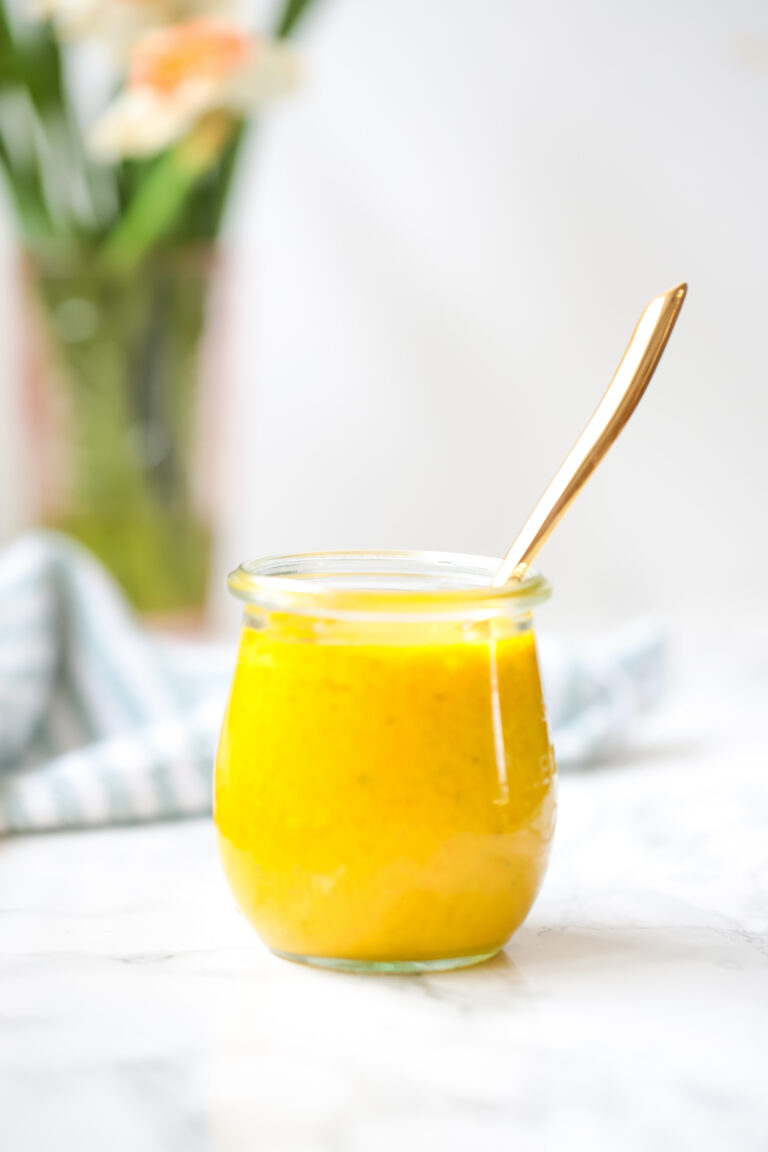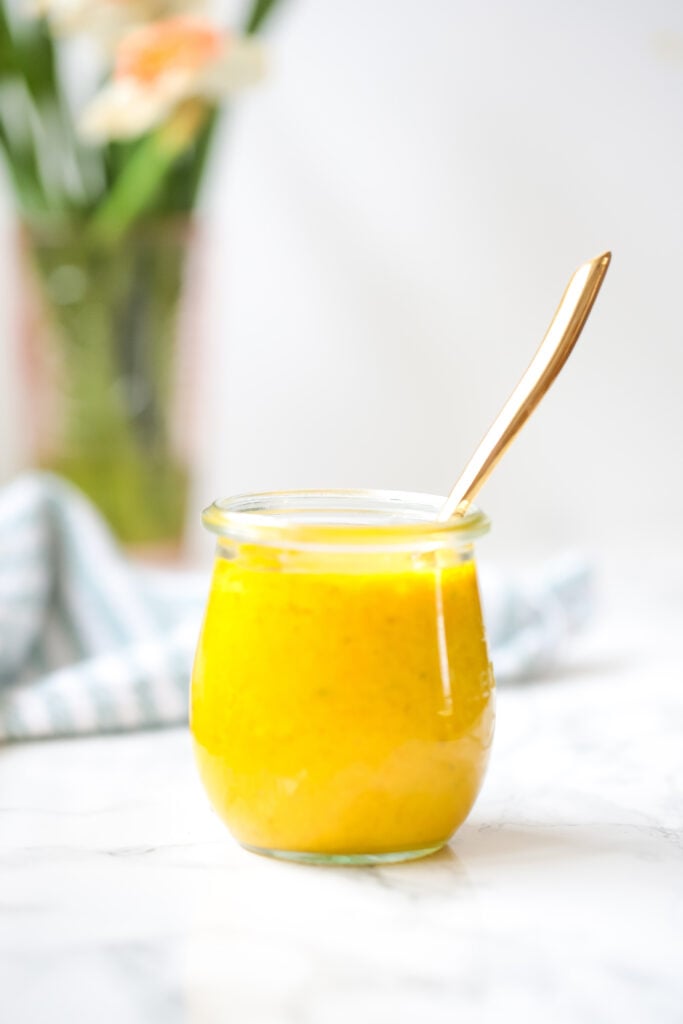 Print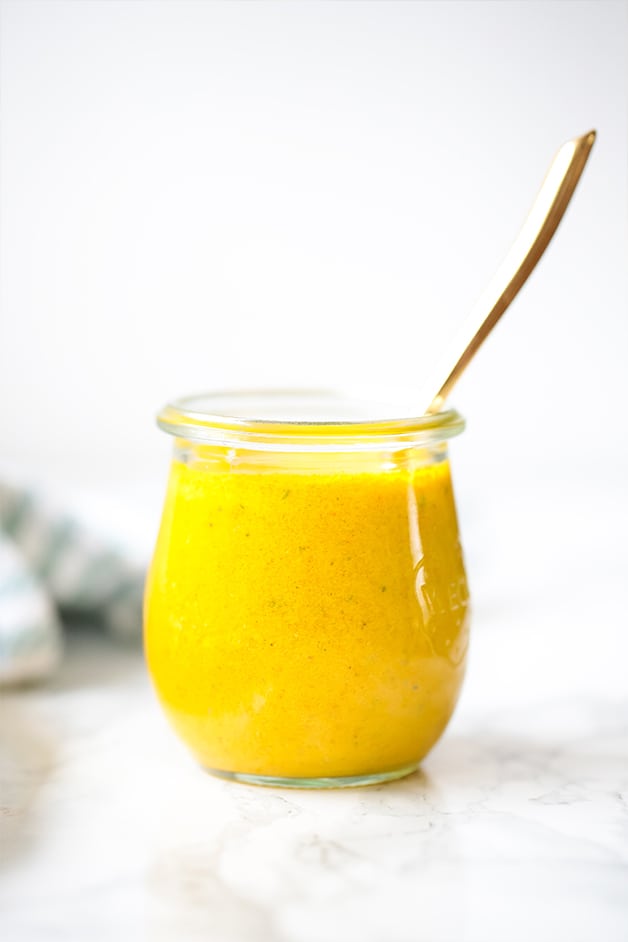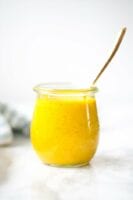 Anti-Inflammatory Turmeric Dressing (Paleo, AIP, Whole30)
---
Author:
Total Time: 5 minutes
Yield: 6-8 servings 1x
Description
This creamy and delicious dressing is perfect to pour over salads, roasted veggies, and proteins!
---
1/3 cup coconut cream
1/2 cup olive oil
1 tbsp fresh lemon juice
1 tsp turmeric powder
1/2 tsp ginger powder
2 tsp fresh parsley, chopped
1/2 tsp sea salt
1/8 tsp black pepper (omit for AIP)
1 tsp raw honey (optional… omit for Vegan and Whole30)
---
Instructions
Pour the coconut cream and the olive oil to a tall glass. Using an immersion blender, blend until the two are fully combined.
Add in the remainder of the ingredients and blend with the immersion blender until smooth
Serve fresh and enjoy!
Notes
For storage, store in the fridge in a glass jar for up to a week. The oil will separate, so run under warm water and re-whisk to serve.
All nutritional information are estimations and will vary. Estimations do not include optional ingredients.
Nutrition
Serving Size: 1 serving
Calories: 142
Fat: 14g
Carbohydrates: 0.5g
Fiber: 0.1g
Protein: 0.2g