Chicken, Asparagus & Plantain Breakfast Balance Bowl (AIP, Paleo, Whole 30)
One of the most common questions I get is how I eat breakfast without eggs, milk, coffee and grains. What does one eat for breakfast if not oatmeal, cereal, or scrambled eggs? A few years ago, I would've had the exact same question! I was an oatmeal and egg white fiend (my husband jokes about how much I bring up oatmeal in my childhood stories) and often had cereal as a meal replacement. Society makes us believe that there are acceptable and non-acceptable breakfast foods and eggs and grains are about all you can logically have for breakfast. News flash… they're wrong.
Though it's both tempting and comforting to go for traditional breakfast foods, it's not necessary. Breakfast can be anything. And in reality, breakfast should be balanced and nutrient-dense to set the tone for a balanced day. Grain heavy breakfasts with fat-free milk and caffeine hits spike our blood sugar and get us started the wrong foot for the day.
That's why I'm sharing an easy, healthy, balanced breakfast bowl that's paleo, AIP, and whole 30 compliant, made with chicken, asparagus, greens, plantains, and avocado sauce! Plus, this week is my birthday, and I love birthday breakfast 😉 So for me, I'm having it as a birthday breakfast bowl this year!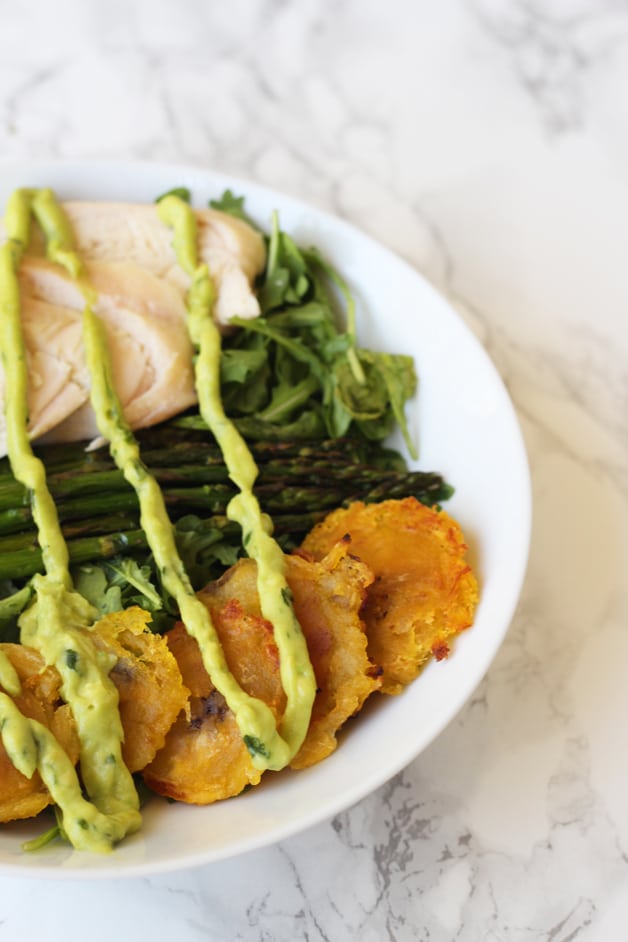 So let's break down what a grain-free, egg-free, AIP breakfast needs…
Keep in mind that this varies from person to person. I don't always have starch at breakfast, and sometimes I have lighter or bigger breakfasts depending on my food and what I'm doing that day. But generally, here are some guidelines…
Protein
Healthy protein is important for starting the day!
Green or Non-starchy Veggies
Green and non-starchy veggies are always a must! They're packed with vitamins and nutrients that we need for a healthy diet and starting our day with them is always a good idea!
That may mean having a leafy greens like kale, arugula, or romaine lettuce, or a veggie like an asparagus, cabbage, cauliflower, broccoli etc. Whatever it is, make sure the bulk of your plate is veggie-based.
Starchy Veggies or Fruit (potentially)
This may or may not be applicable to most people depending on whether or not they're battling gut issues or blood sugar regulation, but generally speaking, a little bit of starch is a good way to bulk up breakfast and add healthy carbs.
In this particular breakfast bowl, the starch of choice are plantains. However, you can also use sweet potatoes, winter squash, carrots, beets, or other starchy veggies of choice, as well as some fruit.
Healthy Fat
Healthy fat is an important part of every meal! Healthy fats help feed our brain cells, and satiate us longer than simple sugars. Plus, it makes everything taste better 😉
I recommend adding some sort of healthy fat to every meal as a way to balance blood sugar, and keep you fuller longer. In this bowl, the fat is from the avocado sauce. You can also use grass-fed butter or ghee, olive oil, avocado oil, nuts (if tolerated), and coconut products like coconut yogurt, butter, or oil.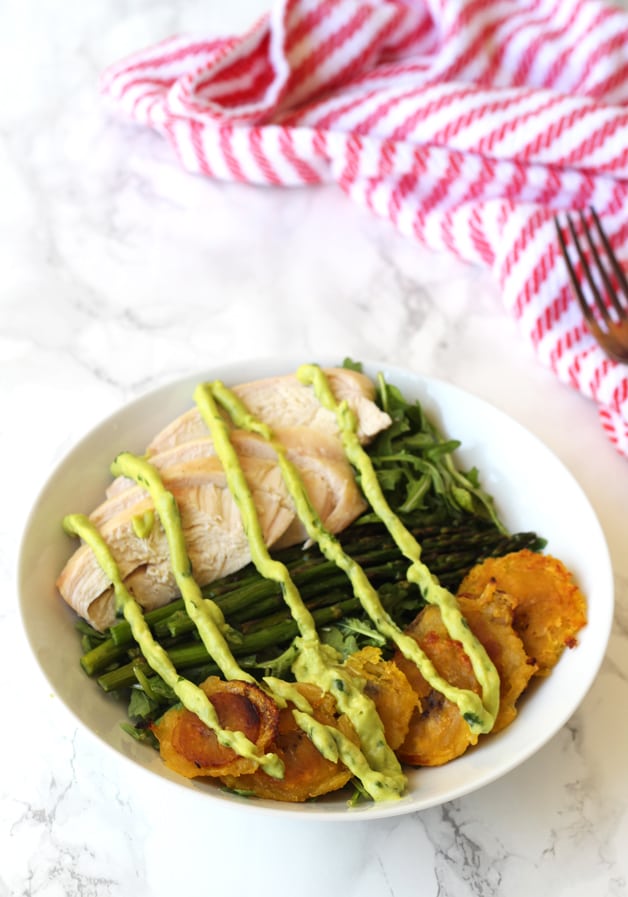 How To Serve & Store This Breakfast Bowl
I know it's not always feasible to have a sit down breakfast made from scratch. Most days, I'm meeting with clients early, running off to an office, or already deep in writing by 8 am. That's where freezing comes in!
Here's how you assemble & store this bowl…
Freeze the following:
Cooked chicken
Cooked plantains
Cooked asparagus
Then defrost in the fridge overnight and serve the following fresh ingredients:
Arugula
Avocado sauce (or fresh avocado)
That way, this doesn't have to be a fresh-made breakfast bowl every single day. Of course, it's always best fresh, but having the option to throw it in the freezer, defrost overnight, and top with the fresh ingredients is a great way to have a nourishing breakfast fast!
Print
Chicken, Asparagus & Plantain Breakfast Balance Bowl (AIP, Paleo, Whole 30)
---
1 pastured chicken breast (or thigh)
1 medium green plantain, sliced
1 bunch of asparagus
2 cups fresh arugula
3–4 tbsp coconut oil or avocado oil
1–2 tsp salt
2 serving avocado cilantro lime sauce
---
Instructions
Preheat your oven to 375 F
Add the chicken breast to a sheet of parchment paper with 1 tbsp of coconut oil and salt
Bake in the oven for 30-35 minutes or until internal temperature reaches 165 F
While the chicken is cooking, add the asparagus to an other baking sheet lined with parchment paper and seasoned with salt and coconut oil
Cook for 20-25 minutes or until crispy
During the last 10 minutes or so, heat a pan with coconut oil and add the green plantain slices
Cook until the slices become softer and browned
Remove from the heat and smash them down with the bottom of a glass cup, flattening them
Add back to the oil, adding more if needed and finish crisping
After all of the components are cooked, serve over a bed of fresh arugula and top with avocado cilantro lime sauce
Serve immediately or use freezing instructions listed above
I hope you guys love this bowl as much as I do! It's the perfect birthday treat to myself, and a great way to start the day <3