Greek Chicken Burgers (Paleo, Whole30, Keto, AIP)
These Greek Chicken Burgers are paleo, whole30, keto, and AIP! They're topped with a dairy-free tzatziki and feature traditional Greek-inspired flavors.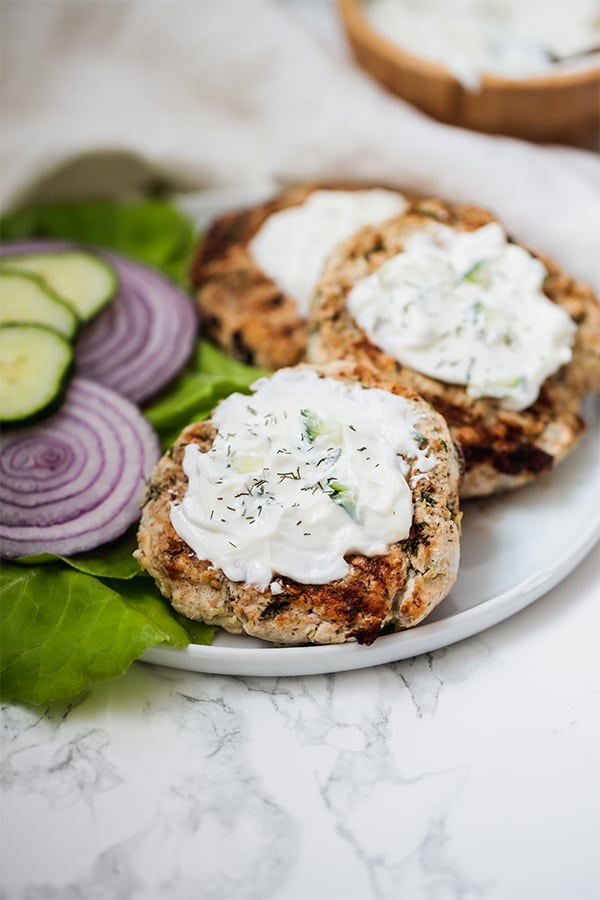 I'm not of Greek descent, but I'm obsessed with Greek food! Those fresh, Mediterranean flavors are always delicious, and I will never turn down a Greek-inspired dish. Not only does it taste incredible, but they're really all pretty healthy. Olive oil, fresh herbs, tons of veggies, and delicious proteins like lamb and chicken… sign me up! I got a craving for some Greek food recently and decided to try it in burger form with these Greek Chicken Burgers!
What makes these burgers special is that they're free of any flour, eggs, or filler ingredients. They're paleo, Whole30, AIP, and even great for keto. It's great as a burger bowl, or in between some butterleaf lettuce as a bun!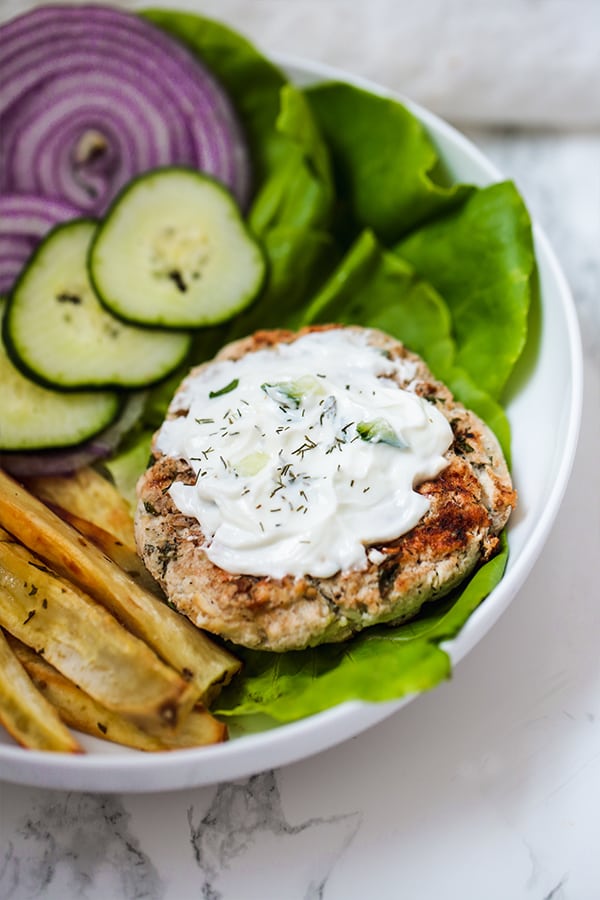 And what would a greek burger be without a tzatziki sauce? If I only had to choose one sauce to have for the rest of my life, it would be tzatziki. This one is dairy free and is made with coconut yogurt. Of course, if you tolerate dairy you can just go for a Greek yogurt, but this one works best for all diets!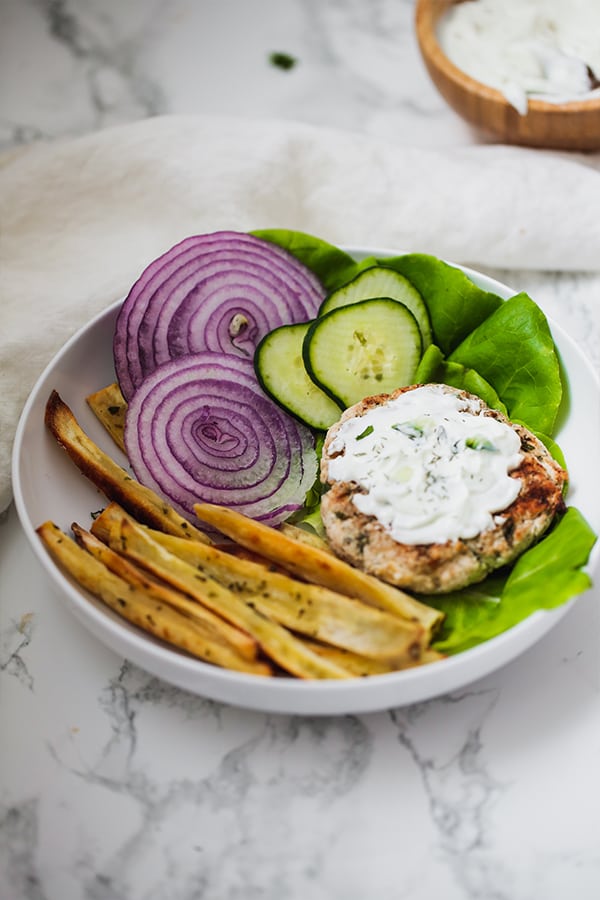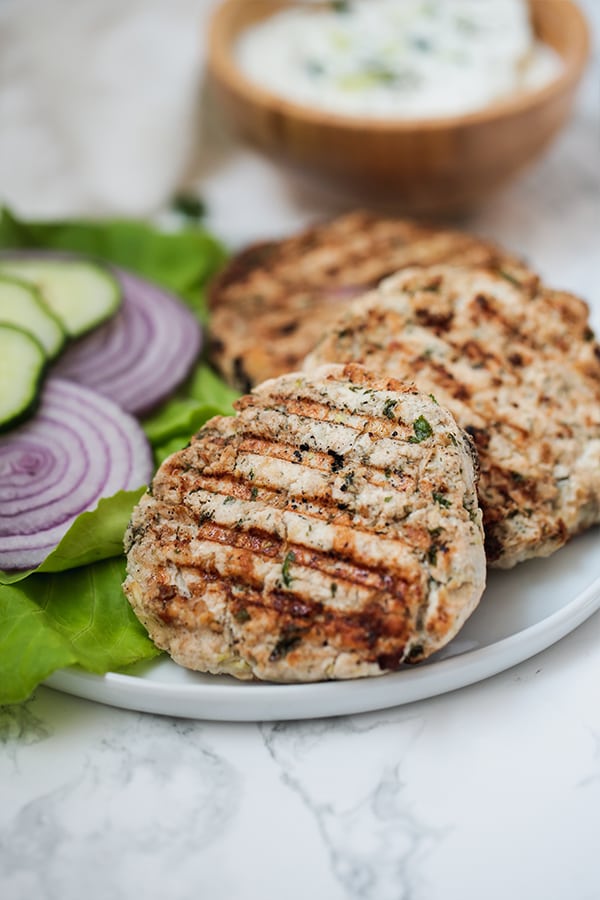 The Ingredients for the Greek Chicken Burger
Ground chicken
If you can't find ground chicken at the butcher counter, you can also use a food processor to grind your own at home. Or, you can just use turkey!
Zucchini
I always have to add hidden veggies to burgers! Zucchini goes great with the greek flavors and has a neutral flavor itself. The zucchini is shredded (you can use a food processor or a grater) and the excess water is removed.
Red onion
This adds a lot of zest and flavor to the burger.
Coconut flour
This acts as a binder in the burger. Technically, you could use other flours like almond flour if you tolerate nuts, or you could experiment with leaving it out.
Lemon
This is used in both the burger and the tzatziki.
Garlic, dill, and parsley
Coconut yogurt
This is the tzatziki base. You could use regular greek yogurt if you tolerate dairy. I would recommend the brand co yo for dairy-free or make your own at home.
Cucumber
Another hidden veggie inside the tzatziki.
Print
Greek Chicken Burgers (Paleo, Whole30, Keto, AIP)
---
Author:
Prep Time: 5
Cook Time: 20
Total Time: 25 minutes
Yield: 4-5 burgers 1x
Scale
Ingredients
For the burger
1 lb ground chicken
1 cup shredded zucchini, with excess water squeezed out
1/4 cup red onion, finely diced
2 tbsp coconut flour
Juice of half a lemon
2 tbsp parsley, chopped
2 tsp dried dill
2 tsp garlic powder
2 tsp dried oregano
1 tsp sea salt
1/2 tsp black pepper (omit for AIP)
1 tbsp coconut oil or avocado oil (and extra for frying)
For the tzatziki 
---
Instructions
For the burger
Prepare either a grill or a grill pan and set to high heat. Add coconut oil to the grill pan if using.
Mix the ground chicken with the seasonings, zucchini, red onion, coconut flour, lemon juice, and coconut oil until well combined.
Form the chicken into 4-5 burgers, evenly portioned.
Grill the burgers on the grill surface (using extra coconut oil if frying) for about 5 minutes on each side, or until internal temperature reaches 165 F.
Top with optional tzatziki and serve in lettuce cups like a bun, or enjoy the burgers on their own in a burger bowl
For the tzatziki 
Combine all of the ingredients in a bowl and mix well. Add more salt to taste.
Notes
All nutritional information are estimations and will vary. Estimations do not include optional ingredients.
Category: Main Dish
Method: Grill
Cuisine: Greek
Nutrition
Serving Size: 1 serving
Calories: 241
Fat: 11.1g
Carbohydrates: 7.9g
Fiber: 1.7g
Protein: 26.9g
Keywords: burger, greek burger