Are you ready to take control of your gut health?
"All Disease Begins in the Gut"- Hippocrates.
Our gut health is central to our health as a whole!
Do you suffer from autoimmune disease, fatigue, food allergies, and digestive issues? Is one of your goals to finally take control of your health?
It all starts in the gut!
I should know! I'm Michelle, nutritional therapy practitioner and Hashimoto's thyroiditis sufferer. I thought I was doomed to a life of debilitating symptoms and more until I discovered one of the best-kept secrets… 
Addressing The Gut!
This real food gut healing approach played a huge role in turning my health around and getting my Hashimoto's under control. It took me from a life of fatigue, mood swings, skin issues, and stomach pains, to a full and passionate life!
This is the very same paleo, gluten-free, autoimmune paleo, real food approach the I take with my own clients and used to turn my life around!
But, let's be honest… gut health it's hard. It's hard to visualize, and it's hard to put into practice.
What do you eat if you have to ditch grains? How do you have the time to cook so much? What else do you need to address rather than just food? 
This e-book answers all of those questions with over 70 pages worth of meal plans, shopping lists, recipes, and more…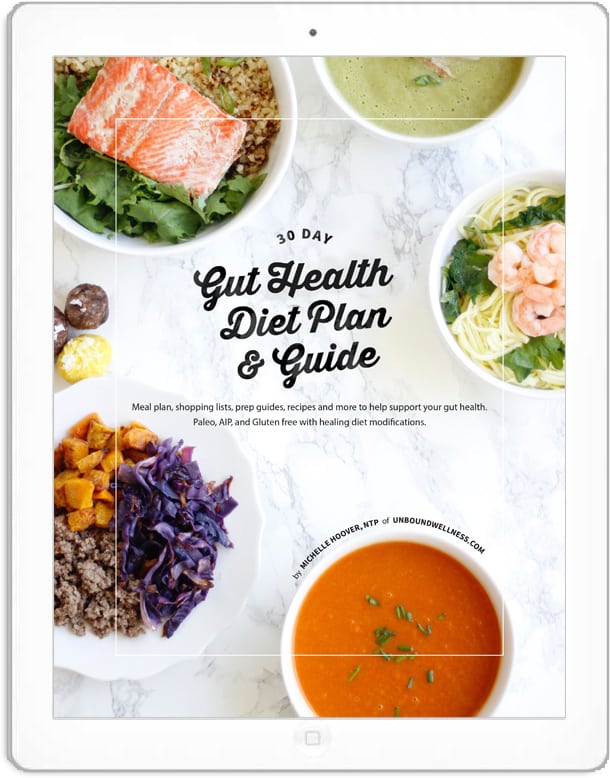 30 Days of Autoimmune Paleo Meal Plans
30 days of breakfast, lunches, and dinners, snack ideas, and pictures of full days of eating to make the plan easier to follow.
Shopping Lists & Meal Prep Guides
Four weeks of shopping lists with instructions on how to meal prep a weeks worth of healing foods in two rounds.
AIP Recipes with GAPS and Low-FODMAP Modifications
20+ fast, easy, and nutrient dense recipes that are autoimmune paleo with GAPS and Low-FODMAP modifications.
NTP Approved Info & Tips on Gut Healing
Fully equip yourself with more than just food knowledge around gut health.
A Look Inside The 70+ Page E-Book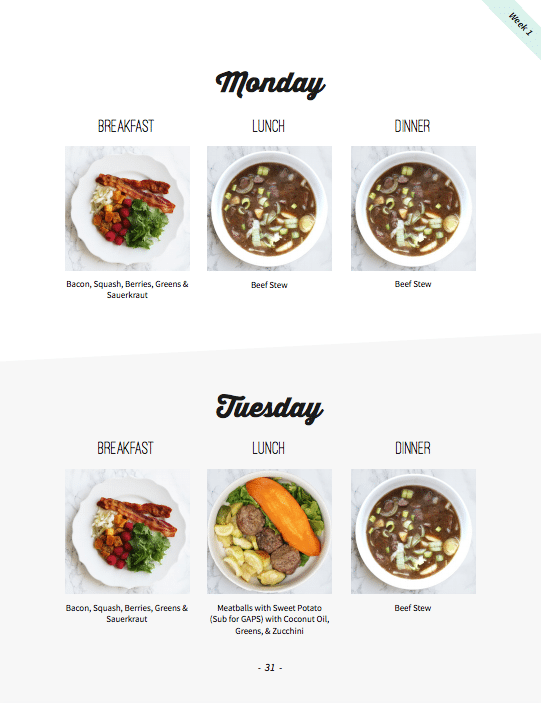 30 days of gut healing meals with pictures of entire days of eating!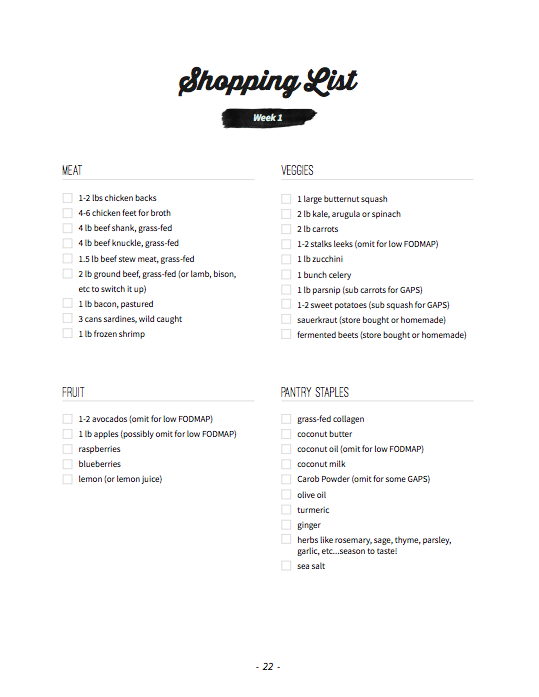 Over four weeks of shopping lists and prep guides to batch cook everything in two rounds, and keep you organized.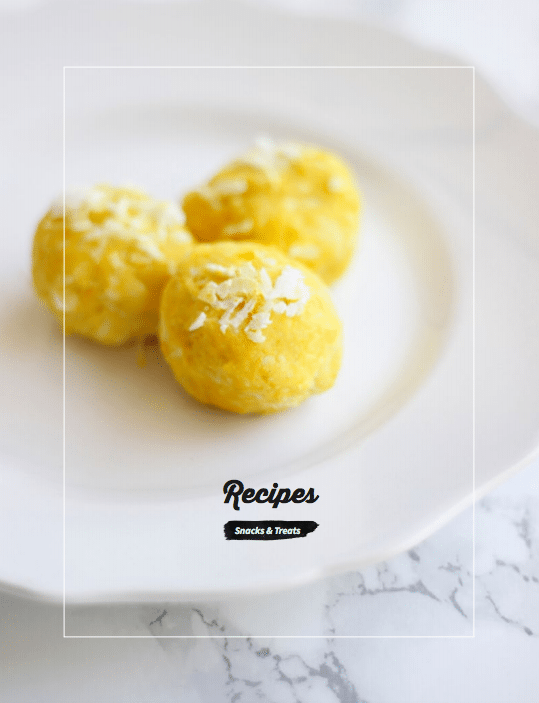 Over 25 recipes for gut healing foods like bone broth, soups, proteins, vegetables, and even snacks and treats.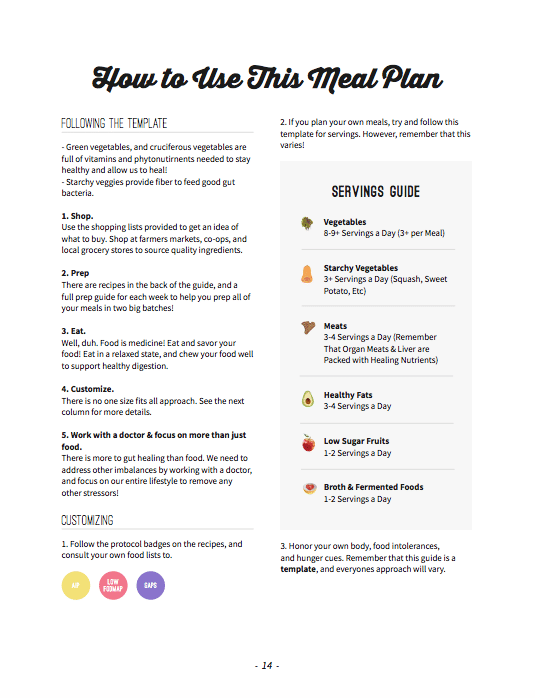 Information on gut healing beyond food, customization, different diet protocols, and more!
"I have been working with a young woman for 2 years on her gut. Last week she tested much improved. I ask her what changed……diet. After yrs of me talking about diet, she was able to improve her eating with your book." – 
Tim Rhodes, DC | Ozark Wellness Practice
"Michelle is an incredibly knowledgeable Nutritional Therapy Practitioner with plenty of experience in healing the gut + educating others on why and how certain foods are so powerful in the healing process. Not only does she give you the tools you need to heal your gut once and for all, but she explains WHY this approach works. This plan is perfect for anyone, but especially for the person who has been seeking an answer to their digestive issues for years with no success. This 30-day plan will change your life + outlook on gut health!" – Caitlin Eberly, NTP  | What Cait Ate
"Michelle's 30-Day Diet Plan and Guide is a great start for anyone looking for help meal planning for the autoimmune protocol, especially if they'd like to further modify for the sometimes-tricky elements like layering a low-FODMAP approach." – Mickey Trescott, NTP | Autoimmune Wellness
A Word From The Author
"I'm Michelle Hoover! I'm a nutritional therapy practitioner, blogger and recipe writer here at Unbound Wellness and I created this meal plan because this approach works. It's been five years since I embarked on my gut healing journey to heal my Hashimoto's and since I've adopted this approach, my health, energy and life have transformed.
This is the guide that I wish would've existed five years ago when I was trying to figure out gut healing and AIP.  I'm so excited to offer this much needed support to you!"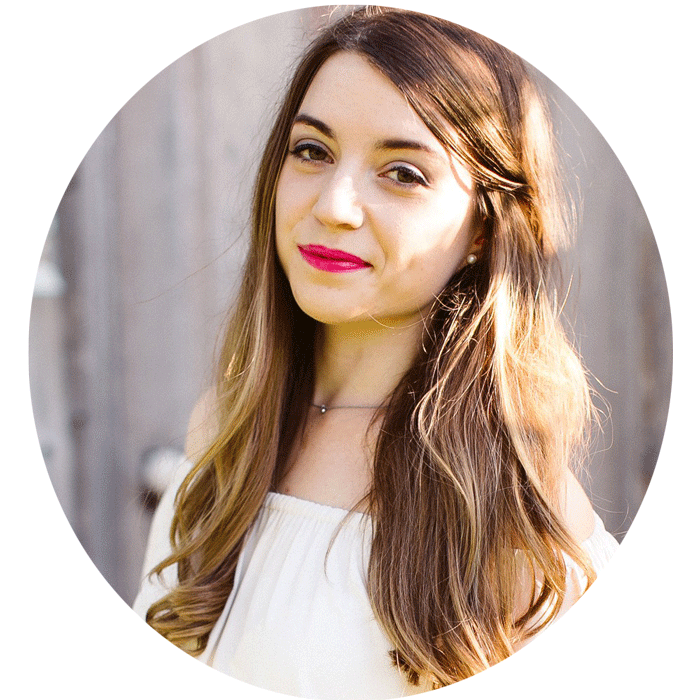 Is this e-book all I need to heal my gut?
No.
Real food has a huge impact on our gut health, but it's not all that there is to heal your gut. I discuss in the plan that there are several different factors like infections, stress, lifestyle, and toxins, and give you tips on how to start addressing them with a practitioner. You need one on one support with a doctor to fully address gut health. This e-book is just to give you ideas and new recipes!
Is this meal plan Paleo, AIP, GAPS, and Low FODMAP?
The meal plan is 100% paleo and AIP (autoimmune protocol) compliant. There are zero grains, no dairy, no eggs, and no nuts. The recipes also have GAPS and Low FODMAP modifications.
What if I want to change up the meal plan?
That's perfectly fine! I encourage customization and have information on how to customize your approach. As long as you are eating healing foods, I encourage you to do what works best for you to make this sustainable. This meal plan is just a template that you can build off of further and is not perfect for everyone.
Will this meal plan diagnose or treat disease?
No. This meal plan is 100% informational and is not intended to diagnose or treat disease.
Are you a doctor or an RD?
No. I am not a doctor. I am a nutritional therapy practitioner certified by the nutritional therapy association.
Michelle of Unbound Wellness LLC is not a doctor, and reading this content does not form a doctor/patient relationship. The materials on this site are for general information only and not intended nor implied to be a substitute for professional medical advice. Always consult a healthcare provider to determine the appropriateness of the information for your own situation and for any questions.
The techniques, suggestions and content expressed in this website are intended to be educational only. The author, Unbound Wellness LLC is not recommending medical advice of any kind, nor does she intend for any information on this website or within the materials provided to replace medical advice, diagnosis, or treat, or cure any health issue such as a disease, condition, or illness.
Before beginning any nutrition and/or exercise program, one must consult with their doctors or other licensed physicians and receive full clearance. The author, Unbound Wellness LLC claims no responsibility to any person or entity for any liability, loss, or damage caused or alleged to be caused directly or indirectly as a result of the use, application or interpretation of the content on this website.
In no event will Unbound Wellness LLC be liable for any loss or damage including without limitation, indirect or consequential loss or damage, or any loss or damage whatsoever arising from loss of data or profits arising out of, or in connection with, the use of this product.
Due to recent changes in law from the FTC, it is required that all companies identify what a "typical" result is. The results and opinions depicted on this website are actual results of real participants who followed the principles described in this e-book. If you don't do anything, you can expect no results. If you want results, you should try following this e-book as described.