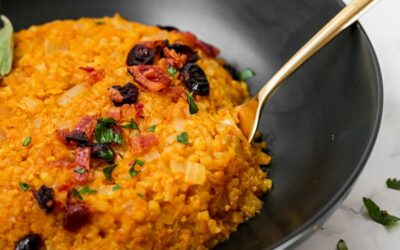 This post contains affiliate links. This cauliflower pumpkin risotto is a delicious autumn side dish! It's the perfect balance of savory or lightly sweet and is paleo, whole30, and AIP compliant. I just love pumpkin season. Pumpkin is often seen as just another sweet...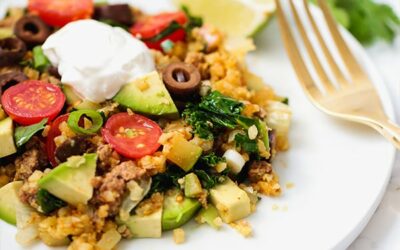 This post contains affiliate links.  These 10 Paleo & AIP Recipes made with ground beef are cheap, easy and convenient to make for dinner, or serve for leftovers! When I first started going paleo and AIP, I was incredibly nervous about my grocery bill. I never really...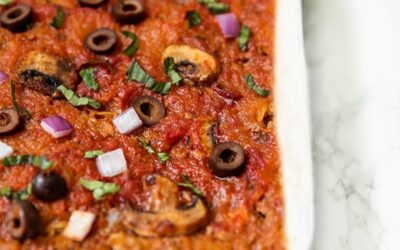 This low carb spaghetti squash pizza casserole has all of the flavors of pizza but without the grains or cheese! It's paleo, whole30, keto, and can be easily made to be AIP complaint. If I had to name my all-time favorite food, it would have to be pizza. There simply...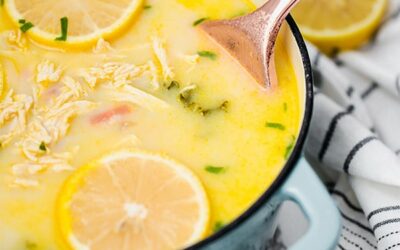 This paleo Greek lemon chicken soup is comforting, fresh, and nourishing! It's low carb, whole30 compliant, and is easily modified to be keto and AIP.   I don't come from a Greek family, but I've always been obsessed with Greek food! There's a local Greek food...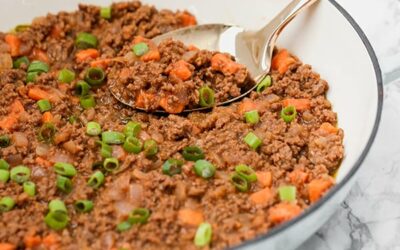 This paleo sloppy joe sweet potato skillet has all of the nostalgia of sloppy joe, but with real food ingredients! It can also easily be modified to be AIP.  Who remembers sloppy joes?! Back when I was a kid and hated eating meat, I never really got the appeal of...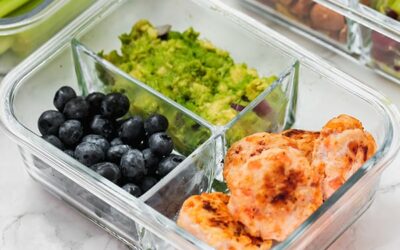 This post contains affiliate links. Learn what that means here. These 10 paleo lunches are perfect for packing on the go! They're perfect to take to work, school, or just store in your fridge for a quick option. These lunches are all grain free, gluten free, and have...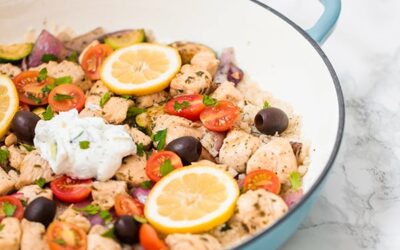 This one-pan greek chicken is the perfect dish for healthy meal prep! It's full of veggies, healthy protein, and features a dairy-free tzatziki. It's paleo, Whole30 compliant, and AIP with modifications. When I was first diagnosed with Hashimoto's, I tried to commit...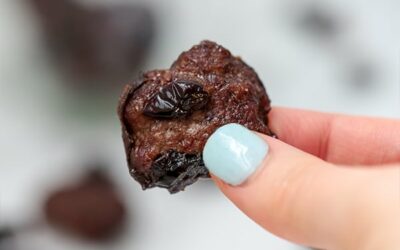 These cranberry beef jerky bites are an easy protein snack on the go! They're made in the oven with only 5 ingredients and are paleo, whole30, and AIP compliant. I have a confession to make... I have a serious thing for Epic bars. I mean, I am obsessed with these...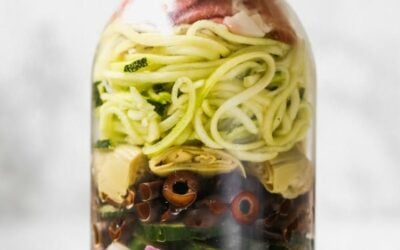 These 5 mason jar salads are an incredibly easy and delicious meal prep idea! It only takes a few minutes to put together a delicious, healthy lunch with veggies, protein, and a delicious dressing. These options are all even paleo, whole30, and AIP compliant. One of...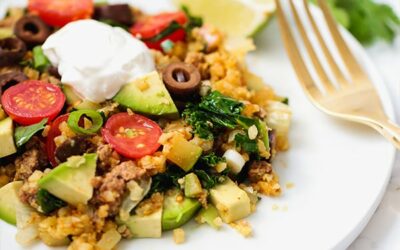 This one-pan taco skillet dinner is so easy to make for a weeknight meal! It's packed with veggies, healthy fats and protein, and amazing flavor. It's dairy free, paleo, whole30 complaint, and AIP. Tacos are my husbands love language. Really, who doesn't love tacos?...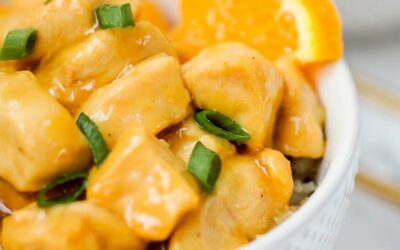 Thank you, Bob's Red Mill for sponsoring this post! All opinions are my own. This slow cooker orange chicken tastes just as good as what you'd find in a restaurant! It's easily made in the slow cooker, and is paleo, gluten-free, AIP, and all around healthier! Growing...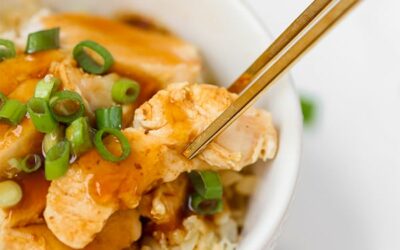 This slow cooker chicken teriyaki makes dinner easy! Serve it with some veggie sides, and you have a flavorful meal. It's made without soy sauce and is paleo, AIP, and whole30 compliant. I often share on the blog and on social media how I rarely ate animal protein...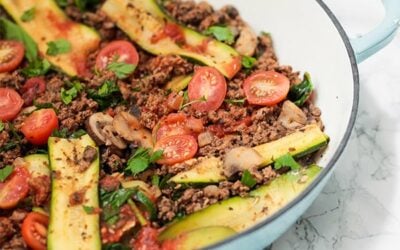 This one pot lasagna features everything you love about lasagna without the grains or dairy! It's the perfect one pot meal for a busy weeknight that the whole family will love. It's paleo, whole30, AIP, and keto friendly.   Growing up in an Italian family, I know how...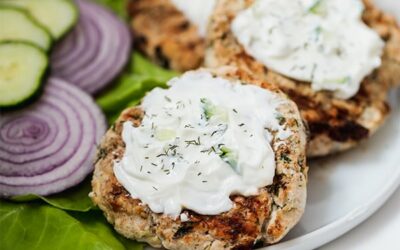 These Greek Chicken Burgers are paleo, whole30, keto, and AIP! They're topped with a dairy-free tzatziki and feature traditional Greek-inspired flavors. I'm not of Greek descent, but I'm obsessed with Greek food! Those fresh, Mediterranean flavors are always...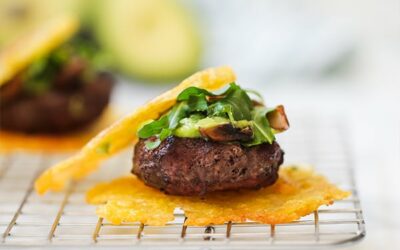 These tostone sliders are the perfect way to satisfy your burger craving without the bun, and will leave you wondering why you've never tried this before! They're paleo, whole30, AIP. I didn't really commit to eating red meat until I was in my 20's! I didn't like the...
These BBQ Chicken Poppers are the perfect summertime meal! Serve them as an easy dinner, or bring it to a fourth of July cookout as an appetizer. They're paleo, Whole30, and AIP compliant. There's nothing quite like BBQ chicken in the summertime. Heck, any time of...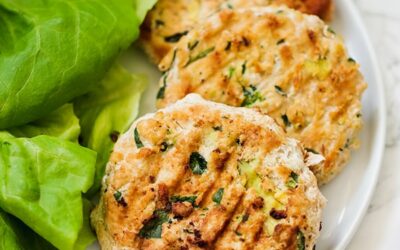 These paleo spinach avocado chicken burgers are the ultimate healthy burger. They're packed with healthy fats, protein, and even hidden veggies. Make them on a weeknight, or serve them at a backyard cookout. They're paleo, Whole30, and AIP! Whether you're on a...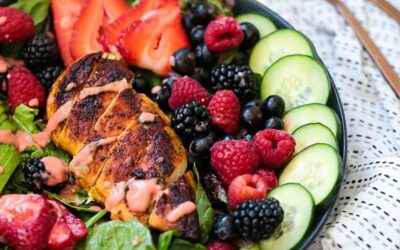 This Blackened Chicken Avocado Berry Salad with homemade raspberry dressing is the ultimate salad! It's Paleo, Whole30, AIP, and a super healthy and flavorful salad. Let's be honest salad can feel a little boring sometimes. I used to roll my eyes at the thought of...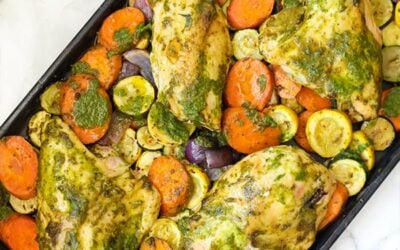 This one-pan chicken pesto with vegetables is the perfect thing to make on a weeknight. It's paleo, Whole30, AIP, and incredibly delicious.   As life gets busier, I begin to appreciate one-pan meals more and more! I love cracking open my favorite cookbook and going to...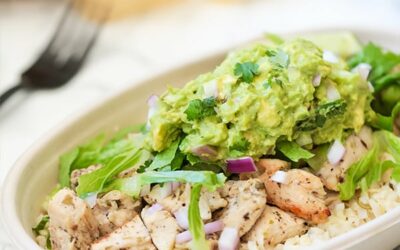 This chicken burrito bowl is the ultimate chipotle copycat! It's whole30 compliant, paleo, and AIP.   There are few things are universally popular and beloved here in America than Chipotle is. Everyone is obsessed with Chipotle. And for good reason! The food is good,...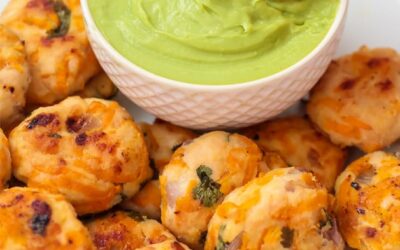 These Mexican sweet potato chicken poppers are the perfect easy meal with some extra flair to serve on a weeknight or pack for lunch! They're paleo, whole30, and AIP. Chicken poppers have been a game changer for me, and I'm constantly looking for more ways to spice...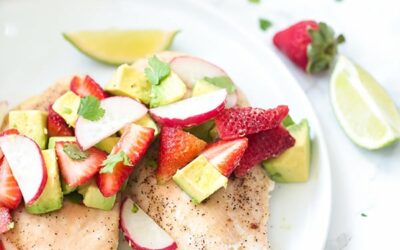 This Baked Chicken with Strawberry Avocado Salsa is the perfect spring dish! It's paleo, AIP, whole30 and is made with all real food. Strawberry season is one of my absolute favorite parts of spring and summer! Strawberries are just starting to pop up here in Texas,...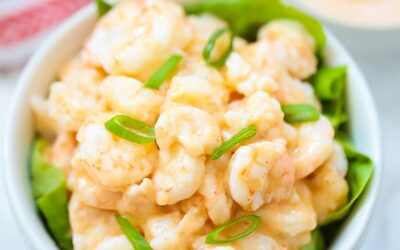 This bang bang shrimp will knock your socks off! You won't believe that it's paleo, Whole30, and has an AIP modification. One of the biggest things that held me back from healing with a real food lifestyle for so long was that I didn't feel like I could have delicious...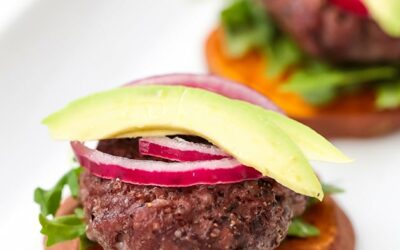 These sweet potato sliders are the perfect way to satisfy your burger cravings. They're Paleo, Whole30, AIP, and come with some delicious toppings! We're big burger fans in the Hoover household! We love pulling out the grill to make some juicy burgers with our own...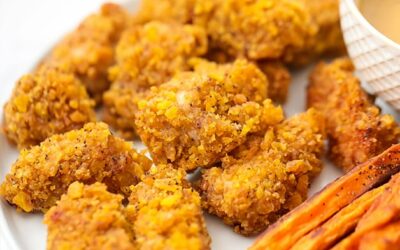 These paleo crispy chicken nuggets are the ultimate chick-fil-a copycat, complete with a honey mustard dipping sauce. Plus, they're even AIP compliant, and made without eggs! There are some meals that I had resided in my mind that I'd just never eat again. Chick-fil-a...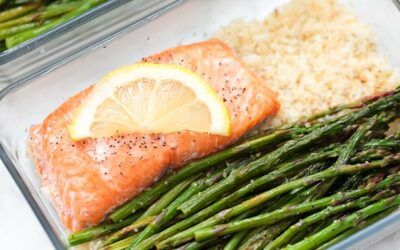 Thank you to ALDI for sponsoring this post! All opinions are my own.  When it comes to eating a real food diet, preparation is always key. Even with following a paleo lifestyle for years, I was especially reminded of this during my Whole30 this past month. Throughout...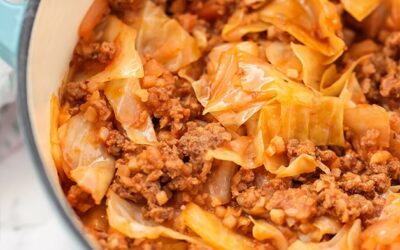 Recently, I've been seriously craving a new cabbage dish! Cabbage is so easy to find, so cheap, and so easy to use. I love cabbage, and cabbage rolls have always intrigued me. Then I thought about all of the rolling and new techniques I'd have to learn on top of...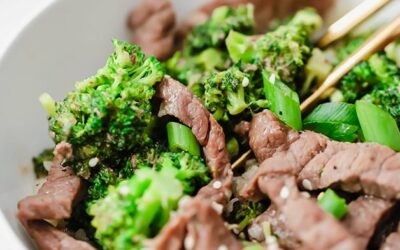 This post contains affiliate links. Learn what that means here. As you can imagine, my kitchen is kind of always a wreck! Dishes piled high, tons of kitchen utensils, and lonely scraps of vegetable peels is a pretty normal sight in my kitchen by 10 AM. I'm sure you...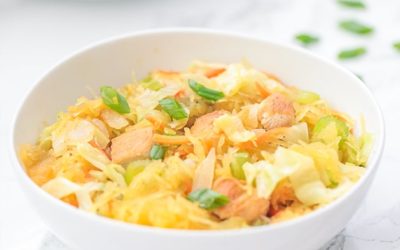 Growing up, my family was all obsessed with Chinese takeout! We often had it as our Friday night easy meal, or would dine in on a lazy weekend. It didn't matter if we lived on Long Island, San Antonio, or Dallas, a new Chinese favorite was always found. Not only were...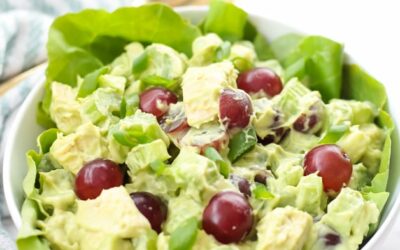 If I were to define what makes a good meal in my book, it would probably be these three things... easy, nutrient dense and delicious! Meals like tuna salad, or chicken salad are one of my favorite meals that fit all of these requirements. However, it took getting a...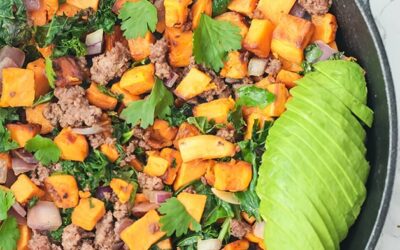 Eggs are such a staple for breakfasts, and were probably one of the only real foods that I ate as a kid. Who doesn't love scrambled eggs for breakfast or a hard boiled egg for a quick snack? They're easy, convenient, and nutrient dense... but so many people (myself...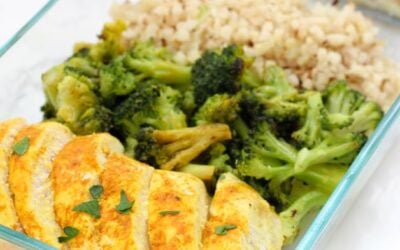 Fancy magazine worthy meals are great, don't get me wrong. But when it comes down to just getting through the work week, sometimes you need something that's simple to make, practical to store, and healthy! I spent years trying to get my meal prep routine on point with...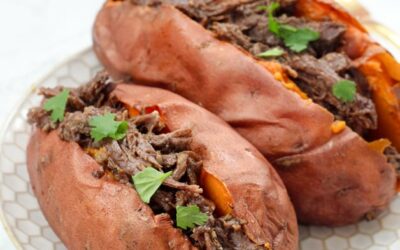 Here in Texas, Barbecue is a way of life. There are tons of BBQ joints in Dallas, and everyone goes crazy for them! Being intolerant to nightshades, I miss out on a lot of fun of BBQ. However, once I started making nightshade free BBQ dishes, I am a changed woman and...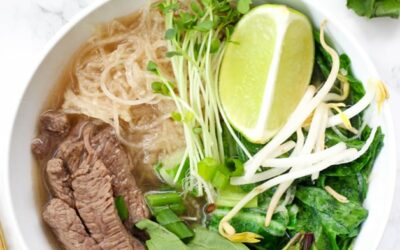 Pho started getting cool here in Dallas, TX when I was about 20 years old. I went from never really hearing about it to seeing tons of restaurants popping up, and dozens of friends posting their pho photos on social media. I first decided to join in on the fun several...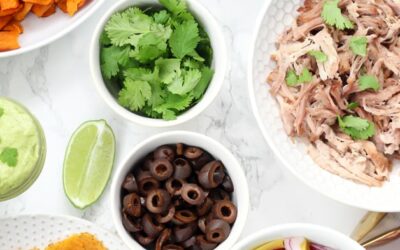 I have a confession to make... when Super Bowl rolls around, I have to Google the date and what the heck team are playing every year. I am not a big football or sports person, but I am a big party food person 😉 The Super Bowl is about so much more than just football,...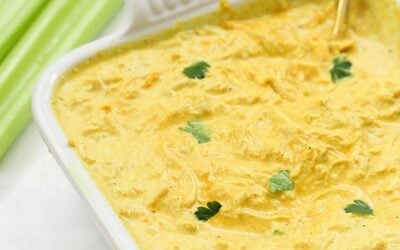 January isn't even over, and Super Bowl season is already here! Is it just me, or did that go really fast? I feel like I had no time to make the mental transition from reset time back into party food yet. But once I started thinking about all of the yummy super bowl...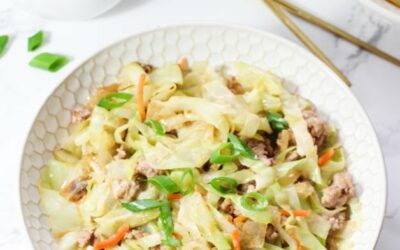 This Egg Roll in a Bowl recipe brings back all of the flavor and nostalgia you love about egg rolls without the wrapper! Plus, the sauce is to die for. When it comes to any Asian takeout, I feel like everyone is always down for adding egg rolls to their order. Or at...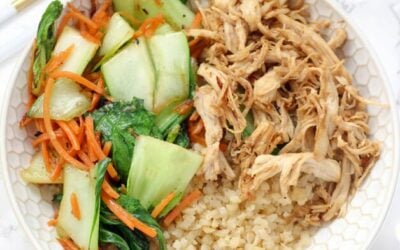 I love fun, involved meals and recipes as much as the next person! However, sometimes all you want is an easy meal to throw together that's delicious, healthy, and easy to make. That's where I found myself this week. After all of the craziness of the New Year, I was...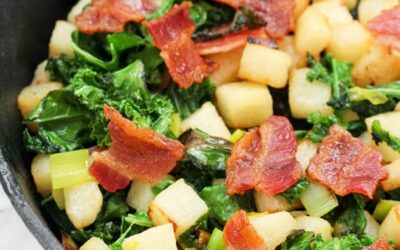 I'm a serious potato girl at heart. I loved french fries, mashed potatoes, and hash browns growing up. Oh, hash browns! I've eaten so many potatoes in my life... that is up until I was about 20. That's when I started embarking on the journey to take control of my...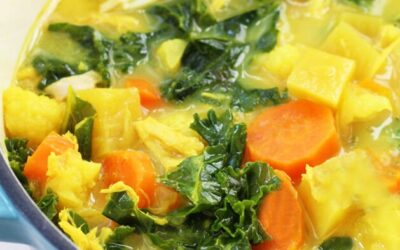 Happy New Year!! 2018 is here, and most of us are likely starting to feel the sugar crash of the holidays coming on. Regardless of whether or not you're doing a full on sugar detox or Whole30 for the new year, getting in more nutrient dense and healing foods is always...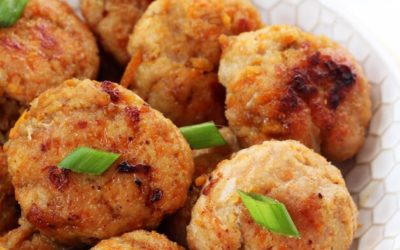 We are knee deep in holiday party season with New Years Eve approaching fast, and before you know it, Super Bowl Sunday will be here! Truthfully, I'm down for delicious shareable food every day of the year, but there's no better time for tasty party food than right...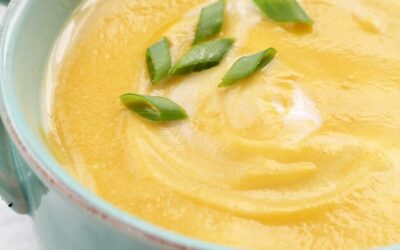 The weather is cooling off here in Texas, and I finally have an excuse to eat one of my all-time favorite soups... butternut squash! It's creamy, easy to make, and so nourishing. I find myself eating this soup at least once a week during the fall and winter, and have...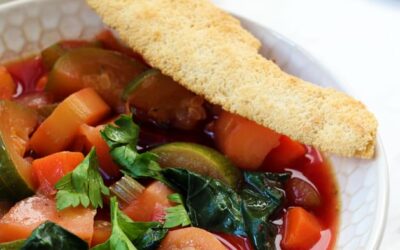 Italian food has always been one of my favorite cuisines. Growing up on Long Island and being of Italian descent, it's a natural favorite for me! The rich hearty flavors, the comforting smells, and the cheese and carbs... oh baby! When I was a kid and we went out to...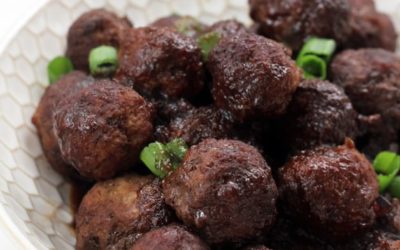 The holiday season is here, and so are holiday parties! Nothing quite says holiday parties to me like tasty little cocktail meatballs. A yummy and satiating little appetizer that's easy to make, and one that everyone loves. It's exactly what I was trying to tap into...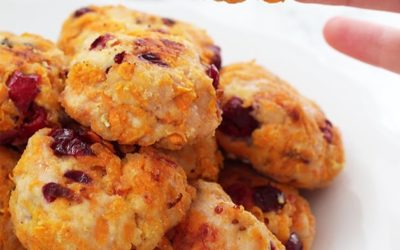 When I first shard the sweet potato chicken popper during the Super Bowl last year, I had no idea how much everyone would love them! My mother in law immediately brought them as a Super Bowl appetizer and told me how popular they were, and their popularity soon...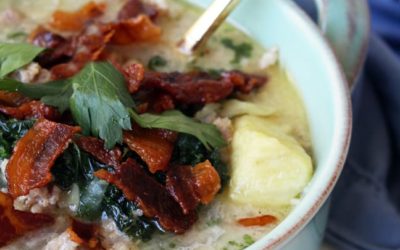 Growing up in an Italian family in New York, I was always a bit of an Italian food snob. My maiden name is very Italian, and my dad, who's name happens to be Vinny, always joked the spaghetti sauce runs through his veins. My love for legitimate Italian food only grew...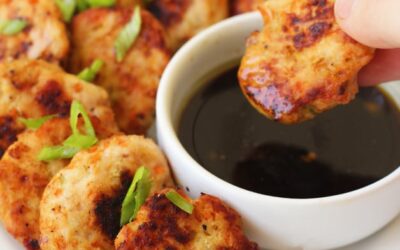 Back in the day when I had a terrible meat aversion (I wasn't a vegetarian, I was a french fry-itarian) the only way I would eat meat is if it was in chicken nugget or hibachi chicken form. Seriously, I can count the number of times in my life that I had beef before I...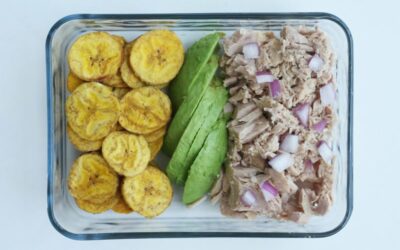 Starting the autoimmune protocol can daunting in a lot of different respects. "What do I do when I eat out?", "What do I have for breakfast?", "What do I have for lunch?", "What do I bring to work/school?". Though I'm always learning and evolving, I feel like I've...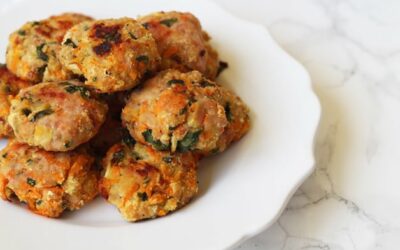 Who doesn't love breakfast sausage? It's the perfect way to round out any breakfast and actually make it satiating! When I stopped eating carb bombs like big bowls of sugary cereal, bagel smothered in cream cheese, and syrup covered waffles, I turned to eggs and...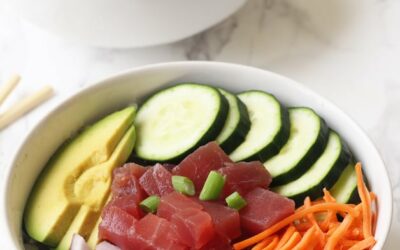 I don't know what happened and when, but Poké is super hot all of sudden. Remember when frozen yogurt was widely popular? Poke is basically following in it's footsteps right now in the US. Tons of chains are popping up with custom bowls, options to customize, and fun...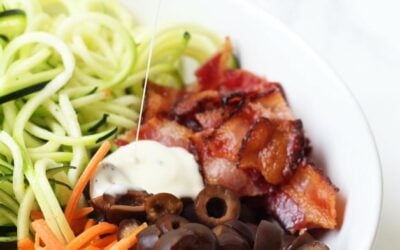 When I ask myself the question, "What flavors do I add to make this taste really, really good?", the answer is often "bacon and ranch". It's savory, creamy, and a total crowd pleaser all around, which is important for this time of year that's filled with backyard...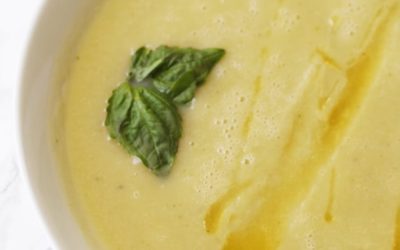 Something that's surprised me, and made me incredibly happy at the same time is how many people try and love my soup recipes. I always had the misconception that food blogs and social were really just for sharing sugar-y treats and fried comfort foods, and even though...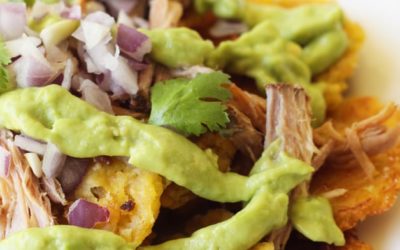 When it comes to comfort food, I've always been much more of a pizza person rather than nachos and tacos. I always thought nachos were salty, greasy, and not "bread-y" enough (because your girl loved some bread). I never really ate them or had them around too much....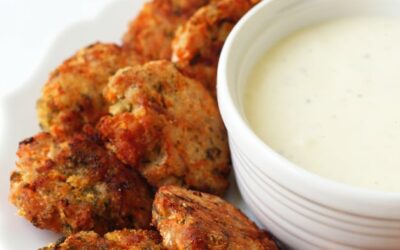 You guys. They're back. When I first made my sweet potato chicken popper recipe, I fell in love fast. I was so excited to share them with the world and knew that they an amazing game day or party food that all guests would love. I shared them as a super bowl food...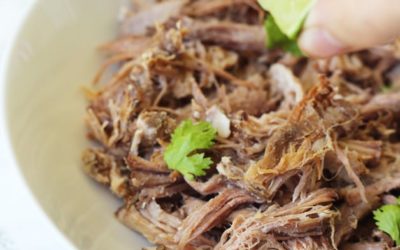 I was never really a big Mexican or Tex Mex food fan growing up. I grew up in an Italian family with Jewish roots in New York, so bagels and lox were my tacos, and marinara sauce (or if you're really legit, gravy) ran through my veins. Little did I know I'd eventually...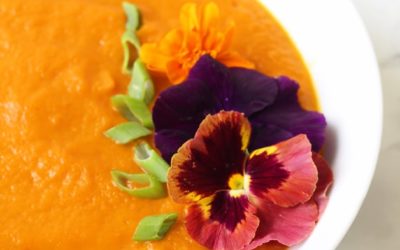 Happy almost Mother's Day! Soup in general always reminds me of my mom... she loves soup. My mom grew up in Budapest, Hungary where she apparently ate a lot of it, and I always felt pressured to like it. I never really wanted soup as a kid or a teen, and she...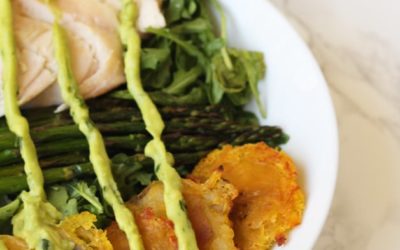 One of the most common questions I get is how I eat breakfast without eggs, milk, coffee and grains. What does one eat for breakfast if not oatmeal, cereal, or scrambled eggs? A few years ago, I would've had the exact same question! I was an oatmeal and egg white...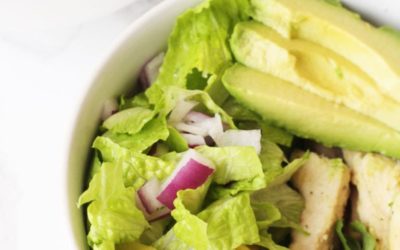 It's not always easy to be confident about making your old favorites AIP friendly. I've often asked myself, "Can I really make a pizza without cheese?", "How can I make oatmeal without oats?" My most recent question was, "How can I make fajitas without peppers and...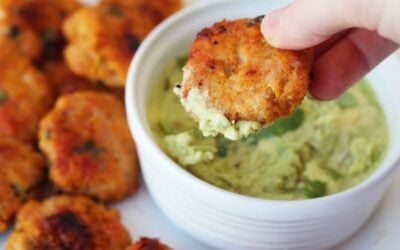 These chicken poppers are gluten free, paleo, AIP, and egg free, while still being delicious enough to fool anyone who regularly eats otherwise! Sweet Potato Chicken Poppers Are the Healthy Comfort Food You've Been Looking For...   Let me tell you a story about a...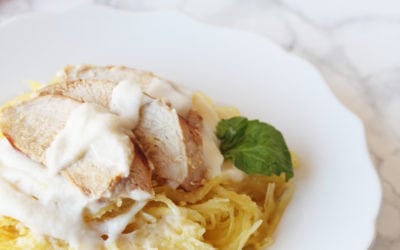 Spaghetti squash has been a staple vegetable ever since going gluten free in college. It's inexpensive, easy to prepare, versatile, and of course... it's basically vegetable pasta. I used to eat my spaghetti squash with a generous helping of tomato sauce from a jar...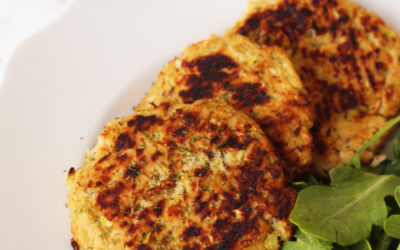 The initial push to make healthier choices is usually an easy transition in the beginning. Making a healthier breakfast, taking the stairs more often... it doesn't usually become a burden until it gets hard to keep up with, and you run out of ideas to make it creative...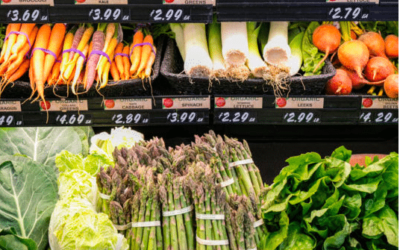 Eating a real food, healing diet like autoimmune paleo isn't cheap. After my mortgage payment, my biggest expense is food. Pasture raised meat, organic vegetables, wild caught fish, and the highest quality cooking oils. Those words all literally sound like money just...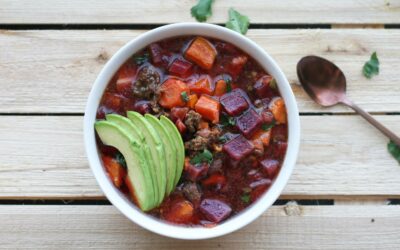 The past few months, I couldn't think I could keep a secret... but I did! And man was it a good one, and it's finally here! The Paleo AIP Instant Pot Cookbook which I so proudly got the opportunity to contribute my own recipe to including my speedy AIP Instant Pot...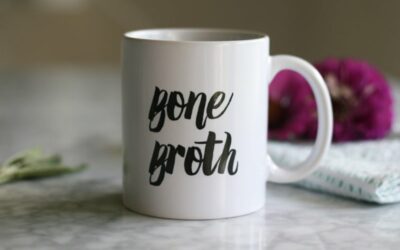 "Obsession" is a strong word with potentially negative connotation. It's typically considered unhealthy to be obsessed with something or someone. However, I'm gonna make a call here and say that my obsession with bone broth is actually pretty healthy.  I've gone from...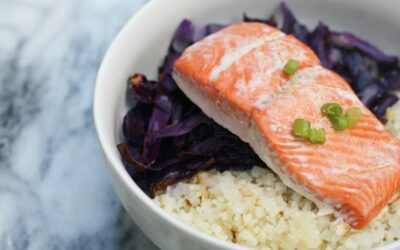 My husband and I made the switch from predominately plates to mostly bowls a while ago. It was one of the best decisions we've ever made in all of the years that we've been married. I mean, we've been married for like 2 years, but still. I love bowls. There's...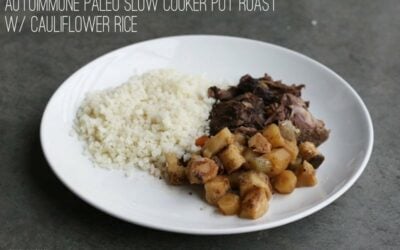 "Snowed in" always sounded like such an adventure to me. Days at a time of just watching movies, hanging out with loved ones, and cooking delicious, delicious cold weather favorites. Well, I'm not actually snowed in right now like many of you are, but that didn't stop...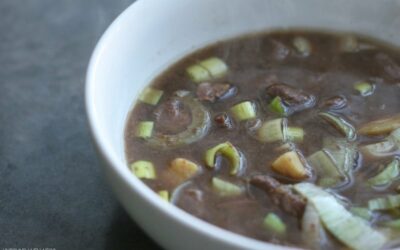 After some unseasonably warm weather, it has finally cooled off again here in Texas. I'm a huge proponent of seasonal, local food for over all wellness and healing, and what's a better cold weather dish than a warm, hearty stew? Not only is this stew made from...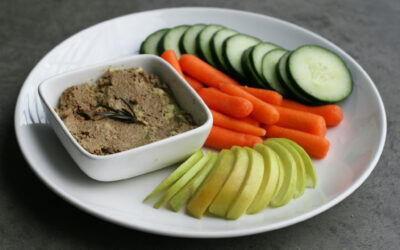 When I was a kid, I hated meat. I hated the texture, I hated the taste, and considered the only acceptable way to consume chicken was in nugget or hibachi form. Yikes. Now, if you were to tell me that I'd be feasting on beef liver and having a grand ol' time, I...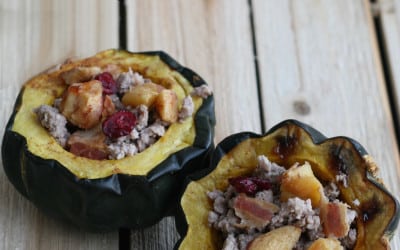 I've been loving squash this season, especially acorn squash. Can you believe I've only ever had acorn squash once before last winter? Squashes can be intimidating, but acorn squash has quickly become my favorite as it's so easy to prepare, and cook! I shared a paleo...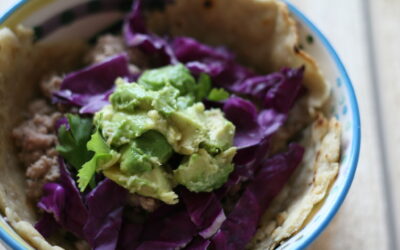 One of my favorite stories from my childhood was born in San Antonio, TX. A hotspot for authentic Mexican food, and the place I called home at 11 years old after spending the previous 10 years in New York. Raised on pizza with spaghetti sauce coursing through my...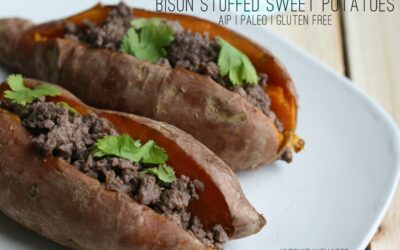 Anytime the temperature falls under 90 F degrees at any given time during the day in Dallas, I'm all like, "Leggings, and PSL's, and chunky socks! Let's do this!". 89 F in the middle of September is far from what I grew up with in Long Island, NY but it will have to...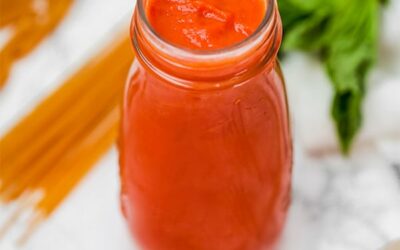 This post contains affiliate links. Learn what that means here. This nomato sauce is a nightshade-free marinara sauce that's made without tomatoes! It's AIP compliant, as well as Whole30, Paleo, and sugar-free. If you were to ask me what my favorite food was when I...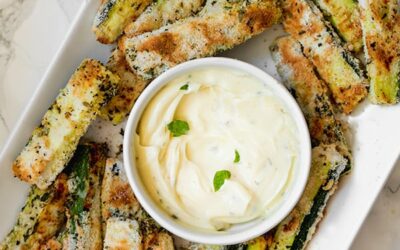 These baked low carb zucchini fries are crispy and delicious! They're made with coconut flour and are nut free, egg free, dairy free, paleo, keto, and AIP compliant. Zucchini season is in full swing, and I am all about it! When I'm not putting zucchini in dishes like...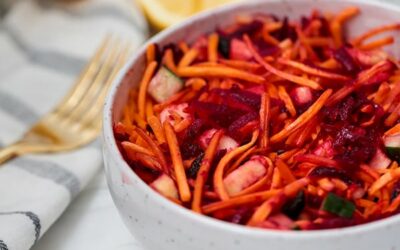 This detox carrot slaw is an amazing way to support your bodies natural detox pathways! It's made with real food ingredients and is a simple side dish to enjoy. Detox has turned into such a spammy word. When we hear it, we think about detox tea, detox pills, radical...
This Strawberry Balsamic BBQ Sauce is a nightshade-free BBQ sauce that's paleo and AIP! It's smoky, sweet, and tastes just like the real thing for those who can't tolerate tomatoes. There's no escaping BBQ when you live in Dallas, TX. Ribs, brisket, and creamed corn...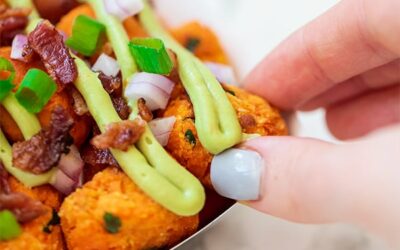 These loaded sweet potato tater tots are the ultimate healthier junk food! They're made with real food paleo ingredients, but taste like they're straight off of a food truck. There's something about summertime that always has us craving that nostalgic ballpark-style...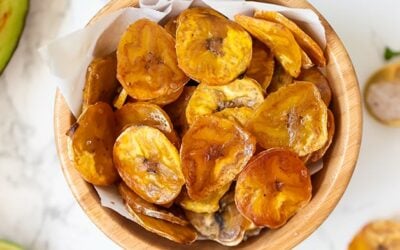 These homemade baked plantain chips are crunchy, salty, and delicious! This recipe is a healthy, paleo, AIP snack that's so simple to make at home. I had never eaten plantain chips until I went paleo. I don't think that I even knew what they were! Little did I know...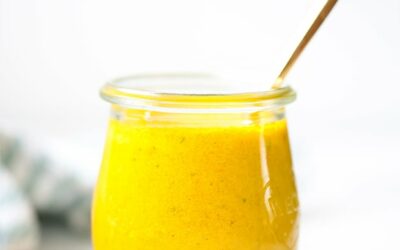 This Anti-inflammatory Turmeric Dressing is the perfect addition to salads, roasted vegetables, and proteins. It's paleo, AIP, whole30, and super delicious! Spring is here and Easter is just around the corner! I love this time of year. I love the feeling of the...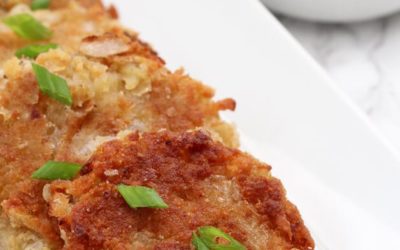 Happy Hanukkah, friends!! This holiday hold a lot of happy memories for me. I grew up celebrating both Christmas and Hanukkah... my dad was Catholic, and my mom was Jewish. As I grew up, I chose to become a Christian myself and don't really celebrate Hanukkah anymore,...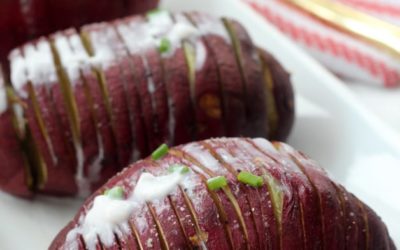 I've been seeing hasselback potatoes around a lot more recently... and I was intrigued. I'm a big fan of getting creative with sweet potato (enter sweet potato chicken poppers) and this seemed like a great opportunity to have a little fun! So I broke out a sharp...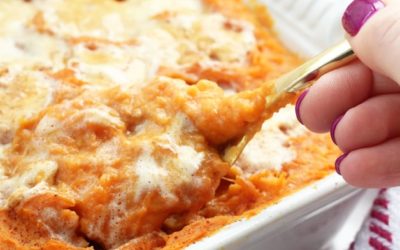 This post contains affiliate links. Mashed potatoes were hands down always my favorite holiday side dish. I loved having a creamy, starchy, butter-y to pair with turkey! That is, until I was introduced to sweet potato casserole with marshmallows just from perusing...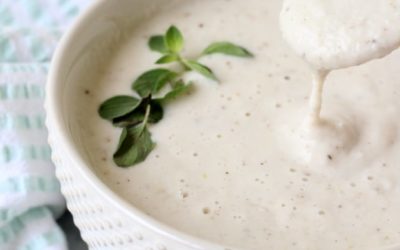 Though I firmly believe that a real for lifestyle is filled with nourishing, and enjoyable flavors, there's no denying that you do miss out on some classic, comfort food favorites. It's easy to miss the rich, heavy creamy sauces if you're dairy free, or complex...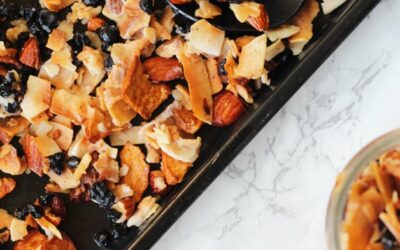 Back in the day, granola was one of my favorite snacks. I love yogurt, and granola and fresh berries are the perfect topping. Right before I went AIP, I used to bring in greek yogurt with chocolate granola and blueberries every single day to work. It was my absolute...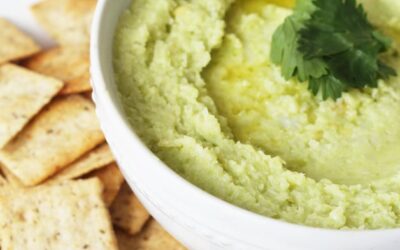 If you read any women's health magazines, you would think that hummus is one of the most essential foods for health. It's paired with chips as a side with veggies, as a snack, or on a pita wrap at lunch. Seriously, what is it with "diet" food and hummus? But being a...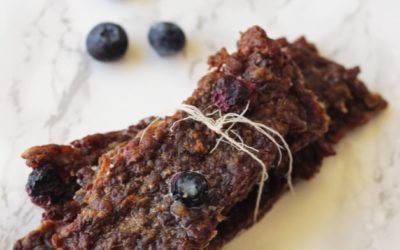 Is it weird that I never had beef jerky before going paleo and AIP? Not only did I have a serious meat aversion because my gut health and digestion was so poor, but let's be honest... store bought beef jerky can be pretty gross. If it's not mystery meat sticks, it's...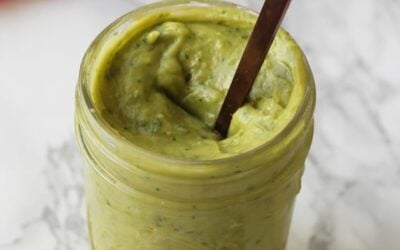 I was never a big sauce person... unless it was tomato sauce, of course. That is, until I got on the autoimmune protocol and married my husband. My husband loves sauces, and dipping, and I love adding extra flavor to spice up meals! The thing about sauces are they can...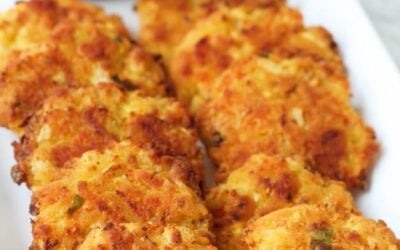 This post contains affiliate links. I don't have kids yet. However, I very much want them soon, and on some days I very much want to be one of them again. I loved kid food when I was a kid. Chicken nuggets, fruit snacks, and mac and cheese were most of my diet, and...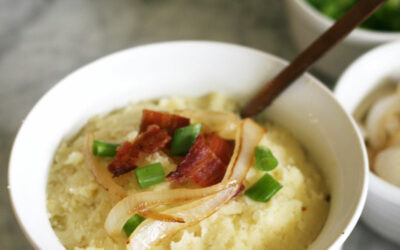 Mashed potatoes were always my favorite Thanksgiving side. Actually, potatoes were just my favorite everything. I remember people joking at the table that all I ate were the mashed potatoes and bread, and I was perfectly content with that. Who needs turkey when you...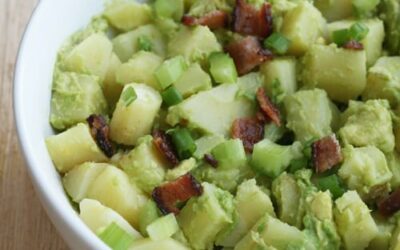 Few things say summer like a backyard BBQ, and one is never complete without a cool, rich potato salad. Back in my potato days, I was more of a potato chip gal, than potato salad. But seriously, if something is both creamy, and starchy, sign me up. After figuring out...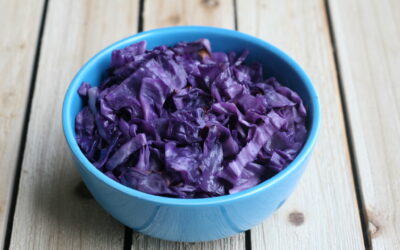 On my ever evolving journey to try to eat more vegetables, cabbage was one of the last things that I tried. Something about the entire head just intimidated me. I have to cut up and eat all of that? Eventually, I realized that if I could do it with a spaghetti squash,...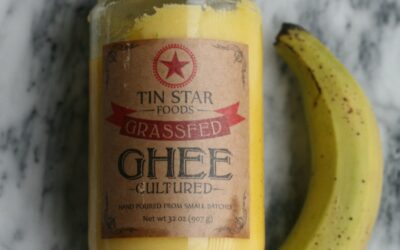 This post contains affiliate links. Learn what that means, here.I get a lot of questions when I eat plantains. And I eat a lot of plantains so I get a lot of questions. "Are those baked bananas", "How do you make those?", "Why do you eat them?". Plantains have quickly...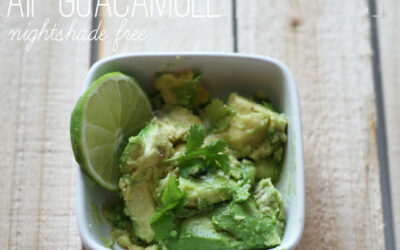 Let me start out by saying that I love avocado and gucamole. I'll eat it with a spoon, plop it on just about anything, and hashtag the living daylights out of #whereistheavocado emoji... but seriously though, where is it? Living in Dallas and being surrounded by Tex...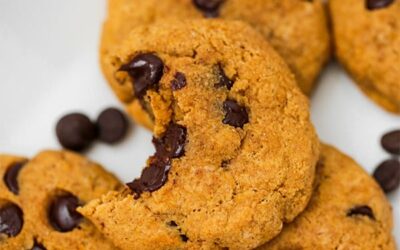 Thank you, Vital Proteins for sponsoring this post! All opinions are my own. These paleo pumpkin chocolate chip cookies are the perfect fall treat! They're incredibly soft and have an easy AIP option. Pumpkin season is finally here, and what better way to celebrate...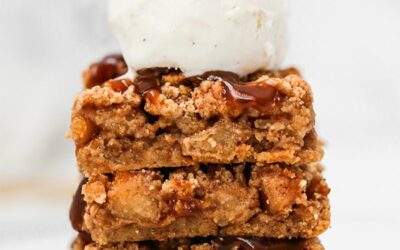 These paleo apple pie bars are perfect for fall holidays, or just a fun weekend treat! They're grain free, as well as AIP and vegan. I'm not going to lie, I don't love making pie crust from scratch. It's just never been much of my thing. I was spoiled with...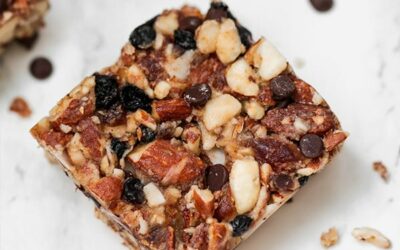 These paleo grain-free granola snack bars are an amazing snack on the go! They're naturally sweetened and have healthy fats and protein. In college, I went through a period where I basically lived off of granola bars. I loved how convenient they were, how good they...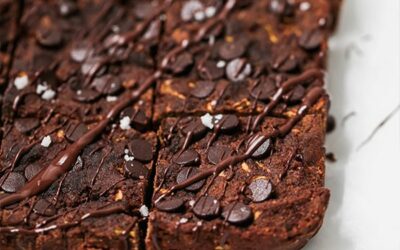 These paleo chocolate zucchini brownies are a delicious treat with a veggie boost! They're gluten free, egg free, and easy to make AIP! If you would have told when I was a kid that I would be eating vegetables in brownies, I would have laughed in your face. Veggies in...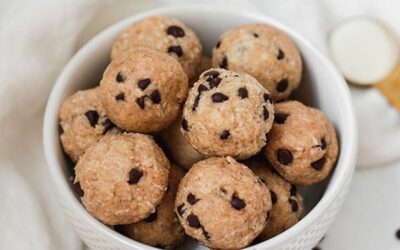 Thank you Vital Proteins for sponsoring this post! All opinions are my own. These No-bake Cookie Dough Collagen Protein Bites are the perfect no-bake snack to satisfy your sweet tooth, while also adding protein. They're paleo, AIP, and gluten-free.   I could probably...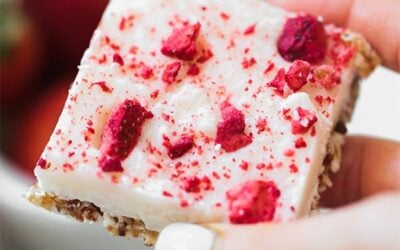 These no-bake strawberry shortcake bars are an easy and delicious treat! They're paleo, AIP, dairy free, and vegan. Summertime is for ice cream, grilling, and no-bake treats! Anything that keeps the house cool, really. You guys know I love baking, and sometimes I...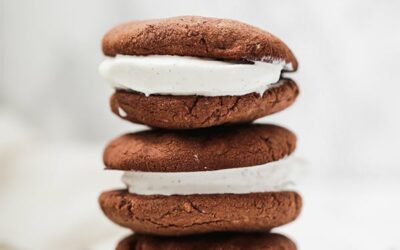 These chocolate cookie ice cream sandwiches are the ultimate summer indulgence! They're paleo, AIP compliant, gluten, dairy, and egg free. Every single year, the summer heat blindsides me. It doesn't matter how many summers I've spent living in Texas... nothing can...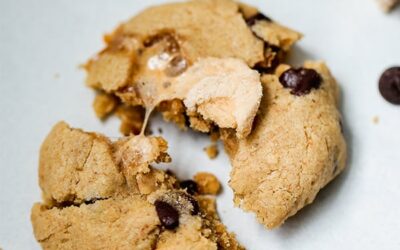 These paleo s'mores cookies are everything you need and more for a fun summer treat! They're completely grain free, gluten free, and autoimmune protocol compliant. It just isn't summer without s'mores! That sweet, gooey, chocolatey little treat always brings back...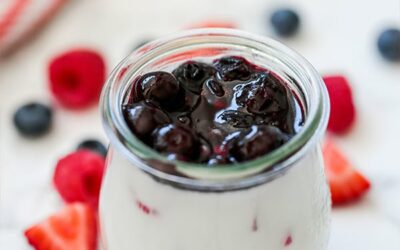 This Red White & Blue Berry Panna Cotta the perfect patriotic dessert! It's simple to make with real food ingredients and is great for serving at your Fourth of July gathering. It's dairy free, paleo, AIP and made without refined sugar. I will never get over my love...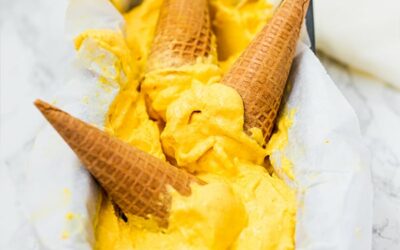 This no-churn mango turmeric ice cream is the perfect summertime treat! It's made with real food ingredients, no dairy, and no added sugar. This recipe originally appeared on Unbound Wellness in 2016! It's back with new photos and a slight new an improved recipe.  I...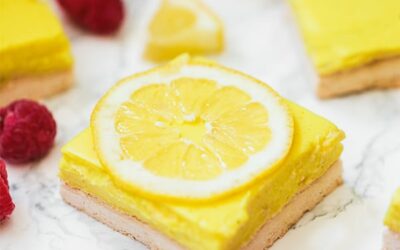 These paleo lemon bars are impossibly good! With a delicious crust and a creamy lemon curd, they're a tasty and unique dessert. Plus, they're totally egg-free, nut free, and AIP compliant. Growing up, my little brother was always the lemon dessert fan, whereas I was...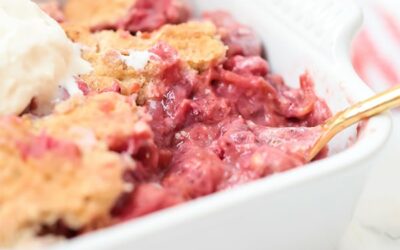 This strawberry rhubarb crisp screams summertime! It's packed with flavor and is a healthier paleo version a classic. After I made my paleo apple crisp at Thanksgiving, I was already planning for this recipe in the summer. Strawberry rhubarb has always been a classic...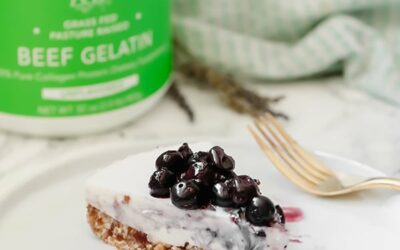 Thank you, Vital Proteins for sponsoring this post! All opinions are my own. This blueberry lavender cheesecake is incredibly simple to make, and is completely dairy free! It's Paleo, AIP, and features gut-healing gelatin. Mother's day is almost here, and mom...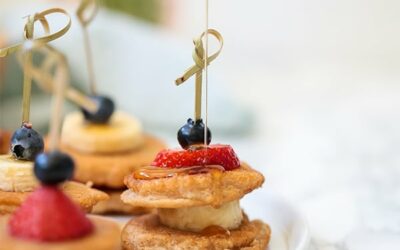 These paleo pancake skewers are the perfect thing to serve at brunch! They're gluten free, grain free, egg free and vegan. Nothing says brunch quite like pancakes. Pancakes have been present at pretty much every holiday in my house growing up, and most Sunday...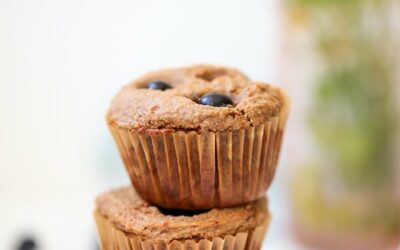 Thank you, Vital Proteins for sponsoring this post! All opinions are my own. These blueberry banana muffins are a delicious treat with a protein boost! They're paleo, AIP, totally grain and gluten free, and even egg free. Recently, I've been cravings muffins! They're...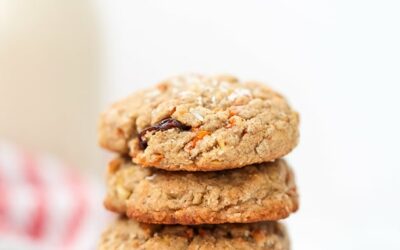 These Paleo Carrot Cake Protein Cookies are perfect for dessert or snacks on the go! Would you believe me if I said that these are one of my favorite cookie recipes on my blog to date? I mean, I love my chocolate chip cookie recipe (and you guys do too!) but these...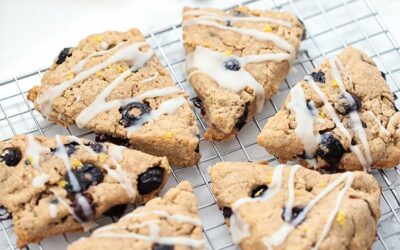 Spring is in the air, and fresh flavors are starting to come in season! Lemon is in season, and blueberry season is just about to start in a couple of weeks, so I knew I wanted to combine these flavors for Easter. And seriously... these Lemon Blueberry Scones are so...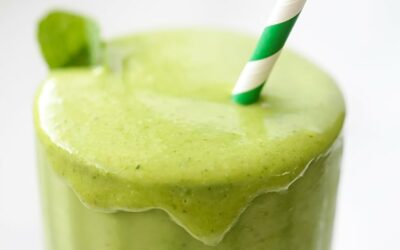 It a'int St. Patrick's Day unless everything is green! Green shirts, green foods, green treats, and more. When I was growing up in New York, my mom once brought home green bagels from the deli.. yes.. green bagels. I don't even want to think about what was in there....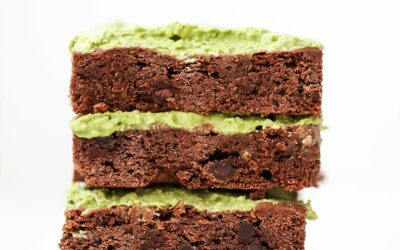 Brownies are my love language. I've shared here before that my mom was famous for her gooey, delicious brownies. If we had a homemade treat growing up, it was always either brownies or chocolate chip cookies. There's something about brownies that marries a sweet and...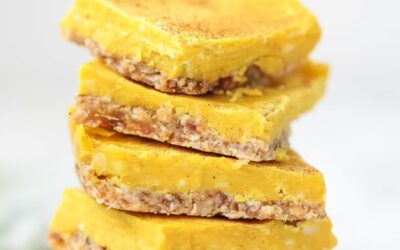 I'm always looking for ways to squeeze in more nutrient dense foods! Adding bone broth to sauces (like this garlic cream sauce) , or disguising veggies as basically tater tots (like these veggie nuggets) is one of my favorite things to do! It makes being healthy so...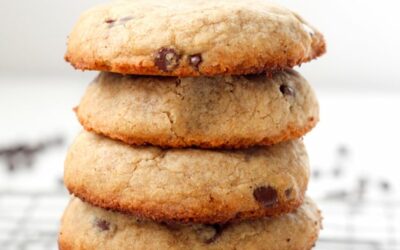 With all of the treat recipes that I have here on my blog, something was missing. My favorite treat of all was totally absent from my blog... until now. Paleo Chocolate Chip Cookies have arrived! Chocolate Chip Cookies have always been my all time favorite dessert. We...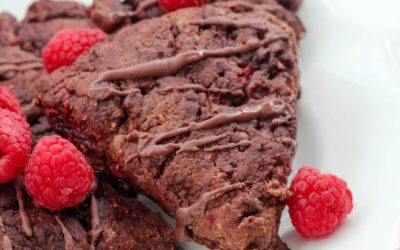 There's something so beautiful and thoughtful about homemade baked goods. It shows thought, time, attention, and care, and the creativity only multiplies when you make something like scones. Not that there's anything wrong with chocolate chip cookies or cupcakes, but...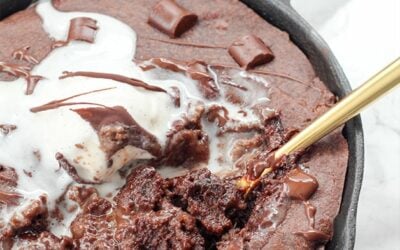 I've expressed my deep love for skillet desserts here on the blog when I shared my pumpkin chocolate chip cookie skillet. How could you not love them? They're warm, gooey, delicious, and perfect for sharing. There's no better time than Valentines to have a chocolatey...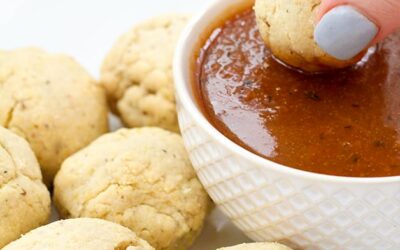 I've never been much for sports, or super bowl parties for anything other than the food. Especially the pizza! Delivery pizza was probably my favorite part of any party. It didn't matter how crappy that pizza delivery was, or what we were celebrating at the party......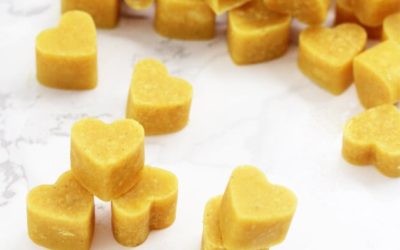 This post contains affiliate links. Learn what that means here. I've put out my fair share of turmeric recipes here on Unbound Wellness. From my turmeric bites, to my turmeric chicken soup, and more, we all to get in more turmeric! Even with more and more turmeric...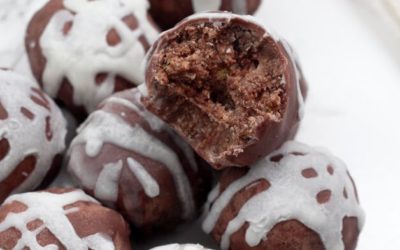 Peppermint is one of those flavors that just screams holidays! It's a good flavor in it's own right, don't get me wrong, but it's always guaranteed to get me in the holiday spirit. Peppermint tea, peppermint candies and peppermint treats are all welcome in my house...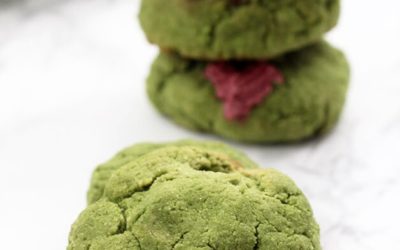 Can you believe that Christmas is a week away? Where the heck does the time actually go, you guys? With Christmas here, I'm in full on 5 year old mode and ready to bust out some seriously Christmas-y treats for you guys. There's just something about Christmas that...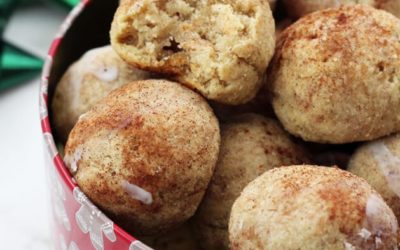 Few things say "holidays" like the flavor of gingerbread. The kick of the ginger, the warming, familiar flavor of the cinnamon, and that sweet, sweet sweetness, that just gets you feeling all of the holiday feels! Gingerbread men, and gingerbread houses are an amazing...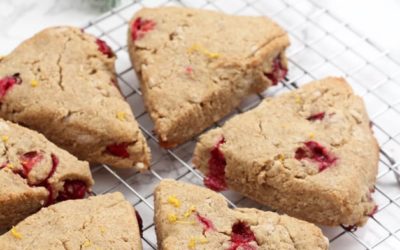 Orange and cranberry is one of my favorite flavor combinations. It's tart, sweet, and just says "winter" so perfectly! So when I started planning out what recipes to make during the winter, I knew I had to make orange and cranberry something. But, what? My list was...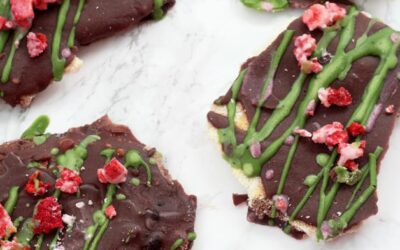 Nothing says "the holidays are here" quite like a yummy treat covered in red and green touches. Not only is it fun to eat decorated holiday treats, but it's just as much fun to make them. Decorating Christmas cookies or making gingerbread houses has always been one of...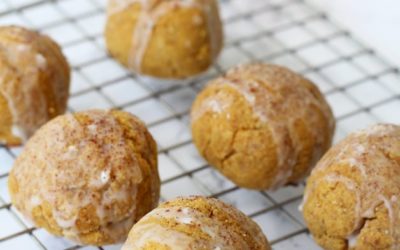 Who doesn't love pumpkin pie at the holidays? It's one of those things that you just can't get any other time of year, and absolutely screams holidays! I've never gone a single Thanksgiving without some sort of pumpkin themed dessert. But I have to be honest... I'm...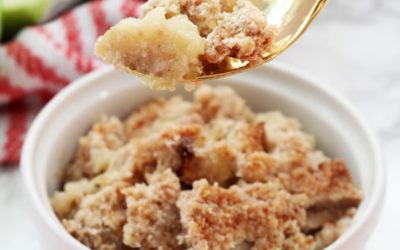 Would you believe me if I said that I've never made my own apple pie from scratch? It's true! I don't know what held me back back when I ate gluten, but it's certainly not for lack of loving apple desserts during the holidays. But let's be honest... it can be lot of...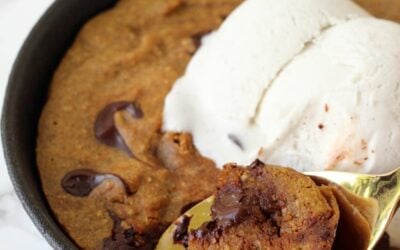 I'll never forget when I first learned about the existence of cookie skillets. One of my friends had a birthday dinner planned at BJ's Brewhouse where they're known for their pizookies (essentially just cookie skillets) and I lost it with excitement. I remember going...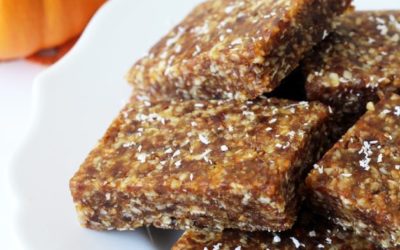 This season always feels like one of the busiest times of year! School is back, work is busy, there's always just one too many events, and if you're lucky enough to have nice fall weather, you want to get outside! Though on the go seasons of life can be fun, it can...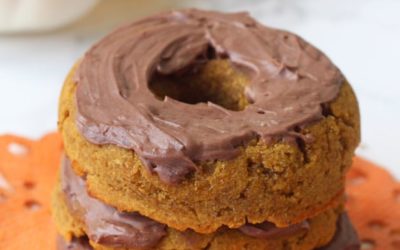 This post contains affiliate links. I haven't had donuts in years. It used to be one of my favorite college study snacks. I had actually discovered the perfect time of night to pick up a study fuel donut in the Dunkin' Donuts drive through where they would give me an...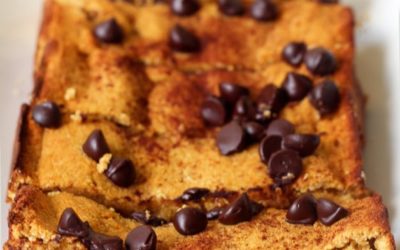 Fall is finally here! I was never that enthusiastic about fall growing up... I was more into winter and the promise of Santa. That is, until I moved to Texas. Here in Dallas where it's into the 100's and above all summer, I'm clinging to every last piece of hope for...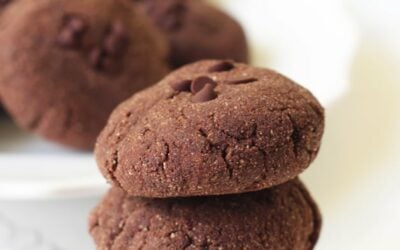 If you ask me on any given day what my favorite treat is, it's always going to be cookies! I've always loved warm gooey chocolate chips cookies, soft snickerdoodles, and colorful m&m sugar cookies. Gosh, did I love those stupid m&m cookies! Whenever I went into a deli...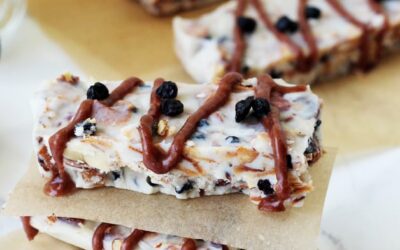 Does anything say back to school quite like granola bars? Not to me at least! I always had granola bars something in my lunch box, or as a snack when I got home all throughout public school, and through college. Needless to say, I haven't had many granola bars these...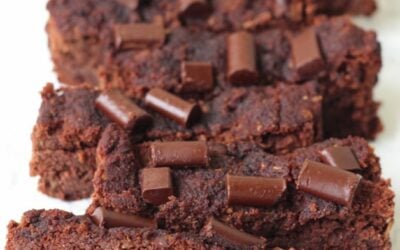 This post contains affiliate links. Learn what that means here. I don't get to bake as much as I'd like these days, but when I do, I love a good dessert bread. Banana bread is one of my all time favorite treats (see my plantain banana bread recipe!) and I thought I...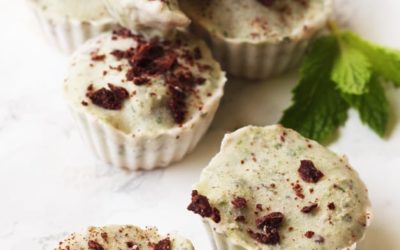 Early June is Dallas, TX means it's already in the 90's and pretty unbearable to go outside between the hours of 10 AM - 10 PM. The sun is killer here, and even just a short time outside can leave you completely heat exhausted. I grew up on Long Island, NY, and even...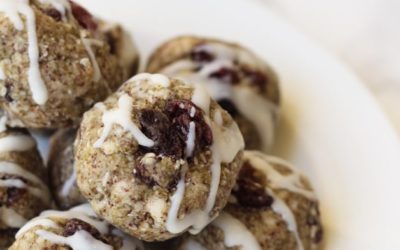 We all know by now that veggies are important, right? Our mom always told us to eat our vegetables, and if there's one thing that nutrition can agree on, it's that veggies are still a good idea regardless of what diet you follow. Vegetables are packed with fiber,...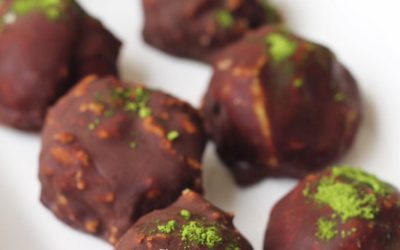 I'm not sure quite when it happened or why, but at some point, we all got obsessed with matcha. Though matcha is anything but "new", it's super trendy right now. We all love the color, the flavor, the health benefits, and the energy boost that matcha brings. I even...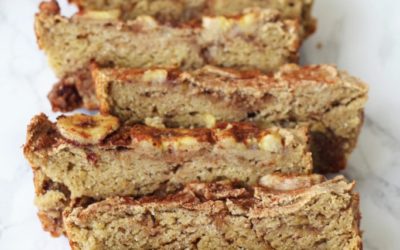 Banana bread... I'm obsessed. Always have been, always will be. Honestly, I don't really remember having banana bread as a kid. I was more a chocolate chip cookie type kiddo... still am. But, I digress. I got hooked in the banana sweet stuff in high school. One day...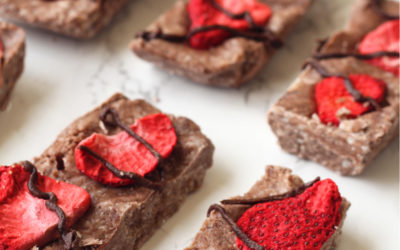 Protein bars... what would we do with you? I used to love protein bars, but quickly turned away from them when I realized that they were basically dairy filled candy bars! Low quality protein plus sugar plus grains? No thank you. But let's be real, I'm just as busy as...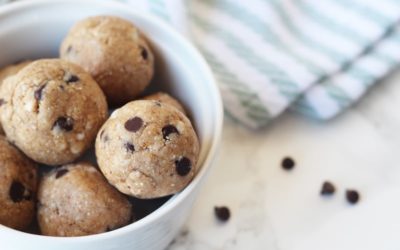 I'm going to tell you a story that you may or may not judge me for. When I was about 20 years old, I was a hardcore crossfit junkie. I loved the rush, the movement, and feeling strong. My diet was extremely meh at the time, so when they had a Paleo Diet and Zone...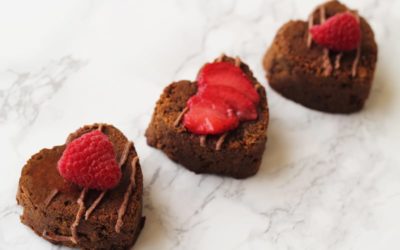 Growing up, my mom was the brownie lady. It all started when I was in middle school or so, when she randomly found the one brownie recipe that changed the course of her entire baking and gifting career. Guys, these brownies were so fudgy, rich, and delicious, that she...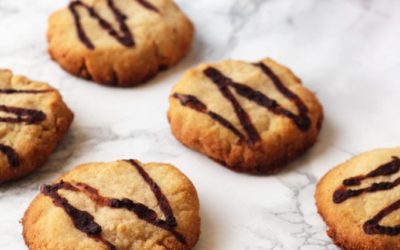 Real talk, I used to love store-bought protein bars and powders. I always had some on hand, and regularly used them as meal replacements. Rather than full, nourishing meals of quality proteins and roasted veggies, I was reaching for a protein shake and calling it a...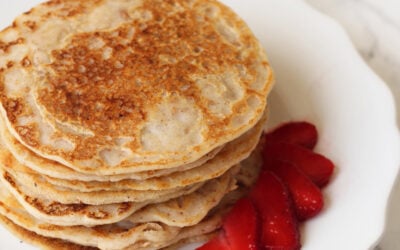 This recipe contains affiliate links. Learn what that means, here. Pancakes have always been a favorite in my family for special breakfasts. Whether it be birthdays, Christmas morning, or just a special Sunday, pancakes are the go-to. They're quick, easy to make, and...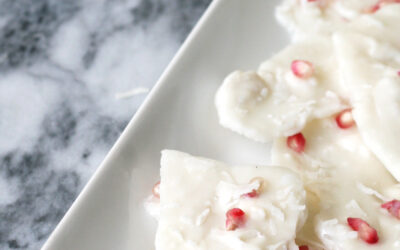 The holidays are officially here! Like, for real here. Here to the point that I'm no longer getting shamed for having my tree up and listening to Christmas music. I'm one of those people, yes. Warm soups, twinkly lights, and tons of holiday treats! I just love it all....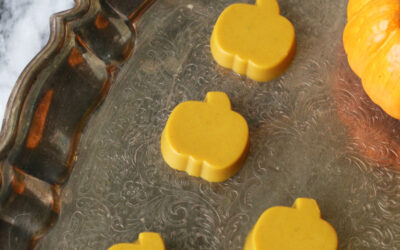 The words "Healing" and "Halloween" typically don't go anywhere near each other. Halloween is literally all about sugar (or alcohol if you're a drunken college student dressed as a mouse... duh) which is anything but healing. However, not everyone has the option to...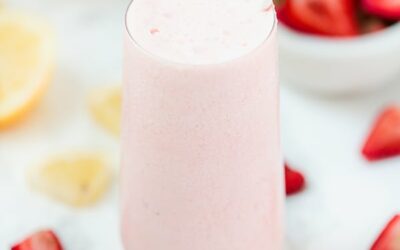 This frozen pink lemonade is perfect for summer! It's refreshing, creamy, and just the right amount of sweet and sour. It's totally Paleo, AIP and free of refined sugar. The only thing better than a refreshing lemonade on a hot summer day is pink lemonade! It was one...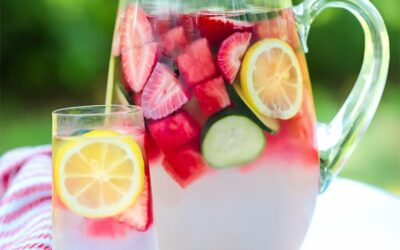 This anti-inflammatory fruit and ginger infused water is the perfect homemade refresher. It's made with ginger, watermelon, and tons of other fruits and veggies that feature added health benefits. Summertime is here along with picnics, BBQ's, and dinners on the patio...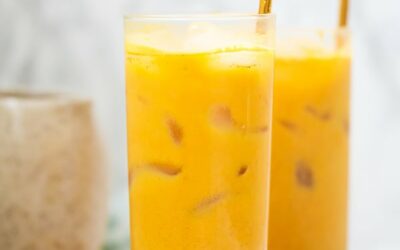 This iced turmeric golden milk latte is the perfect anti-inflammatory drink! It's paleo, AIP, and vegan. Turmeric is one of my all-time favorite ingredients! It has amazing flavor, beautiful color, and incredible anti-inflammatory qualities. I use it in soups, salad...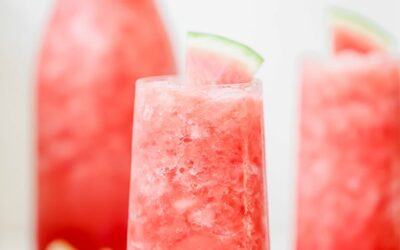 This watermelon lemonade mocktail is the perfect summertime refresher to serve at brunch or on a warm afternoon! It's paleo, AIP, and free of refined sugar. After I transitioned to a real food diet, fun drinks kind of fell by the wayside. So much focus is given on...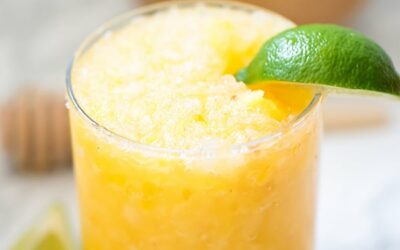 This frozen mango margarita mocktail is the perfect drink to enjoy on Cinco De Mayo, or a fun evening! It's both paleo and AIP. Margaritas are serious business this time of year, and this margarita cocktail is the real deal! I frequently get asked if I've reintroduced...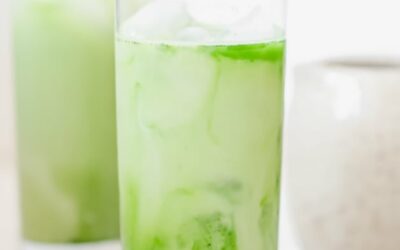 This iced matcha latte is the perfect pick me up. It's easy to make and tastes delicious! Matcha is so trendy right now... like, incredibly trendy! I had never tried matcha until about a year ago. I was intrigued by the bright green color and the fact that everyone...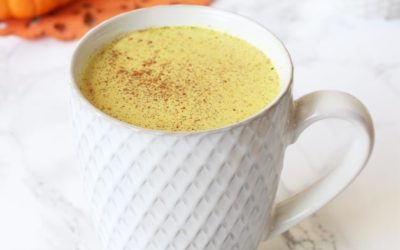 This post contains affiliate links. Learn what that means here. Pumpkin spice season is in full swing, and it's got me feeling all kinds of nostalgic. I recall bundling up in my favorite university hoodie and walking down to the student union Starbucks to get my...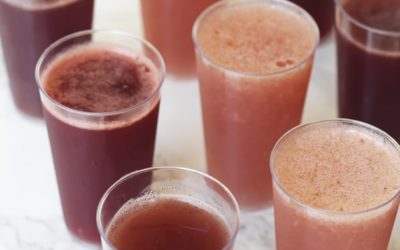 When it comes to treating myself and indulging, I've always been way more inclined to chocolate-y treats and comfort food rather than alcohol. It's never interested me, and it's never made me feel good. But one thing I can't deny is that they sure make alcoholic...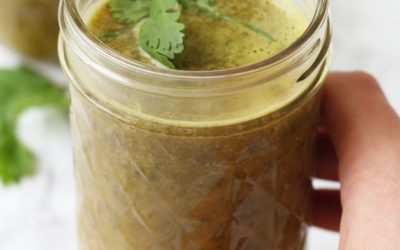 It's no secret that greens are good for you. They're packed with vitamins and phytonutrients that are essential for you to thrive. That's why green drinks and green smoothies are so popular. I fell in love with the documentary Fat Sick and Nearly Dead years ago, and...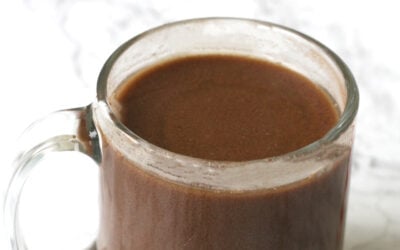 This post contains affiliate links. Learn what that means, here.  I love the holidays and am quick to break out my sweaters, string up various shiny decorations, all while warming up a mug of something warm to sip. We all love our bone broth, but you've just gotta...