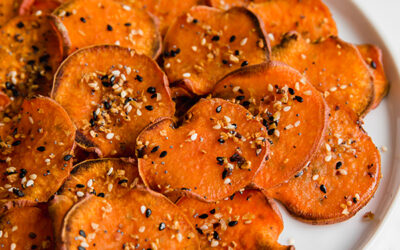 This post contains affiliate links. These sweet potato everything bagel chips are the ultimate crunchy snack! They're a healthy paleo chip made with everything bagel seasoning. Oh yes, I went there! When I first saw everything but the bagel seasoning popping up at...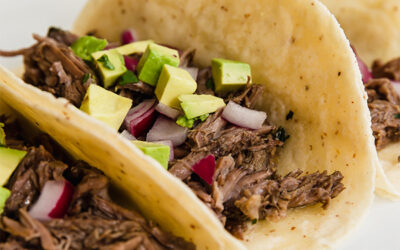 This slow cooker barbacoa is an easy and delicious protein to add to burrito bowls, or make into tacos! The barbacoa is paleo, whole30 compliant, and can be adapted to be AIP. What is Barbacoa? Maybe you've seen barbacoa on the menu at a restaurant, in line building a...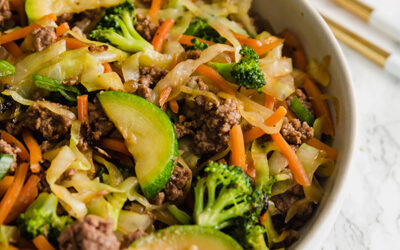 This ground beef stir fry is easy, delicious and cost effective! It's made without soy or gluten and is paleo, whole30, AIP, and easy to make keto. Who doesn't love good stir fry? It's easy, fast, and you can pack a lot of flavor and vegetables into just one pan. It's...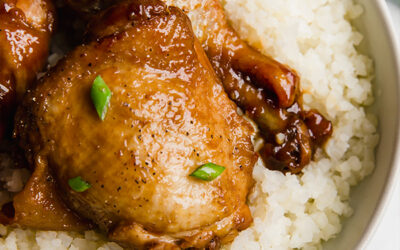 This Filipino Chicken Adobo is a garlicky flavorful main dish that's simple to make, and delicious! It's paleo, whole30, and all around healthy. Traditional Asian dishes are some of my favorites! They're flavorful without being overpowering, and many are pretty...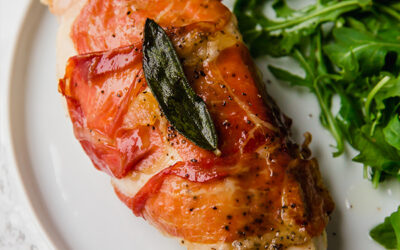 This baked prosciutto wrapped chicken is next level delicious. It's paleo, whole30, keto, and AIP. It's pretty widely accepted that if you wrap anything in bacon, it's going to taste better! Dates, asparagus, shrimp, you name it. The same thing goes for prosciutto!...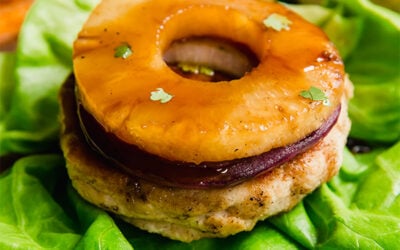 These Hawaiian Teriyaki Chicken Burgers are next level decadent. With grilled pineapple and a yummy teriyaki sauce, they're perfect for a summer day. These burgers are healthier, paleo, whole30, and AIP. Now, this is the kind of burger that I would have ordered at a...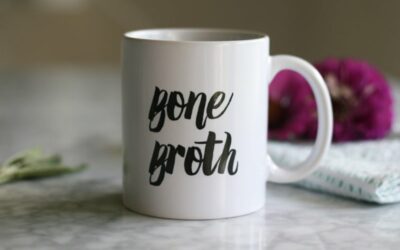 Bone broth is a healing superfood that's packed with minerals like calcium, magnesium, collagen, and gelatin that both nourish the body and support the gut lining. Making your own bone broth at home doesn't have to be hard! I started drinking bone broth when I was...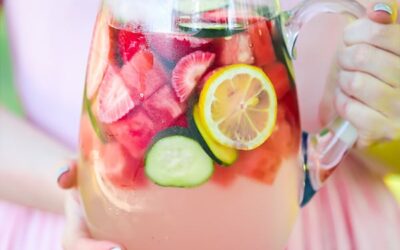 Mother's Day is just around the corner, and it's time to get to planning! Back when I was in college and was working part-time as a waitress, Mother's day was always one of the busiest days of the year. Though going out to eat can be fun, it's also pretty hectic to go...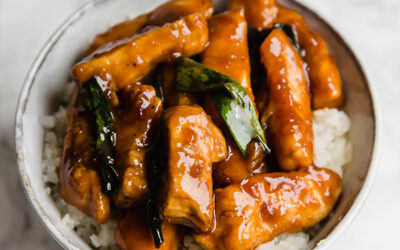 This paleo Mongolian chicken is a simple and flavorful takeout dupe. It's whole30 and AIP friendly. I'm always down for Asian flavors! So many of my favorite dishes are Asian inspired. In the Hoover household, we make teriyaki chicken close to once a week, and neither...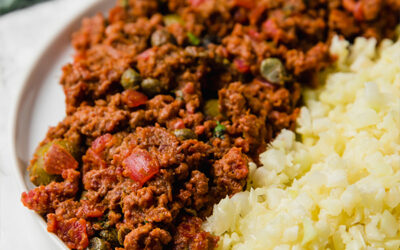 This Cuban picadillo is flavorful and nourishing. It's easily adapted to be paleo, whole30, and AIP compliant. Have you ever had picadillo? It's a flavorful and filling way to turn simple ground beef in a delicious meal! It's traditionally made with simple ingredients...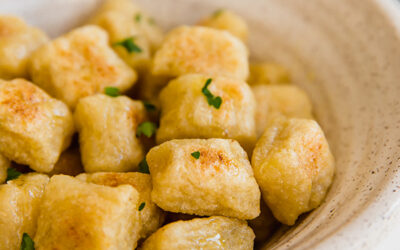 This cauliflower gnocchi is a delicious comforting dish made with minimal ingredients! It's gluten-free, paleo, vegan, and autoimmune protocol compliant. Do you remember when frozen cauliflower rice first came out at Trader Joe's? People were going nuts, and stores...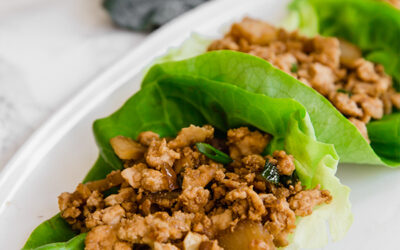 These chicken lettuce wraps are the perfect healthier PF Chang's copycat! They're paleo, whole30, and AIP compliant. I was always an unhealthy eater as a kid, and never really wanted to eat any meat or vegetables. That's why the first time that I ate lettuce wraps at...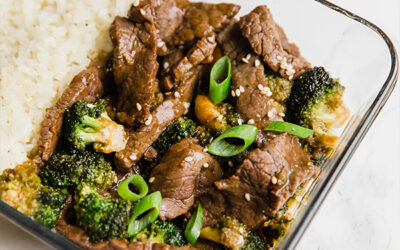 This healthy beef & broccoli dish is perfect for meal prep for the week! It's paleo, whole30, and AIP compliant. Meal prepping is a game changer. I don't know how I would have been able to change my diet and actually be successful if it weren't for having a solid...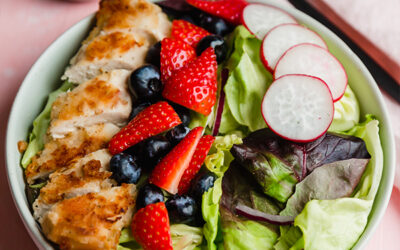 This crispy chicken salad is made with a grain free breaded chicken, fresh berries, crisp vegetables, and an avocado ranch dressing. It's paleo, whole30, and AIP compliant. The word "crispy" is very popular at my house. My husband wants everything to be...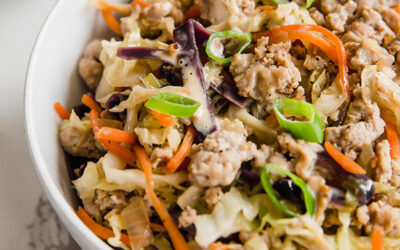 This post contains affiliate links.  This Egg Roll in a Bowl recipe brings back all of the flavor and nostalgia you love about egg rolls without the wrapper! It's paleo, whole30, AIP, and keto. When it comes to any takeout, I feel like everyone is always down for...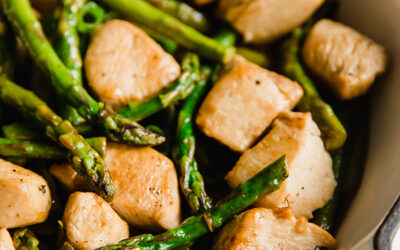 This lemon & asparagus chicken skillet is a simple one-pan meal to make on a weeknight or for meal prep. It's Whole30, Paleo, AIP, and gluten-free. Sometimes you just need an easy one pan meal! I love cooking skillet meals on busy weeknights or for simple meal...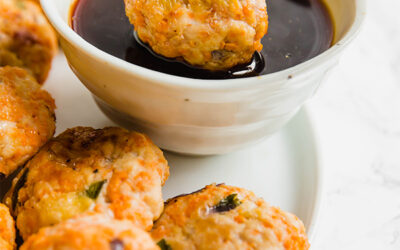 These pineapple chicken poppers are the perfect fun weeknight meal! They're easy to make, kid-friendly, and are gluten free, paleo, whole30, and AIP compliant. I can't get enough chicken poppers! They're the perfect thing to make for a quick weeknight dinner or meal...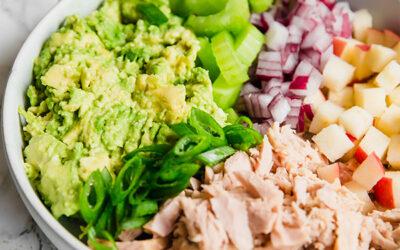 This avocado tuna salad is an easy and healthy lunch option! Whether you're paleo, whole30, or AIP, this tuna salad will be perfect for you. When I first started eating healthier, canned fish was my saving grace. I mean, I was hesitant about it at first, but once I...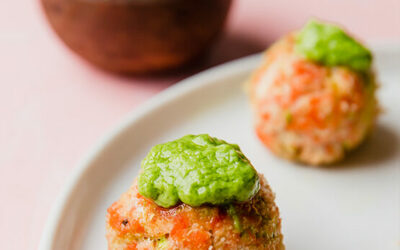 These baked salmon meatballs are a healthy and delicious meal! They're gluten free, paleo, keto, whole30 and AIP. Salmon is one of those super foods that I always feel like I could work into my diet more! I love how it tastes, and I love how satiated and healthy it...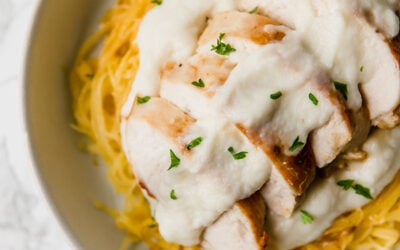 Spaghetti squash has been a staple vegetable ever since going gluten-free in college. It's inexpensive, easy to prepare, versatile, and of course... it's basically vegetable pasta. I used to eat my spaghetti squash with a generous helping of tomato sauce from a jar...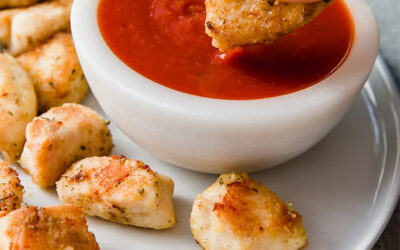 These paleo Italian chicken nuggets are flavorful and fun to dip in marinara sauce! They're egg free, grain free, whole30, and AIP. I've said it before and I'll say it again... I love chicken nuggets. I had never met a chicken nugget that I didn't like until I...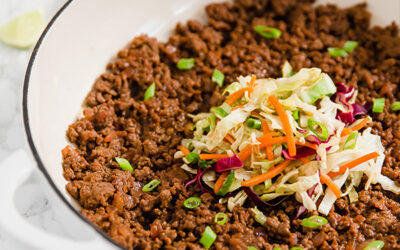 This Asian Sloppy Joe is classic comfort food with a flavorful and fun twist! It's gluten-free, paleo, whole30 compliant, and AIP. We all know sloppy joes. We may have a love/hate relationship with them, but we know them well. They're classic comfort food sandwiches...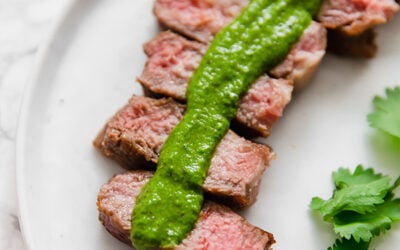 This steak with chimichurri sauce is perfect for serving for date night. It's paleo, whole30, and AIP compliant. I never cooked a whole steak until I was married. I thought it was this crazy exact science that was reserved for 5-star chefs and home cooks who wear...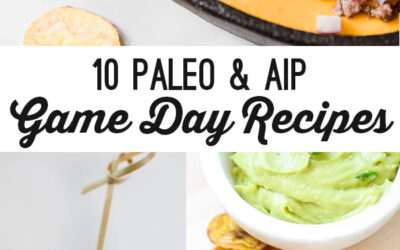 When I was a kid, my dad once asked my mom to buy some more snacks because football season was coming up. She replied that he didn't even like football, and he says "I don't care. If it involves food, I like it". Ditto. I've never really been into sports much, but I'm...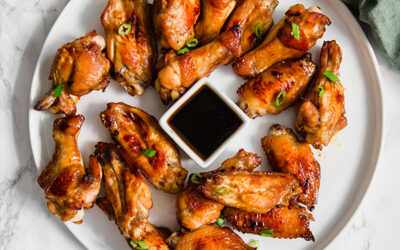 This post contains affiliate links. These General Tso style Asian Chicken Wings are addictive! They're perfect for serving for game day, at a party, or just as a fun dinner. They're soy free, gluten free, paleo, and AIP compliant. Chicken wings are perfect party food!...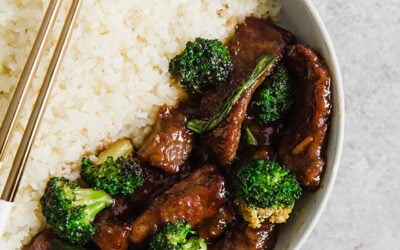 This post contains affiliate links. This Mongolian Beef Stir Fry is flavorful, simple, and filling! It's soy free, paleo, whole30, and AIP compliant. Have I shared here before that I never really ate beef until I was in my 20's and married? Crazy, right? I had a fast...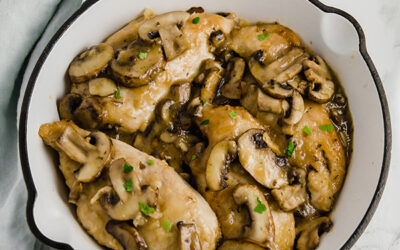 This chicken marsala has all of the flavors of the classic but is made to be paleo, whole30, and AIP compliant! I think I've done enough gushing about Italian food on this blog, but just in case... I love Italian food. My dad's side of the family is Italian and...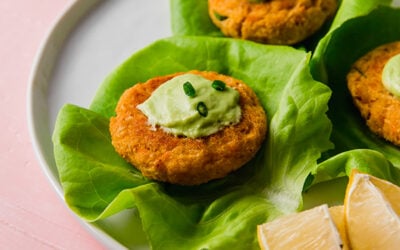 This post contains affiliate links. These gluten-free sweet potato crab cakes with avocado horseradish mayo are easy and delicious! This recipe is paleo, whole30, and AIP compliant. I love crab cakes, salmon cakes, tuna cakes... any kind of cake, really! If it's in...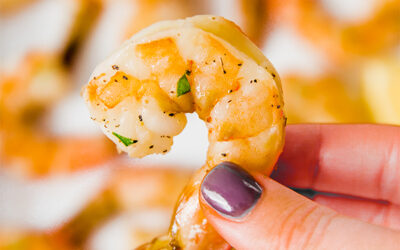 This healthy lemon baked shrimp is so simple and delicious! It takes less than 10 minutes to make, and it's dairy-free, paleo, whole30, and AIP. You know that feeling at 6:30 PM on a Tuesday after a long day when you're tired, ready to eat dinner and unwind but you...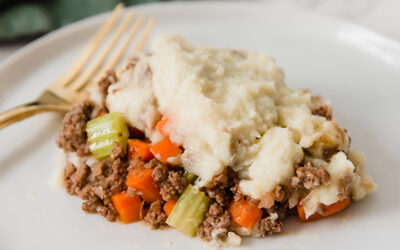 This cauliflower shepherd's pie is a comfort food classic made lower carb! It's paleo, whole30, and AIP compliant. When I think about nourishing winter comfort foods, Shepherd's Pie is one of the first things that comes to mind. It's warming, filling, and a complete...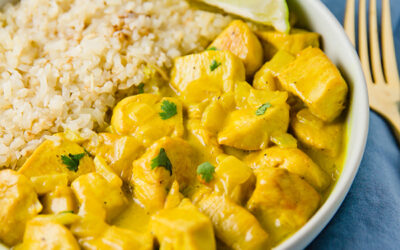 Thank you to Sprouts for sponsoring this post! All opinions are my own. This turmeric chicken curry is flavorful, filling, and packed with anti-inflammatory ingredients! It's paleo, whole30, and AIP compliant. If you're looking for a nourishing and warming dinner...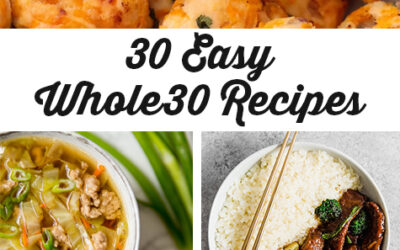 January is here, and for many of us, that means it's time for a whole30! The whole30 is a 30 reset that helps you get away from sugar, processed foods, and back to real, whole foods! No calorie counting, no diet mentality, just real food. You can find a full Whole30...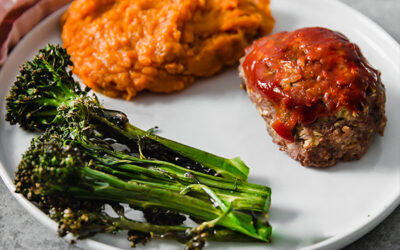 This one-pan meatloaf dinner makes for an easy and comforting weeknight meal. It's paleo, whole30, and AIP compliant and made all on one sheet pan. Meatloaf is one of those comfort food dinners that is always filling and delicious... especially when paired with...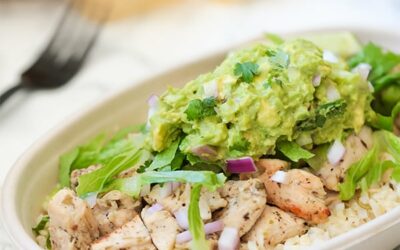 2018 has been such a fun year! Of course, every year has its rough patches... including this one... but overall, there is always something to be grateful for. Looking back at this year, I wanted to start with the heart and soul of UnboundWellness.com, and one of my...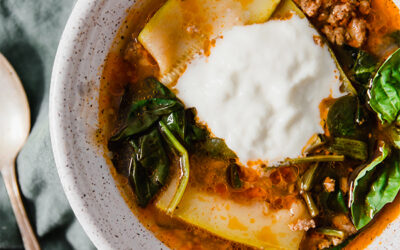 This post contains affiliate links. This paleo lasagna soup is just the thing when you're craving lasagna! It's low carb, dairy-free and easily adapted to be whole30, keto, and AIP compliant. Who doesn't love lasagna? My Italian family and my non-Italian husband are...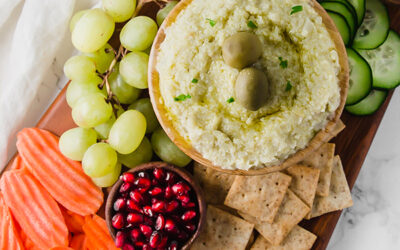 This charcuterie board is dairy free, gluten free and totally paleo! It's perfect for the holidays, party snacks, or just a fun and fancy appetizer. Charcuterie boards are a huge treat in my household. My husband loves snacky foods, and if he could just eat a...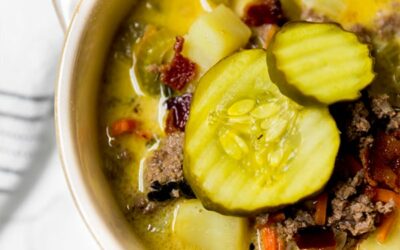 These nourishing and comforting soups are perfect for warming you up on those cold winter evenings! They're paleo, AIP, and whole30. There's nothing like a big warm bowl of soup this time of year. Not only is it warming, but they can be incredibly nutrient dense, easy...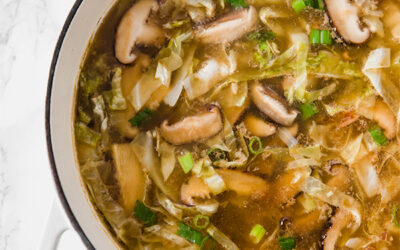 This post contains affiliate links. This hot & sour soup is an easy and nourishing dish! It's paleo, whole30, AIP, and an all around healthy and filling meal. I've shared my families love for Chinese food here on the blog before, and I'm back to share another...