Meet Michelle
Hi! I'm Michelle!
I'm on a mission to help you live a vibrant, amazing life with chronic illness with delicious food, holistic living, and the motivation to make it sustainable.
A few years ago, if you were to tell me that I'd one day be free from my mystery food allergies, energy deficits, and thyroid problems, I would have thought you were crazy. But I'm here to tell you, that there is hope! There is hope that you can turn your health struggles into a health success story.
As many of you know, I too know the burden of living with chronic illness and autoimmune disease, but live a different life today…
My Hashimoto's and Digestive Issues Story
When I was just 17 years old I was diagnosed with Hashimoto's disease. Hashimoto's is a chronic autoimmune disease where my immune system the thyroid and basically messes up everything. I had a doctor tell me to sit down, be quiet, and I'd be mostly fine… I didn't buy it. I felt in my heart that Hashimoto's didn't have to be a lifelong sentence, but I didn't know what to do.
I went years feeling like I was mysteriously allergic to everything, and like my thyroid was out to get me. My whole body hurt, my headaches were chronic, my stomach ached every second of every day, and I was so fatigued that I would sleep up to 18 hours a day.
Three years later, I learned the autoimmune gut connection. From there, it all started to unravel. I went on a long journey to change my relationship with food, heal my gut, and change my lifestyle. I made a lot of mistakes, and I'm still nowhere near perfect, but today, my life is drastically different.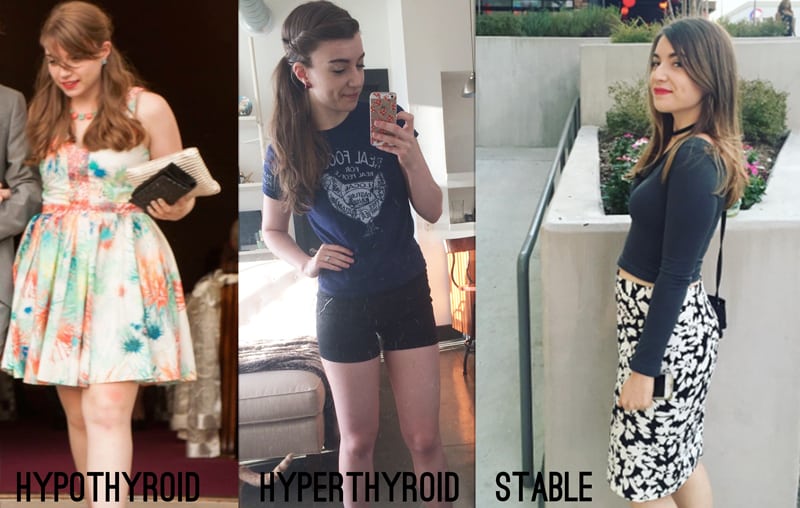 I went from hypothyroid… fatigue, weight gain, intolerance to cold.
To very hyperthyroid… heart palpitations, panic attacks, jittery feelings.
To stable… and while not eating whatever I want and pushing myself to my breaking point, still healthy, and thriving. 
Today, I embrace an Autoimmune Protocol (AIP) Paleo template filled with nutrient-dense, healing foods, holistic lifestyle practices, and mindfully being grateful for every single day that God has given me! And I'm here to help you do the same…
I'm here to help you on your journey to better health with chronic illness.
The autoimmune protocol, paleo, and Hashimoto's, and leaky gut is not easy, and I know first hand. Unbound Wellness exists to help you through it all with…
Easy, fuss-free recipes
Dealing with the social impact of a new lifestyle
Keeping the motivation to be in it for the long haul!
I'm a recipe developer.
I absolutely love cooking and creating. I develop multiple recipes a week here at Unbound Wellness that are paleo, AIP, gluten-free, and all of the things free.
I'm an NTP.
I did my training through the nutritional therapy association. I'm not taking one on one clients at this time, but I use my knowledge as an NTP to dictate my content on my blog.
10 More Things You Didn't Know About Me
1.I live in Dallas, TX now, but I grew up in Hauppauge, New York… and I'd move to either Florence, Italy or Colorado in a second.
2. I married the same man twice. My husband, Daniel, and I were such eager beavers we had a courthouse wedding a month after we were engaged. But I'm also a princess and wanted a real wedding 9 months afterward!
3. Daniel and I met on Match.com! He was actually the first and last guy I met online. He messaged me within the first week of joining and locked it down. I often joke that I basically just Amazon prime'd a husband.
4. I got started cooking through baking cupcakes from boxed mixes. Things have changed a lot over the years!
5. My cat's name is Stinky… seriously.
6. As you may have noticed from my Instagram stories, I'm kind of a ridiculous human being who refuses to take myself too seriously. Life is too short!
7. I'm still a big X-Files fan.
8. I ate junk daily until I was about 18 and slowly became Paleo/ AIP as I realized how it helped me heal.
9. Tomatoes and potatoes were once my favorite foods… oh nightshades.
10. Hashimoto's changed my life for the better and I wouldn't change who I've become for the world.