My Cookbook
My First Print Cookbook | The Autoimmune Protocol Comfort Food Cookbook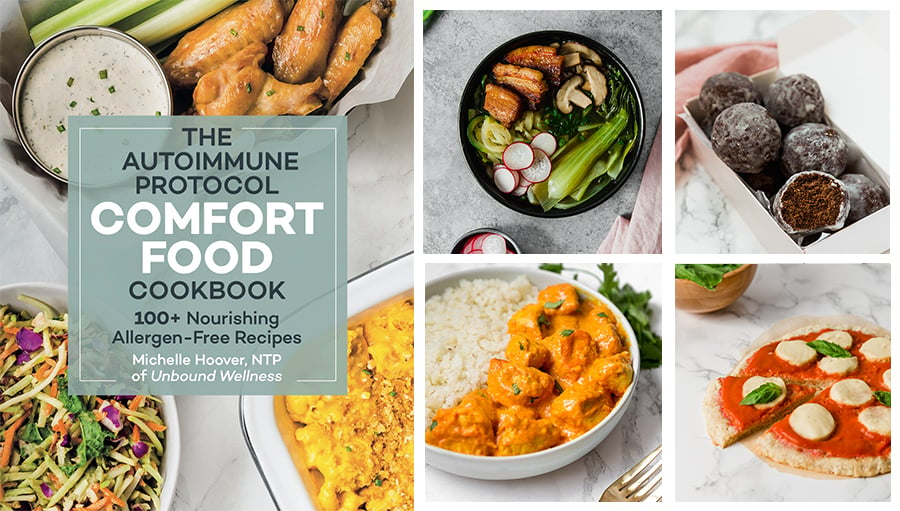 The Autoimmune Protocol Comfort Food Cookbook revisits all of the fun comfort foods you love with a healing twist. Every recipe is autoimmune protocol compliant—free of gluten, grains, eggs, dairy, nightshades, legumes, seeds, and refined sugars—but still tastes like the foods you crave. 
Enjoy these amazing dishes with nostalgic family members, picky kids, or oblivious party guests that will be none the wiser! Including classics you know and love, like cupcakes, lasagna, waffles, and more, this cookbook features over 100 recipes that are anything but boring.
You'll find recipes for breakfasts, appetizers, soups and salads, crazy good sides, classic Sunday night dinners, holiday favorites, easy one-pan meals, decadent desserts, and more!
Enjoy over 100 classic dishes made AIP, such as…
Shrimp & grits
Cauliflower mac n' cheese
Buffalo Chicken Wings
Hungarian Goulash
Margherita Pizza
Banana Bread French Toast
Zucchini Lasagna
Biscuits & Gravy
Pork belly ramen
Fish tacos
Seafood Paella
Birthday Cupcakes
& so much more!
This cookbook also includes options for recipes that are…
Coconut free
One pan meals
Under 45 minutes
Meal prep ready dishes
100+ Nourishing & Delicious Allergen-Free Recipes