Growing up in an Italian family in New York, I was always a bit of an Italian food snob. My maiden name is very Italian, and my dad, who's name happens to be Vinny, always joked the spaghetti sauce runs through his veins. My love for legitimate Italian food only grew more when I studied abroad in Florence, Italy, the capital of the Tuscan region. These experiences always made me roll my eyes at claims that chains like Olive Garden were real Italian food. Though I can never get behind the quality of their food, one thing I can get behind is a good, nourishing Zuppa Toscana! So why not make my own Zuppa Toscana that's paleo, whole30 compliant, and easily modified to be AIP?
So, what is Zuppa Toscana? It essentially translates to "The Soup of Tuscany". When I traveled to Tuscany when I was 21, I was expecting everything to be swimming in only Marinara sauce. Much to my surprise, Tuscany features a lot more rich, savory flavors like cream sauces, white beans, and rustic breads. A traditional Zuppa Toscana embodies this perfectly! It's made with Italian sausage, white beans, tomato, onion, potato, kale, Italian bacon, and olive oil. The American version adds cream, and usually omits the tomato.
So really Zuppa Toscana it's just a nourishing soup, and the perfect comfort food dish that can be enjoyed on all types of healing diets… if you prepare it right and use good ingredients!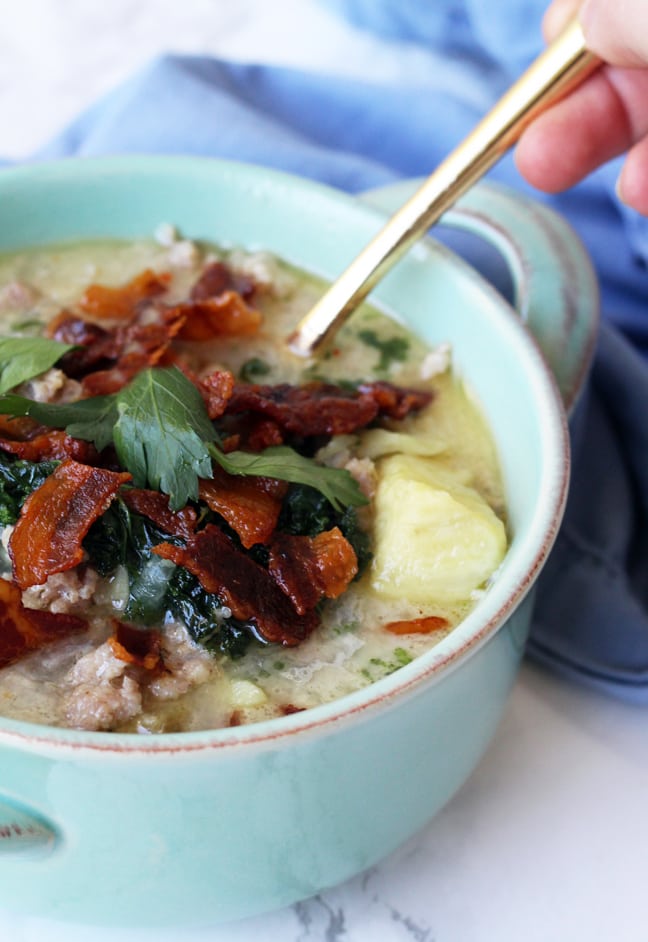 The Ingredients
Italian Sausage
Italian sausage gives this soup tons of flavor! Traditionally this soup is made with a spicy Italian pork sausage with the casing removed.
If you're like me and can't have nightshade spices, or are following an autoimmune protocol, you can easily make your own sausage at home. Check out this recipe!
Bacon
Gotta have the bacon, right? Bacon is used as a garnish in this soup.
White sweet potato
Though this soup traditionally has white potato and white beans, I'm using white sweet potato to keep it nightshade free and AIP compliant. The sweetness of the potato really adds something to the soup, but you can also use regular white potatoes if you tolerate them. If you're not into sweet potato, you can also sub parsnips or rutabaga. 
Onion
Onion adds lots of flavor to the soup. You can use either white or yellow onion.
Kale
See? I told you this soup was healthy 😉 You'll use a whole head of kale in this soup.
Chicken bone broth
Another powerhouse ingredient to make this a nourishing soup. I recommend this recipe for chicken bone broth, and I also have another recipe in my e-book, The 30 Day Gut Healing Diet Plan.
Coconut milk
Traditional Zuppa Toscana really isn't as creamy as the American version, but let's be real… creamy is good! Using coconut milk helps keep this soup dairy free, and with so many other flavors, you don't really taste the coconut.
Not using the Instant Pot?
I love using the instant pot for fast, easy meals!
However, if you don't have an instant pot, recipe is easily adaptable to a stove top! See the notes of the recipe for instructions.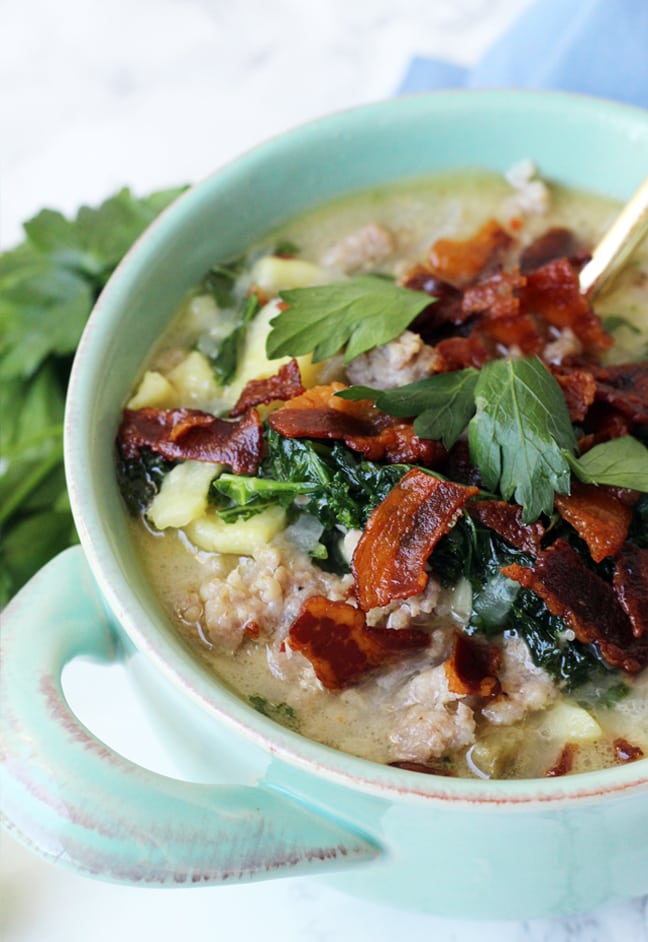 Print
Paleo Zuppa Toscana In The Instant Pot (Whole 30 & AIP)
---
Scale
Ingredients
1

lb ground Italian sausage (use this for AIP )

6

–

7

slice of bacon, chopped

4

large white sweet potatoes, peeled and diced (see above for substitutions)

1

medium yellow onion, diced

1

bunch of kale, destemmed

1 cup

coconut milk

5 cup

s chicken bone broth

2

cloves or garlic, minced

3 tsp

fresh Italian parsley (plus extra for garnish)

1 tsp

salt

1 tsp

black pepper (omit for AIP)
---
Instructions
Set the instant pot to sauté and add the bacon. Cook until crispy and set aside, leaving the fat in the pot.
Keeping the instant pot on sauté, add the onion to the bacon fat and cook sauté for 5-6 minutes or until translucent.
Add the minced garlic for 3-4 minutes of until fragrant.
Add in the ground sausage and sauté until cooked through. Remove some fat if desired.
Turn the instant pot off sauté and pour in the chicken bone broth, coconut milk, salt, pepper and diced sweet potato. Stir to combine.
Lock the lid onto the instant pot and set to 13 minutes on high.
After the soup is done, allow the pressure to release naturally.
Remove the lid and add in the kale and parsley and allow to wilt in the hot soup.
Serve topped with bacon and extra parsley.
---
Notes
If not using an instant pot, follow all of the instructions exactly the same, using a large dutch oven or pot to sauté the initial ingredients. Then, double the cook time of the soup on the stove, or wait until potatoes are softened.
That's all there is to it! This soup is the perfect comfort food for a cool evening, and stores well in the fridge for a few days. My husband took it to work as lunch for a couple of days in a row and absolutely loved it!
I hope you enjoy!