Are you ready for an autoimmune makeover? 
At 17 years old, my life changed forever. I was diagnosed with Hashimoto's disease, an autoimmune disease that attacks the thyroid, and the symptoms were debilitating.
My fatigue was terrible, my weight was unstable, my mood was volatile, and I was plagued by mystery food intolerances.
I was slowly losing my vibrancy for life, and I had no idea how to get it back. I felt hopeless. I felt scared. I felt sick, tired, and utterly sick of it.
Making Over My Diet & Lifestyle Helped Give Me My Life Back After Autoimmunity!
This real food, AIP approach played a huge role in turning my health around and managing my symptoms. It took me from a life of fatigue, mood swings, skin issues, and stomach pains, to a full and passionate life!
But, let's be honest… change is hard.  Where do you even start?! 
It's confusing. It's hard to commit. It's hard to figure out what the heck to even eat. It's hard to make it manageable for the real world.
So what do you do?
This e-book answers all of those questions with over 110 pages worth of meal plans, shopping lists, recipes, lifestyle guides, and more…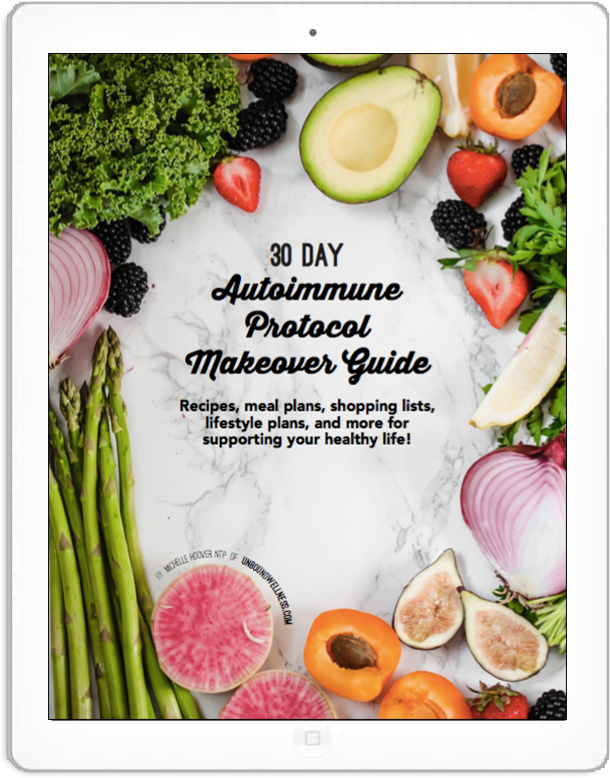 30 Days of Autoimmune Protocol Meal Plans & Lifestyle Guides
30 days of breakfast, lunches, dinners and lifestyle changes in an easy to follow 30 day format.
Shopping Lists & Meal Prep Guides
Four weeks of shopping lists with instructions on how to meal prep a weeks worth of healing foods in two rounds so you don't have to spend hours in the kitchen!
Easy & Delicious AIP Recipes
40+ AIP recipes that are fast, easy, and delicious! Sheet pan dinners, no-bake desserts, and one-pot meals galore.
NTP Approved Information on Addressing Autoimmunity
This e-book covers what autoimmunity is, what causes it, practical steps for healing, as well as a full guide to the AIP diet and reintroducing foods.
A Look Inside The 110+ Page E-Book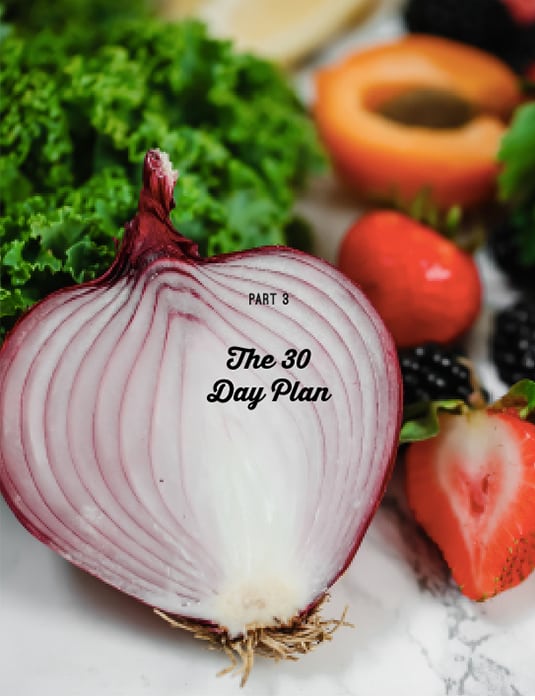 30 days of AIP meal plans & lifestyle plans, as well as a DIY options to customize!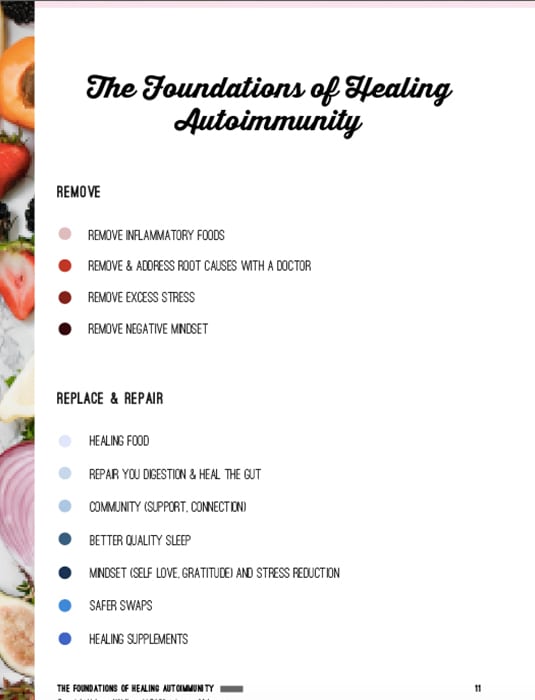 In-depth information on the foundations of healing autoimmunity, along with tips and tricks you can apply now, and strategies for you to customize.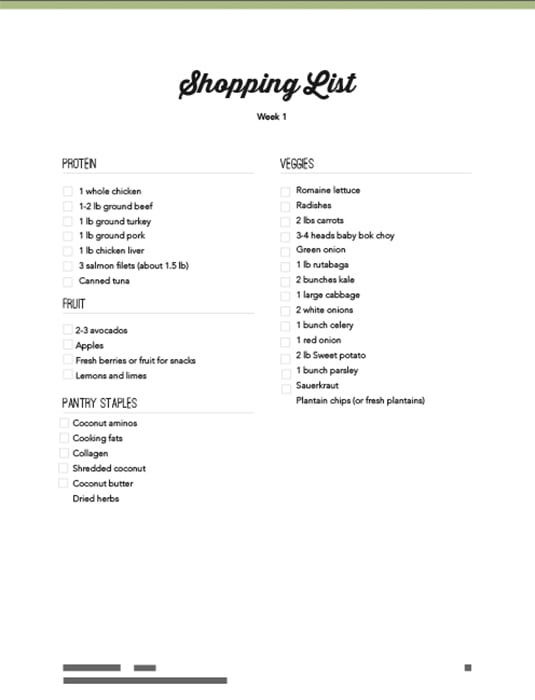 Over four weeks of shopping lists and meal prep guides to help you batch cook and stay organized!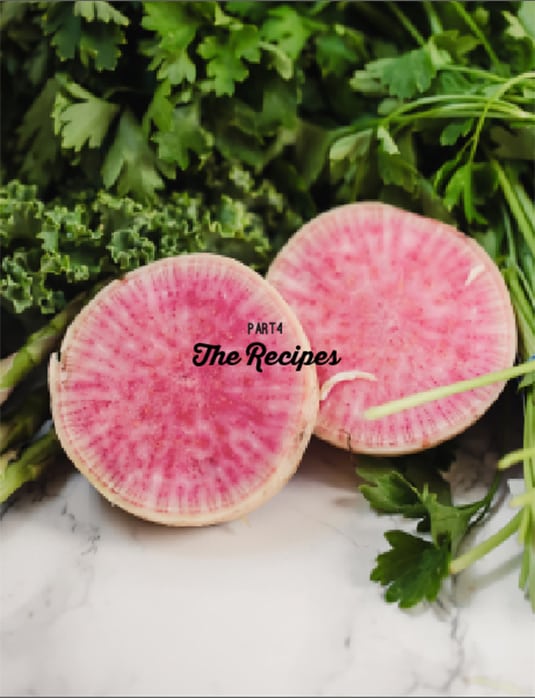 Over 40 AIP recipes for easy meals including breakfasts, main dishes, one pan meals, veggie side dishes, dressings, snacks, and treats!
This E-book Is Perfect For…
Stopping Confusion
Confused about a healing lifestyle? What works and what doesn't? Stop getting confused, and get clarity with this guide!
Guiding You Through the Process
Stop second guessing, and be confident in your diet, lifestyle, and approach to healing.
Finding New Ideas, Inspiration, and Recipes!
Already feel like an AIP pro? This guide is still an awesome resource for you! Get new easy and quick recipes, meal ideas, and inspiration for building a healing lifestyle.
Feeling Amazing!
You don't have to feel weighed down, foggy, and fatigued. Start feeling amazing!
What People Just Like You Are Saying…
"I have tried many AIP plans for years and bought books but have found them overly complicated -and with the often crippling fatigue that comes with my lupus and hashimotos I would often find myself overwhelmed and already tired from just looking at the recipes! Autoimmune Makeover was super easy to follow and didn't feel intimating to me at all. I was able to make some great meals for me and my (non AIP) hubby throughout the month following this reset. Favorite meal was the taco bowls and plantain chips! …One pan salmon close second! "
Caroline B.
"I LOVE THIS BOOK! Not only is this a recipe book, it's an entire how to guide for complete wellness! While following the autoimmune protocol sounds intimidating, Michelle breaks everything down and makes it so easy to follow. The best part is that making these changes WORKS. I never had any external signs of food intolerance, but I had lots of issues with indigestion, low energy, and worst of all BRAIN FOG. I am happy to report that I have seen huge improvements in all of these areas by following Michelle's guidelines. My focus and energy are so much better I don't even miss coffee! Thank you! "
Rebecca P.
"Aside from super convenient meal plans full of yummy easy to make recipes, I really found the Lifestyle plans each week so helpful. The journaling prompts really make you stop and think through your healing process and the WHY's to your pursuit of health. In addition, the Gratitude Tuesday practice was so great in creating a positive mindset- which honestly is one of the biggest contributors to healing! I love how Michelle has intentionally made this part of the healing process. I can tell how much time, effort, heart and talent that has been put into this eBook, and is definitely worth purchasing!"
Laura G.
"I was put on AIP by my functional practitioner almost 2 years ago and I remember being completely overwhelmed. All of the information was in a 2 inch thick booklet and I felt like I always had questions for her. After Autoimmune Makeover, I am blown away by how concise and easy to follow it is! On top of that, the recipes and grocery lists are absolute game-changers. Anyone could (and should) follow this program if they're needing a reset and an introduction to AIP. I'm so thankful for you, and all your dedication to this community! "
Katie B.
What do the recipes look like?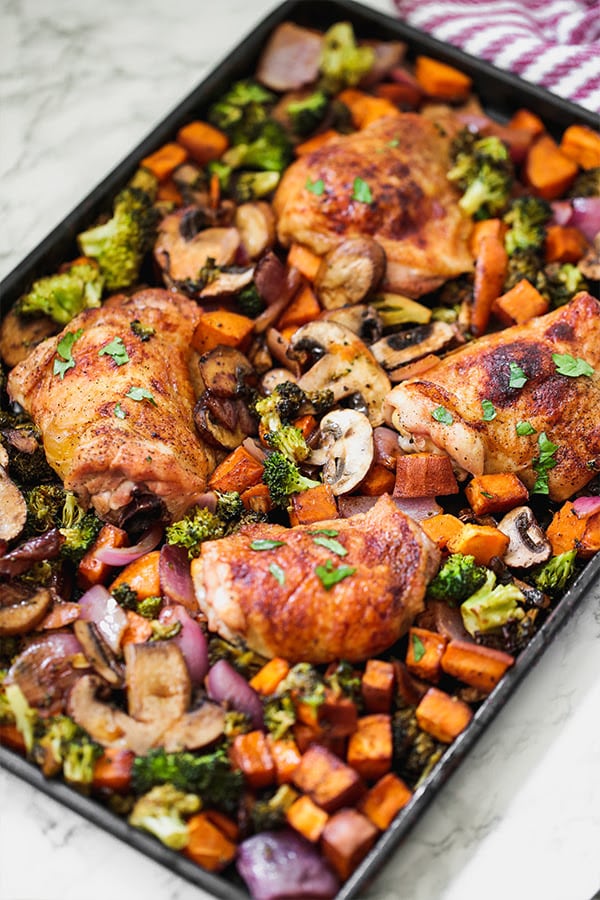 One pan balsamic chicken & veggies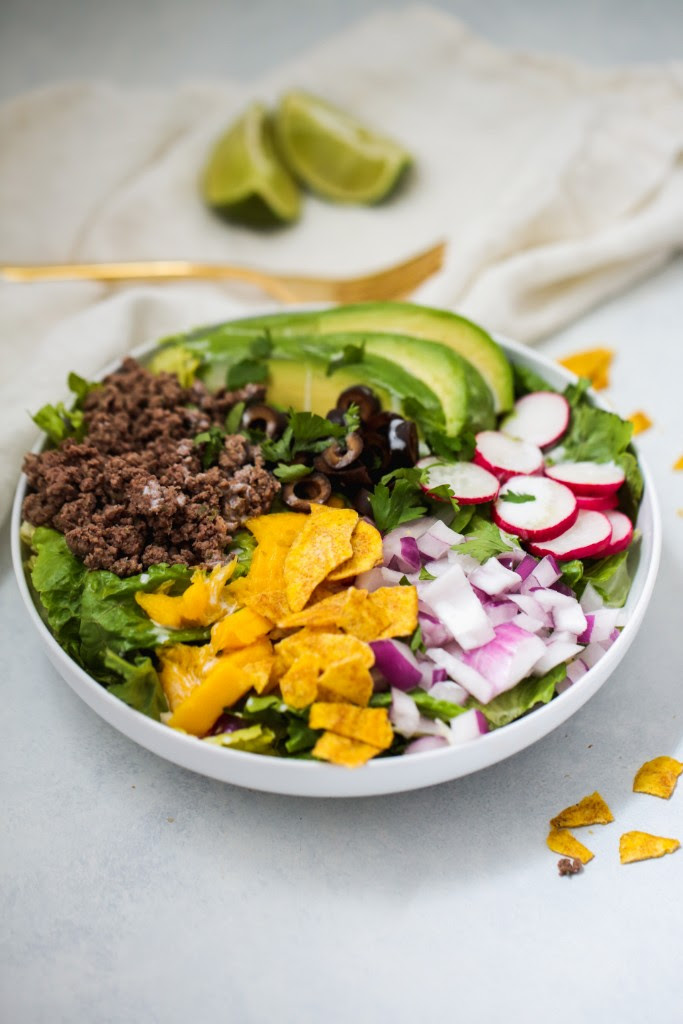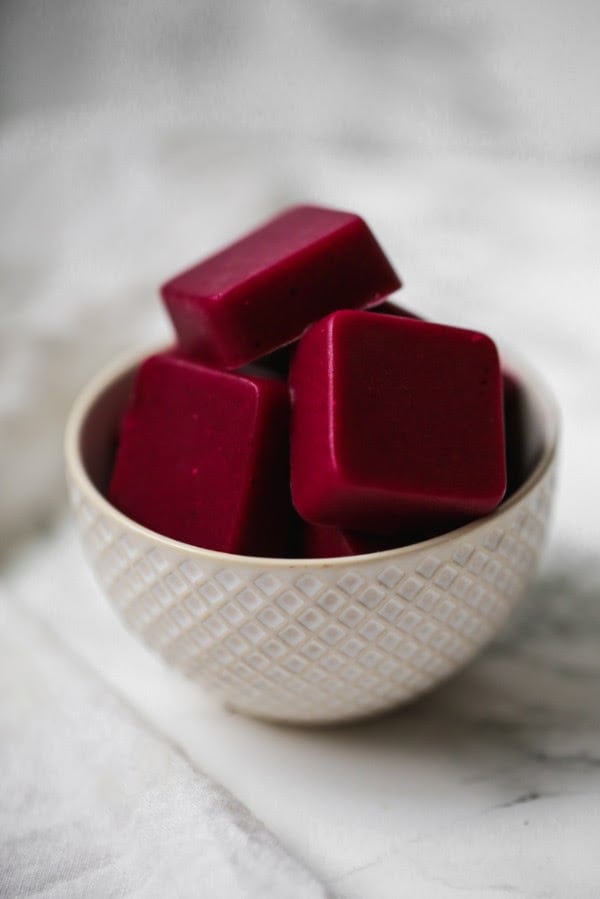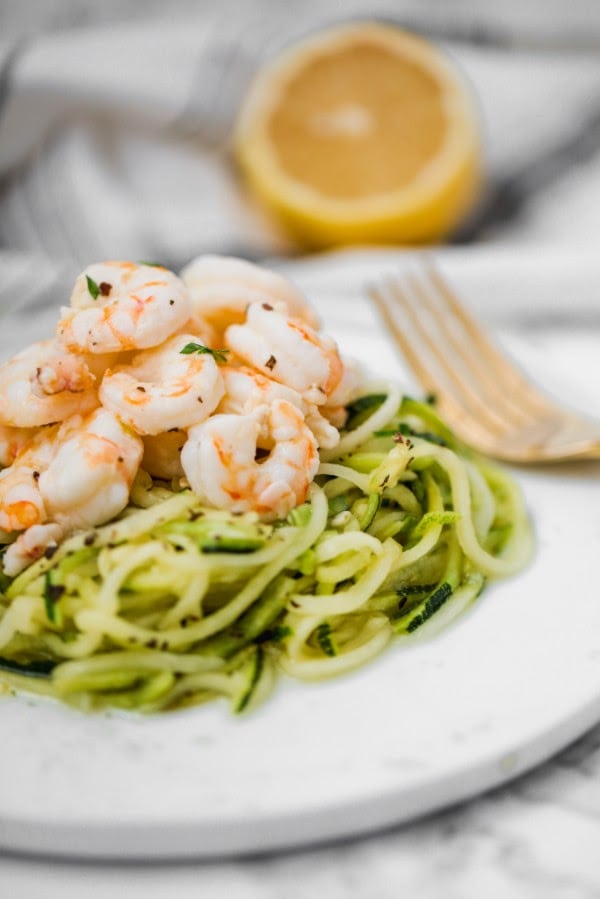 A Word From The Author
I'm Michelle Hoover! I'm a nutritional therapy practitioner, blogger, recipe developer, podcaster, and I get what it's like to have an autoimmune disease. I get what it's like to feel sick, exhausted, confused, and hopeless. But I also get what it takes to makeover your life and feel amazing!
This e-book is exactly what I needed when I was that overwhelmed 17 year old girl who just got a Hashimoto's diagnosis. It walks you through the steps you need to take to makeover your diet and lifestyle, and start to feel like yourself again.
Stop feeling confused, stop feeling stuck, stop feeling overwhelmed, and get finally clarity with the 30 Day Autoimmune Makeover Guide!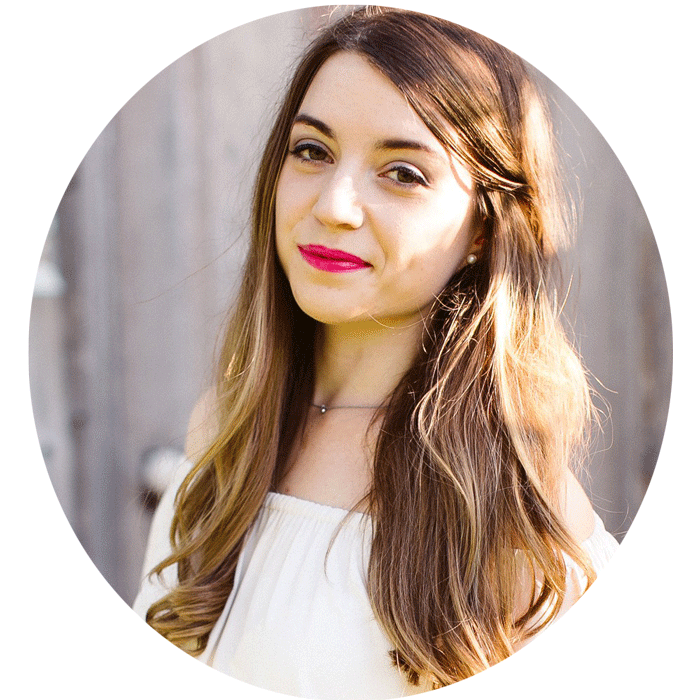 Is this e-book all I need to heal?
No. You need one on one support from a doctor. I am not a doctor. This e-book discusses my own personal tips on finding a doctor to help you take the next steps!
Are you a doctor or RD?
No. I am a nutritional therapy practitioner. This e-book is 100% informational and is not intended to diagnose or treat disease. Always consult with your doctor for medical advice, and to determine whether or not the information here is applicable to you.
Is this a physical book?
It's an e-book, so that means you get instant access after you purchase it! It's designed in an easy to access PDF format, so you can save it to your desktop, ibooks, a cloud storage device, or even print it out.
Is this e-book AIP compliant?
The e-book is 100% autoimmune protocol compliant. It explains AIP, it has AIP recipes, 30 days of AIP meal plans, and gives an overview of reintroductions.
How is this different from your other e-book?
My other e-book, the 30 Day Gut Health Guide is focused more so on gut health, and also features modifications for low FODMAP and low starch. However, it does not include lifestyle guides and more in-depth information on addressing autoimmunity… this e-book does! Plus, this e-book has tons of delicious new recipes! 🙂
What if I want to change up the meal plans and lifestyle guides?
That's perfectly fine! I encourage customization and have information on how to customize your approach. As long as you are eating healing foods, I encourage you to do what works best for you to make this sustainable. The meal plans and lifestyle guides are just a template that you can build off of further and is not perfect for everyone.
Michelle of Unbound Wellness LLC is not a doctor, and reading this content does not form a doctor/patient relationship. The materials on this site and in this product are for general information only and not intended nor implied to be a substitute for professional medical advice. Always consult a healthcare provider to determine the appropriateness of the information for your own situation and for any questions.
The techniques, suggestions and content expressed in this website are intended to be educational only. The author, Unbound Wellness LLC is not recommending medical advice of any kind, nor does she intend for any information on this website or within the materials provided to replace medical advice, diagnosis, or treat, or cure any health issue such as a disease, condition, or illness.
Before beginning any nutrition and/or exercise program, one must consult with their doctors or other licensed physicians and receive full clearance. The author, Unbound Wellness LLC claims no responsibility to any person or entity for any liability, loss, or damage caused or alleged to be caused directly or indirectly as a result of the use, application or interpretation of the content on this website.
In no event will Unbound Wellness LLC be liable for any loss or damage including without limitation, indirect or consequential loss or damage, or any loss or damage whatsoever arising from loss of data or profits arising out of, or in connection with, the use of this product.
Due to recent changes in law from the FTC, it is required that all companies identify what a "typical" result is. The results and opinions depicted on this website are actual results of real participants who followed the principles described in this e-book. If you don't do anything, you can expect no results. If you want results, you should try following this e-book as described.