Kitchen Tour {Pink MCM Kitchen}
Welcome to my pink mid-century modern kitchen tour! Here you'll find all of the links and the vibes you've been waiting for…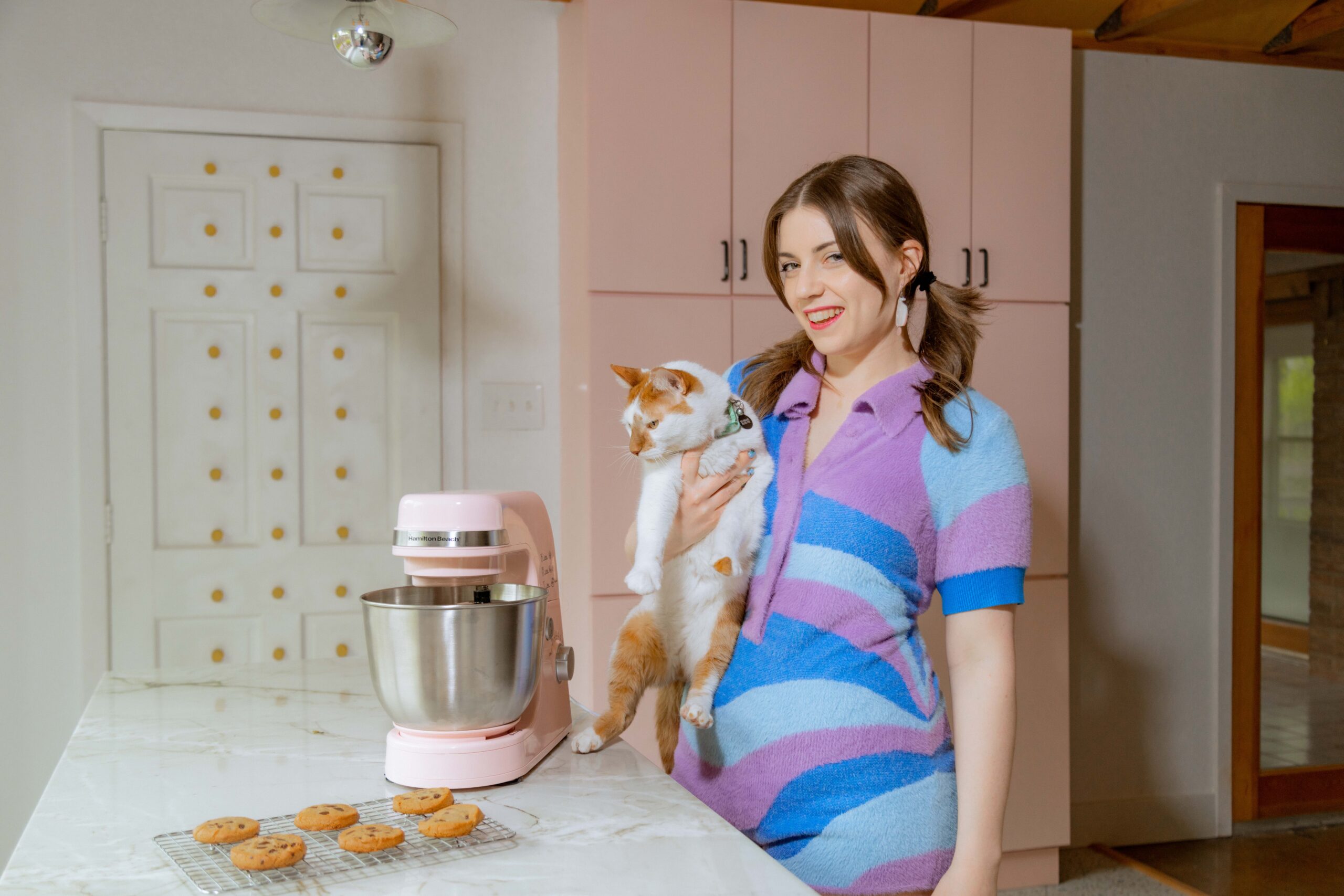 My husband and I have always been into mid-century modern design, lots of color, and adding our own personal touch to things! Our dream had always been to remodel or design our own home, but we kept falling into flipped houses that had zero character.
In the spring of 2022, my husband got a real estate email about a house with no photo. He curiously did a little more digging and found the coolest, 1975 custom home for sale, right in our area. After seeing it in person, we realized that it needed a lot of work… but we felt ready to take it on!
Of course, the kitchen is where I do my job so I zeroed in all of my energy and creative juices there. We managed to create a space that we both loved, and is absolutely perfect and functional for me to do my job!
BEFORE
The before is taken in July 2022. It features a drop ceiling which made the space feel super tight, old cabinets, and even a burnt peel-and-stick backsplash.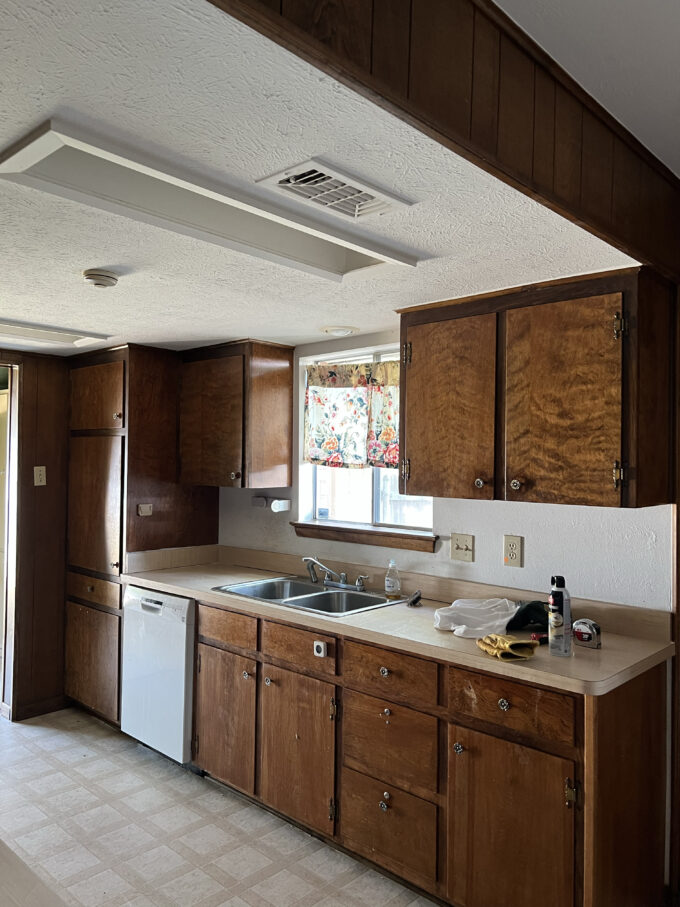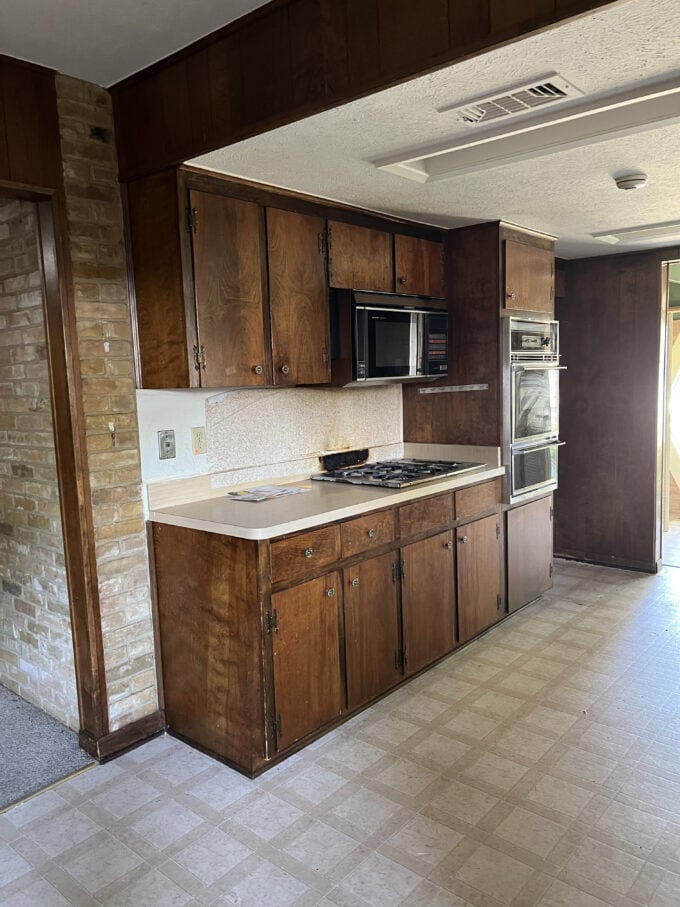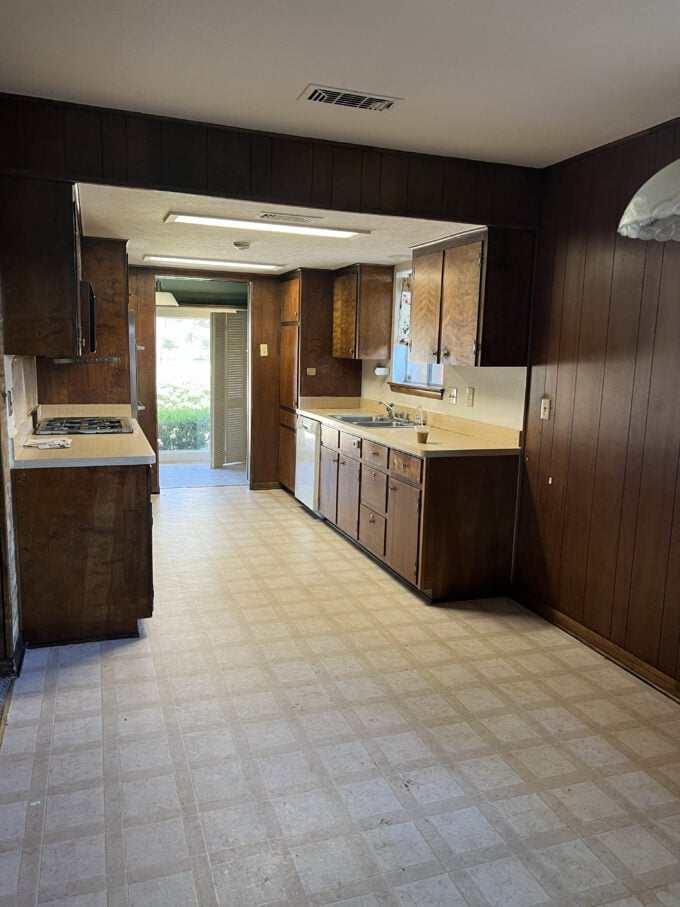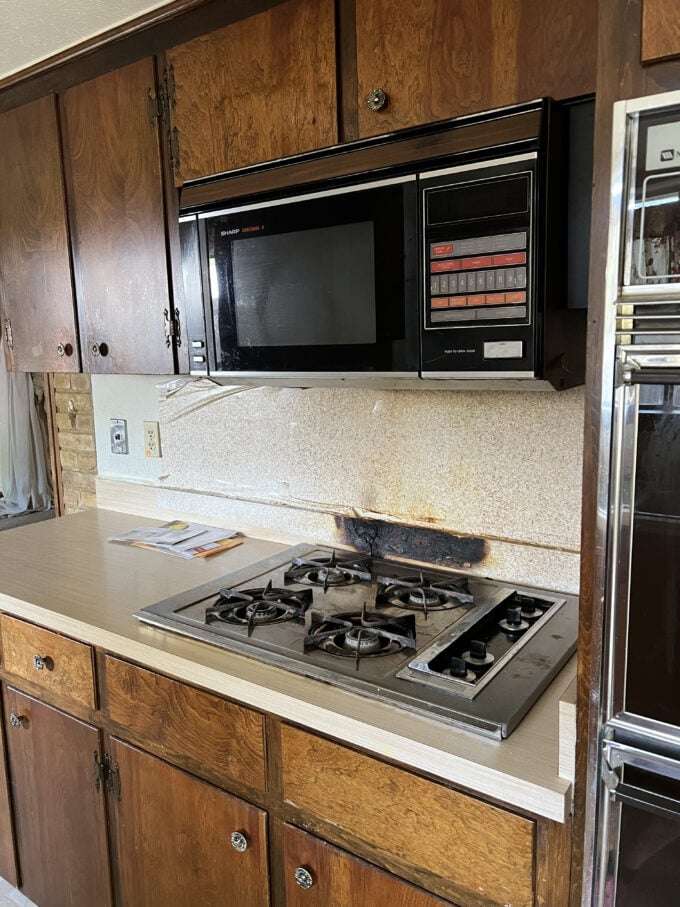 AFTER
The after is a total flip. We opened up the ceiling, and replaced literally everything top to bottom… walls, cabinets, appliances, and windows. Our goal was to make a totally unique space to work in and create content for all of y'all here!!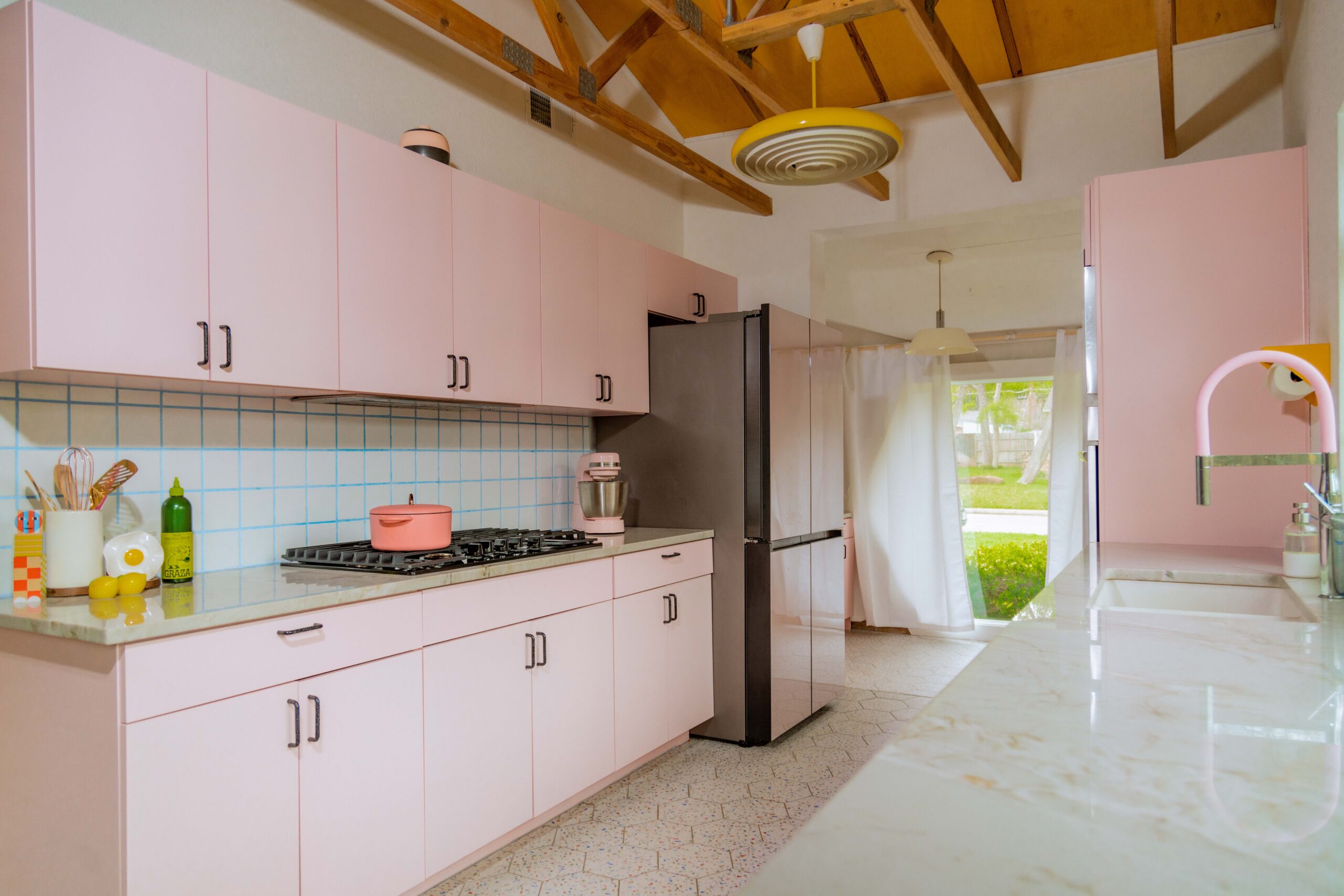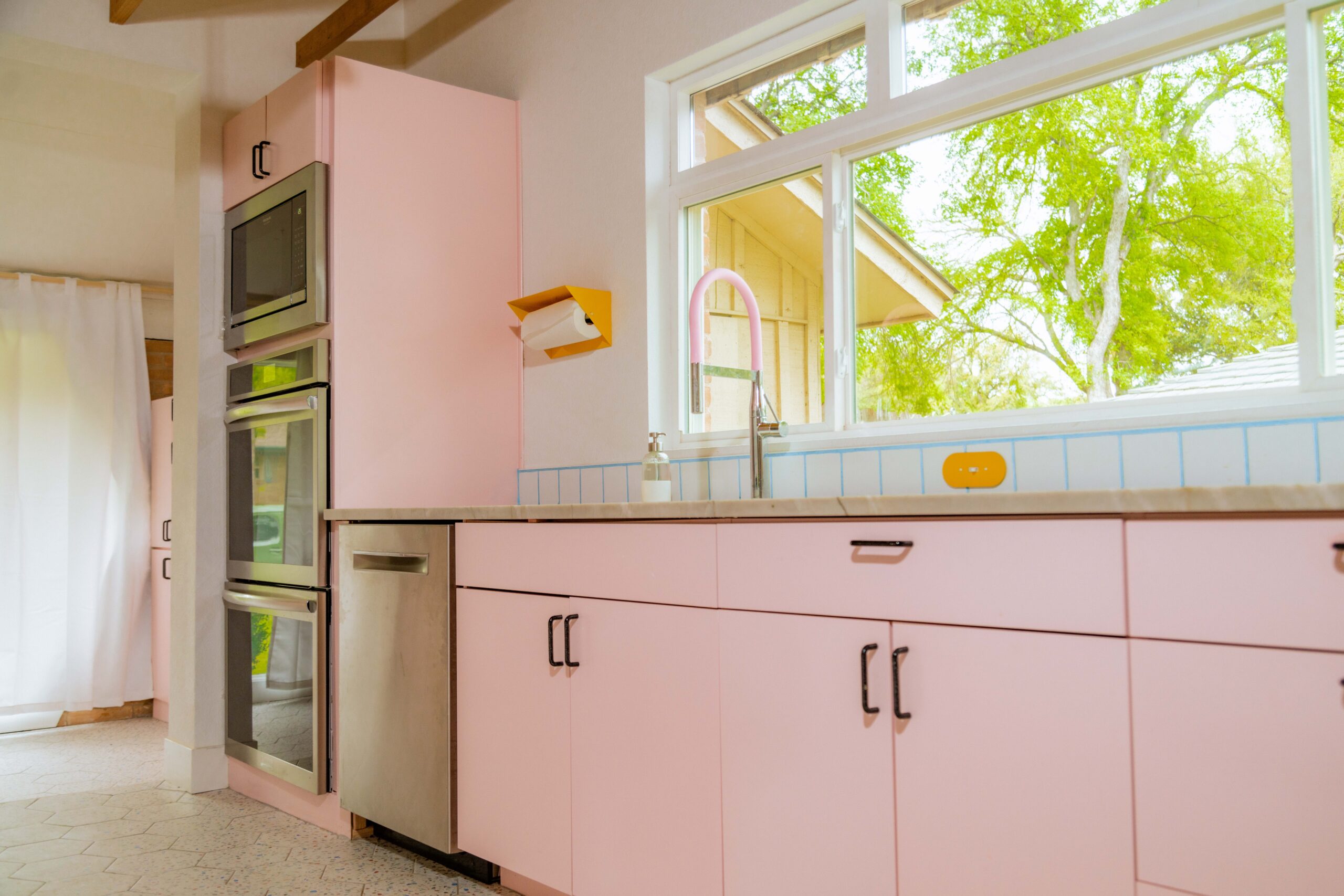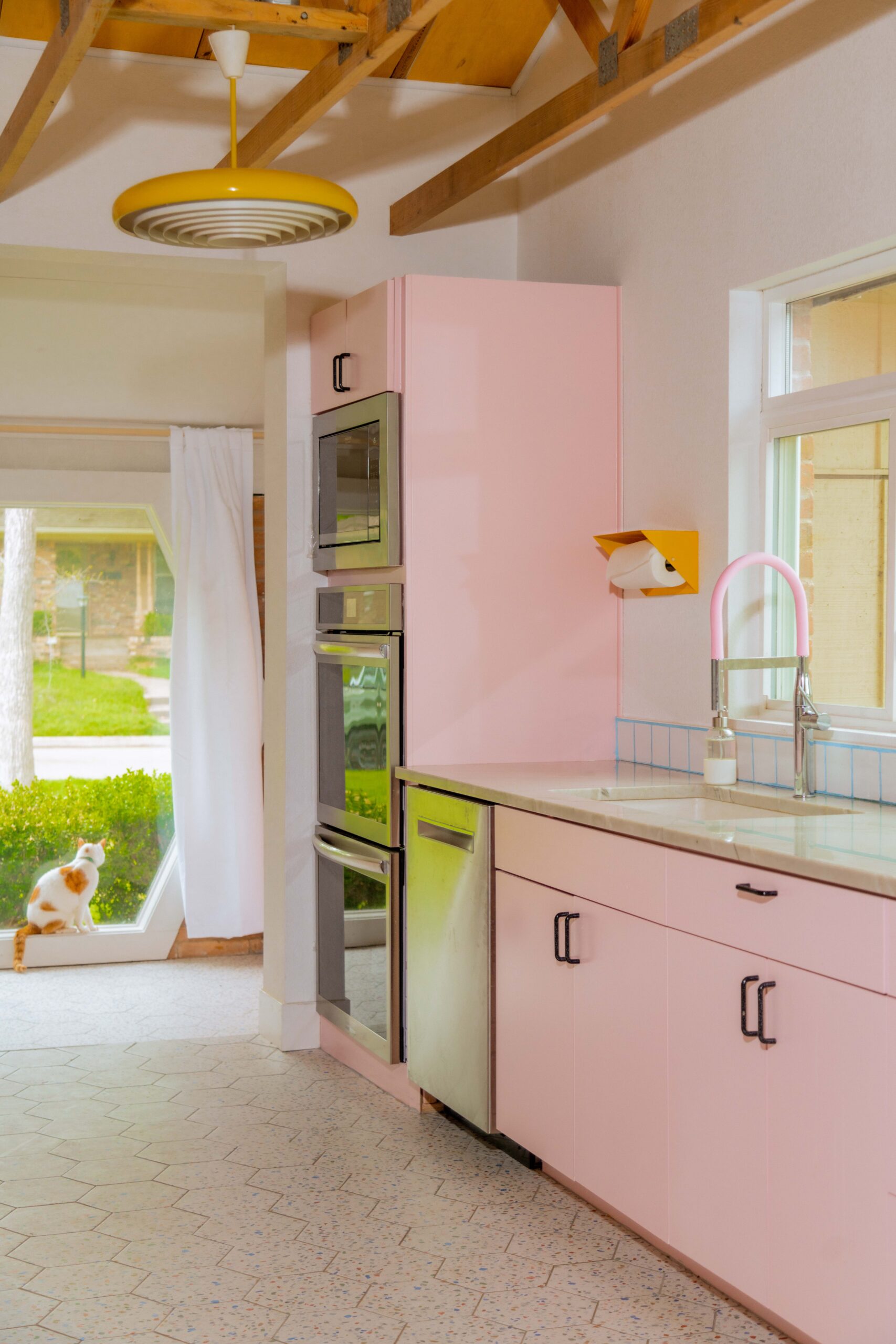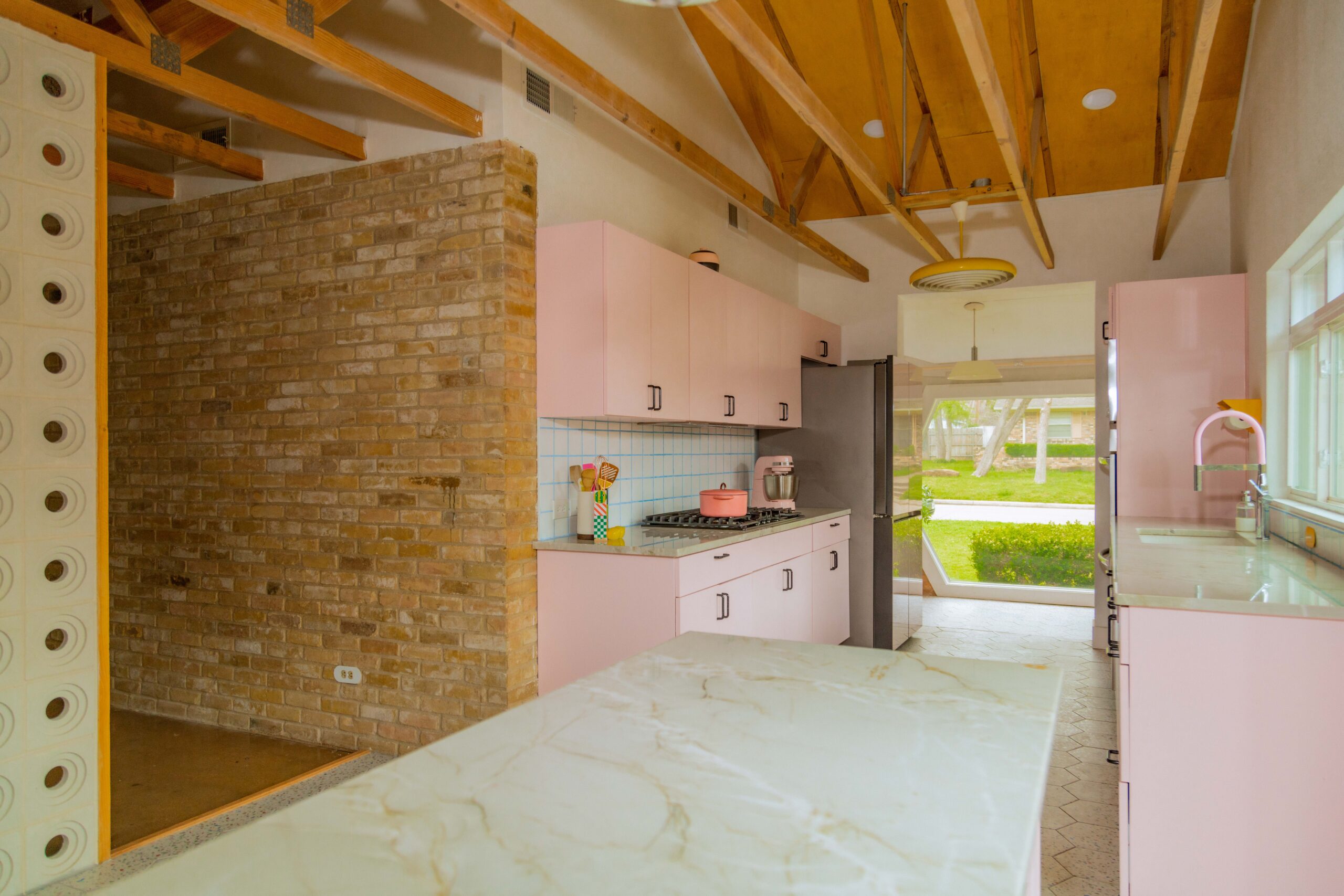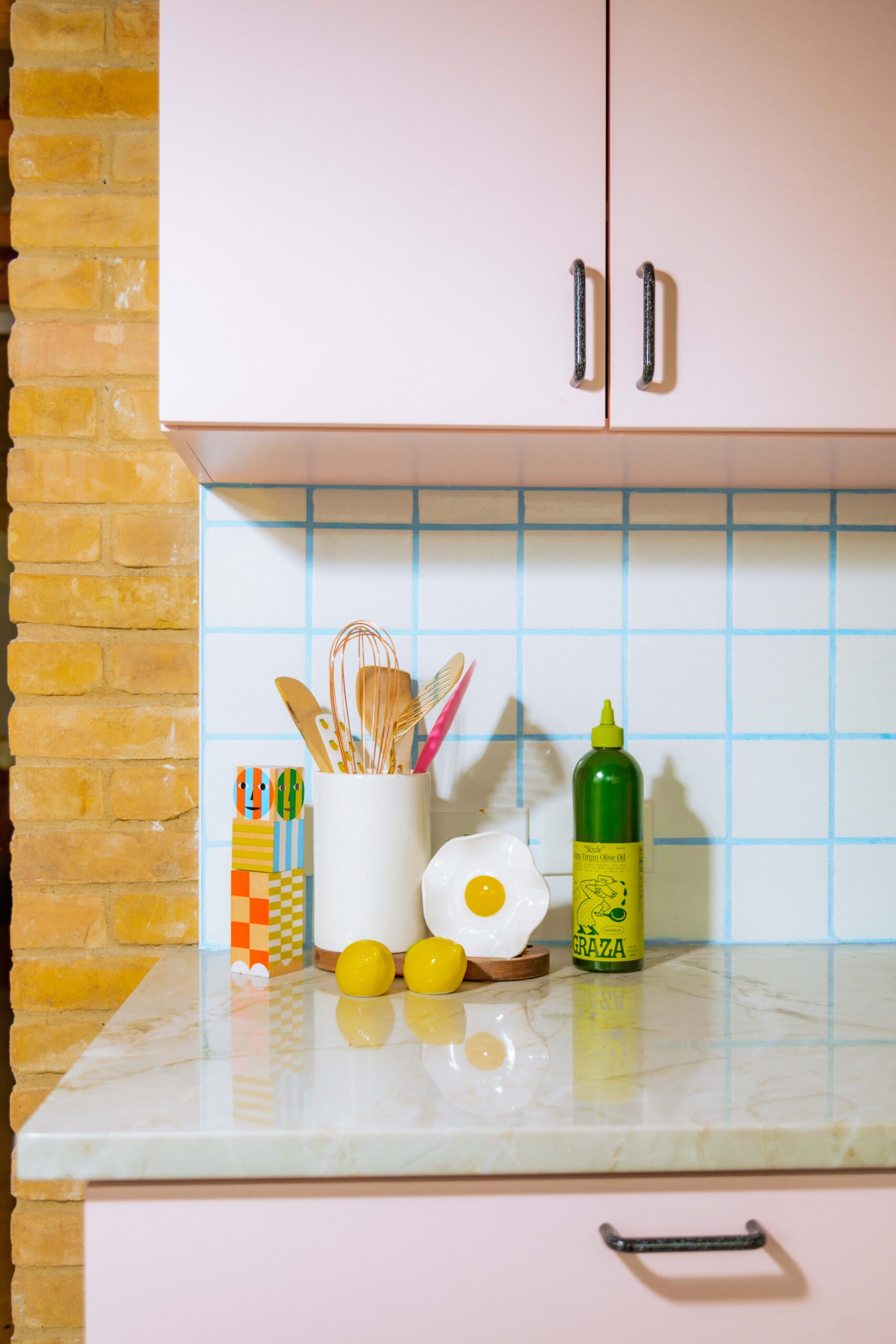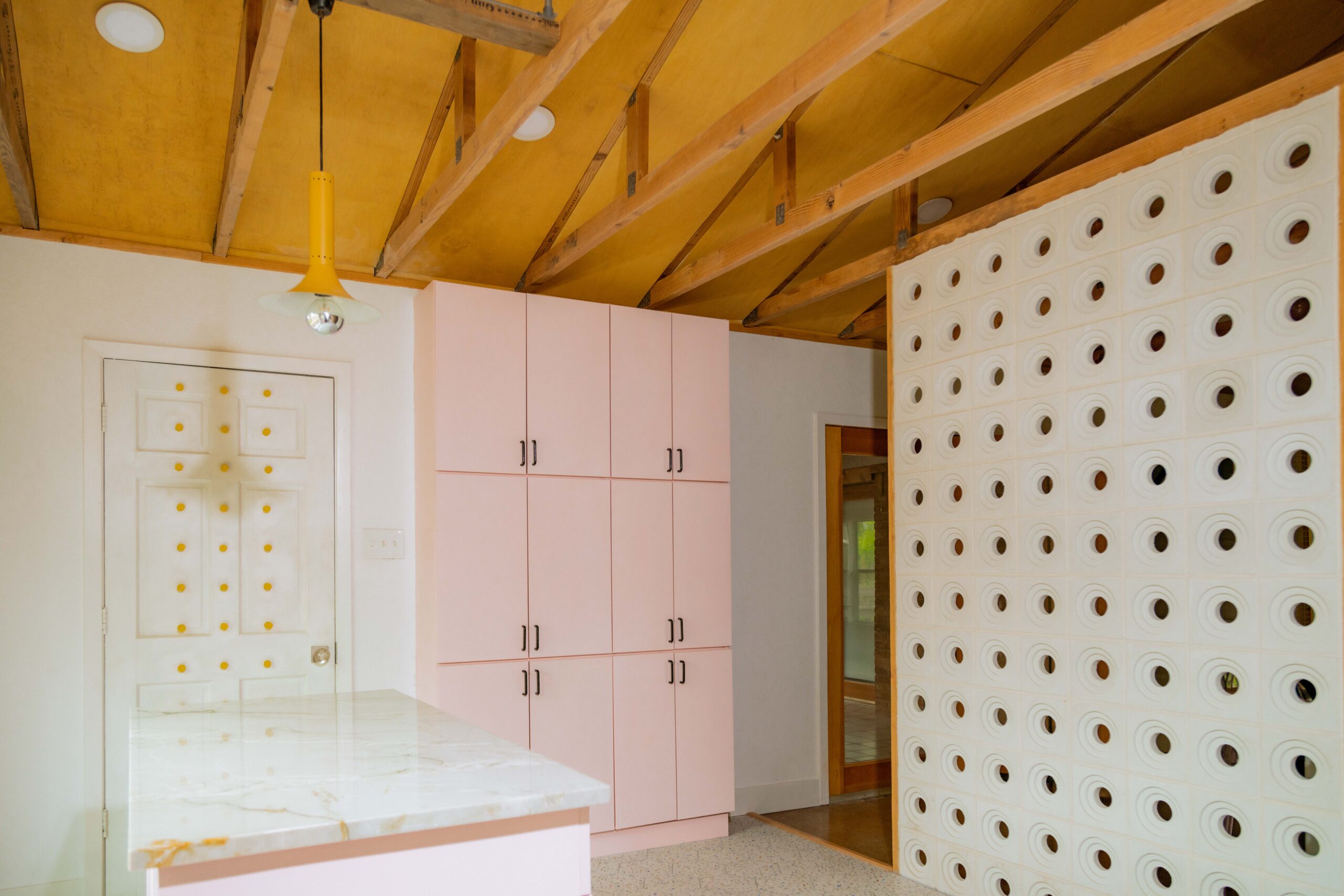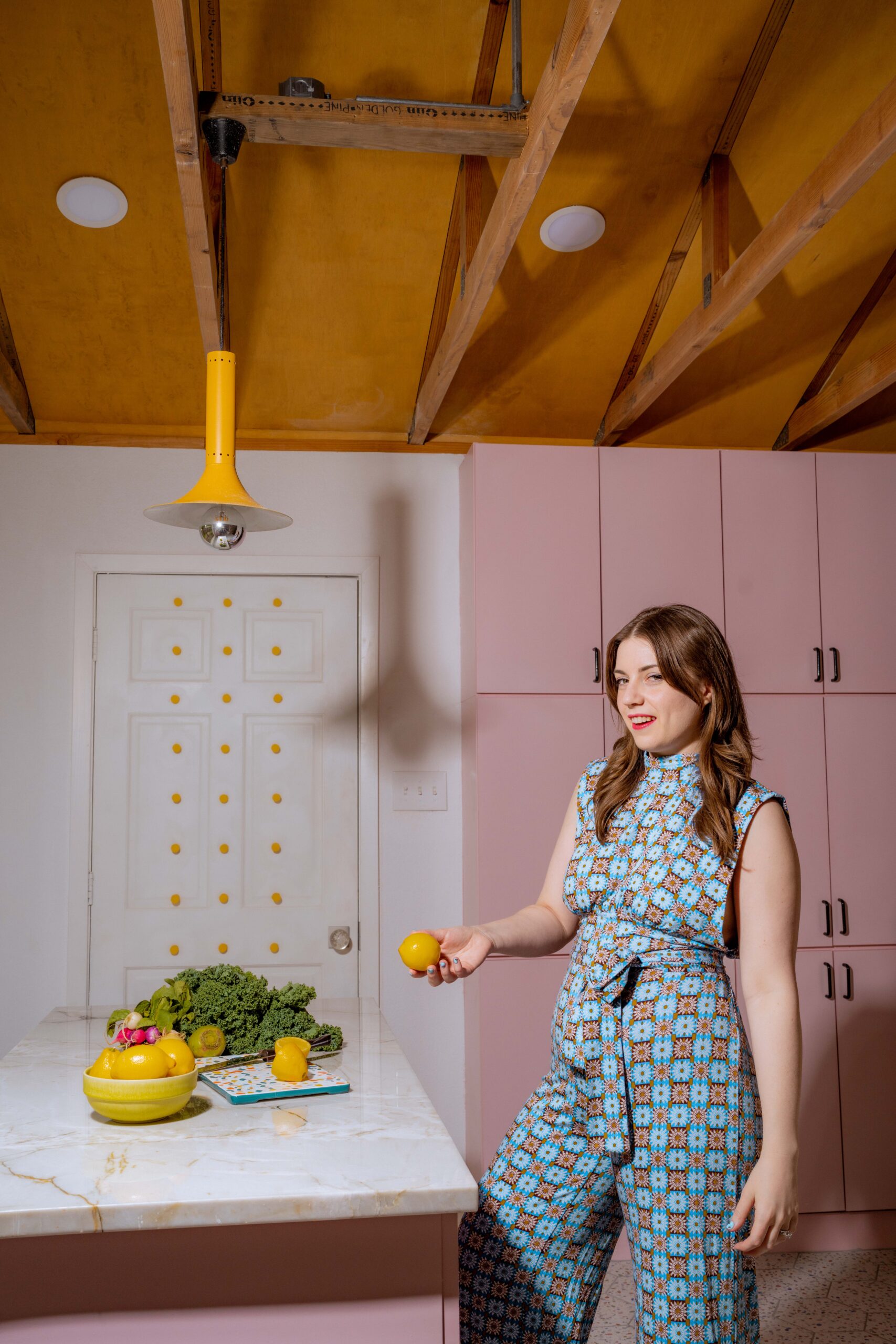 The Pantry
The pantry used to be the laundry room. It was super common for these older houses to have the laundry set up either in, or right on top of the kitchen. We moved the washer/dryer hookup to the bathroom and wound up converting the laundry room to the pantry.
Honestly, the pantry is actually the most special room in the house because it's where the original hexagon window is, which is what sold us on the house altogether! We loved it so much, that we added a second hexagon window in the living room.
We also sacrificed some pantry space to have an open counter in the pantry solely for the purpose of using appliances like the slow cooker or instant pot. I always hated how much room the slow cooker would take up in my kitchen for 8 hours at a time, but now it's discretely in the pantry doing it's thing so I can keep all of my countertop space in the kitchen. It's a huge win!!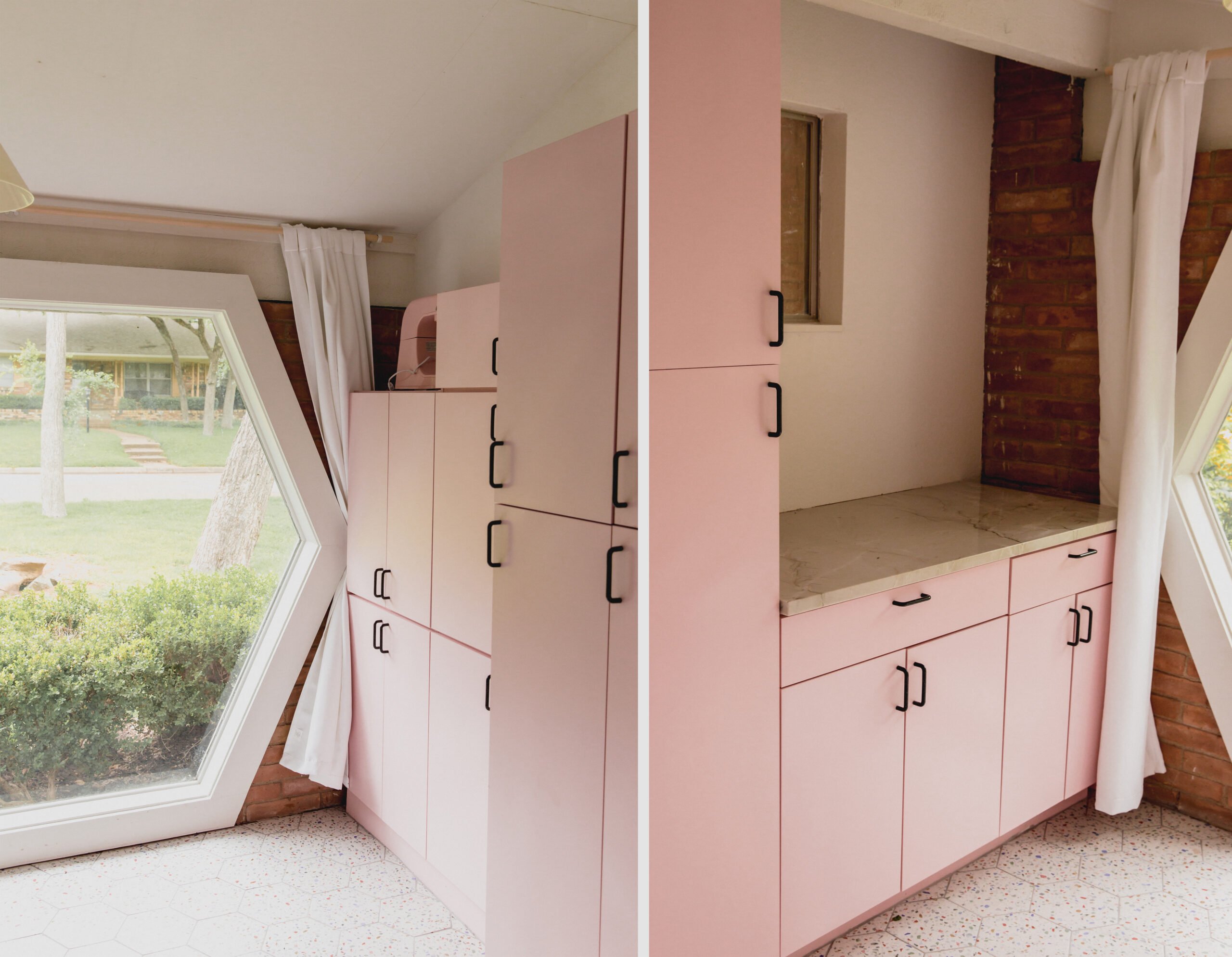 Food Blogger Upgrades
This kitchen used to be a galley kitchen with a breakfast nook, but we wound up adding a kitchen island and extra storage where the breakfast nook used to be to elongate the kitchen.
The island has two cabinets and drawers where I actually keep all of my most frequently used props and photography equipment so I have it right at hand when I'm ready to shoot! It's so convenient as all of my props used to be in a totally different room.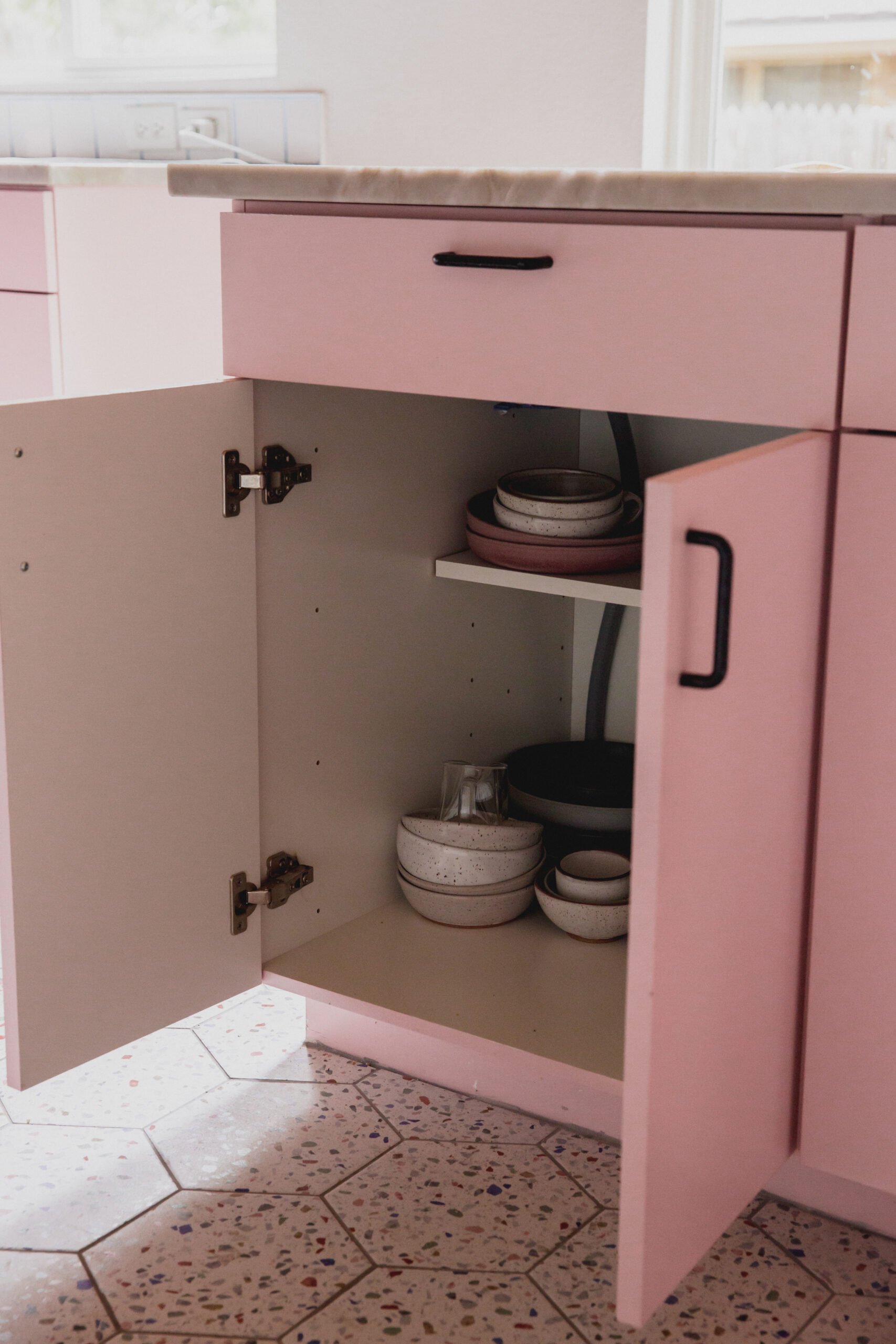 I also consider some of our appliances a food blogger upgrade like our double oven, and really efficient dishwasher! Both of these make my job a lot easier. And of course, the windows are the biggest upgrade. Natural light is a must for my preferred style of photography and we replaced two of the original windows with larger ones so we could flood the kitchen with tons of light.
FAQs-
Where do we live?
We live in the Dallas/Fort Worth, TX area which actually has several pockets of great MCM homes! It's no palm springs, but we definitely did our best with what we have here.
How long did it take?
We started demo the first week of July 2022 and didn't move in until January 2023. Granted, we did more than just the kitchen. We also redid all of the floors, had mold remediation to do and replaced all of the walls, etc etc. It was a huge job, and we were lucky enough to be able to stay in our old house while we finished this one.
Who was our designer and contractor?
DFW landlord services was our contractor and they did a great job. We didn't have a designer and did it all ourselves, which was good and bad 😆
How much did it cost?
It wasn't cheap, that's for sure 🤣 The thing with this house is that our mortgage and closing costs were on the easier side since we bought it with no work done to it. We were also lucky to have gotten into the real estate market early back in 2015 when home values were a lot lower. We bought our starter home that was less than 1,000 sq ft back then. By the time we turned around to sell our very first home, it has gone way up in value and we were able to use that to remodel this home. Plus, we obviously see it as an investment both in what we'll be able to sell the home for one day, and in my business as this isn't just a family kitchen, but my workspace.
Did we DIY anything?
There were other DIY's in other parts of the house, but the only thing in the kitchen that was DIYed was the door to the laundry room/bathroom with the yellow pegs. My husband did that himself, and it's super fun! I love it!
Any regrets?
I have two big regrets about this kitchen…
First, one that was a blessing in disguise. We originally did concrete floors throughout the first floor of the house, including the kitchen. The concrete was supposed to be a light grey, making the kitchen more of an industrial vibe, but it came out completely brown and darkened the entire kitchen. I really disliked how it went with everything else in the kitchen, so we wound up putting tile over the concrete. It was the best happy accident because the tile totally brought the kitchen together way better than the grey concrete would have.
The second is one we still have to fix! We installed the hood over the cooktop a couple of inches too low. It's one of those things that was easy to miss as our hood went in very last… but it's very noticeable when I cook and feel like I'm hitting my head. We'll eventually raise it up, but it will be a pain as we'll have to do more backsplash as well.
Links to our appliance and more
Light fixtures were vintage. I'd link the light fixtures if I could, but they were all vintage finds.
Countertops. I can't link the countertops as we got them from a local spot in person, but the material is quartzite.
Cabinets. The cabinets were actually discontinued as we were finishing up this project, but we actually went with a cheaper, basic, white cabinet and painted them pink rather than custom-making pink cabinet.
Breezeblocks. Originally, there was a wood-paneled wall that divided the kitchen and dining room. We tore it down and moved it back a bit with this breezeblock wall instead. It still divided the space but also made it feel a bit more open and airy.
Floor tile. Tile wasn't the original plan… as mentioned above, the floor was supposed to be grey concrete that didn't turn out as we pictured it at all. So we scrapped the idea and went with this terrazzo hexagon tile to match the colors we had already chosen and the original hexagon window in the kitchen and it's one of my favorite things about the kitchen!
Faucet. This faucet comes in lots of colors, but of course, we went with pink.
Dishwasher. We love this dishwasher! We always got stuck with really cheap dishwashers that would constantly break so we went with the one with the best reviews… it was so worth it.
Samsung Bespoke Fridge. I LOVE this fridge. It was a splurge, but entirely worth it. We got it in pink, of course. It's a 4 door kitchen with slip freezer space, and it's SO spacious. If you're considering this fridge and are on the fence, I highly recommend it.
Gas Cooktop. I know gas cooktops are under fire, but I'm extremely particular about cooking with gas. I've tried electric, I've tried induction… nothing beats gas for me.
Double oven. We went with a double oven that had an air fryer setting which has been so handy.
PHOTOS in this blog post are by myself and Emilee Prado! The good ones are by Emilee, the before are mine 😆