Link Love: Paleo AIP Holiday Party Recipes
The holiday's are here! Lights, music, shopping, and lots of holiday parties. Hate 'em or love 'em, holiday parties are just inevitable this time of year. When on an elimination diet like the Autoimmune Protocol, Paleo, or another elimination diet, parties can be incredibly difficult to navigate. Do you eat before? Bring your own food? Risk facing the elements? How do you attend a holiday party and not leave feeling like junk while also bringing food that others will love?
Luckily, these healing diets have such a strong online community making it easy to find recipes that not only you can enjoy for yourself, but easily share with others! Here is my complete list of what to bring to a holiday party if you're following the AIP, Paleo, a gluten free diet, or are facing several food allergies.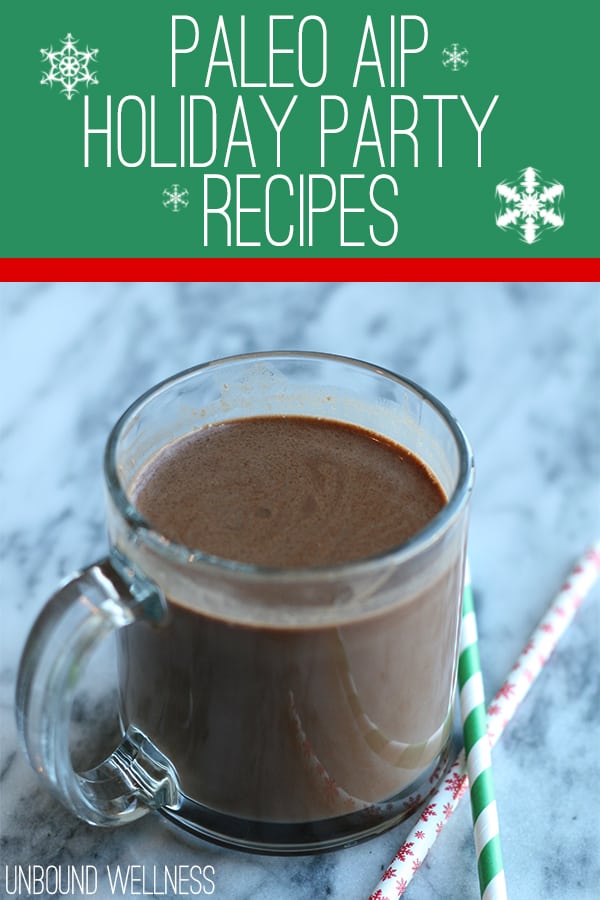 Appetizers
AIP/ Paleo Bacon- Wrapped Pears from A Squirrel in the Kitchen
AIP Asian Meatballs from Joy-filled Nourishment
Beefy Stuffed Mushrooms from Sparkle Kitchen
Paleo Plantain Chips and Easy Guacamole from Gutsy by Nature
Prosciutto e Melone by Primal Palate
Main Dishes
AIP Slow Cooker Ham from Thriving on Paleo
Autoimmune Protocol Meatloaf from Autoimmune Paleo
Best Ever Brined Turkey from Gutsy by Nature (used coconut oil if ghee is not reintroduced)
Braised Beef and Carrot Mash from Heartbeet Kitchen
Roasted Chicken from He Won't Know It's Paleo
Side Dishes
AIP Crusty Bread from Cook It Up Paleo
AIP Dinner Rolls from the Paleo Mom
Braised Garlic Carrots from AIP Lifestyle
Cauliflower and Carrot Puree from Zesty Paleo
Creamy Roasted Broccoli from Beyond the Bite
Herbed Whipped Parsnips from Meatified
Roasted Brussels Sprouts with Bacon from Paleo Grubs
Roasted Sweet Potatoes with Marshmallows from Enjoying This Journey
Sweet Potato Salad with Bacon from Sweet Potatoes and Social Change
Desserts
AIP "Chocolate" and Peppermint No Bake Macaroons from Primal Palate
Christmas Cookies Two Ways from Angel Slice
Coconut Butter Dates from Heartbeet Kitchen
Blackberry Jam Thumbprint Cookies from Don't Eat the Spatula
Gingersnap Cookies and Coconut Milk from Autoimmune Paleo
Maple Shortbread from Meljoulwan
The Healthy Gingerbread House from He Won't Know It's Paleo
Drinks
Egg-less Nog from Healing Family Eats
Frozen Hot "Chocolate" from Joy-filled Nourishment
Paleo Autoimmune Protocol Hot "Chocolate" from yours truly, Unbound Wellness
That's my list, friends! I hope that you all have an amazing holiday filled with friends, family, and great food.
What are you munching on this holiday?
And this is the testimony: God has given us eternal life, and this life is in his Son. – 1 John 5:11