Shopping for Paleo Groceries for Less at Sprouts
Thank you to Sprouts for partnering with me and sponsoring this post! All opinions are my own.
If you're looking to shop healthy for less, and all in one place, I feel you. Here's how I shop healthy for less at Sprouts!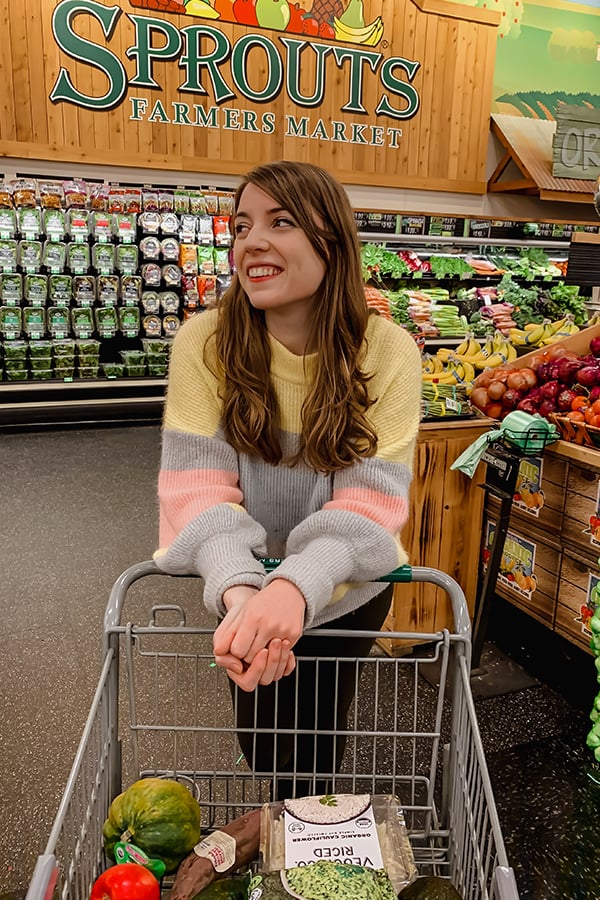 Why I Love Shopping At Sprouts
Back when I was in high school, my diet looked very different than it does today. My first summer job was actually at a local fast-food restaurant where I regularly had lunch at, and I got a lot of my "groceries" like pre-made sandwiches and sugary drinks from a gas station. It was well over a decade ago when a Sprouts opened up right across the street from the fast-food joint I worked at that was right by my parents house, and it was the very first spot I would shop at for healthy, gluten-free, and eventually paleo and AIP groceries!
When I got diagnosed with Hashimoto's, Sprouts was the easiest place for me to shop to actually start to support my lifestyle with food. I was stoked when I went off to college and there was a Sprouts right across the street from my apartment! From the Sprouts near my parent's house to the one near my college, to the one that I shop at now that's near mine and my husband's home, Sprouts has been there to support me for well over a decade. It's an absolute no brainer for me to be partnering with them more closely this month!
If you feel like you're spending a ton on healthy groceries and hopping from store to store to find exactly what you need, I feel you. It's so easy to get into that trap. But seriously, Sprouts is an amazing one-stop-shop for getting everything you need for your healthy kitchen and life! They have tons of yummy, fresh produce and a huge variety of grocery items that you can easily find all in one place. And the best part? I always have a cheaper grocery bill when I shop there!
I'm excited to share a little grocery store tour of my local sprouts here in Texas, and show you some of what I love to shop for!
My Favorite Produce
Sprouts has a huge produce section that is right in the center of the store with things like fruits, vegetables, organics, and more. There's a huge variety and everything is always fresh and yummy.
What I really love is that they carry convenience items like pre-riced cauliflower and broccoli, zucchini noodles, butternut noodles, shredded cabbage, shredded carrots, etc. I use these all the time in my kitchen to save prep work. When you're following a real food, paleo, or AIP diet, having options like this for convenience is a huge plus.
My local sprouts also carries harder to find items like plantains, white sweet potato, purple sweet potato (depending on the season) and even things like jackfruit! You can't just walk into any store and find these, and I always know where to go to find them.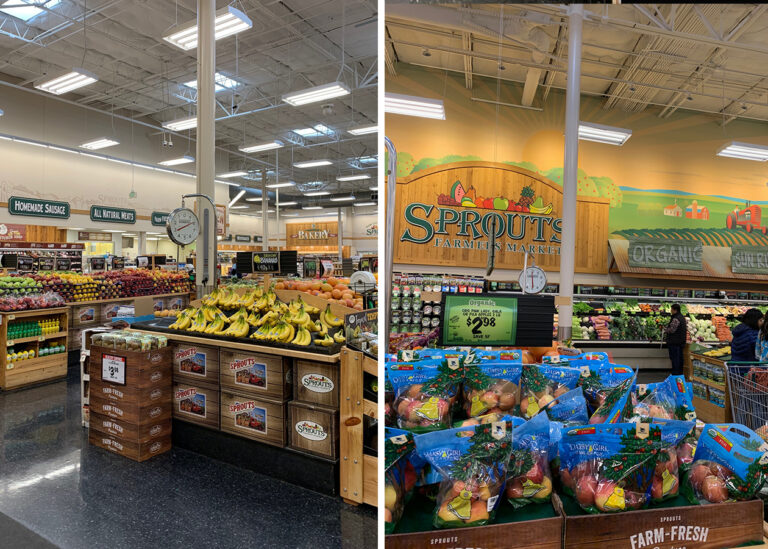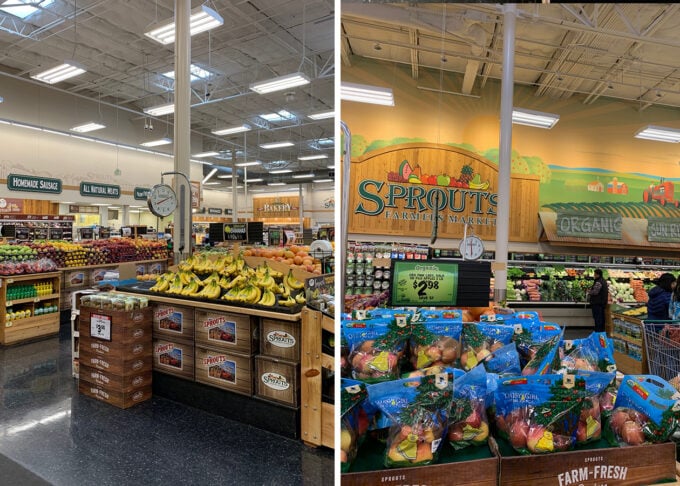 My Favorite Pantry & Grocery Items
Sprouts makes it really easy to shop for paleo grocery items with labels on the shelves that say "Paleo" to make it easy to spot! There are tons of paleo pantry and grocery items that you can find from sauces, to cooking oils, to baking essentials, and more. Here's just some of what I usually love to buy…
Primal Kitchen Avocado Oil Mayo
Primal Kitchen Avocado Oil
California Olive Ranch Olive Oil
Epic Pork Rinds (and bars)
Bobs Red Mill Baking Flours
Simple Mills Baking Mixes
Seasonings & spices
etc.
What my shopping cart looks like
Of course, it's different every single time I go depending on what I'm cooking for the blog, what Daniel and I are craving, and what we already have on hand, but here's just some of what I recently got…
Riced cauliflower
Frozen riced broccoli
Red onions
Avocado
Organic fuji apples (current pregnancy obsession)
Acorn squash
Purple sweet potato
Kettle & fire beef bone broth (my favorite storebought broth!)
…just to name a few!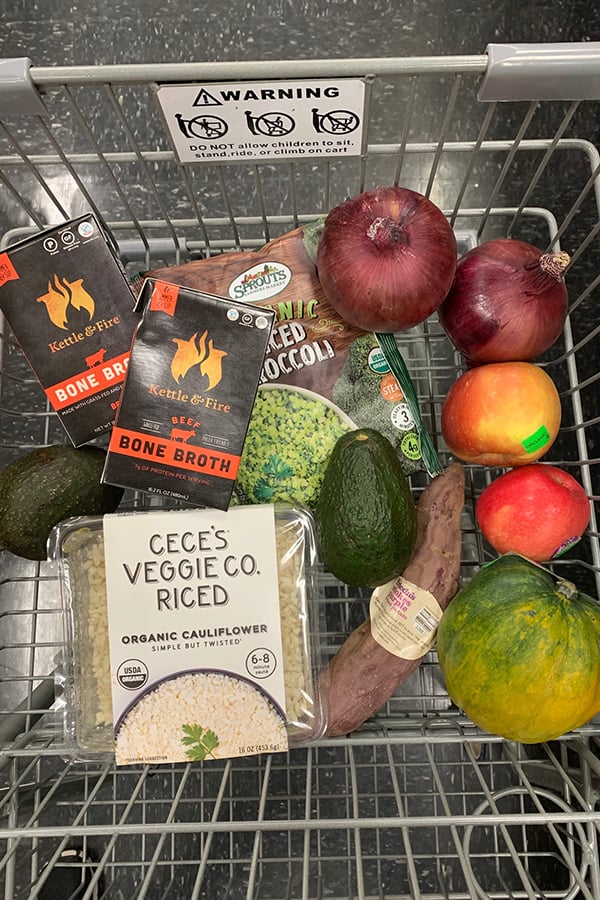 Shopping Vitamins at Sprouts
Sprouts also have a huge vitamin section where you can get everything from digestive enzymes, to cold care, to protein powder, and more. The staff is always super helpful, and I always find what I'm looking for.
These days, my vitamin routine is very pared down as I'm 6 months pregnant and just sticking with the basics that my midwives recommend for me. However, I still hit up the vitamin section for their huge collagen selection. Collagen is another one of those hard to find ingredients, and they have tons of options! My favorite is vital proteins, but there's so much to choose from.
Shopping the Bulk Bins
Sprouts has a ton of bulk bins for things like nuts, seeds, dried fruit, plantain chips, flours, etc. which are great for reducing waste and saving money by only getting exactly the amount that you need.
I really took advantage of the bulk section in college and would regularly stop and get dried apple slices before long classes to have a healthy snack for cheap!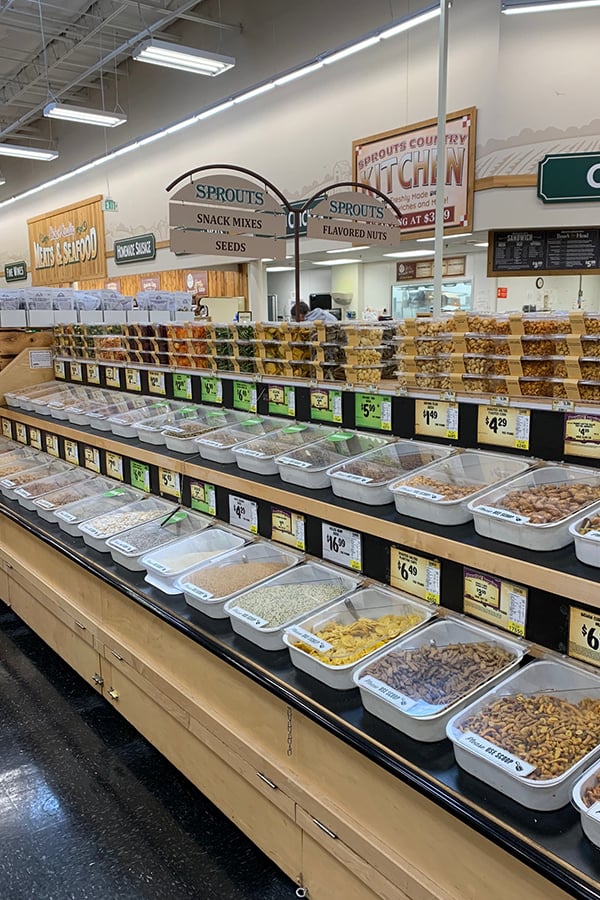 Shopping for Deals & New Year Contest
When Daniel and I first got married, I remember checking the Sprouts ad online every week during my lunch break at work to see what was on sale to make my grocery list for the week. Since then, they now offer a Sprouts app so you can keep ahead of the deals and clip digital coupons. Sprouts always has good prices, but of course, coupons sweeten the deal.
And to celebrate the new year, there's a special contest going on right now! You can win groceries for a year from Sprouts… which I mean, who wouldn't want to win that? To enter, text "Sprouts" to 777688. Plus you'll get other special deals and promotions, too. Find the details here!
Have any questions?
I'll be sharing more about Sprouts throughout the month, so let me know if you have any questions about this grocery haul, or more. Stay tuned and check back next week to see how to stock a Paleo pantry from Sprouts!