I've been loving squash this season, especially acorn squash. Can you believe I've only ever had acorn squash once before last winter? Squashes can be intimidating, but acorn squash has quickly become my favorite as it's so easy to prepare, and cook! I shared a paleo version of my stuffed acorn squash on Real Food Diets which featured pomegranate seeds, and Tin Star Foods ghee, but I wanted to share an Autoimmune Protocol version here!
Like I said, these guys are just so easy to cook and to pick out. However, I do recommend trying to find a local source. Not only is buying local a more nutrient dense and economical way to eat, but the taste and quality is noticeable. I got these from Johnson's Backyard Garden and they were leaps and bounds more delicious than what I've previously gotten at the store.
On that note, I also recommend getting a pastured ground pork and bacon. I was low on ground pork a few weeks ago and grabbed some from the store only to find that it had soybean oil in it. Yuck! Buying protein sources grass-fed, pastured, and wild caught has the same benefits of buying local produce. I get mine from Livestock First Ranch here is Dallas, but be sure to look up a local source of your own.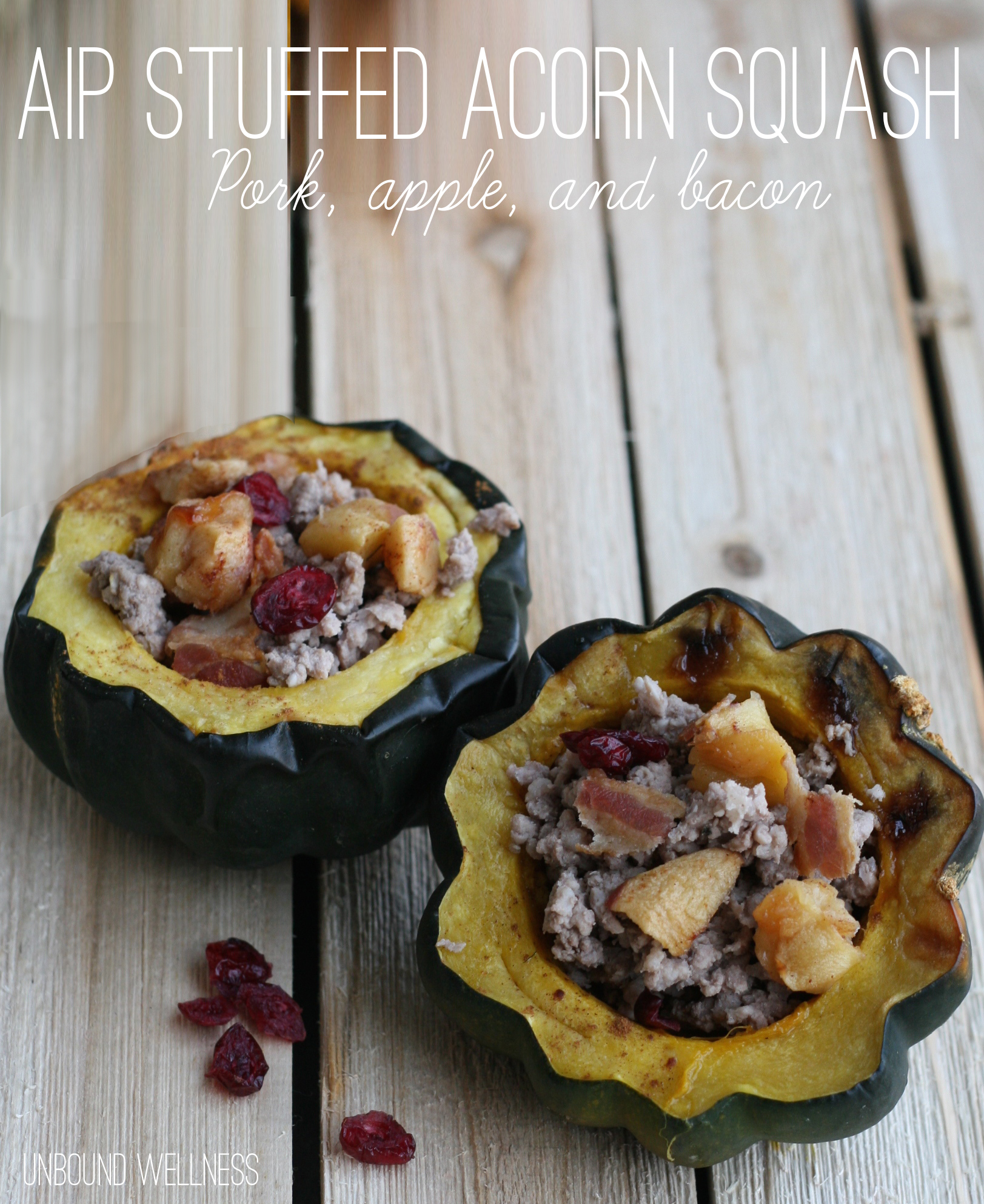 A couple of notes about this recipe, one is that there are a few elements to this dish, so I like to prep some of them ahead of time or in bulk to have more for later! So, I usually cook several pieces of bacon for breakfast and then just save some for this dish later in the day. Same goes for the apples. I cook more than the recipe calls for and save some for a treat later just by themselves. My husband isn't AIP and can tolerate grass-fed yogurt just fine, so I can add them to the yogurt for him as well. Yum!
Also, if you choose to go with dried cranberries, be cautious of the ingredients. Many brands can have seed oils and added sugars. I love dehydrating things myself, but they're completely optional!
Print
Autoimmune Protocol Pork, Bacon and Apple Stuffed Acorn Squash
---
Prep Time:

10

Cook Time:

45

Total Time:

55 minutes
Ingredients
2 medium acorn squashes
3/4 lb of pastured ground pork
4-6 pieces of pastured bacon cooked to liking (I crisp mine in the oven for 20 minutes of 375)
3-4 apples (gala for more mild, or granny smith for more tart)
1 tbsp bacon fat
1 tsp cinnamon
1 tsp sage
1/2 tsp sea salt
Optional- 1/8 cup of dried cranberries
---
Instructions
FOR THE SQUASH
Preheat oven to 400 F
Slice the acorn squash down the middle with the stems facing down
Scoop out the seeds and place them skin down on a baking dish
Drizzle 2 tsp of bacon fat on the squashes (I save mine from previous bacon endeavors, but you can cook the bacon first if you don't have any fat on hand)
Sprinkle with 1/2 tsp of cinnamon
Add to oven and bake for 30-35 minutes of until the flesh is soft
FOR THE APPLES
Peel and dice the apples
Add to a baking dish and top with 2 tsp of bacon fat
Sprinkle 1/2 tsp of cinnamon
Bake in oven with squash for about the same amount of time, or until soft
FOR THE PORK
Heat a medium skillet
Add ground pork to the pan
Top the pork with sage and sea salt
Combine and stir until pork is thoroughly cooked (8-10 minutes on medium heat)
FOR THE DISH
Chop the bacon into small pieces and add to a bowl with the cooked pork, baked apples, and dried cranberries (these are optional)
Toss and combine
Scoop the pork mixture into the squashes until full
Serve and enjoy!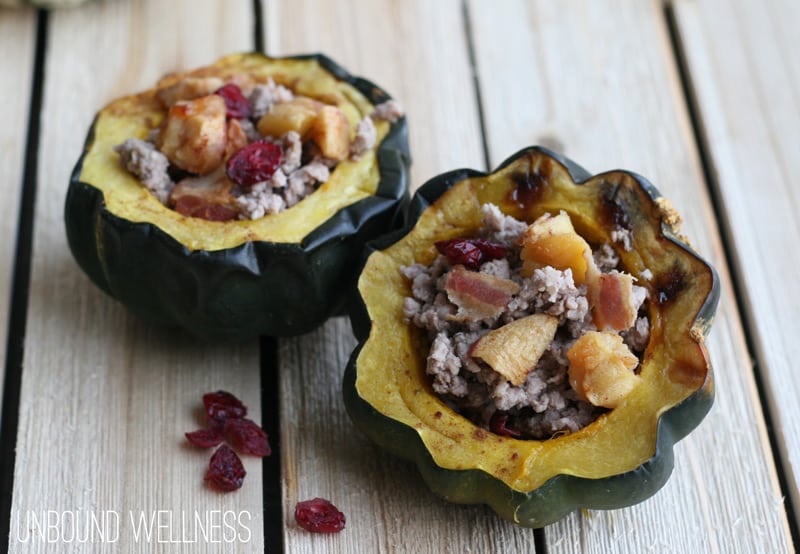 So, I have two acorn squashes waiting in the wings right now and can't wait to eat them. Sadly, it's all canned tuna and pre-prepped meatballs for me until Tuesday, because my wedding is this weekend! Ahh! More to come as well as on my honeymoon in Italy to follow. Swoon.
Have you had acorn squash yet this season? What's your favorite way to eat it?