Baked Chicken with Strawberry Avocado Salsa (Paleo, Whole30, AIP)
This Baked Chicken with Strawberry Avocado Salsa is the perfect spring dish! It's paleo, AIP, whole30 and is made with all real food.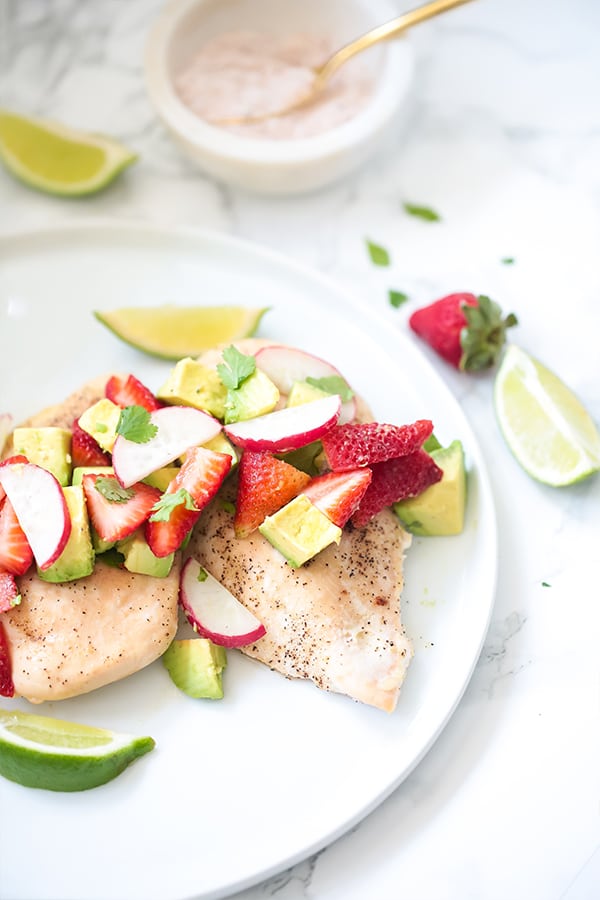 Strawberry season is one of my absolute favorite parts of spring and summer! Strawberries are just starting to pop up here in Texas, and I can never resist digging when they first start arriving in April. The question is, how do you enjoy them in a fun, unique way? Sure, chocolate covered strawberries are great, and they're perfect on salads, but having something different to mix it up is always appreciated. This baked chicken with strawberry salsa is the perfect way to add some flair to strawberry season!
This dish is amazing for an easy weeknight meal, or for wowing dinner guests at a gathering! It's just not something you see every day, but it's absolutely delicious. It's paleo, AIP, and whole30 compliant, but no one would know otherwise.
Plus, this strawberry salsa is so yummy and versatile that you may just want to eat it by itself 😉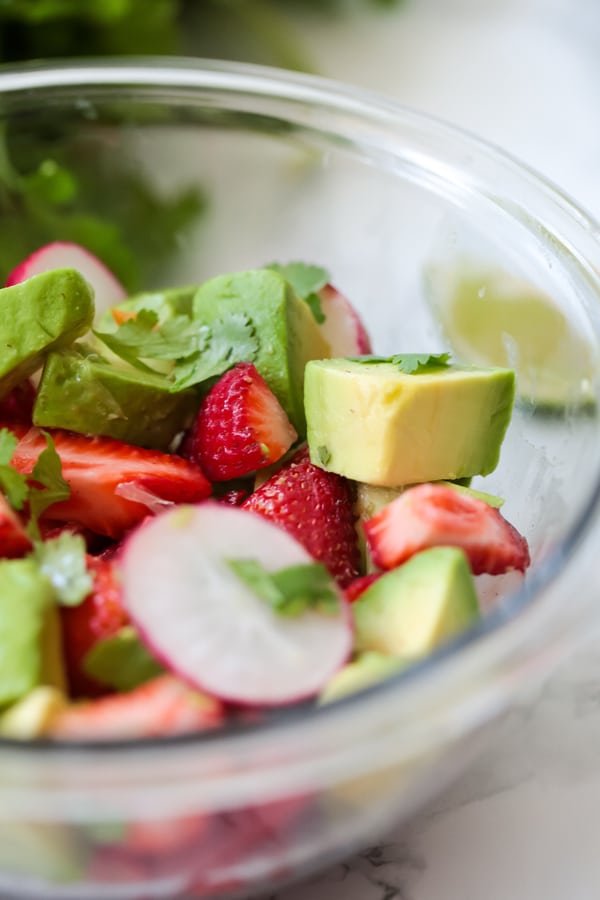 The Ingredients You Need for the Baked Chicken with Strawberry Avocado Salsa
Chicken breast
Chicken breast is what I used for this dish, but you can easily swap out chicken thigh, or even fish like salmon.
Strawberries
The star of the show here! You want to use the prettiest, freshest strawberries you can find for this dish as they take center stage. I used an organic, local variety, but go with what you have.. just make sure it's tasty as that flavor carries the dish.
Avocado
A great pairing with the berries, and a source of healthy fat for a lower fat cut of meat.
Cilantro
This flavor pairs well with the freshness of the salsa.
Radishes
Radishes are one of my secret weapon ingredients for adding a nightshade free spice to dishes!
Lime
This is the acid in the dish that adds some
Avocado oil
This is for cooking the chicken and enhancing the flavor.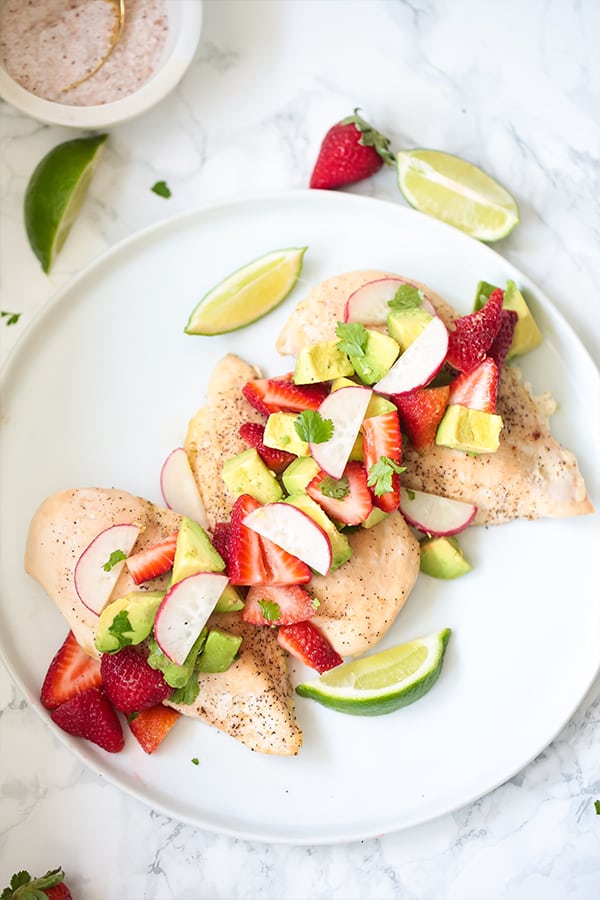 Print
Baked Chicken with Strawberry Avocado Salsa
---
Author:
Yield: 4 servings 1x
For the chicken 
1 lb chicken breast
2 tbsp avocado oil
1 tsp garlic powder
1 tsp onion powder
1/2 tsp sea salt
1/4 tsp pepper (omit for AIP)
For the salsa
1 cup strawberries, sliced
1 cup avocado, cubed
1/4 cup radishes, sliced thin
2 tbsp cilantro, roughly chopped
Juice of one lime
1/2 tsp sea salt
Fresh jalapeno – optional… omit for AIP
---
Instructions
Combine all of the ingredients for the salsa in a medium sized bowl. Gently mix and set aside.
Preheat the oven to 400 F and line a baking sheet with parchment paper.
Lay the chicken breast on the baking sheet and add the avocado oil. Season on both sides.
Bake in the oven for 25 minutes (flipping once), or until the internal temperature reaches 165 F.
Remove from the oven and allow to cool and rest for 10 minutes or so.
Top with the salsa and serve with a side salad or plantain chips.
Notes
All nutritional information are estimations and will vary. Estimations do not include optional ingredients.
Nutrition
Serving Size: 1 serving
Calories: 275
Fat: 15.4g
Carbohydrates: 8g
Fiber: 3.4g
Protein: 26.7g