Blueberry Beef Jerky Made in The Oven with Ground Beef (Paleo, AIP, Whole 30)
Is it weird that I never had beef jerky before going paleo and AIP? Not only did I have a serious meat aversion because my gut health and digestion was so poor, but let's be honest… store bought beef jerky can be pretty gross. If it's not mystery meat sticks, it's beef jerky with tons of preservatives and flavorings that are just straight up gross. I never wanted to even try it until I realized that I needed portable protein snacks for travel on the autoimmune protocol. Reluctantly, I did tons of research for a good beef jerky recipe of my own that was cheap to make in the oven, and delicious. Eventually, I perfected my own blueberry beef jerky that's made entirely in the oven with grass-fed ground beef!
Somewhere in between making my first batch of beef jerky and making this version, I discovered Epic Bars, which I love. They're basically thicker jerky bars that are sweetened with dried fruit and spiced up with things like garlic and onion. I love epic bars and they're almost always on my travel food list. However, I also love making my own jerky and find it far more cost effective if I'm going to be needing a lot of it. Which is why I love this recipe… yum!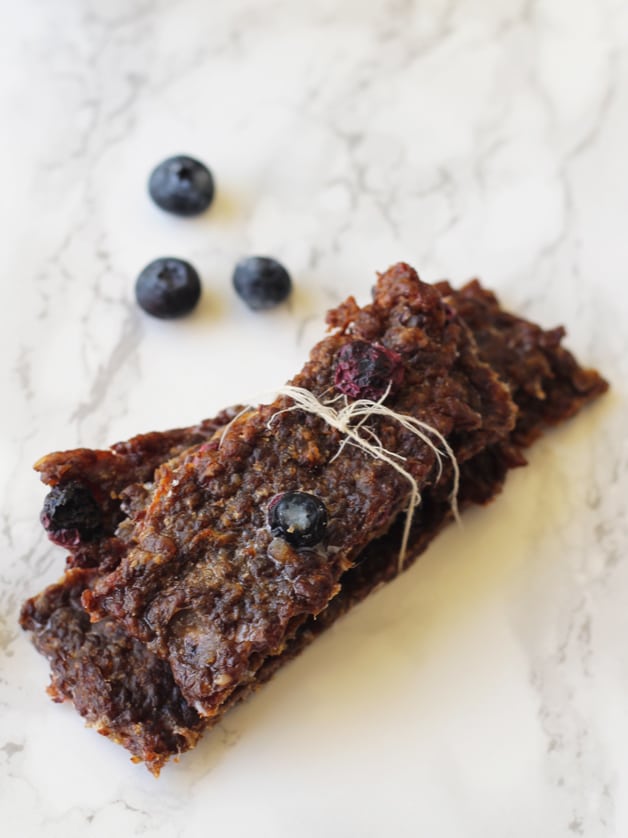 So, the ingredients of this beef jerky/ DIY epic bars are incredibly minimal. You'll need…
Grass-fed ground beef
Emphasis on grass-fed, as usual! Cows were biologically meant to eat grass rather than grain and whatever junk they're fed on feed lots. Cows are just like people.. if they eat junk, they become unhealthy. Consuming non-grassfed beef is not as healthful as grass-fed and can be inflammatory.
My first attempt at beef jerky with were with expensive cuts of meat, and had random cooking times in the oven. Not only was it really expensive to use flank steak, but it just wasn't sustainable if I was going to keep making jerky. That's why I eventually got the idea to use ground beef from someone at the farmers market. It seemed like a long shot, but it really works! As long as you flatten out the ground beef to be super thin. It's cheaper, easy to chew, and in my opinion, easier to make!
Fresh blueberries 
The bison cranberry epic bar with dried cranberries inspired me to add fruit to my own homemade beef jerky. I started experimenting and loved the addition of blueberries!
I use fresh blueberries rather than dried in this jerky because they have less sugar, and go through a drying out process within this recipe as well. Though they don't fully dry in this recipe like normal dried blueberries do, they dry just enough.
High quality, unrefined salt
Salt isn't actually the end of the world. When eaten sparingly, it's full of minerals and flavor. Refined salt, however, is junk. It strips the minerals out of the salt and makes it a nutrition less product.
So, sea salt, pink Himalayan salt, or redmond real salt with all work in this recipe! Just make sure it's an unrefined salt and you're good to go.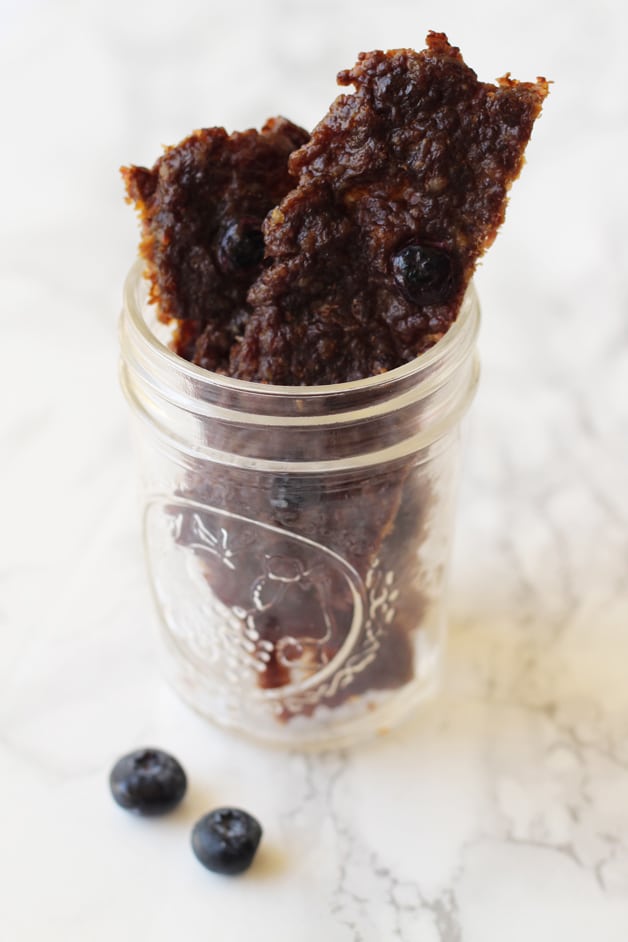 Plus, you don't need a dehydrator and can make it in the oven!
A dehydrator is on my list of kitchen item wish list, but mind you, it's a long list. Dehydrators are expensive, and not exactly necessary in most recipes. This beef jerky is easily made in the oven.
Setting your oven to a low setting like 170 F makes it perfect for dehydrating jerky, fruit, veggies, and nuts! Yes, it takes up your oven for 12 hours, but doing it overnight or when you're not using the oven is a great way to do it.
Blueberry Beef Jerky Made in The Oven with Ground Beef
Print
Blueberry Beef Jerky Made in The Oven with Ground Beef (Paleo, AIP, Whole 30)
---
1lb grass-fed ground beef
1 tsp sea salt
½ tsp black pepper (omit for AIP)
1 tsp coconut aminos
1/2 cupfresh blueberries
---
Instructions
Preheat the oven to 170 F and line 2 baking sheets with parchment paper.
Add 1 lb of ground beef to a bowl and season with 1 tsp of sea salt, ½ tsp of black pepper, and 1 tsp coconut aminos. Mix well.
Split the ground beef in half, and separate between the two baking sheets Flatten the ground beef on the sheets as thin as you can get it, and spread around the sheet. You can use your hands (be sure to wash vigorously afterwards) or a rolling pin between an extra sheet of parchment paper.
Once the beef is flattened, begin adding the ½ cup of fresh blueberries one by one, pushing them into the ground beef and evenly distributing them
Either cut the ground beef into slices while uncooked, or wait until it's fully cooked (personal preference, but uncooked is easier). Keep in the oven for 10-12 hours, removing halfway through (give or take a few hours) to flip.
Remove from the oven once thoroughly cooked to ensure that the jerky is properly dehydrated by ensuring the it's cooked through and no longer pink
Store in the fridge and enjoy as a quick snack!
I like to still store it in the fridge just to be safe… especially since the blueberries aren't totally dehydrated. However, you easily use it as a travel food with an ice pack as it's much easier to take along for travel than say.. a meatball 😛
You can eat this as a snack, have it for an easy lunch, or take it along on a trip as the perfect travel food. Whichever way you eat it, I hope you enjoy this staple recipe as much as my husband and I do!