Butternut Squash Stelline Pasta (Gluten Free)
This butternut squash stelline is a creamy butternut pasta, that's almost like a risotto! It's the perfect fall dish that's gluten-free and easy to make dairy free.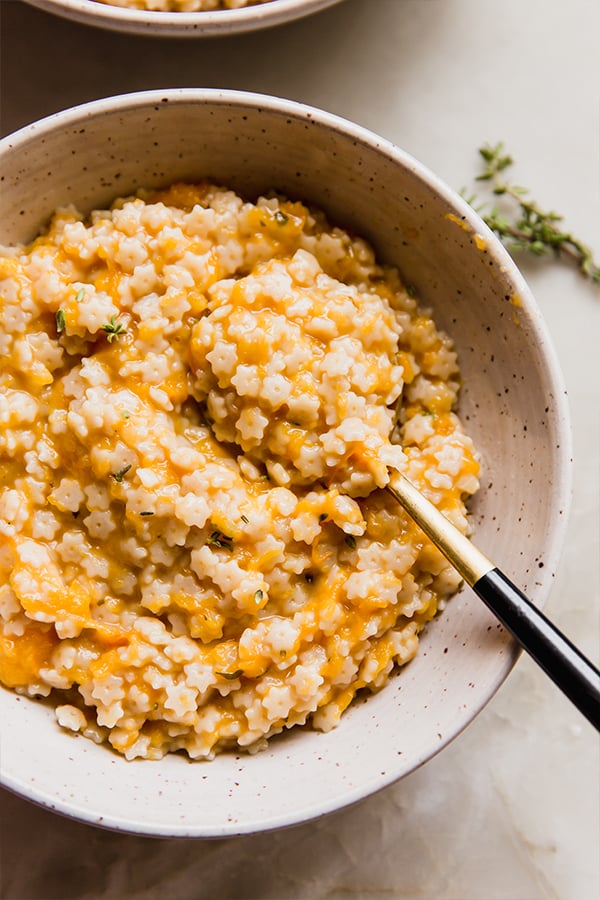 When my favorite pasta brand, Jovial started making stelline pasta, I flipped! Stelline is a tiny little star pasta, also known as pastini that is just so fun to eat. It's perfect in soup, and easy pasta dishes like this one.
This butternut squash stelline is going to be your new favorite fall pasta dish. My husband doesn't even really like squash, but he loved this dish. It tastes like Thanksgiving, but it is perfect for enjoying the entire season.
Why you'll love this Butternut Squash Stelline Pasta
The perfect fall dish! This recipe tastes like Thanksgiving and gives serious fall vibes.
Perfect for different dietary restrictions! The dish is gluten-free and easily dairy-free, but can also be made AIP.
The Ingredients for Butternut Squash Stelline Pasta
Butternut Squash.
Shallots and Garlic.
Parsley, Sage, Thyme, Salt and Pepper. These seasonings add a lot of flavor to the dish.
Olive Oil and Ghee. You can also sub olive oil for the ghee.
White Wine Vinegar.
Chicken Broth. Broth adds much more flavor to the dish than cooking it in water.
Gluten-Free Stelline. The star of the show, no pun intended! This is sold in stores and online.
Pecorino cheese. Pecorino is a sheep milk-based cheese, which makes it a lot easier for those of us with dairy issues to digest. For me, I tolerate pecorino in moderation, but you can also leave it out and just add nutritional yeast.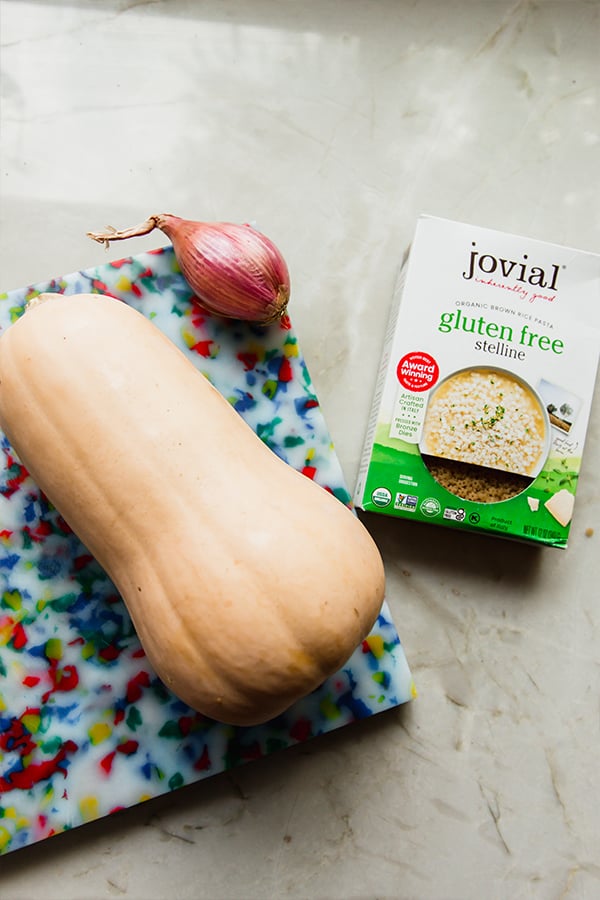 How to make Butternut Squash Stelline Pasta
Step One. Slice the butternut squash, spoon out the seeds and bake.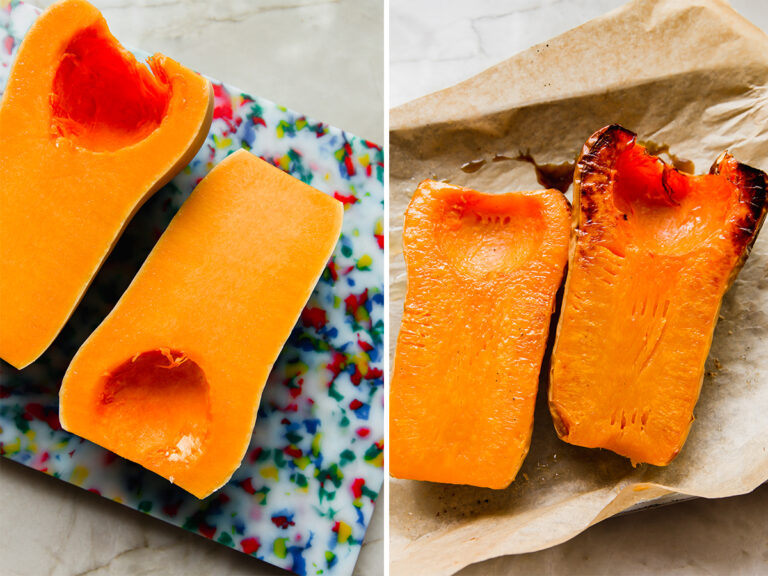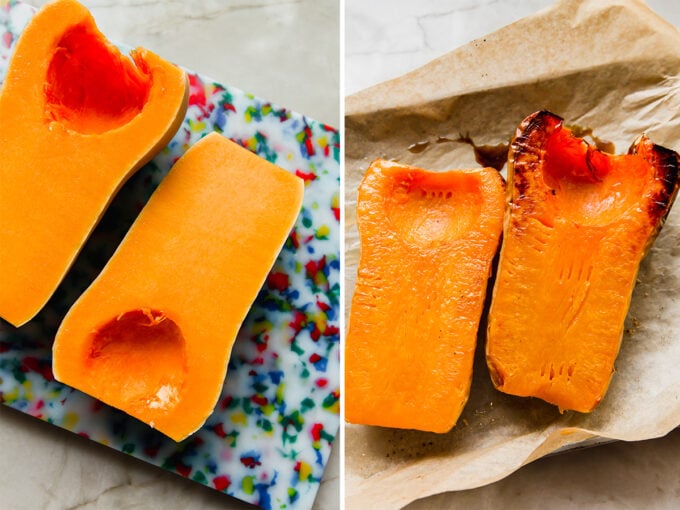 Step Two. Saute the garlic and shallot.
Step Three. Cook the stelline in the chicken broth, vinegar, and seasonings.
Step Four. Scoop out the butternut squash flesh and mash and add to the cooked stelline.
Step Five. Add the shredded cheese or nutritional yeast and enjoy!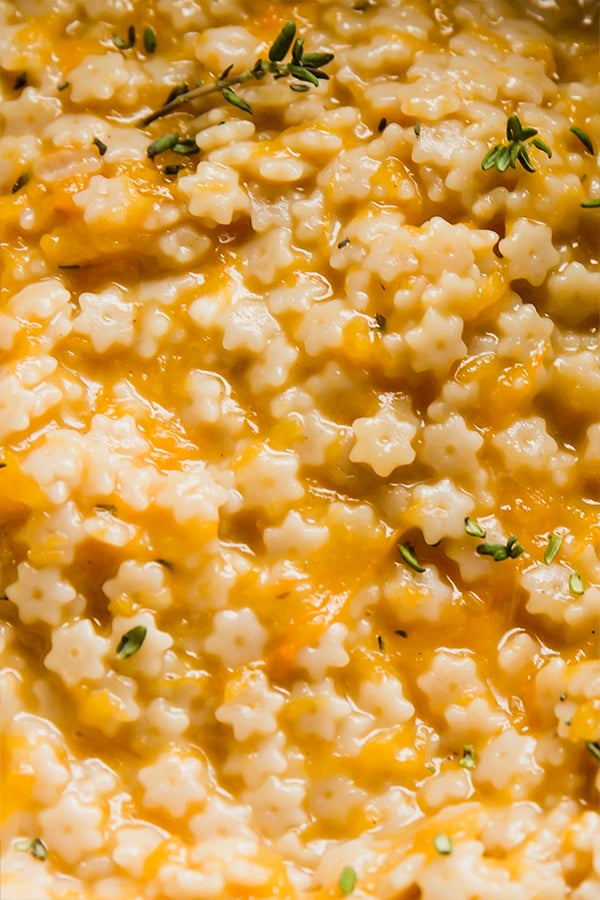 Tips & Tricks
Season to taste. The salt level with vary depending on the type of broth you use and whether or not you use cheese, so be sure to season to taste!
Can you use another pasta shape?
The stelline really makes this, but you can swap in other small pasta if needed.
Can you make this recipe AIP?
Swap the ghee for coconut oil
Omit the black pepper
Swap the pecorino cheese for nutritional yeast
Use Jovial cassava orzo instead of stelline. You may have to adjust the cook time, so check the pasta often.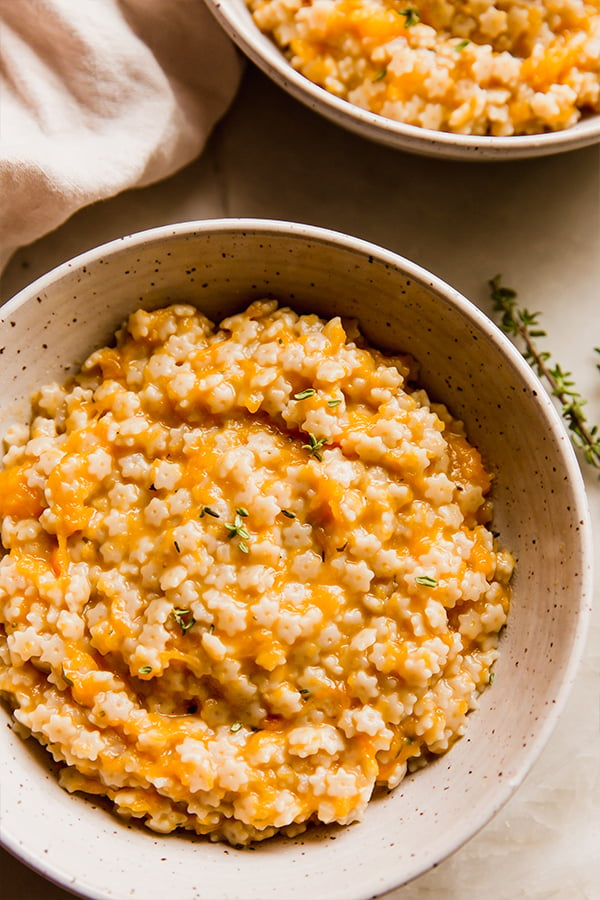 You'll also like…
Print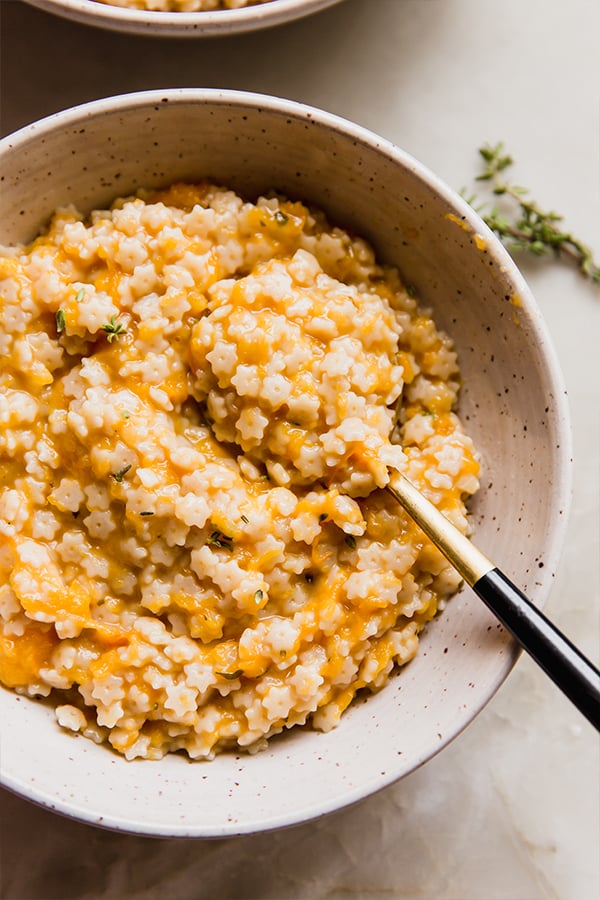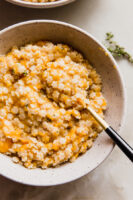 Butternut Squash Stelline Pasta (Gluten Free)
---
Author:
Total Time: 1 hour 10 minutes
Yield: 4 servings 1x
Diet: Gluten Free
1 large butternut squash
1 tbsp olive oil
Salt and pepper
1 tbsp ghee (sub olive oil)
1/2 shallot, sliced thin
3 cloves garlic, minced
3 cups chicken broth
1 tbsp white wine vinegar
2 tsp dried sage
1 tsp dried parsley
2 tsp fresh thyme leaves (add more for garnish)
1 1/2 cup gluten-free stelline pasta
1/4 cup pecorino cheese, shredded (sub 1-2 tbsp nutritional yeast for dairy free)
---
Instructions
Preheat the oven to 400 F and line a large baking sheet with parchment paper. Slice the butternut squash in half, lengthwise, and spoon out the seeds. Add the olive oil to the flesh and season with salt and pepper. Place flesh side down on the baking sheet and bake in the preheated oven for 40-50 minutes or until tender.
Once the butternut squash is about halfway through baking, place a pot on the stove over medium heat and melt the ghee. Add the garlic and shallot and saute until the garlic is fragrant.
Pour the chicken broth, vinegar, seasonings, and salt and pepper into the pot and bring to a boil. Add the stelline, stir well, and reduce to a low simmer. Cover and simmer for 12-15 minutes, stirring often. The pasta should be soft and the broth should absorb.
Once the squash is done baking, remove from the oven and scoop out the flesh. Mash the flesh well and add it to the cooked stelline. Stir to fully combine.
Add the shredded cheese (or nutritional yeast) and stir well. Serve topped with fresh thyme!
Notes
All nutrition facts are estimated and will vary.
Prep Time: 10
Cook Time: 1 hour
Category: Sides
Method: Stove Top
Cuisine: Global
Nutrition
Serving Size: 1 serving
Calories: 341
Fat: 15.1g
Carbohydrates: 36.8g
Fiber: 2.8g
Protein: 15.7g