Coconut Kale Smoothie Bowl | Autoimmune Paleo & Gut Healing
This post contains affiliate links. Learn what that means, here.
Have you ever seen those big beautiful smoothies on Instagram? The ones that are just overflowing from a mason jar or have a mosaic of toppings in a bowl? They look so beautiful, so fresh, and most of the time… pretty full of sugar. If you actually take a good look at the recipes that go along with these popular smoothie bowls or juices, they're usually packed with sugar, scarce on veggies, and almost always void of healthy fats and protein. But, it doesn't have to be that way! That's why I created a nourishing smoothie bowl thats packed with all the good stuff while still being full of flavor.
Smoothies can be one of those pseudo-health foods that seem healthy, but can have just as much sugar as a soda if not more if not made properly. So, what does a good, nutrient dense smoothie need?
Mostly veggies. Especially leafy greens! Smoothies are a great way to get in lots of leafy greens. Have as many veggies as you want in your smoothies!
Moderate fruit. Fruit may be natural sugar, but it's still sugar. And in excess, it's still going to swing your blood sugar and not satiate you. If you're relying on mostly fruit to make your smoothie, I guarantee that you'll be hungry soon after and craving more sugar. In nature, we didn't have much need for more than 2 servings of fruit a day. However, smoothies can easily have 3-4 servings of fruit along with sugar-y juice that's void of fiber. Try sticking to one serving of fruit in a smoothie and using something like a frozen banana, or fresh berries.
Healthy Fats. Fat is usually the big thing that's missing from most smoothies. Healthy fats like avocado and coconut oil are a great addition to a smoothie, and are what actually satiates us. Adding a tablespoon of fat to your smoothie will help keep you full.
Good quality protein. Extra protein is a great addition to a smoothie, but be cautious of poor quality powders. Many protein powders can be filled with sugar, fake ingredients, and soy. I like adding grass-fed collagen to my smoothies. It doesn't add any funky taste either! Collagen from grass-fed cows is also great for gut healing as helps to restore the intestinal lining that is often destroyed by leaky gut. Get some here!
It's also important to note that I say smoothies not juices. Juices can be great in moderation if you're juicing mostly vegetables, but when we're talking fruit juice, it's a huge shot to your blood sugar.
Now that we've got all of the essentials laid out, let's put them all together in my coconut kale smoothie bowl!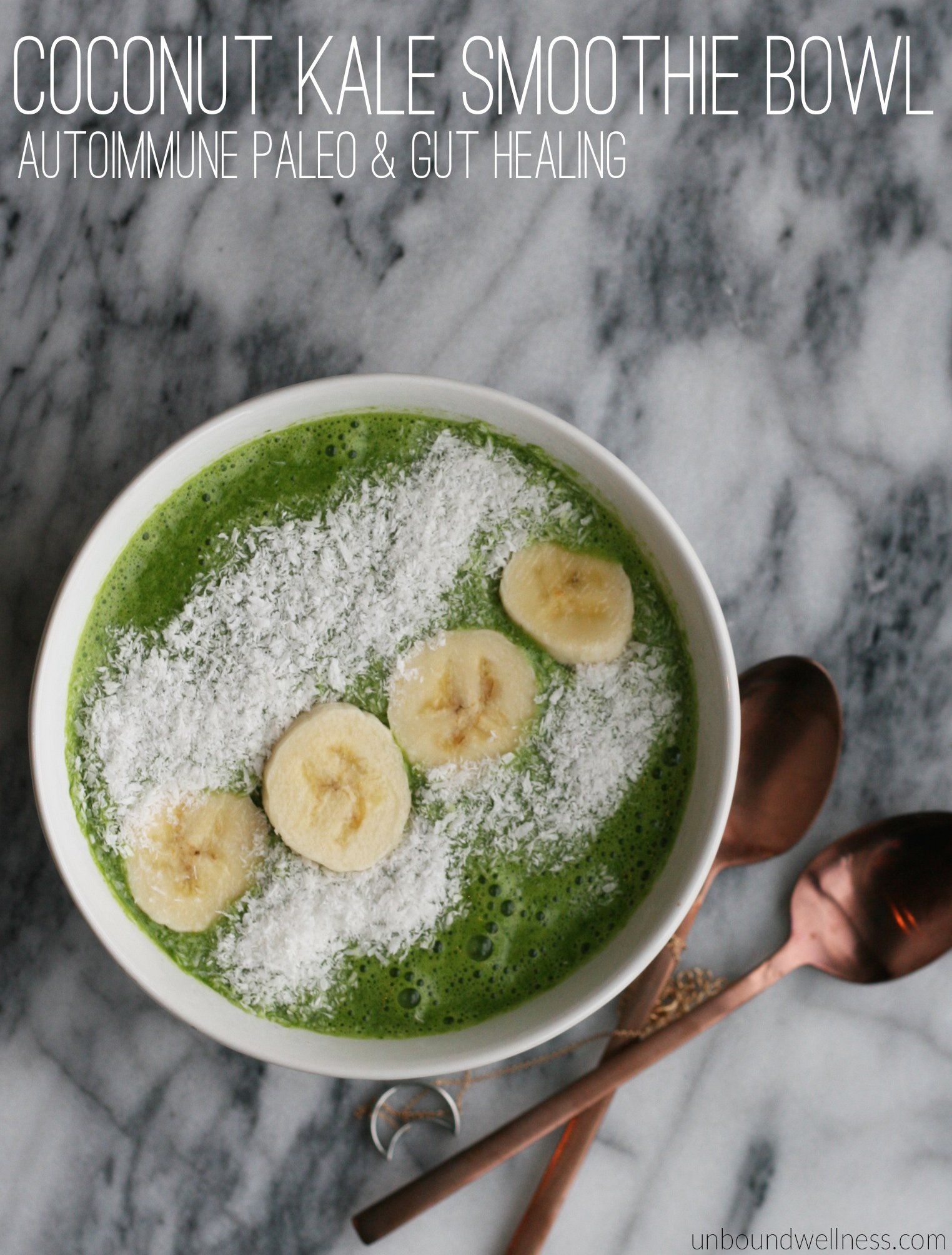 Print
Coconut Kale Smoothie Bowl | Autoimmune Paleo & Gut Healing
---
3–4 large kale leaves
2 pieces of frozen peach
1 tbsp collagen hydrolysate (link to buy above)
1 tbsp coconut oil
1 cup coconut milk
2 ice cubes
Juice of 1/4 lemon
For topping
1/2 banana
1 tbsp coconut flakes
---
Instructions
Wash and destem the kale leaves
Add the kale to a blender of choice with coconut milk and juice of 1/4 lemon
Blend for 20-30 seconds or until very smooth and no longer chunky
Add in frozen peach and ice cubes and blend until smooth and blender is no longer working to blend frozen items
Add collagen and coconut oil and blend for 10 seconds
Pour smoothie into a bowl (or glass if preferred)
Top with banana slices and coconut flakes
Eat with a spoon and enjoy!
I highly recommend trying this out if you're looking for a cold treat, or are struggling to get extra leafy greens into your diet. Not only is it nutrient dense, but it's so much fun to eat!
Do you make smoothie bowls? What are you go-to toppings?