Halloween Spider Cookies (Gluten & Dairy Free)
These spider cookies are perfect for Halloween! They're a gluten and dairy free sugar cookie topped off with an almond butter cup decorated as a spider for a fun and festive treat.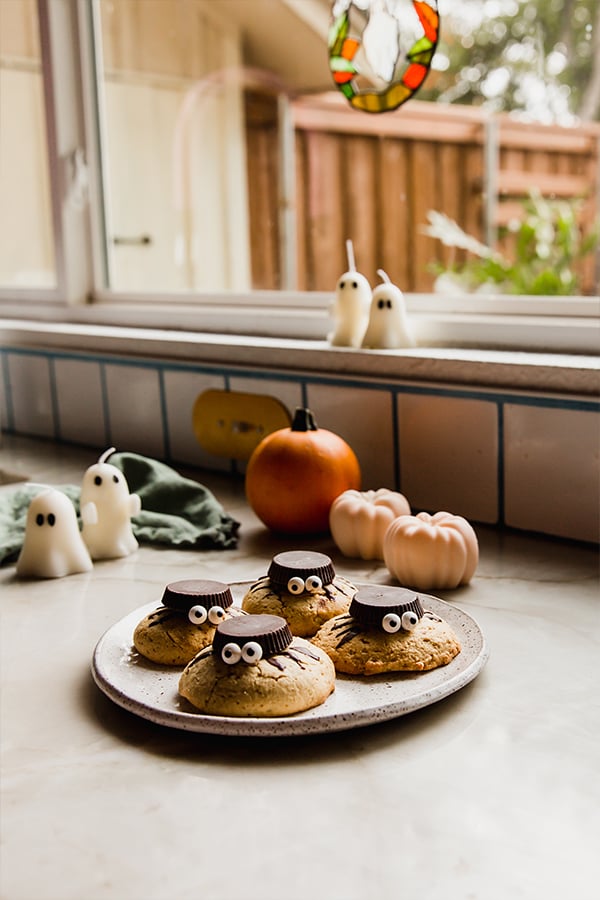 Halloween has become one of my favorite holidays to make treats for! They can be as fun and as silly as you want, and these cookies are definitely that. I've been seeing different variations of this cookie online, and this is my gluten and dairy-free take on it.
It's perfect for Halloween parties, or enjoying at home by yourself with kids and family!
Why you'll love these Halloween Spider Cookies
The perfect themed treat, dairy and gluten free! I love a holiday treat, especially for Halloween, but often can't eat store bought versions. This version is dairy and gluten free!
They can be made ahead! These cookies need to be refrigerated to set and stay for a few days, so are perfect to make ahead for a Halloween gathering.
The Ingredients
Almond Flour and Tapioca Starch.
Baking Soda.
Egg. You can also sub a flax egg.
Coconut Sugar and Maple Syrup. These add just the right amount of sweetness to the cookies.
Coconut Oil.
Vanilla Extract.
Melted Chocolate. This helps the almond butter cup stick to the cookie. I use Enjoy Life chocolate chips.
Almond Butter Cups. I use Unreal's Almond Butter Cups.
Candy Eyes. Or sub pomegranate seeds!
How to make Spider Cookies
Step One. Combine dry ingredients and then fold in wet ingredients to make the cookie dough.
Step Two. Scoop out cookie dough and bake.
Step Three. Once cookies are cool, add the almond butter cup on top, draw the legs, and add candy eyes.
Step Four. Transfer to the fridge to set and enjoy!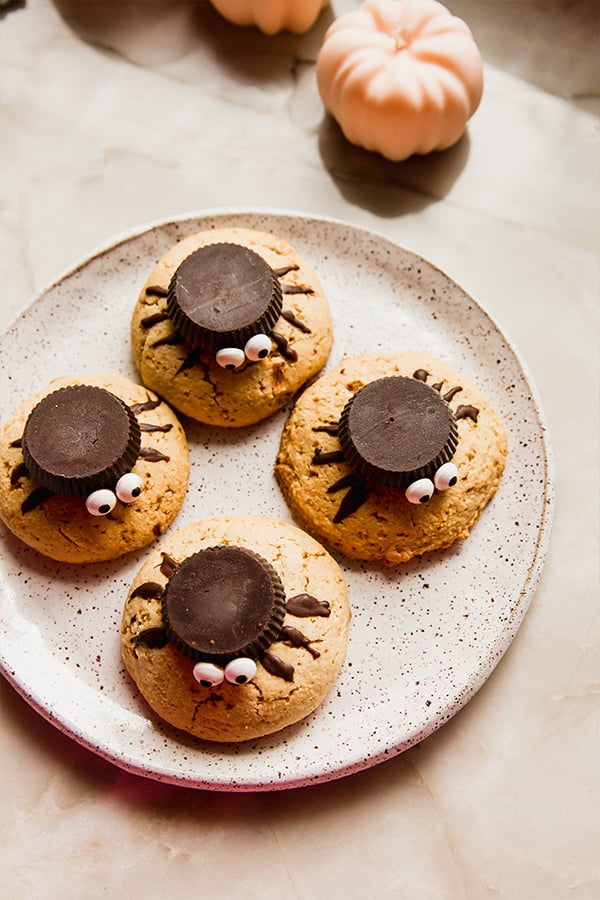 Tips & Tricks
Make sure the cookies are totally cool! If the cookies are still warm, the chocolate will melt too much and leave you with messy cookies.
Let the cookies set in the fridge. The chocolate needs to set completely in the fridge to make sure the candy eyes stay on.
How to make the recipe without candy eyes
The candy eyes are super cute, but if you're like me, you can't tolerate most store-bought candy. I enjoyed mine with pomegranate seeds for eyes! It's more spooky than it is cute, but honestly, it's a lot more realistic than the candy eyes 😆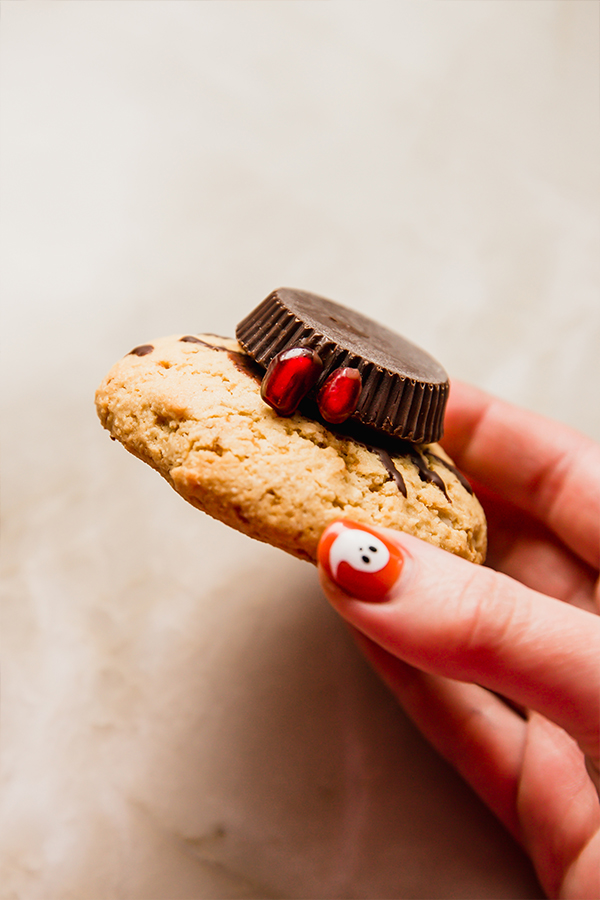 You'll also love…
Print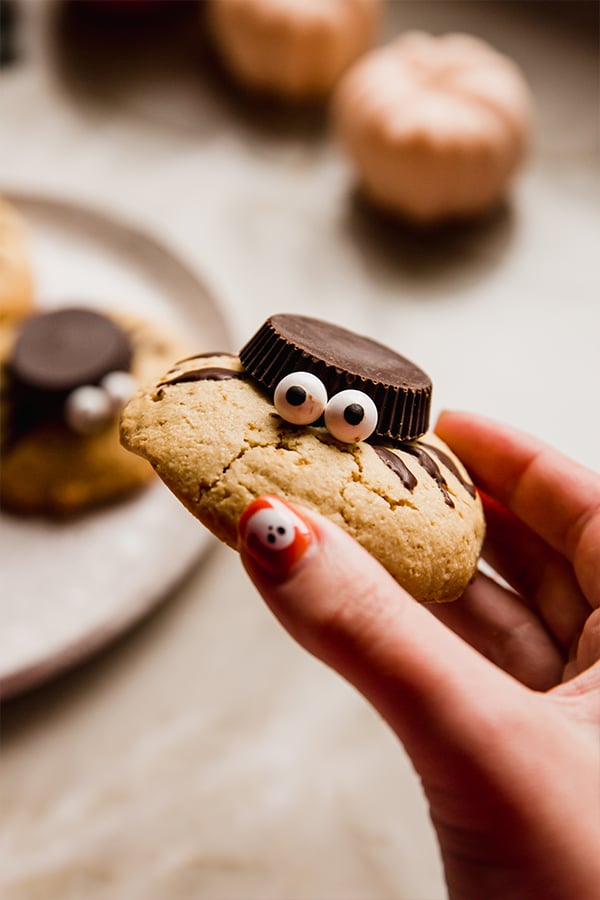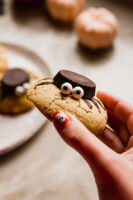 Halloween Spider Cookies (Gluten & Dairy Free)
---
Author:
Yield: 7 cookies 1x
1 1/2 cup almond flour
1/3 cup tapioca starch
1/4 tsp baking soda
1 egg (sub 1 flax egg… 1 tbsp ground flax + 3 tbsp water)
1 tbsp coconut sugar
2 tbsp maple syrup
2 tbsp coconut oil, melted 
1 tsp vanilla extract
For topping
2 tbsp melted chocolate (I use Enjoy Life chocolate chips)
6 almond butter cups (I use unreal)
Candy eyes (sub pomegranate seeds)
---
Instructions
Preheat the oven to 350 F and line a baking sheet with lightly greased parchment paper.
Combine the dry ingredients in a bowl and whisk together until combined. Fold in the wet ingredients until a dough forms.
Use a cookie scoop to scoop out uniform cookies. You should have 6-7 cookies. Evenly space the cookie dough on the baking sheet and lightly flatten with your palm. Transfer to the oven and bake for 12 minutes or until lightly golden brown.
Remove from the oven and carefully transfer to a cooling rack. Allow to cool completely.
Once the cookies are cool, decorate the cookies by putting a small amount of melted chocolate on the large, flat end of an almond butter cup. Place in the center of a cookie. Use a toothpick dipped in the melted chocolate to draw on eight legs next to the almond butter cup. Using the toothpick, dab a small amount of chocolate onto the back of the candy eyes (or pomegranate seeds)  and place on the bottom of the almond butter cup to make eyes. Repeat with all of the cookies. Transfer to the fridge to allow the chocolate to set.
Keep the cookies in the fridge for 2-3 days and serve chilled.
Nutrition
Serving Size: 1 cookie
Calories: 326
Fat: 15.8g
Carbohydrates: 23.6g
Fiber: 1.8g
Protein: 6.6g