Kitchen Must-Haves Holiday Gift Guide
This blog post contains affiliate links.
This kitchen must-haves holiday gift guide is full of gift ideas that are perfect for the home cook, food lover, or someone starting a new health journey!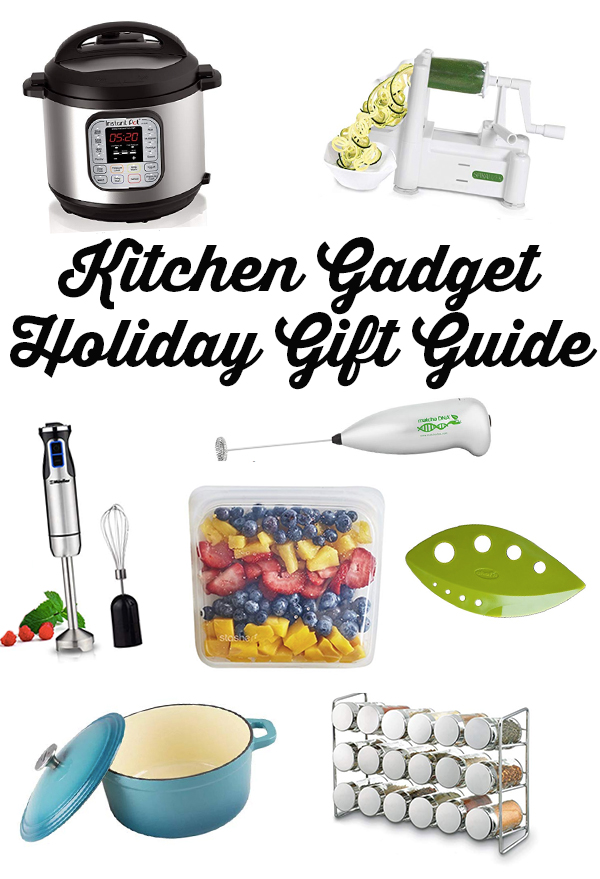 Have a foodie in your family? What about an avid home cook? Or someone who is embarking on a new health journey and is looking to get into more home cooking? Or what if you just want some new kitchen gadgets, appliances, and toys for yourself? I get ya.
I have entirely too many kitchen tools, but really… they make your life so much easier! Some of these tools make it much easier to get dinner on the table in a timely manner, and others make food storage much more economical and environmentally friendly. There's something for everyone on this kitchen gift guide lists, so let's dive right in…
1.Instant Pot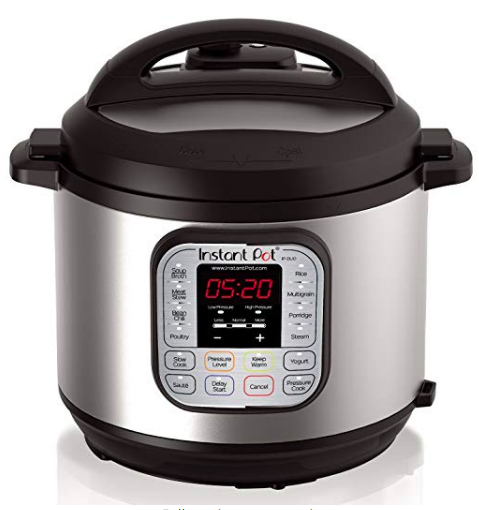 Guys… if you don't have an Instant pot already, now is the time. The instant pot does everything. It has a slow cooker function, it makes hard-boiled eggs, it makes soups crazy fast, and just about everything else.
2. Stasher bags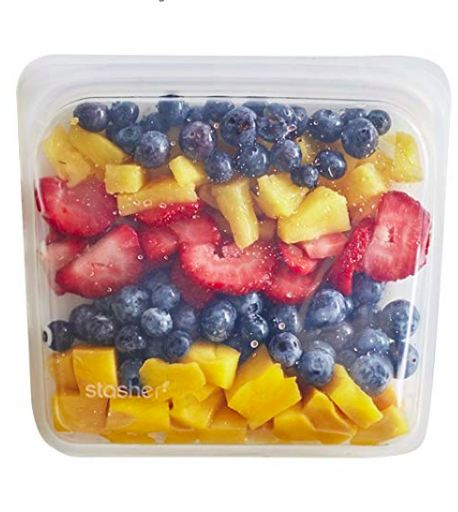 Plastic baggies may be convenient, but they're really not healthy or environmentally friendly. The last thing that we need is more plastic leeching into our food, or being thrown out. Stasher bags are silicone baggies that are the perfect substitute for plastic baggies! They come in different colors and sizes, and they're perfect for storing snacks and storing food in the freezer!
3. Separated Tupperware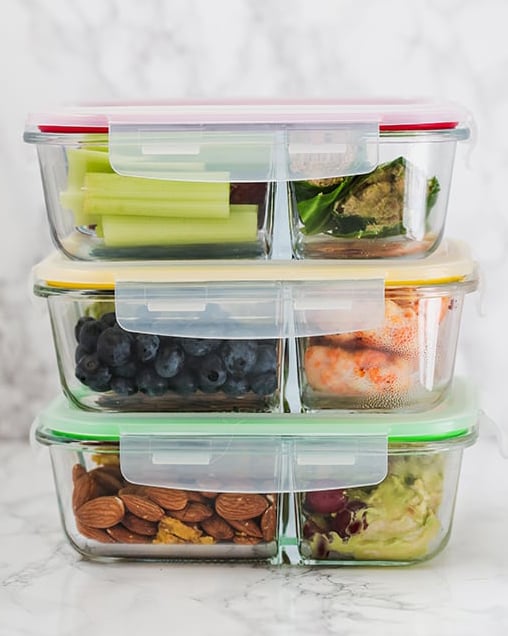 I used this divided Tupperware in my back to school lunch post and I got so many questions about where I got it from! They really make packing lunches easy.
4. Cast iron pots and pans & dutch ovens
I love cooking with cast iron. I use enamel cast iron pans for photography as well as some cooking for my blog, and regular cast iron for cooking as well. Cast iron is much safer than non-stick pans and can add iron to your diet!
Though you won't get as much iron from coated cast iron as you would from non-coated, enamel cast iron is a bit easier to maintain and it's much prettier!
This is my favorite cast iron skillet (pictured here) and my favorite cast iron pot. If you'd prefer a non-enamel cast iron, this is a great pan as well.

I love adding fresh herbs to meals! They add tons of flavor and added nutrients. Some purists will say that these aren't efficient for cutting herbs, but honestly… I hate cutting herbs with a knife. These herb scissors really speed up the process.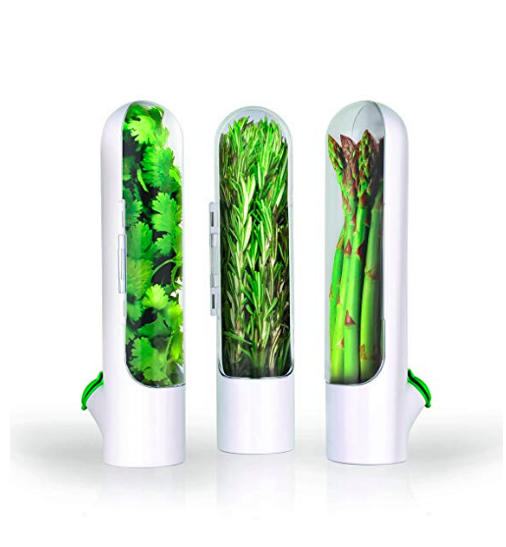 After you cut up all those herbs, ya gotta find a good way to store them! Herbs are hard to keep fresh, so this herb saver really helps. I have it on my list this year!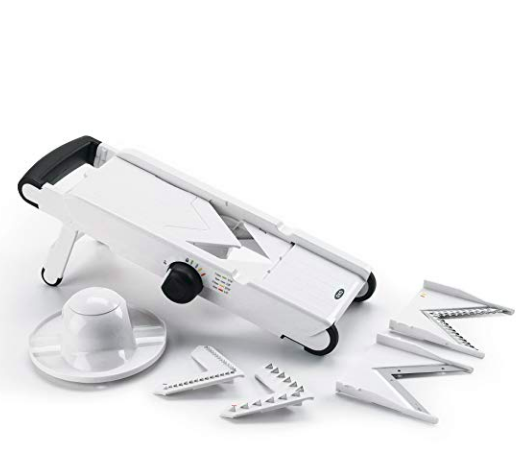 I used to think that mandoline slicers were excessive… why can't you just use a knife? But seriously, I love my OXO mandoline slicer! It's perfect for getting thin, uniform slices for hard to slice foods like plantains and turning them into perfect plantain chips. I also use it for sweet potatoes, zucchini for chips, and even onions.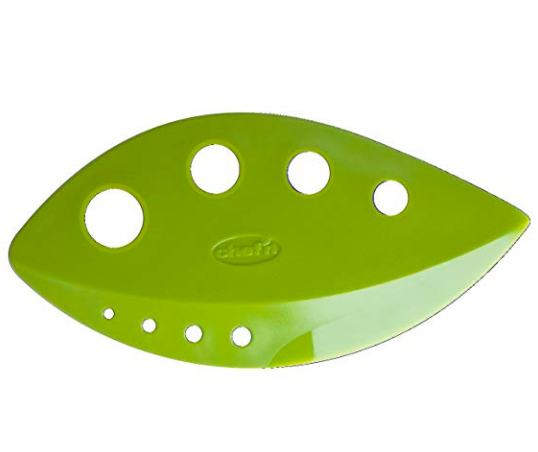 Kale isn't just a trend, it's an actual nutrient dense food! This kale razor really cuts down the time for prepping kale
10. Onion Goggles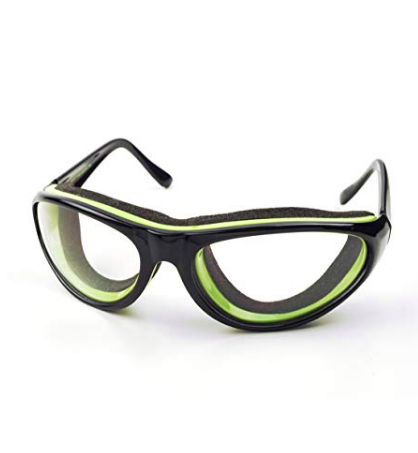 The nerdiest thing on this list, I know… but I actually have this on my Christmas list. No joke! I'm a big time onion cryer. Like… excessively. Both myself and Stinky (if you're new here, that's my cat) hate the smell of onions, and we both get teary-eyed from it. We're basically ET and Elliot. I wish these onion goggles came in cat size too.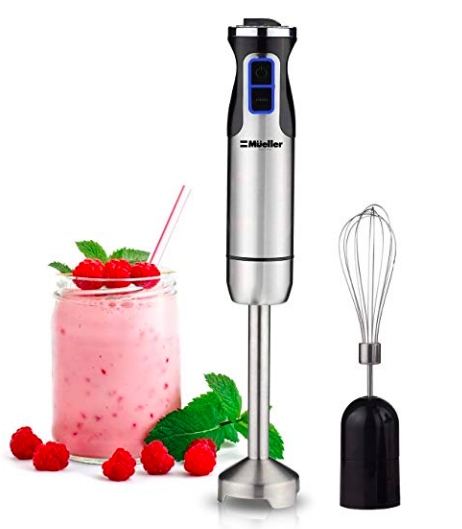 I got an immersion blender when Daniel and I got married, and I'm still obsessed with it. It's perfect for making soups and sauces and it takes up very little room.
12. Spiralizer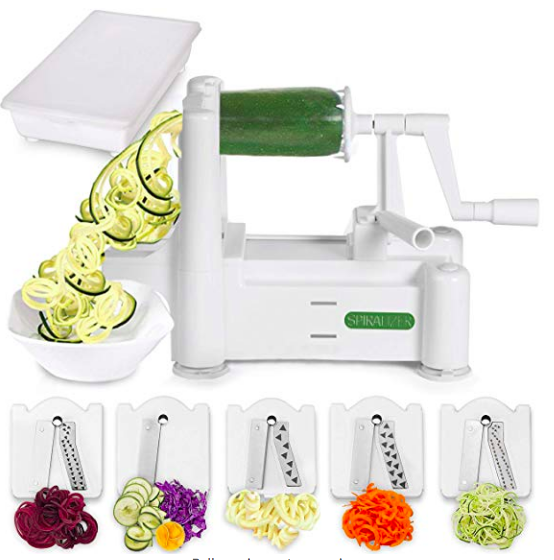 Wondering if a spiralizer is worth the money? IT IS. I use a spiralizer to make veggie noodles, and it's so much cheaper than buying them premade!
13. This Spice Rack and Label set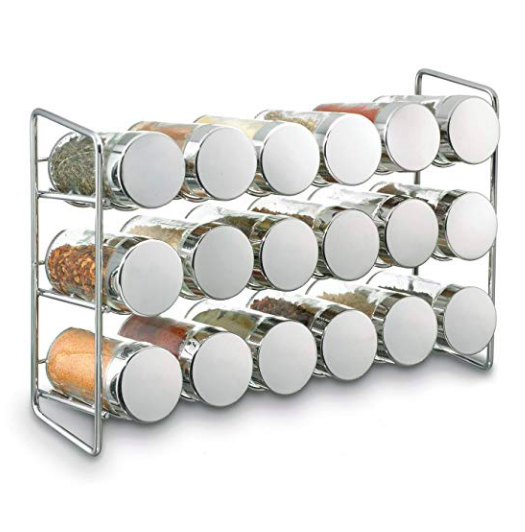 My husband got this spice rack with this label set for us earlier this year, and I love it! The label set makes it so easy to find what I'm looking for, and it has so many options. My husband mounted ours to the wall, but it's great for just setting on your countertop as well.
14. Handheld milk frother
This handheld milk frother is something I use several times a week. Yes, it's great if you're making tea lattes but what I really use it for is making gelatin eggs! Seriously, you will never have trouble with gelatin eggs ever again after you get one of these.
15. Garlic Press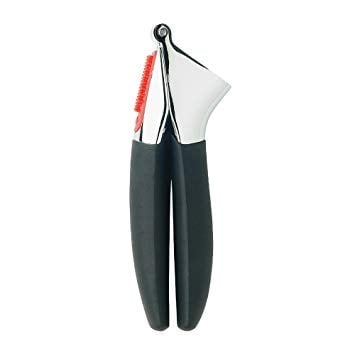 I love fresh garlic, but I do not love cutting it… at all. A garlic press is on my holiday wishlist this year for sure!
I hope this list helped to give you some ideas! What are some of your favorite kitchen gadgets?