Legit Holiday Cookies
Legit Bread Holiday Cookies by Unbound Wellness
For the first time ever, an Unbound Wellness baking mix is available for you to make in your own home! These holiday cut-out cookies are perfect for making fun cookies for the holidays, or year-round! This mix is paleo, gluten-free, and AIP-friendly.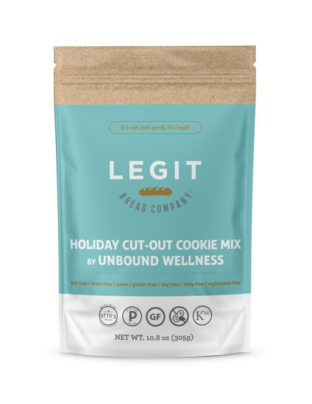 ORDER NOW ON THE LEGIT BREAD WEBSITE

Decorating Tips & Tricks
Use a variety of cookie cutters rather than just one to mix it up and make the cookies even more fun to decorate!
Decorate with homemade frosting, or storebought.
Use safer food colorings like turmeric, matcha powder, and beetroot powder to avoid food dyes.
Once the cookies are frosted, additional toppings like dairy-free chocolate chips, homemade marshmallows, and more!
How to use the holiday cookie mix year-round