Loaded Holiday Parsnip Mash (Paleo/AIP "Mashed Potatoes")
Mashed potatoes were always my favorite Thanksgiving side. Actually, potatoes were just my favorite everything. I remember people joking at the table that all I ate were the mashed potatoes and bread, and I was perfectly content with that. Who needs turkey when you have creamy, fluffy, starchy mashed potatoes, right?
That is, until I realized that nightshades like potatoes, tomatoes, and peppers were not my friend at all. So, what's a carb loving girl to do during the holidays?
Substitute… loaded parsnip mash is the perfect paleo/AIP mashed potato!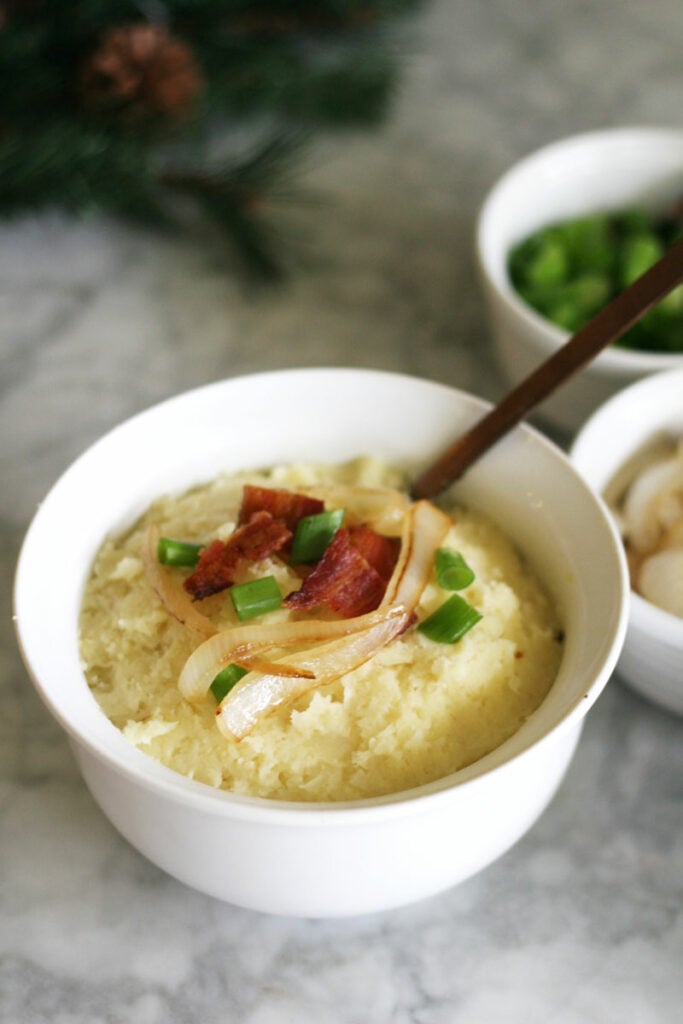 First, what's up with nightshades and why do people with autoimmune disease avoid them?
I had no idea what nightshades were and was confused why potatoes, tomatoes, eggplant, and all of the red spices lit up on my food allergy testing when I was 20. It was seemingly random, disappointing, and I just didn't get it.
Little did a know that these vegetables were all nightshades which are highly inflammatory for many, damage our gut, and up regulate the immune system. Thus, someone like me with Hashimoto's and gut issues just couldn't tolerate them. They're off limits on the autoimmune protocol to heal autoimmunity and many have issues reintroducing them.
They're not harmful to everyone… we're all bioindividuals, but they're harmful to many, myself included.
What are some nightshade free potato alternatives?
White potatoes may not be my friend, but that doesn't mean that I had to swear off of root veggie mashes forever. There's a whole world beyond just the potato that's filled with easy swaps for mashed potatoes.
Though parsnips are my favorite, there are tons of other options for potato free mashes such as…
Sweet potato (white, purple, orange, etc)
Cauliflower
Turnip
Rutabaga
But let's focus on parsnips, here. Perfect for fries, soups, and of course mashed parsnips with tons of yummy loaded toppings! Rich in flavor, and perfect for the holiday season.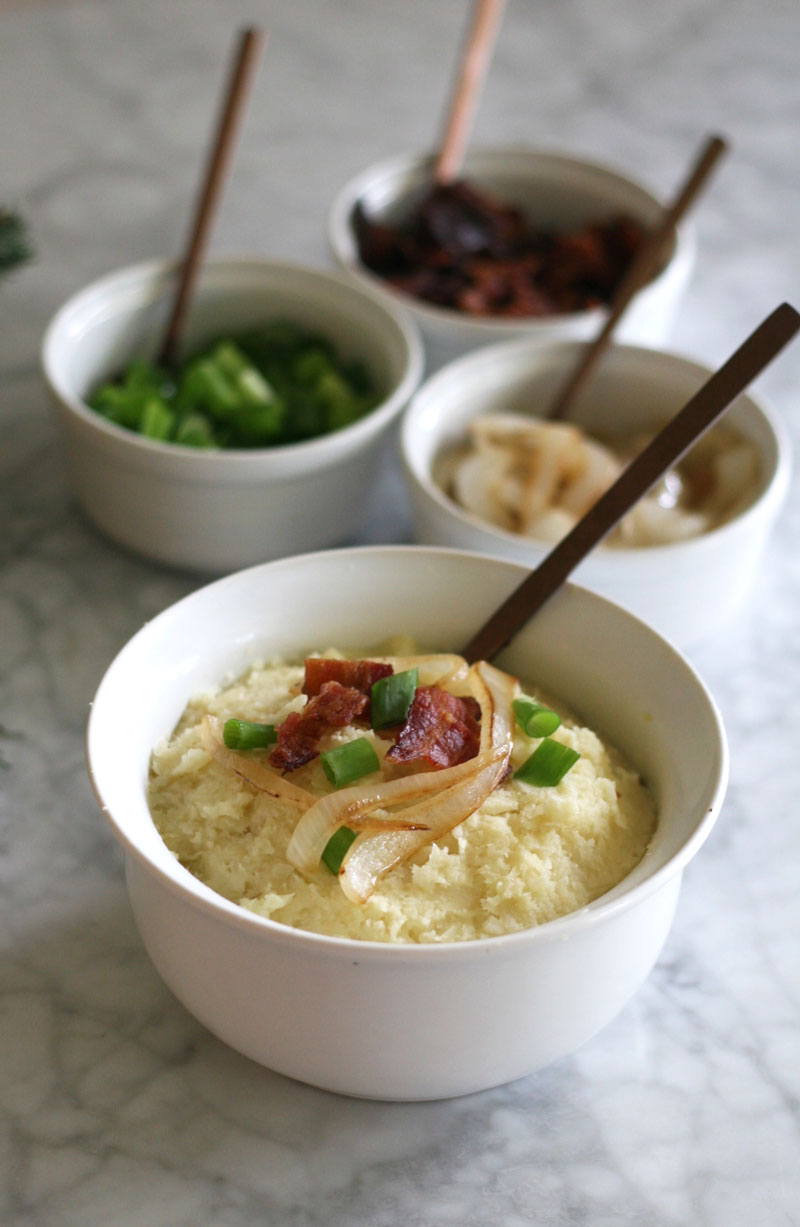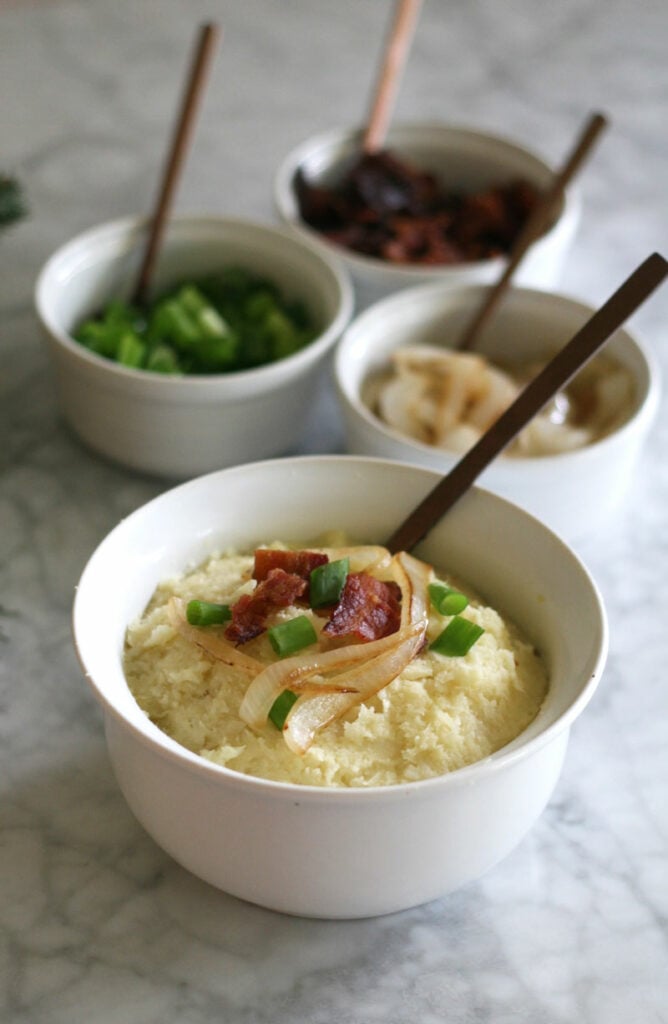 The toppings I used to make the whole dish a bit more flavorful were bacon, caramelized white onions, and green onions!
They're all easy to prepare, but add a ton of flavor. I recommend setting it up as a self serve style to build your own perfect mash. I've always been envious of mashed potato bars, and think it would be a great for the holidays to have fun by choosing your own toppings! I know for me personally, I'd be adding a bunch of everything!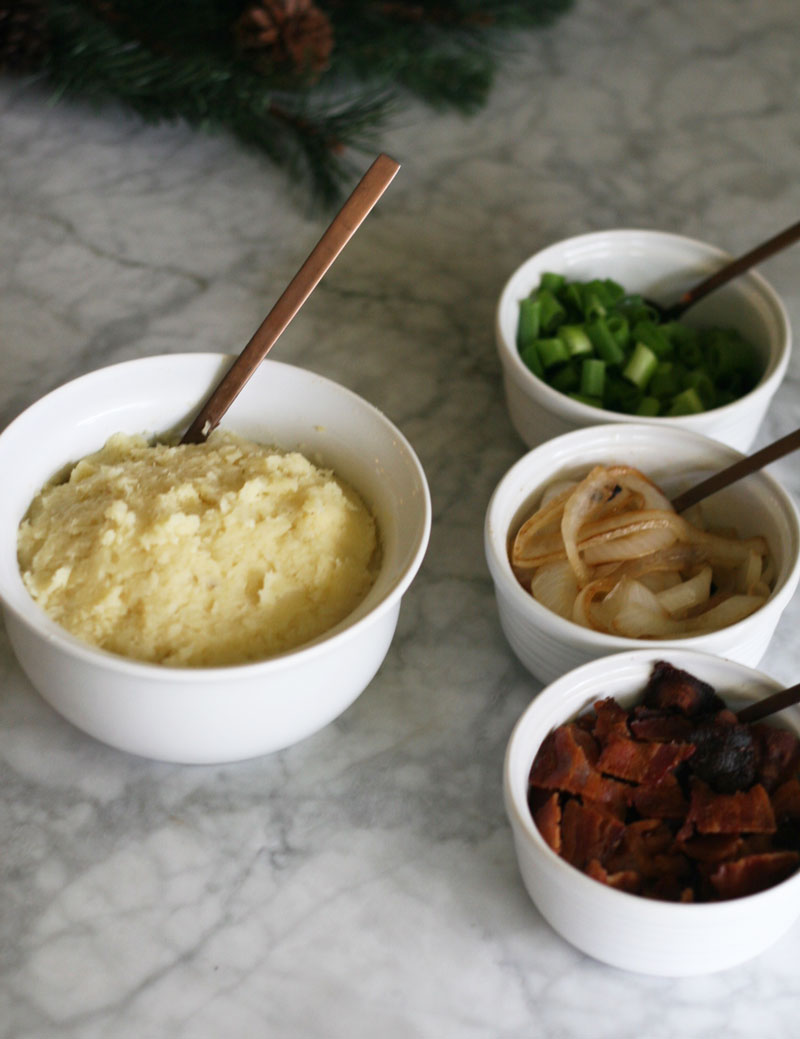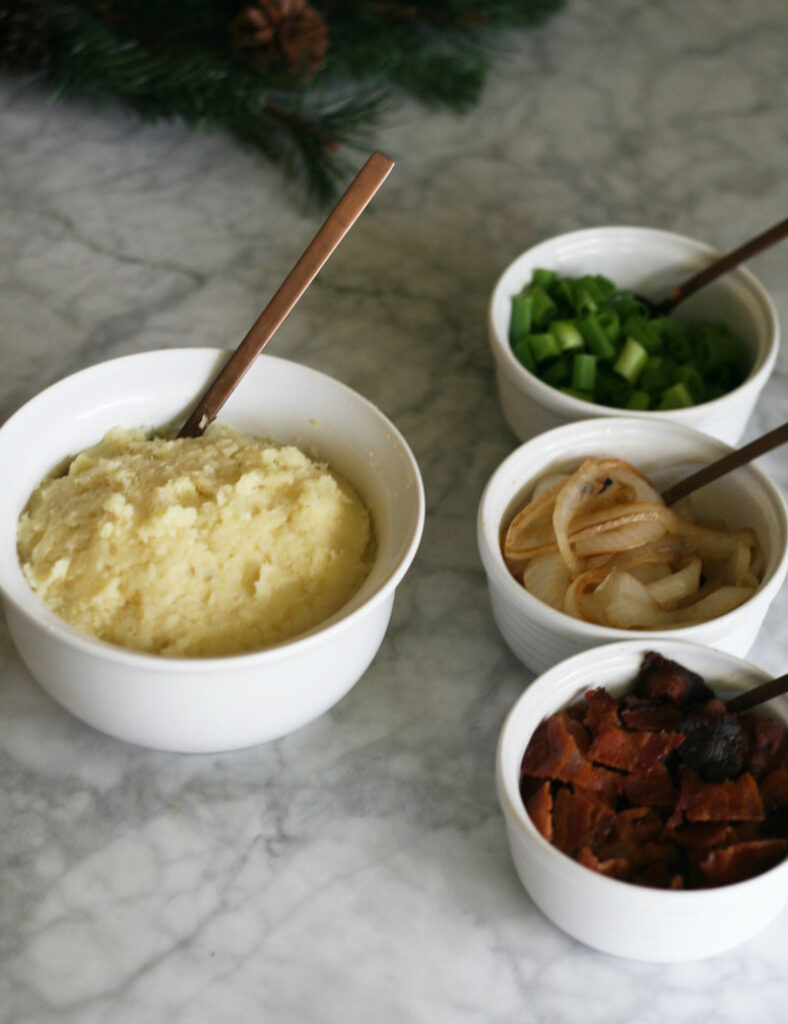 Print
Loaded Holiday Parsnip Mash (Paleo/AIP "Mashed Potatoes")
---
2.5 lb parsnips, peeled and diced
1 medium white onion, sliced
3–4 pieces of bacon, cooked and diced
1/4 cup green onion, diced
1/3 cup coconut oil (or ghee) + 1 tbsp
1 tsp sea salt
1/2 tsp garlic powder
1/2 tsp dried thyme
---
Instructions
1. Add the parsnips to a medium pot and cover with water. Bring to a boil and reduce heat to a simmer for 20-25 minutes until parsnips are soft and tender.
2. Remove the parsnips from the heat, strain the water and allow them to cool.
3. In a medium pan, melt 1 tbsp of the cooking fat and add the diced onion and a pinch of salt. Stir until onions are soft and cooked. Remove from heat and set aside in a small serving bowl.
4. Once the parsnips are cooled, add them to a high speed blender or food processor along with the cooking fat, salt, garlic, and thyme. Blend until combined.
5. Serve the parsnip mash in a large serving both with onions, green onion, and diced bacon on the side for toppings. Salt to taste!
I hope you enjoy this tasty parsnip mash, and have a blessed, safe holiday season! Let me know how your nightshade loving family and friends like this alternative.