Paleo Thanksgiving Cauliflower Stuffing (AIP, Whole 30 & Low Carb)
Stuffing is one of those iconic Thanksgiving dishes that always has to be on the table. I don't think I've been to a Thanksgiving dinner that didn't have a traditional stuffing. It's easy, straight forward, and classic… unless you're paleo or AIP… then things get a little more complicated. Stuffing is mostly bread based which poses some challenges for making it compliant with a paleo or autoimmune protocol diet. But does it have to be bread based? It doesn't! And this paleo cauliflower stuffing is proof!
Thanksgiving can be super heavy on the starchy carbs which is partially why it's such a filling meal. This stuffing is much lower carb than a traditional stuffing, and is really made of just veggies! Not only does it make it easier to enjoy more of it, but it's actually filled with nutrients from all of the veggies!
It has so much flavor that you just might trick some of you grain loving dinner guests into getting in a little more veggies during the holidays! With seasonal herbs, hearty root vegetables, and even some healing broth, this stuffing recipe is one to save for years to come.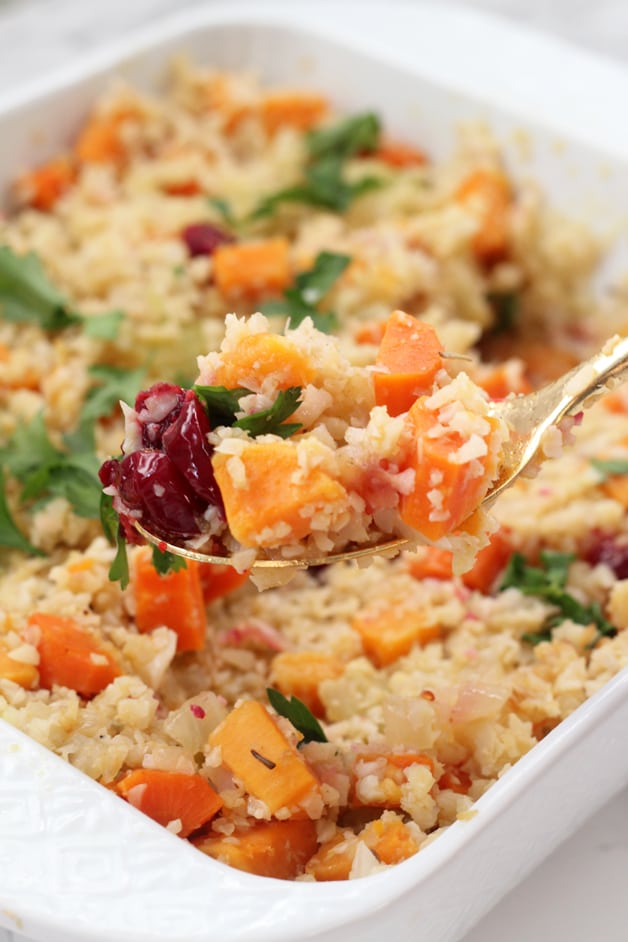 What You Need for This Cauliflower Stuffing
Cauliflower rice
This is the base for the stuffing. You can go with bagged cauliflower rice from the store, or just can just as easily rice a whole head of cauliflower in the food processor if you're trying to save a few dollars.
Sweet potato & carrot
These root veggies make this dish a lot more hearty. You can sub one for the other, but I recommend using both for the best flavor.
Onion & celery
You need both of these crunchy and flavorful veggies to make a good traditional stuffing.
Cranberries
I'm all for adding cranberries to everything during the holidays!
Bone broth
If you can use homemade bone broth for this already nutrient dense side dish, even better! However you can also use a store-bought broth if you're good on time.
Sage, rosemary and parsley
This stuffing is filled with fresh parsley, making it even more fresh tasting! The other herbs help to add that hearty Thanksgiving flavor as well.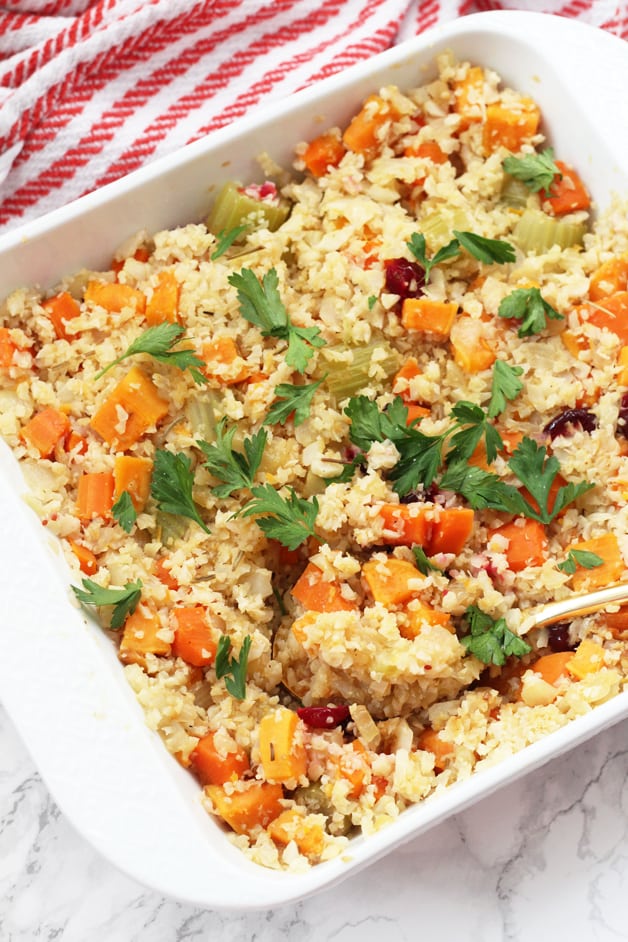 Print
Paleo Thanksgiving Cauliflower Stuffing (AIP & Low Carb)
---
1 head cauliflower, cored and riced
1 medium sweet potato, peeled and diced
2 large carrots, peeled and diced
3 ribs of celery, chopped
1 medium yellow onion, diced
1/2 cup cranberries
3/4 cup bone broth
1/4 cup fresh parsley, chopped
1 tbsp sage
1 tbsp rosemary
1 tsp sea salt
4 tbsp butter or ghee (or coconut oil for AIP)
---
Instructions
Melt 2 tbsp of cooking fat in a large stock pot (or deep cooking skillet that has a lid) on medium heat
Sauté the sweet potato for 4-5 minutes or until lightly crispy
Add 2 more tbsp of cooking fat and sauté the carrot, onion, and celery for 5-7 minutes
Pour in the cauliflower and cook for 2-3 minutes, stirring often
Season with sage, rosemary, salt, and parsley (reserve half for topping) and pour in the bone broth and fresh cranberries. Stir well to combine
Place the lid on the pot and allow to cook for 10-15 minutes, stirring occasionally.
Once the broth is absorbed, remove from heat
Serve in a large serving dish with extra fresh parsley
Notes
All nutritional information are estimations and will vary. Estimations do not include optional ingredients.
Nutrition
Serving Size: 1 serving
Calories: 114
Fat: 6.3g
Carbohydrates: 13.4g
Fiber: 4.2g
Protein: 3g
So as you can see, this is much more of a veggie side dish than another carb-centric dish. I mean, let's be honest, I'll still have tons of higher carb dishes at Thanksgiving! But it's really nice to mix it up and add in some more veggies!
I hope you enjoy this yummy stuffing throughout the Holiday season! Be sure to tag me on instagram if this made it on to your holiday table. I love seeing your photos!