How to Make Bone Broth (Recipe & Video)
Bone broth is a healing superfood that's packed with minerals like calcium, magnesium, collagen, and gelatin that both nourish the body and support the gut lining. Making your own bone broth at home doesn't have to be hard!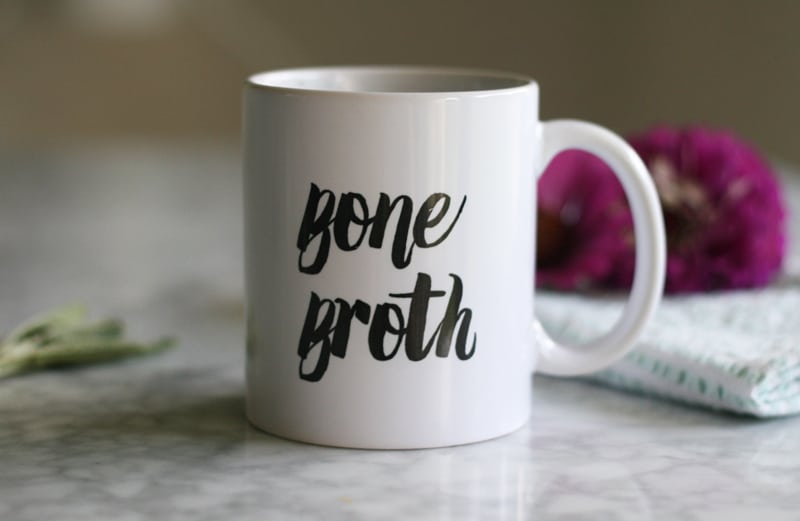 I started drinking bone broth when I was twenty and first discovered that I had gut issues. My mom would make me chicken bone broth and I would pack it up to bring it along to college. I made a lot of mistakes when I first started to try and transition to a healthier diet, but having broth was one of the things I really did right.
The benefits of bone broth
Bone broth helps to heal the intestinal lining.
The collagen and gelatin in broth help support and help the intestinal lining which makes it a great gut healing support. I really attribute bone broth to helping heal my gut!
Bone broth helps promote healthy hair, skin, and nails 
The same nutrients also support the health of hair and skin and elasticity of the skin.
It's a great way to start transitioning to eating meat
I've talked about my lifelong meat aversion on the blog before as a result of my gut health being so poor. The broth was my transition back to eating meat after years of disliking meat.
It's a nutrient powerhouse that's easy to digest
The broth is full of vitamins, minerals and amino acids that are practically already digested for you which is what makes it so great for those with gut issues.
It's traditional food
Bone broth is how our ancestors made broth. They did not use cans, or cubes, or boxes. Bone broth is a traditional, properly prepared food!
How to make the perfect gut-healing broth recipe
Use the right kind of bones from a good source
This is crucial for a good quality broth that is gelatinous and actually tastes good. So, what do you use?
1.5-2lbs of soup bones

Beef shanks or soup bones
Chicken carcass w/ meat removed
Lamb soup bones

1/2 – 1 lbs of joint bones

Beef knuckle
Lamb kneck bones
Beef ankle
Chicken feet
As for sourcing bones, many health food stores carry these options, as well as local farmer's markets and CSA's.
Roast the bones for flavor
If you're using beef or lamb bones, roasting them adds a lot more flavor!
Add apple cider vinegar, veggies, and herbs
Adding about 1 tbsp of raw apple cider vinegar helps to pull the nutrients from the bones and is a step that you always have to include for perfect broth.
To add even more flavor and nutrients, add veggies and fresh herbs! To reduce waste, save vegetable scraps like the tops of carrots, pieces of onion, celery, leeks, and more and store them in the freezer to add to your broth.
Cook it low and slow for an extended period of time
For the minerals to really pull from the bones, you want your broth to cook slowly for a long time. For chicken, 24 hours typically works, but for lamb, beef, and bison, up to 36 hours can be a good option
Cool it down fast!
To avoid letting the broth sit out and reach room temperature to where bacteria can grow, I always cool my broth fast. I do this by adding it to a pot or metal bowl and placing that bowl into a larger vessel filled with ice (for me, that's usually a big metal wok). By shocking the broth this way, you're not diluting it with ice, which holds up the flavor and the concentration of the broth, while still cooling it quickly.
Enjoy a gelatinous, nutrient-dense broth
You want your bone broth to look like jello when it's chilled! This indicates that it's rich in collagen. All you have to do to bring it back to liquid form is simply heat it.
How to store bone broth
Freeze it in silicone molds
If you want to have broth on hand for cooking or drinking in the future, pour the broth into silicone molds and freeze in the freezer. The frozen broth will keep for several months.
Store it in glass
If you intend to use your broth within the next few days, simply store it in glass Tupperware or a large mason jar. In my experience, I like to use up broth stored in the fridge in about 5 days.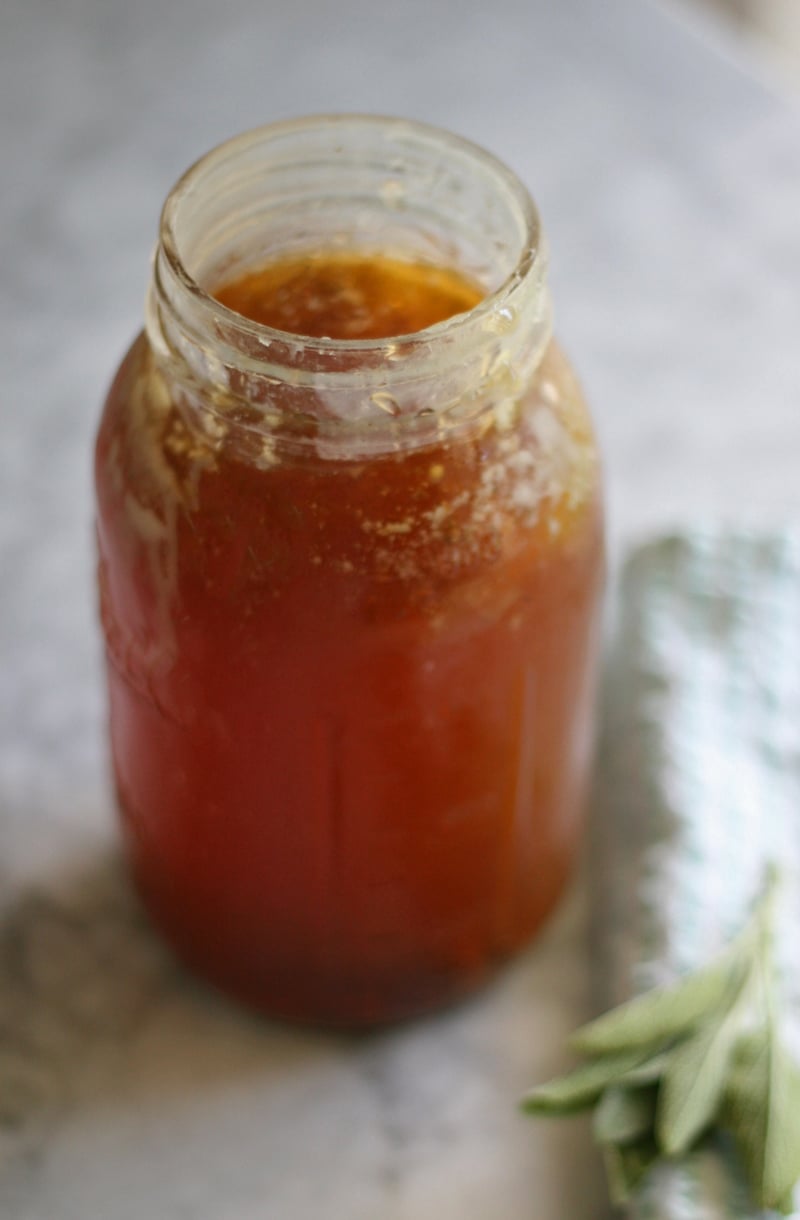 Troubleshooting bone broth
"My broth didn't gel!"
It's always a bummer when you don't get a gelatinous broth. However, there are still lots of nutrients in your broth! Here are some factors to consider for getting your broth to gel next time…
Was there too much water? Try using less water next time for more concentrated broth.
Did you use bones that have collagen? Try using more joint bones or chicken feet next time.
"My broth has a thick layer of fat… what do I do with it?" 
Simply skim the fat, and enjoy your broth! You can use the fat for cooking.
If you try this recipe out, be sure to leave a comment with a star rating to let me know how it turns out! Your feedback is so helpful to me and other Unbound Wellness readers!
Print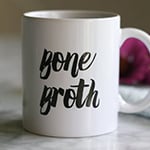 How to Make Perfect Gut Healing Bone Broth (Recipe)
---
Total Time: 24 hours 20 minutes
Yield: 8-9 cups 1x
Description
Bone broth is a healing superfood that's packed with minerals like calcium, magnesium, collagen, and gelatin that both nourish the body and support the gut lining. Making your own bone broth at home doesn't have to be hard!
---
2–3 lbs grass-fed beef soup bones or whole chicken carcass with meat removed
1/2 lb grass-fed beef knuckle or 2-4 chicken feet (toes removed)
2 cup vegetable scraps (carrot tops, onion pieces, etc.)
1 tbsp apple cider vinegar
3 sage leaves
2 bay leaves
1 tsp dried thyme
1/2 tsp sea salt
Filtered water
---
Instructions
If using beef bones (skip this step if using pre-roasted chicken carcass), preheat the oven to 375 F and line a large baking sheet with parchment paper.
Add the beef bones to the baking sheet and roast in the oven for 15 minutes. Remove from the oven and let the bones cool.
Place the bones in a slow cooker and add the rest of the ingredients. Add enough water to cover the bones with about an inch of water and place the lid on the pot.
Set the slow cooker to low and cook for 24 hours for chicken or turkey bones, and 24-36 hours for beef or lamb bones. Skim the broth periodically to remove any impurities from the bones.
After the broth is done, strain the bones and veggies and place the broth in a metal or glass bowl. Move the bowl into a larger vessel filled with ice to cool quickly.
Store the broth in glass Tupperware, wide mouth mason jars or use a silicone mold to freeze into cubes for later use.
Once cooled, skim the fat from the top of the broth and enjoy in soups, or drink by itself.
Notes
All nutrition facts are estimates.
Prep Time: 20
Cook Time: 24 hour
Category: Broth
Method: Slow cooker
Cuisine: global
Nutrition
Serving Size: 1 serving
Calories: 86
This post was originally published on September 4, 2016 and was updated on May 13, 2019 with a video.