Hawaiian Teriyaki Chicken Burgers (Paleo, Whole30, AIP)
These Hawaiian Teriyaki Chicken Burgers are next level decadent. With grilled pineapple and a yummy teriyaki sauce, they're perfect for a summer day. These burgers are healthier, paleo, whole30, and AIP.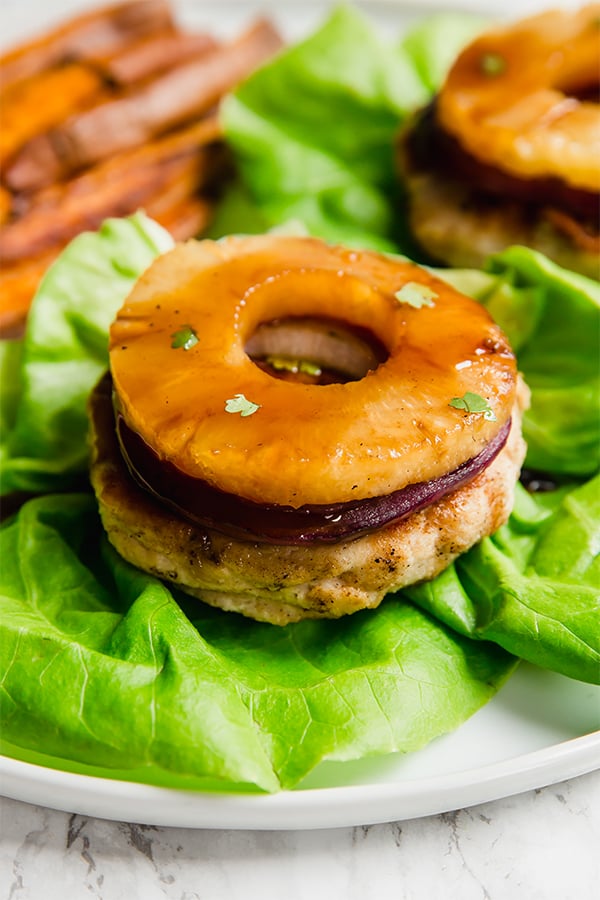 Now, this is the kind of burger that I would have ordered at a restaurant back in the day. Honestly, I probably have ordered something like this off a menu many times. Pineapple and teriyaki sauce all of a grilled chicken burger? Sign me up!
I made this recipe last summer and my husband really loved it! At the time, I didn't love the photos I snapped of it, so I wound up getting distracted and tabling it until later. I'm very happy I hung onto this recipe. This burger is perfect for packing in tons of flavor on a warmer day!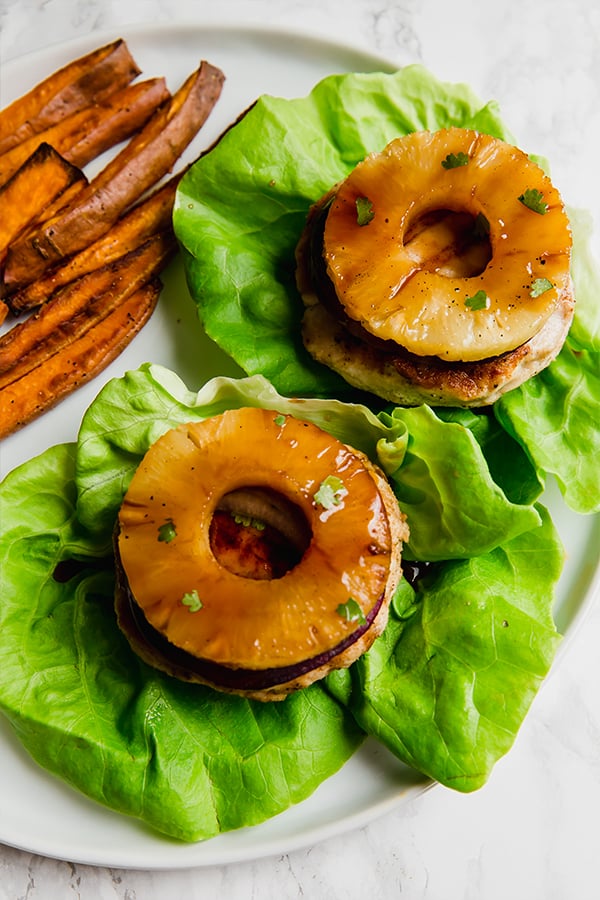 The Ingredients You Need For the Hawaiian Teriyaki Chicken Burger
Ground chicken
You can either buy chicken ground at the store or simply grind chicken in the food processor. I haven't tried to use ground turkey for this recipe.
Sliced pineapples
I love using sliced pineapple rounds because they're easy to grill, and the flavor is amazing! But you can also use chopped or diced pineapple as well.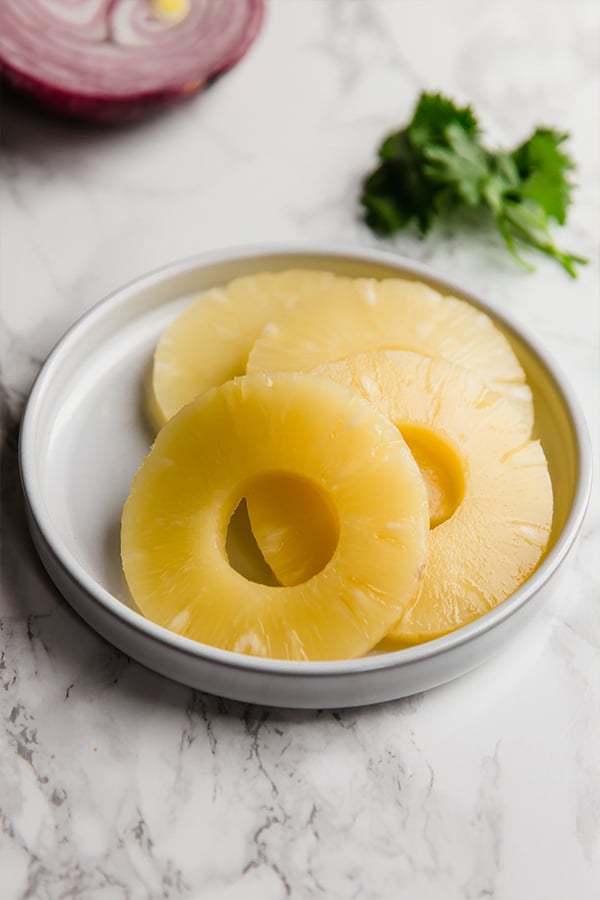 Red onion
The red onion is also grilled in this recipe.
Coconut flour
This is used as a binder for the burger. You can likely swap other flours like almond flour or arrowroot starch since we're just using a small amount.
Coconut aminos, coconut sugar & arrowroot starch
These are the main ingredients in the teriyaki sauce. You can leave out the coconut sugar if you're on a whole30.
A lettuce bun (or a regular bun if desired)
Using something like butter lettuce or green leaf lettuce as bun works great! You can also go full-on bunless burger and eat this with a fork and knife, or add a bun for those who would like one.

Different preparation options…
Grill. The classic option!
Grill pan. I love using a cast iron grill pan for quick and easy indoor grilling. It's faster, cleaner, and you still get the beautiful grill marks.
Oven or saute pan. If you don't want to use any grill method, you can easily fry up the burger in a saute pan, or even bake it in the oven. It's super versatile!
To pair with this recipe…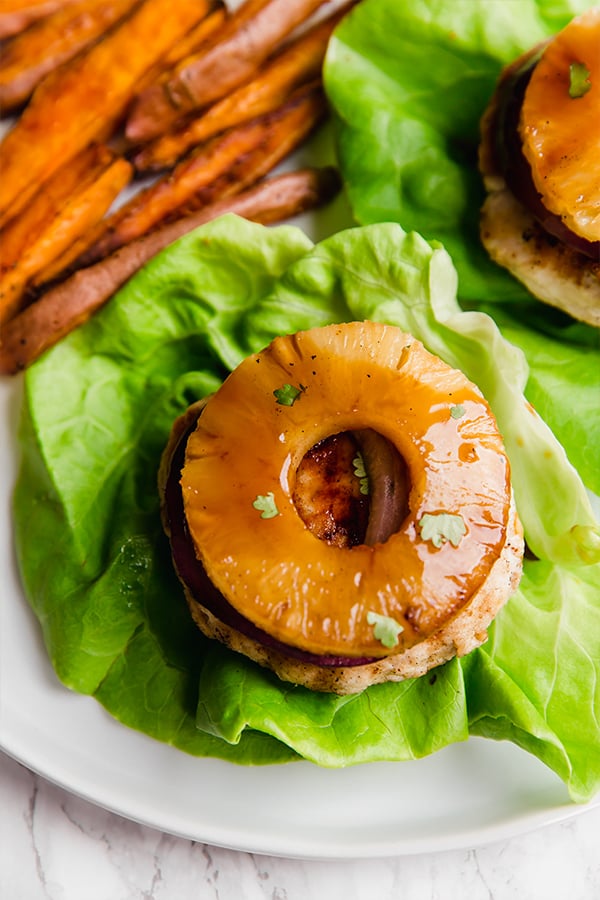 If you like this recipe, you may also like…
Print
Hawaiian Teriyaki Chicken Burgers
---
Author:
Total Time: 40 minutes
Yield: 4 servings 1x
Description
These Hawaiian Teriyaki Chicken Burgers are next level decadent. With grilled pineapple and a yummy teriyaki sauce, they're perfect for a summer day. These burgers are healthier, paleo, whole30, and AIP.
---
For the teriyaki sauce 
1/2 cup coconut aminos
2 tsp coconut sugar (omit for Whole30)
2 tbsp pineapple juice
1 tsp arrowroot starch
1/2 tsp sea salt
For the burgers
1 lb ground chicken
1 tbsp coconut aminos
1 tbsp coconut flour
1 tbsp avocado oil
1/2 tsp cumin (omit for AIP)
1 clove garlic, minced
1 tsp sea salt
1/2 tsp black pepper (omit for AIP)
4–5 slices on pineapple
1/2 red onion, sliced
8–10 butter lettuce leaves (optional)
1 tbsp cilantro, chopepd
---
Instructions
Combine all of the ingredients (reserving the arrowroot) in a small saucepan and set on the stove on medium heat. Whisk in the arrowroot simmer on low for 3-4 minutes until the sauce thickens. Set the sauce aside.
Prepare a grill pan or grill by lightly brushing with avocado oil and setting to medium-high heat.
Using a large bowl, combine the ground chicken, coconut aminos, coconut flour, avocado oil, cumin, garlic, salt and pepper. Mix well until fully combined.
Form the mixture into 4-5 burgers and place onto the grill or grill pan, either in batches, or spread apart to not crowd the pan. Cook for 4-5 minutes on each side and carefully flip. Cook until internal temperature reads 165 F. Set aside.
Clean off any burnt bits from the pan and add more oil if needed. Add the pineapple slices and grill for 1-2 minutes on each side to add grill marks and to lightly cook.
Set aside and repeat grilling with the red onion for 2-3 minutes on each side. Set aside.
To assemble the burgers, layer each patty on top of a lettuce leaf and top with pineapple, red onion, teriyaki sauce, and cilantro.
Serve warm and enjoy!
Notes
All nutrition facts are estimates.
The photos of this recipe and all written content on my website are copyright protected and cannot be copied or shared. Please do not copy this recipe or photos and share it on your own website, Instagram, or other written materials. If you'd like to feature a photo in a roundup, please contact me. If you'd like to tell people about this recipe on social media, your own website, or elsewhere please link back to the recipe here rather than copy and pasting.  Thank you so much!!
Prep Time: 10
Cook Time: 30
Method: Grill
Cuisine: American
Nutrition
Serving Size: 1 serving
Calories: 300
Fat: 11.5g
Carbohydrates: 18 g
Protein: 30.4g
'