Baked Sweet Potato Fries (Paleo, Whole30, AIP)
These baked sweet potato fries are the perfect side dish! Easy, delicious, and cooked to perfection.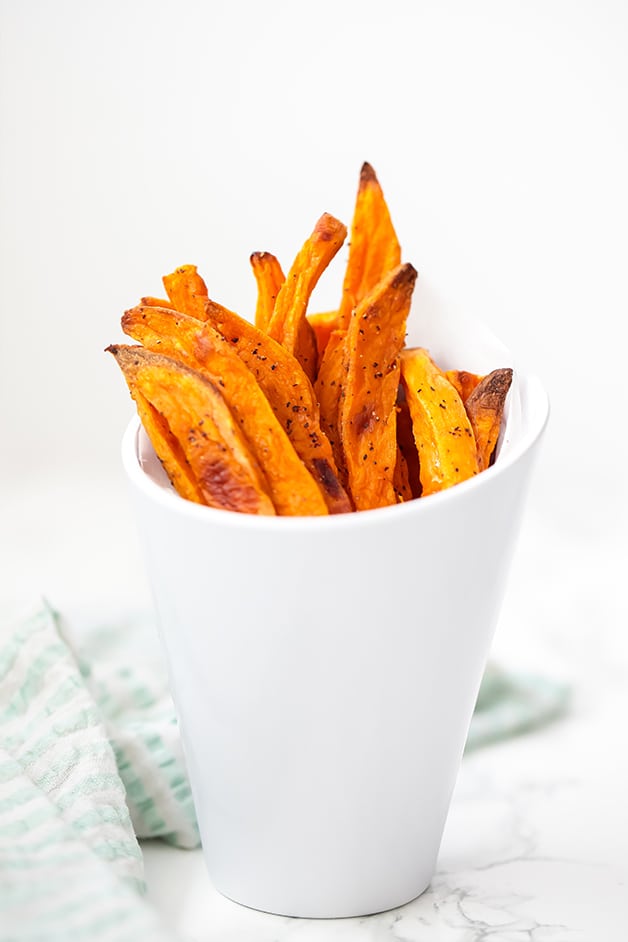 Sweet potato fries are such a staple for a real food diet! Even before I started eating a more allergen free diet, I ate sweet potato fries regularly. I grew up with my mom calling them "healthy french fries", and once I moved out and started cooking for myself, I would buy the bagged frozen fries and call it a day. What I didn't realize was they were filled with extra junky ingredients that just weren't necessary. Learning to make homemade baked sweet potato fries was a total game changer!
Making homemade dishes takes more effort than just buying a bag of frozen, but it's so much healthier and more gratifying! And when it's as easy as this, it's a total win.
These fries are paleo, Whole30, AIP, and can be made vegan if you switch out the ghee with avocado oil (as laid out in the recipe). They're kid friendly, budget friendly, and total crowd pleasers!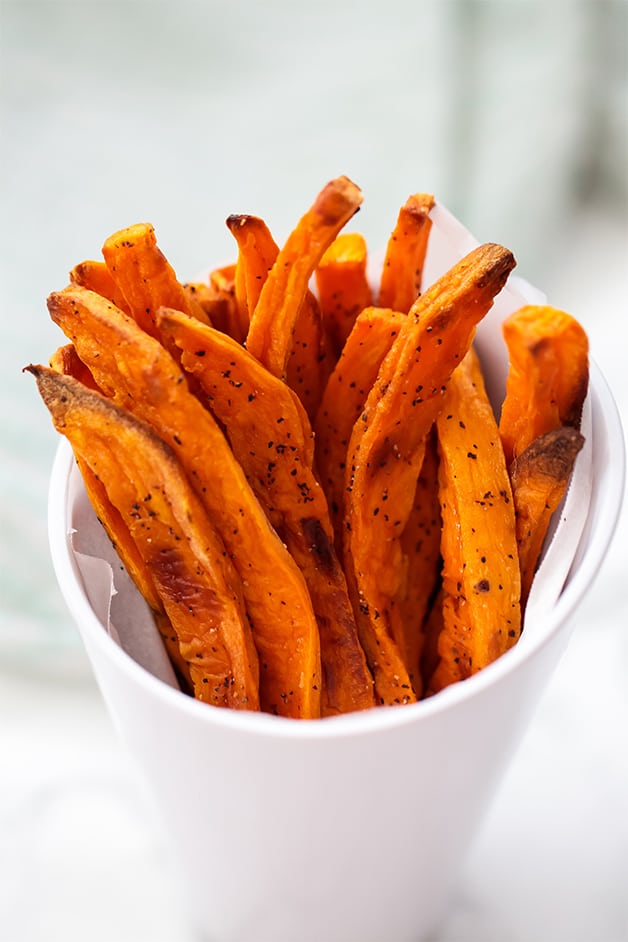 The Ingredients You Need for the Homemade Sweet Potato Fries
Sweet Potato
Regular orange sweet potatoes are what I'm using here. Though I do love other varieties like purple and white, we'll save that for another day and just use the easiest variety to find for now 🙂
Ghee
I love using ghee for sweet potato fries. Ghee is clarified butter, so those with dairy issues can often tolerate it. However, if you're AIP, skip the ghee and go with avocado oil.
Salt, garlic & pepper
These seasonings are very customization. You can bump them up or down, or omit any altogether. It's just for flavoring. Omit the black pepper for AIP.
Print
Baked Sweet Potato Fries (Paleo, Whole30, AIP)
---
Author:
Total Time: 35 minutes
Yield: 4 servings 1x
2 medium sweet potatoes
2 tbsp ghee (sub avocado oil for AIP)
1/2 tsp sea salt (salt to taste)
1/2 tsp garlic powder
1/4 tsp black pepper (omit for AIP)
---
Instructions
Preheat the oven to 400 F and line a large baking sheet with parchment paper.
Scrub the sweet potatoes well to remove any impurities. Using a sharp kitchen knife, slice the sweet potatoes into fries about 1/4″ inch thick, or to your desired thickness.
Lay out the fries on the baking sheet and toss with melted ghee (or avocado oil for AIP) and seasonings until evenly coated.
Bake in the oven for 25-35 minutes, flipping once or twice, or until sweet potatoes reach desired crispness.
Allow to slightly cool, then serve and enjoy!
Notes
Baking time will vary depending on your oven and the thickness of your fries. Be sure to keep an eye on them!!
All nutritional information are estimations and will vary. Estimations do not include optional ingredients.
Prep Time: 5
Cook Time: 30
Nutrition
Serving Size: 1 serving
Calories: 108
Fat: 5.8g
Carbohydrates: 13.4g
Fiber: 2g
Protein: 1.1g
This recipe goes great with…