Paleo Crispy Chicken Nuggets (AIP, Chick-fil-A Copycat)
These paleo crispy chicken nuggets are the ultimate chick-fil-a copycat, complete with a honey mustard dipping sauce. Plus, they're even AIP compliant, and made without eggs!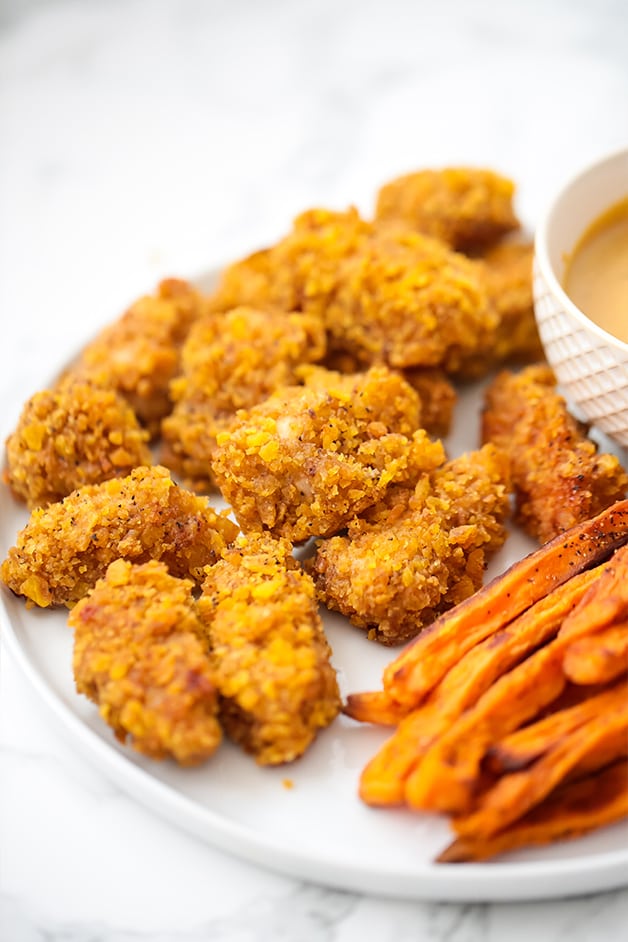 There are some meals that I had resided in my mind that I'd just never eat again. Chick-fil-a chicken nuggets were one of them. With all of the ingredients that I knew just didn't make me feel great, it didn't seem worth it to even think about it anymore. But, never say never!
I'm a firm believer that you can do anything you put your mind to… even make a paleo and AIP version of crispy, chick-fil-a style chicken nuggets with signature chick-fil-a sauce! I'll be the first to admit that I didn't think it could be done to where it was actually a believable knockoff, but after I watched my husband eat an entire batch of these crispy chicken nuggets and beg for more, I did a little happy dance!
These chicken nuggets are crispy, packed with flavor, and taste just like the real thing when you dip them into the knock off chick fil a sauce!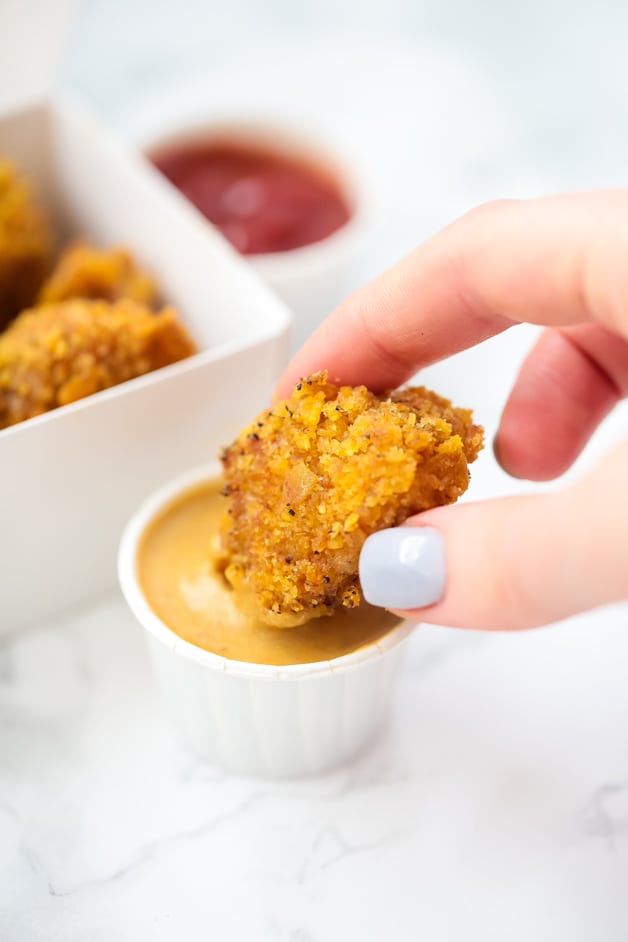 The Ingredients You Need For the Crispy Chicken Nuggets
Chicken breast
Chicken breast is what I used to make the nuggets, but you can try to use thigh if that's what you prefer.
Plantain chips
The crispy breading! You can use homemade plantain chips, or store-bought. Just be sure to watch the oils.
Coconut milk and apple cider vinegar
This more of less creates a buttermilk to marinate the chicken in. It locks in so much flavor and allows the plantain chips to stick better without any eggs.
Coconut oil
This helps the plantain chips stick, and keep the chicken moist.
Parsley, garlic, onion, salt, and pepper
This is basically a ranch-style seasoning to really up the flavor of the nuggets. You can easily tone it down, but I think it adds a lot! Omit the pepper if you're AIP.
Mustard, coconut cream, honey, and BBQ Sauce
These are the ingredients for the chick-fil-a sauce knockoff. This is the AIP mustard that I used, and the AIP BBQ sauce. You can try to make homemade versions, or you can use something else if you're not AIP… this was just the easiest option!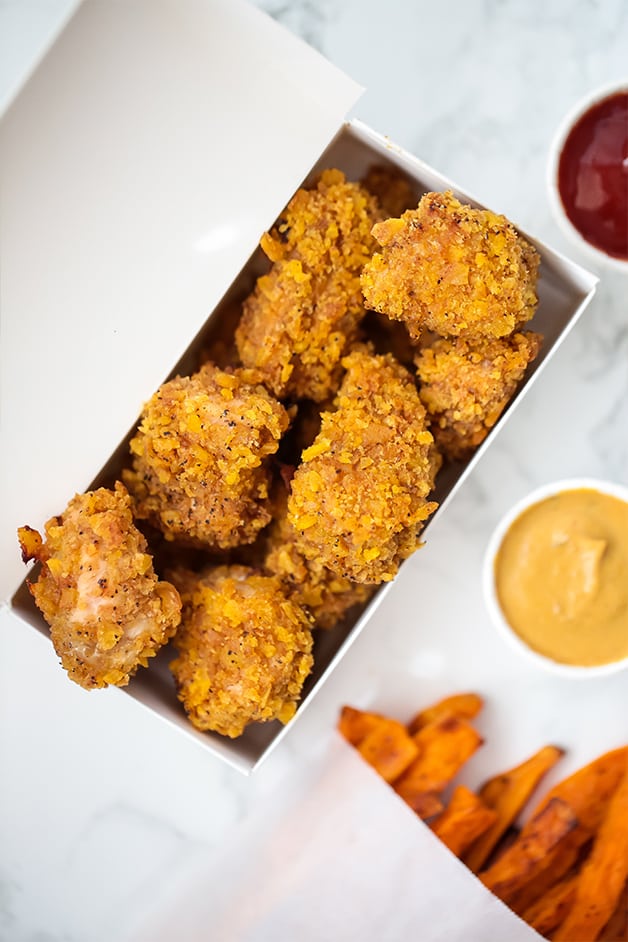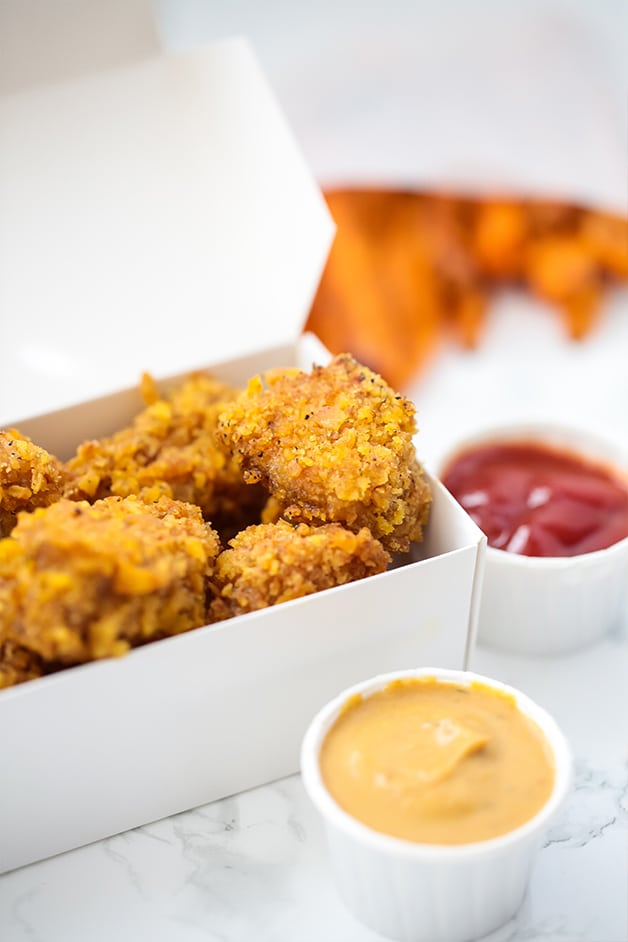 Print
Paleo Crispy Chicken Nuggets (AIP, Chick-Fil-A Copy Cat)
---
Author:
Yield: 4 servings 1x
For the chicken nuggets
1 lb chicken breast, cut into cubes
1 cup coconut milk
2 tbsp apple cider vinegar
1/3 cup coconut oil, melted (or avocado oil)
1 4oz bag of plantain chips (like this)
1 tsp dried parsley
2 tsp garlic powder
2 tsp onion powder
1/4 tsp sea salt
1/4 tsp black pepper (omit for AIP)
For the chick-fil-a sauce
---
Instructions
For the chicken nuggets
Preheat the oven to 400 F and prepare a large baking sheet with parchment paper.
Combine the coconut milk and apple cider vinegar in a bowl and add the chicken. Place in the fridge to marinate for 30-60 minutes. Drain the excess milk when the chicken is done marinating.
Using a food processor, grind the plantain chips until fine. Pour the ground plantain chips in a bowl, combine with the seasonings and set aside.
Set up a station with the plantain mixture in one bowl, and coconut oil in another bowl. Use tongs to dip the chicken pieces one by one into the coconut oil, and then coat in the plantain mixture. Place the coated chicken nuggets on the baking sheet and repeat the process until all are coated.
Bake the chicken for 20-25 minutes, flipping once.
Serve with the sauce and enjoy!!
For the chick-fil-a sauce
Combine all of the ingredients in a small bowl and whisk together. Adjust ingredients to taste as desired.
Notes
All nutritional information are estimations and will vary. Estimations do not include optional ingredients.
Nutrition
Serving Size: 1 serving
Calories: 515
Fat: 34.2g
Carbohydrates: 17.4g
Fiber: 1.4g
Protein: 28.4g