Asparagus was one of the veggies that I was most apprehensive about, but it's become one of my favorites! Asparagus tastes amazing when you cook it right! Roasting it, grilling it, and seasoning it just right can all help make it that much more tasty. Asparagus peaks in April which makes it perfect for serving as a side dish for Easter, especially with a yummy dressing. This Roasted Asparagus with Turmeric Dressing is really transforms what I once thought was a meh vegetable into a delicious side dish!
This side dish is Paleo, AIP, Whole30, and it's even vegan. Depending on who you're inviting over for dinner, it's perfect for sharing with those who eat a wide range of different diets.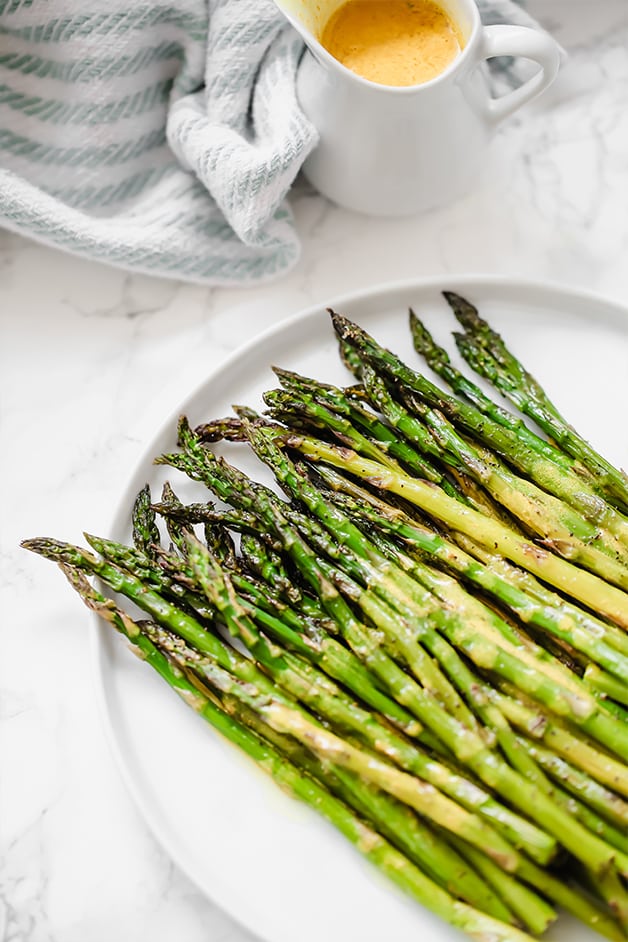 The Ingredients
Asparagus
To pick good Asparagus, you want to find a bunch that's really vibrantly green!  Store it in a mug of water and cover it with a bag to keep it fresh and crisp before you cook it.
Coconut oil or ghee
Coconut oil is the easiest to comply with a variety of diets, but ghee is another great option if you tolerate it. It gives the asparagus amazing flavor!
Lemon
Salt, garlic and pepper
Turmeric Dressing
You'll find the recipe for this here.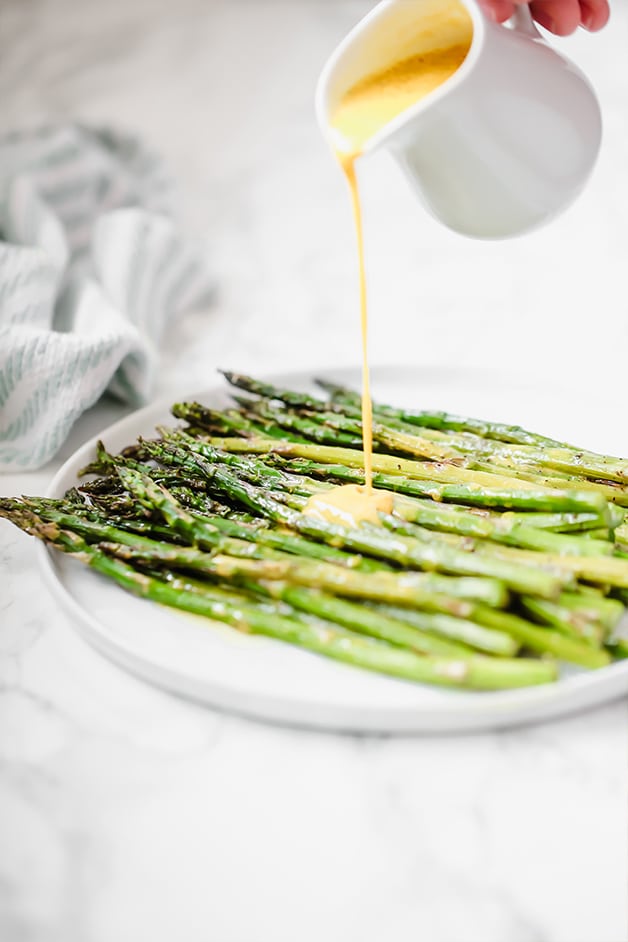 Print
Roasted Asparagus with Turmeric Dressing
---
Ingredients
1 bunch asparagus
1 tbsp coconut oil, melted (or ghee if not AIP or vegan)
Juice of 1/2 lemon
2 tsp garlic powder
1 tsp sea salt
1/2 tsp black pepper (omit for AIP)
2-3 tbsp Turmeric Dressing
---
Instructions
Preheat the oven to 375 F and line a baking sheet with parchment paper
Cut the thick white ends off of the asparagus and place on the parchment paper. Evenly coat with coconut oil and season with lemon juice, garlic, salt, and black pepper if using.
Roast in the oven for 15-20 minutes or until lightly crisped to liking.
Remove from the oven and serve topped with turmeric dressing.