If I were to define what makes a good meal in my book, it would probably be these three things… easy, nutrient dense and delicious! Meals like tuna salad, or chicken salad are one of my favorite meals that fit all of these requirements. However, it took getting a bit fancy to make those work for a healing diet. They sound like totally neutral foods, but with ingredients like mayo, and often added sugars and weird spices if you're getting it pre-made, it does indeed require some extra thought to make it healing diet compliant. So I took out all of the guess work for you! This Paleo Avocado Chicken Salad is Whole30, AIP, and hits all of the criteria for a great meal.
What's great about chicken salad is that it's so versatile and easy to be loved by many. I ate mine actual salad style as pictured here, but when my husband saw what I was eating, he decided to try some as a sandwich on sprouted bread. So perfect for sharing!
All in one salad, you get protein, healthy fats, and veggies. Always a winner!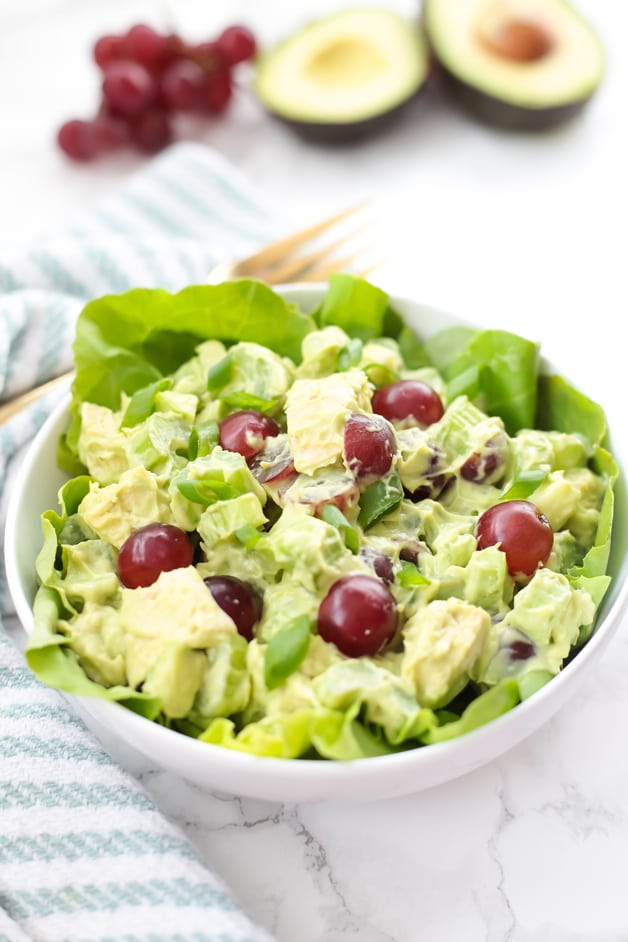 The Ingredients
Chicken breast
This recipe calls for cooked and cubed chicken breast, however you can also use shredded chicken and good quality canned chicken from sources like Wild Planet!
Green apples and grapes
These fruits add the right amount of natural sweetness to the dish without being overly sweet. If you're watching your sugar intake, you can easily leave out the grapes.
Celery, green onion and butter lettuce
Celery and green onion go in the chicken salad, and butter lettuce is more of an optional ingredient if you choose to eat it as a salad. You can also eat is as a wrap, or sandwich if you have a bread substitute that you tolerate well.
Avocado, avocado oil and lemon
This is essentially what makes up the mayo. Rather than just mashing up avocado by itself, you blend all of the ingredients together for a creamy and more mayo-esque consistency.
One thing you'll see in the notes is that this salad is best eaten pretty fresh, as avocado does brown if left in the fridge for too long. However, the lemon helps and this lasted several hours in the fridge when I did it! It's just not a dish you make on Monday and eat on Thursday.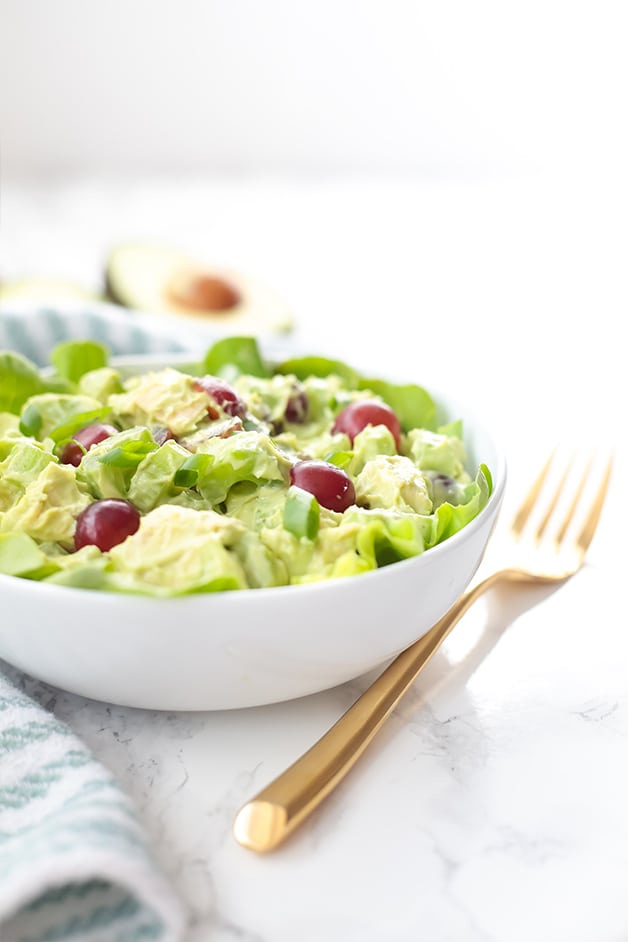 Print
Paleo Avocado Chicken Salad (Whole30, AIP)
---
Scale
Ingredients
For the chicken

2

lbs chicken breast

1 tbsp

avocado oil

1 tsp

sea salt
For the salad

8

–

10

butter lettuce leaves, washed

1 cup

granny smith apple, diced

1/2 cup

red grapes, sliced in half

1 cup

celery, chopped
For the avocado "mayo"

2

medium avocados

3

sprigs green onion, chopped

4 tbsp

avocado oil
Juice of

1/2

lemon

1/4 tsp

sea salt

1/8 tsp

black pepper (omit for AIP)
---
Instructions
Preheat oven to 350 F and line a baking sheet with parchment paper
Rub the chicken with avocado oil and season with salt
Bake the chicken in the oven for 40-45 minutes or until internal temperature reaches 165-170 F
Allow the chicken to rest and cool and chop into cubes
Combine the chicken, apples, grades, celery, and green onion in a large box and set aside
For the avocado "mayo", use a high speed blender to blend the avocado, avocado oil, lemon juice, salt and pepper
Pour the avocado mayo in with the salad mixture and stir well to combine
To assemble the salad line 2-3 bowls with butter lettuce (either chopped or whole) and spoon the chicken salad over top
---
Notes
Eat fresh within a few hours of making to avoid having the avocado over oxidize and brown.
Creamy, delicious, and easy to make! Both my husband and I were so on board with this yummy salad. It's perfect to scale up and bring to a party or picnic, or just keep for yourself.
I hope you enjoy this easy salad! If you like this dish, be sure to check out these as well…