Orange Chicken Poppers (Paleo, AIP, Whole 30)
We are knee deep in holiday party season with New Years Eve approaching fast, and before you know it, Super Bowl Sunday will be here! Truthfully, I'm down for delicious shareable food every day of the year, but there's no better time for tasty party food than right now. I used to dread the idea of going to a party filled with foods that I couldn't have, but this recipe is the answer to delicious food that everyone will love. That's right… I'm adding to the chicken popper family with these Orange Chicken Poppers!
I feel like there was always a lot of orange chicken in my house growing up. It was my little brothers order of choice from Asian restaurants, and for good reason. Orange chicken is satiating, savory, and just the right amount of sweet. Everyone can enjoy it, and when you're thoughtful about the ingredients, it can be super nutrient dense!
These orange chicken poppers aren't your average take out orange chicken. They're Whole 30, Paleo, and AIP while having all of the flavors that you know and love! Not to mention, they feature some hidden veggies, and are much easier to make than you think.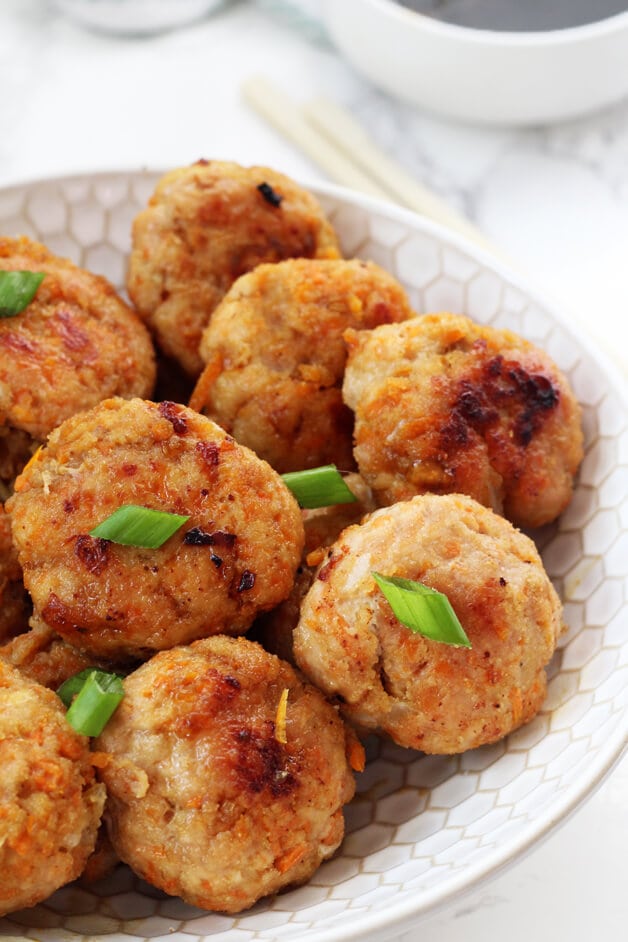 The Ingredients (and Substitutions) For The Orange Chicken Poppers
Ground Chicken
I don't have any trouble finding ground chicken at my local farmers market, however, you can also use a food processor to make your own, or just sub ground turkey! I often use ground turkey in this recipe and like it just as much.
Carrots
Carrots are one of the secret ingredients in these poppers that helps to separate them from just straight up meatballs, and add more substance. You can buy shredded carrots at the store, or just throw some carrots in a food processor… easy!
White onion and green onion
The poppers have white onion in the base, and green onions are great for topping.
Coconut flour and coconut oil
Coconut flour is what helps make the poppers a bit more crispy, and coconut oil helps keep it juicy and binds it further. You can sub other flours or sources of fat. For example, cassava flour works, as does tapioca starch. For the fat, it's best to use something that's solid like chicken fat or beef tallow. Regardless, you can get creative with the different flours or fats that you use depending on what you can tolerate.
Coconut aminos
Coconut aminos is the soy sauce substitute in this recipe. You can easily find this at health food stores or online.
Fresh orange
Fresh orange juice and zest add in more of that original flavor.
Honey
Honey is an optional ingredient that adds more sweetness, and texture to the sauce.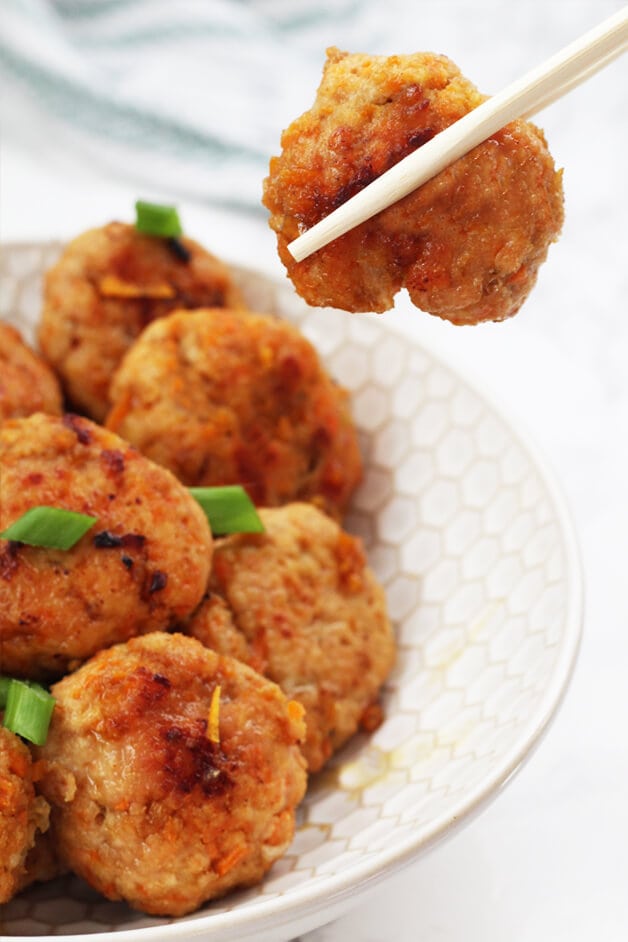 Print
1 lb ground chicken (see above for substitutions)
2 cups carrots, finely shredded/riced
1/2 cup onion, finely diced
2 tbsp coconut flour
2 tbsp coconut oil
2 tsp fresh orange zest
2–3 springs of green onion, sliced on the bias
1/2 tsp sea salt
1/2 tsp black pepper (omit for AIP)
FOR THE SAUCE
1/4 cup coconut aminos
1 tbsp fish sauce
1 tsp orange zest
2 tsp apple cider vinegar
Juice of one orange
1 tsp honey (omit for Whole30)
1 tsp onion powder
---
Instructions
Preheat the oven to 400 F and prepare a baking sheet with coconut oil
Using a large mixing bowl, combine the ground chicken (or turkey), carrots, and onion.
Next, add in the coconut oil, coconut flour, sea salt, black pepper (if using) and orange zest. Mix well to thoroughly combine.
Roll the mixture into small, slightly flattened poppers about one inch in diameter (you'll have about 20-25 poppers) and place them on the cooking sheet
Place in the oven for 25-28 minutes, flipping half way through
Remove from the oven and set aside
In a medium sauce pan, combine the coconut aminos, orange zest, fish sauce, apple cider vinegar fresh orange juice, honey, and onion powder and whisk together.
Cook on medium/low heat for 5 minutes, stirring often
Carefully add the poppers into the bowl with the sauce, lightly mixing and spooning the sauce over them. Be careful not to break the poppers, but spoon enough sauce to saturate them.
Spoon out the poppers onto a serving dish and either top with the remainder of the sauce, or serve the sauce on the side.
Top with green onion and enjoy!
Notes
All nutritional information are estimations and will vary. Estimations do not include optional ingredients.
Nutrition
Serving Size: 1 popper
Calories: 45
Fat: 1.7g
Carbohydrates: 3g
Fiber: 0.6g
Protein: 4.4g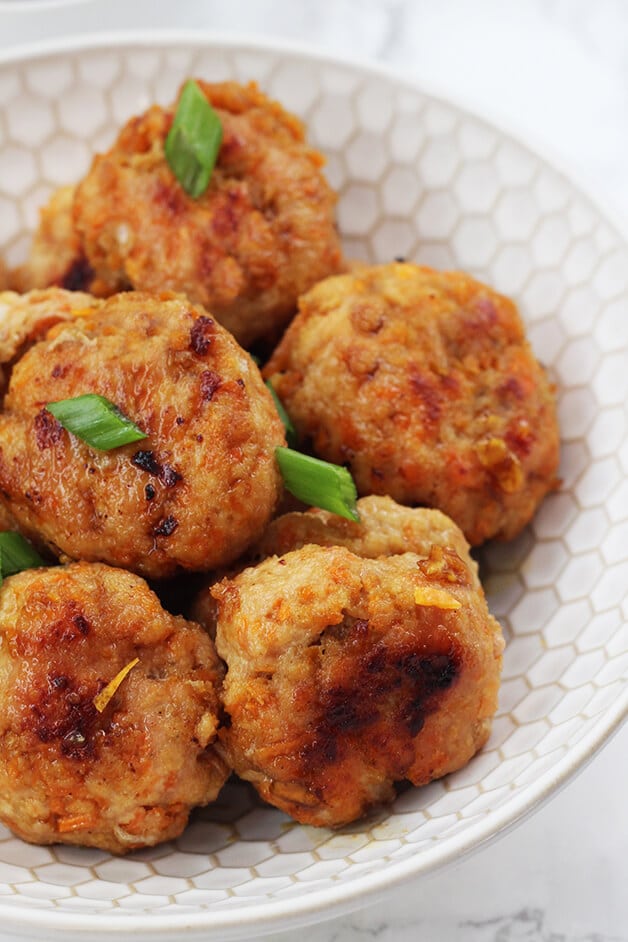 These easy orange chicken poppers are so, so yummy and easily one of my favorite of the bunch yet! Here's a quick fire of some common questions with these tasty little guys…
Can you make substitutions? See all of my recommended substitutions above! I can't really recommend any others than what I've stated as I can't vouch for the end result.
Do they store well? Yes! I made two big batches and my husband I ate them for 2-3 days afterwards for both lunch and dinner.
Do they freeze well? Yes! I would just freeze them without the sauce, and make the sauce after you defrost them.
Here's how I suggest serving them…
With a side of cauliflower rice as a weeknight dinner
With a side salad or roasted veggies as a quick lunch
With toothpicks as a party appetizer
Enjoy, and have a happy new year!!