Paleo Chocolate Peppermint Truffles (AIP)
Peppermint is one of those flavors that just screams holidays! It's a good flavor in it's own right, don't get me wrong, but it's always guaranteed to get me in the holiday spirit. Peppermint tea, peppermint candies and peppermint treats are all welcome in my house this time of year. Last year, I made a really delicious Peppermint Bark recipe that received high praise, and this year, I wanted to share Paleo Chocolate Peppermint Truffles!
These truffles are soft, chewy, sweet and definitely don't taste like they're paleo and AIP. They have a soft interior, a hard chocolate shell, and a peppermint flavor inside that pairs so well with the chocolate. There's no artificial sweetener, white sugar, weird coloring, etc. Just real food!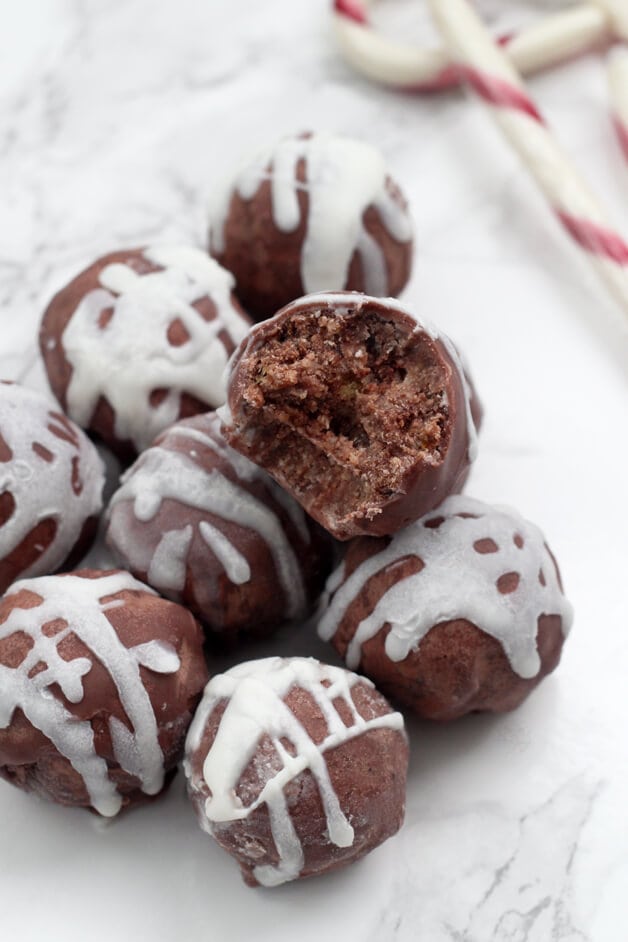 The Ingredients
Coconut Milk
Reduced coconut milk gives the inside of the truffles that creamy, but dairy free texture.
Maple Syrup
A bit of maple syrup in the base of the truffle helps to sweeten.
Dates
A few dates also help to add sweetness to the truffle, and made for a soft and chewy texture.
Coconut flakes & coconut flour
These give the truffles structure.
Coconut butter & coconut oil
Coconut butter (also known as coconut mana or coconut cream concentrate) and coconut oil together give the truffles a steel coating. This gives that chocolate texture but without actually melting chocolate. It's also filled with healthy fats rather than sugar!
Cocoa or carob powder for AIP
You can use either cocoa or carob powder if you're AIP to create the chocolate coating and interior.
Peppermint extract
Gotta have the peppermint flavor!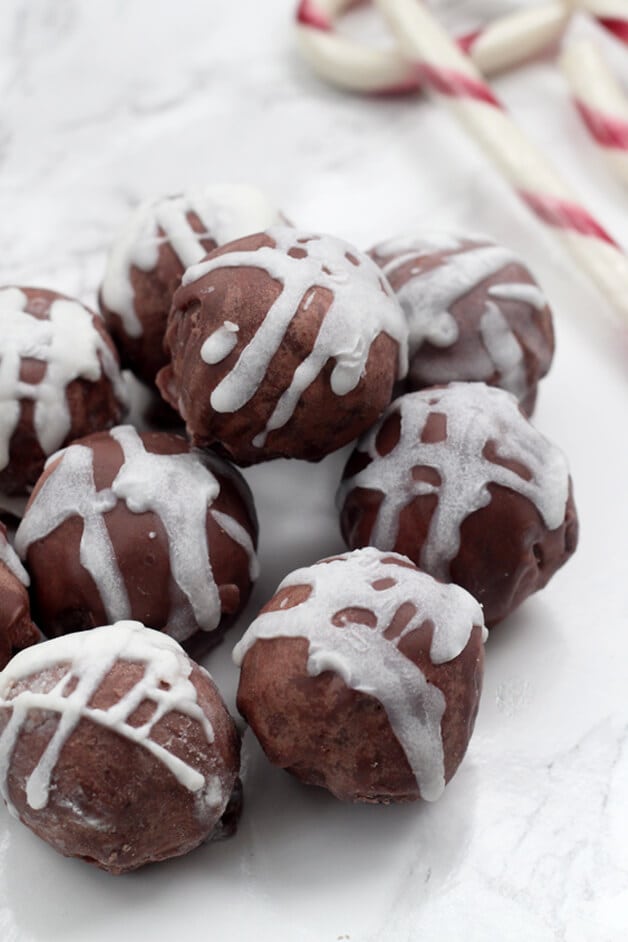 Print
Paleo Peppermint Truffles (AIP)
---
2 cups coconut milk
2 tbsp maple syrup
1/2 cup shredded coconut
1/4 cup coconut flour
4–5 dates, chopped
2–3 tbsp cocoa powder (or carob powder for AIP)
1/3 + 2 tbsp cup melted coconut butter
1 tbsp melted coconut oil
1 tsp peppermint extract
---
Instructions
Using a medium size sauce pan, combine the coconut milk and maple syrup and set it on the stove on medium heat
Bring the mixture to a boil and simmer for 90 minutes to reduce. I suggest potentially using a splatter guard as the coconut milk may splatter. Stir the mixture occasionally
Once the mixture is reduced, stir in the shredded coconut, coconut flour, dates, 1 tbsp of cocoa or carob powder, and peppermint extract
Allow the mixture to cool in the fridge for 2-3 hours, or overnight
Once entirely cooled, roll the mixture into small truffles and set aside
Combine 1/3 cup of fully melted coconut butter with 1 tbsp of melted coconut oil and stir in 2 tbsp of carob or cocoa powder until the mixture looks like chocolate
Using a spoon, submerge the truffles one by one in the chocolate mixture until evenly coated. Dip twice or make more of the coating if needed.
Set the truffles on parchment paper and drizzle the top with 2 tbsp of melted coconut butter to give a white drizzle
Chill in the fridge for 30 minutes or so to let the coating harden
Serve chilled and enjoy!
Notes
All nutritional information are estimations and will vary. Estimations do not include optional ingredients.
Nutrition
Serving Size: 1 truffle
Calories: 132
Fat: 11.5g
Carbohydrates: 7.9g
Fiber: 1.1g
Protein: 1g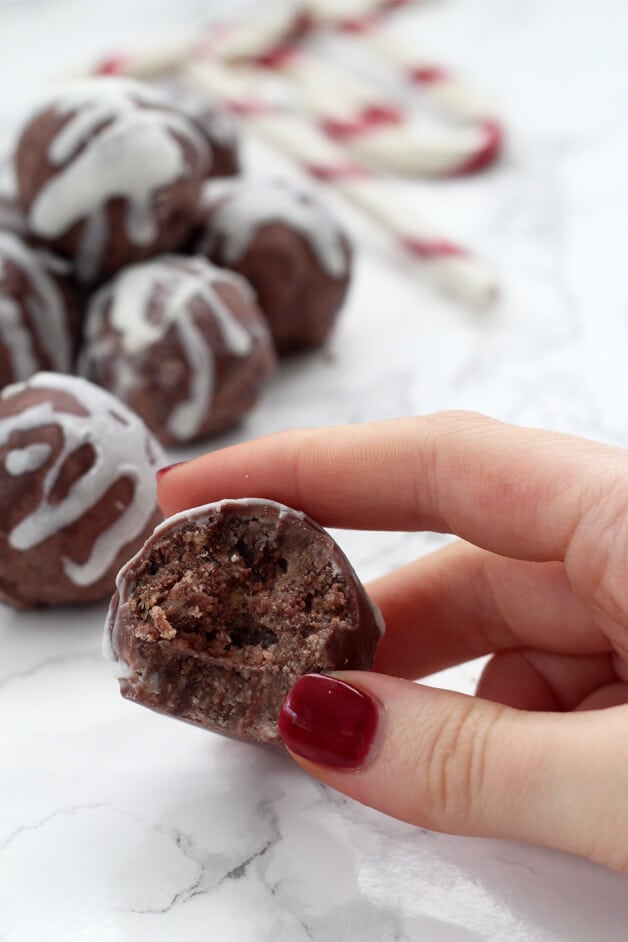 And there you have it! Festive little treats that are great for storing the fridge, or bringing a tray of to a party. Your guests will never know that it's a paleo treat.
For a year round AIP truffle, check out this recipe from A Squirrel in the Kitchen which is similar, and better for year round use.
Happy holidays, and enjoy!