Paleo Grinch Cookies (AIP)
Can you believe that Christmas is a week away? Where the heck does the time actually go, you guys? With Christmas here, I'm in full on 5 year old mode and ready to bust out some seriously Christmas-y treats for you guys. There's just something about Christmas that makes us feel so nostalgic and child like, and this is the perfect recipe for your kiddos, and to bring out the kid in you!
Dr. Suess's, The Grinch is one of the most classic Christmas stories, and one that most everyone can appreciate and smile at. The grinch is known for his green color, his hatred of Christmas, and the eventual softening on his spirit and his heart growing to love Christmas! I wanted to create a super fun Christmas cookie that fully embodies this fun character. So, the Paleo & AIP Grinch Cookie was born!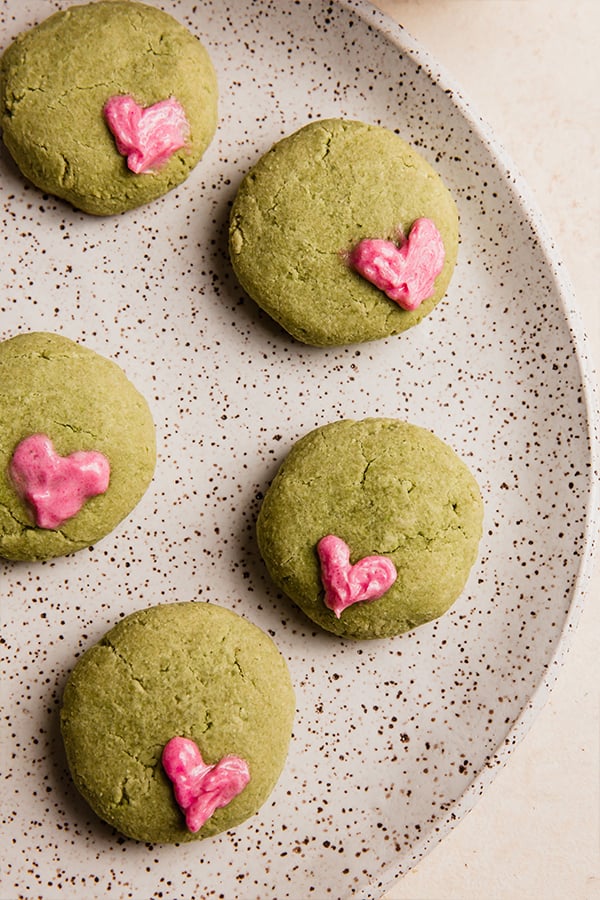 The Ingredients You'll Need For The Grinch Cookies…
Coconut Flour
Coconut flour is the base for these cookies. I have not tested others and cannot recommend swaps. 
Tapioca starch
You can easily swap arrowroot here.
Coconut oil
This is the best fat source to use for these cookies.
Maple Syrup
You can also swap honey!
Matcha Powder & beet powder
Matcha is a green tea powder and gives the cookies their grinch color! Beet powder colors the heart… this is totally optional.
Frosting – optional
The frosting is only for the heart, and is an optional step for these cookies. They're just as cute without it. To use an AIP recipe, check out this one. If you want a short cut, grab the Simple Mills Frosting!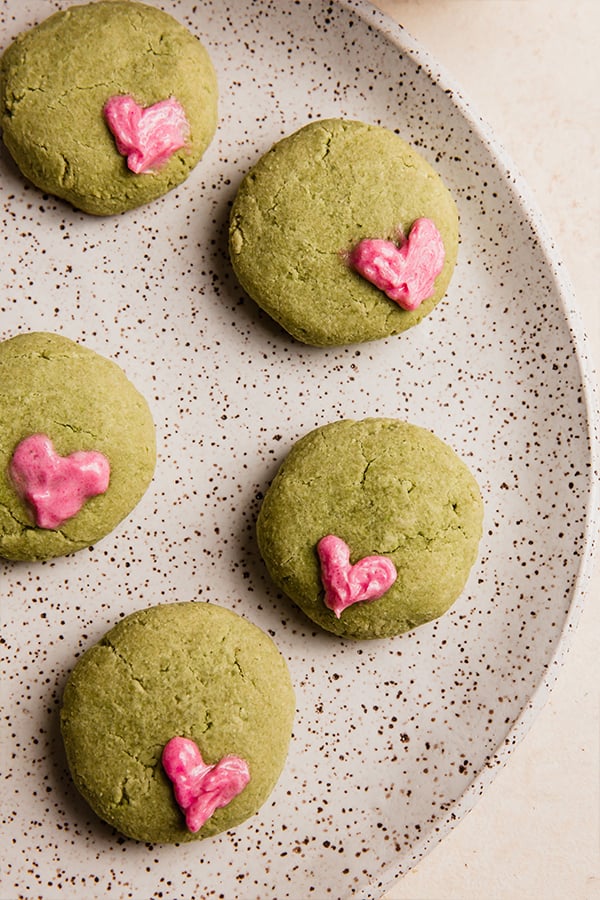 So fun, right? My husband says they're basically just green sugar cookies, and I totally agree. They have the same flavor and consistency of sugar cookies, but don't require as much skill to make them actually look cute. And as someone who actually isn't a talented sugar cookie decorator, I appreciate that!
Here's how you make them…
Print
Paleo Grinch Cookies (AIP)
---
1/2 cup coconut flour
1/4 cup tapioca starch
1/4 cup maple syrup
1/4 cup coconut oil
1 tsp vanilla extract
1–2 tsp matcha powder (amount will vary depending on how green your match powder is)
1/4 tsp baking soda
FOR THE HEART
3 tbsp frosting (this for AIP or this )
1/2 tsp beet powder (may need more depending on desired color)
---
Instructions
Preheat the oven to 375 F and line a baking sheet with parchment paper that's lightly greased
Using a medium mixing bowl, sift together the coconut flour, tapioca, and baking soda
Add in the coconut oil, maple syrup, vanilla and mix until the batter is wet and well combined
Stir in 1 tsp of matcha powder and mix until the dough is green. Add more matcha powder if needed.
Form the dough into cookies (you should have 6 or 7) and place onto the baking sheet
Bake the cookies for 10 minutes, or until fully cooked through
Remove from the baking sheet and allow to cool… they will be more likely to crumble more easily if they're not cooled
After the cookies have cooled, for the optional frosting heart, stir the frosting with beet powder until you have your desired color and use a knife, or a pipping bag to add on a small heart
Serve and enjoy!
Notes
All nutritional information are estimations and will vary. Estimations do not include optional ingredients or frosting.
Nutrition
Serving Size: 1 cookie
Calories: 169
Fat: 9.1g
Carbohydrates: 16.5g
Fiber: 2.9g
Protein: 2.3g