AIP Butternut Squash Soup (Paleo & Whole 30)
The weather is cooling off here in Texas, and I finally have an excuse to eat one of my all-time favorite soups… butternut squash! It's creamy, easy to make, and so nourishing. I find myself eating this soup at least once a week during the fall and winter, and have been working on refining the recipe for years!
So, what's so great about butternut squash for a creamy soup? Squash is far lower in blood sugar spiking starch than potatoes, and much easier to digest. It's approved on healing diets like AIP and GAPS (low starch) and is one that I find myself recommending to people with gut issues often.
Plus, it's so delicious and beautiful!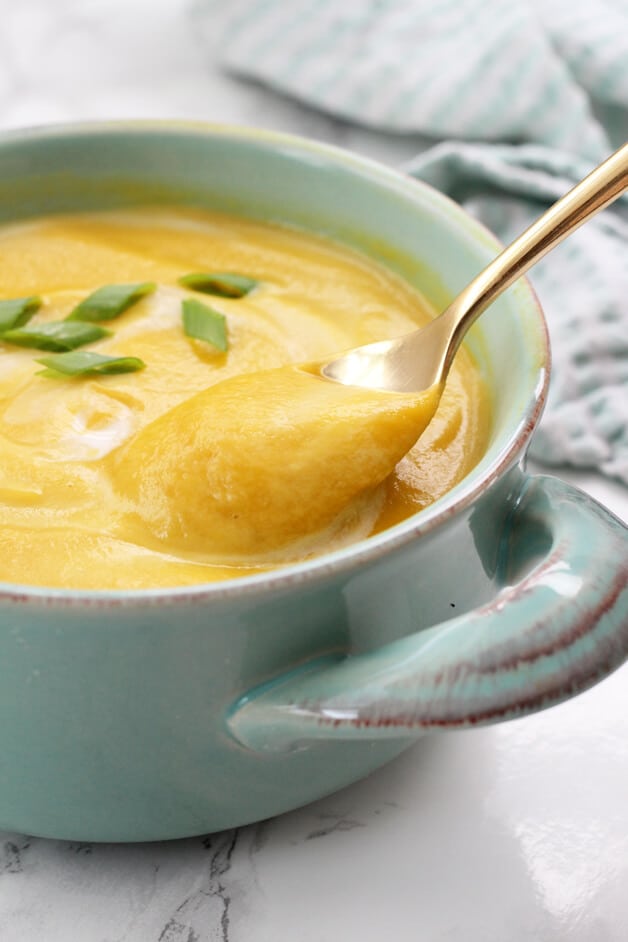 The Ingredients You'll Need…
Butternut squash
You can either use fresh butternut squash, or frozen. Frozen is far more convenient and really works just as well in my experience.
Leeks
Leeks are a secret ingredient of mine in all soups. It makes them 10x more delicious instantly!
Apple (optional)
If you want the soup to be a bit sweeter, this is a great option. It's not overly sweet, but it really brings out added sweetness in the soup. You can also omit this.
Bone broth
I often sub beef bone broth because I like the rich flavor, but you can also use chicken.
Coconut milk & oil
Coconut milk adds to the creamy-ness, but it's an option step!
Sage & cinnamon
These spices really help make this a nourishing soup!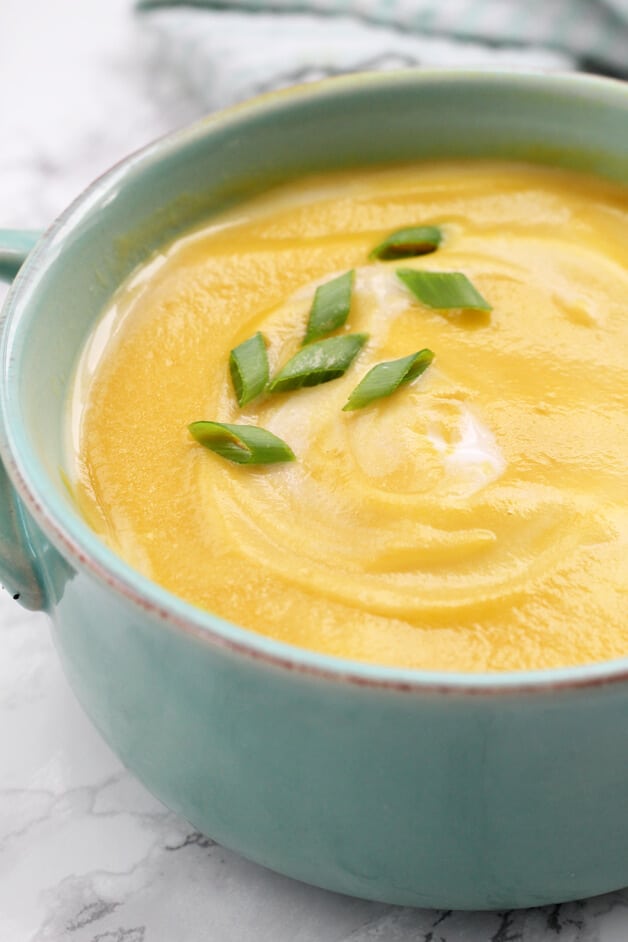 Print
Easy Butternut Squash Soup (AIP, Paleo )
---
1–2 tbsp coconut oil,
3 cups butternut squash (or about one large squash), chopped
1/4 cup apple, diced
2 large leeks, chopped
3 cups chicken broth
2 tsp dried sage
1 tsp ground cinnamon
1/2 tsp turmeric (optional)
1 tsp salt
2–3 fresh green onions, chopped
1/4 cup full fat coconut milk (optional, sub additonal broth)
---
Instructions
Using a large pot on medium heat and add the coconut oil to melt. Pour in the butternut squash and sauté in the oil for 6-8 minutes or until slightly softened.
Add the leeks and apple and lightly sauté for 2-3 minutes.
Pour in the bone broth, and seasonings (reserving the green onion). Stir to combine.
Bring to a low simmer on medium heat for 15-20 minutes or until butternut squash is soft. Allow to cool for 10-15 minutes.
Either use an immersion blender, or high speed blender to blend the soup until smooth.
Stir in the coconut milk and serve topped with fresh green onion
Notes
All nutritional information are estimations and will vary. Estimations do not include optional ingredients.
Nutrition
Serving Size: 1 serving
Calories: 151
Fat: 7.1g
Carbohydrates: 21.8g
Fiber: 3.6g
Protein: 3.3g
That's all there is to it! I hope that you enjoy this easy, delicious soup because I sure have been. I like to take portions of mine and freeze it for later. It freezes very well, and is just my favorite perfect nutrient dense winter soup.
What's been your favorite way to use squash this season? Are you an AIP butternut squash soup fan?
This recipe was shared on the Phoenix Helix AIP Recipe Roundtable. Go check it out!