Paleo Minestrone Soup (AIP & Whole 30)
Italian food has always been one of my favorite cuisines. Growing up on Long Island and being of Italian descent, it's a natural favorite for me! The rich hearty flavors, the comforting smells, and the cheese and carbs… oh baby! When I was a kid and we went out to eat as a family, I always went for the pizza, my dad went for something like chicken parmigiana, and my mom always got the minestrone soup. I was always baffled by this decision. Why get soup when you could get pizza? Slowly but surely as my taste buds matured and my diet changed, I saw the beauty in warm, nourishing and nutrient dense soups like minestrone… and I had to recreate a paleo minestrone that's also Whole 30 and autoimmune protocol compliant!
So, what is minestrone soup? It's a hearty Italian soup that's made with tons of veggies like tomato, onion, celery, carrots, and typically also has beans, pasta, and cheese. Meat is optional, but I was always used to it being a vegetarian soup. The challenge for making this soup paleo, AIP, and whole 30 mostly lies in the beans, pasta, and cheese… can you still get the flavors without them? Yes! Let me show you how…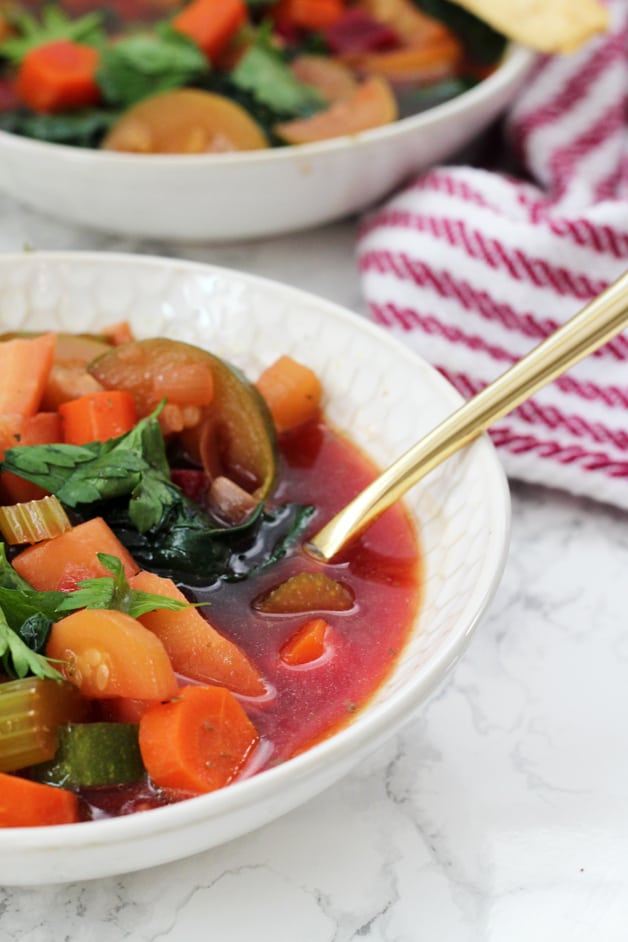 Ingredients
Bone Broth or Veggie Broth
You can do either a bone broth, or a veggie broth as your base.
Tomatoes (or beets for AIP!)
Minestrone traditionally has diced tomato, giving the broth a red color. If you read my blog often, you know that I follow an autoimmune protocol template and am intolerant to all nightshades, including tomatoes. So, I use beets for a red color in this soup, but you can use either!
Zucchini, Parsnips, Spinach, Carrots, Celery, and Onion
These are the basic vegetables used in this soup. You can mix it up or leave one or two out if you're intolerant, but these give the best flavor.
Basil, Oregano and Parsley
Basil, oregano and parsley are the main herbs used to give it that minestrone flavor!
Optional: Grain Free Bread or Cracker like Yucan Crunch
I'm used to serving pretty much all Italian food with bread! One of my favorite bread hacks is Yucan Crunch. It's made entirely from yuca… no other ingredients! You can also serve with another grain free bread alternative or recipe. This is totally optional, but I loved the addition!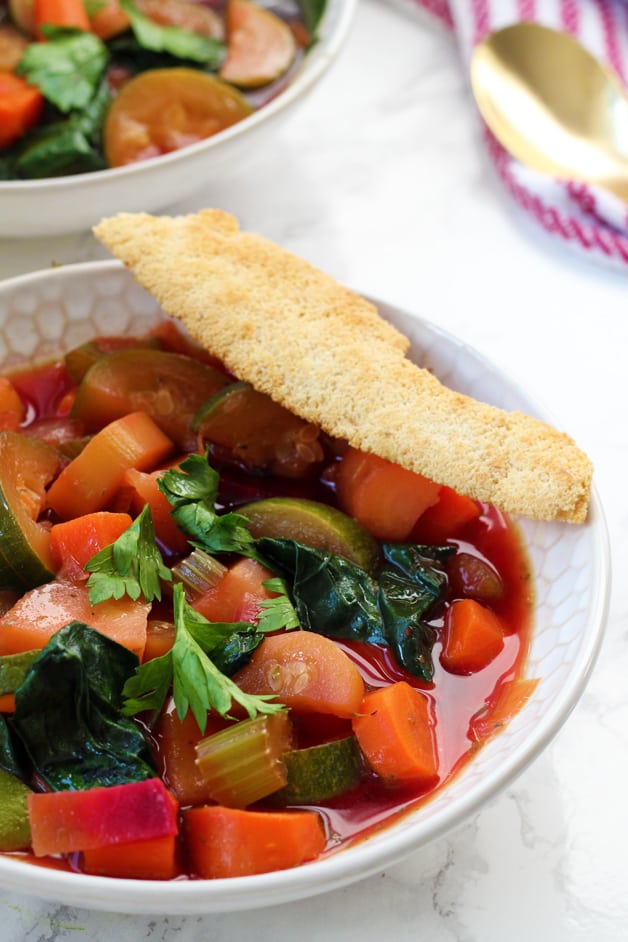 Print
Paleo Minestrone Soup (AIP & Whole 30)
---
5–6 cups broth (chicken bone broth or veggie broth)
1 can diced tomatoes (sub 1/3 cup diced beet for AIP)
2 cup carrots, chopped
1 cup parsnip, chopped
1 medium white onion, diced
3 ribs of celery, chopped
1 medium zucchini, chopped into halfmoons
1 cup spinach, chopped
2 tsp dried oregano
2 tsp dried basil (or 1 tbsp fresh)
1/4 cup fresh parsley
2 cloves garlic, minced
1 tsp sea salt (plus more to taste)
2–3 tbsp olive oil
OPTIONAL-
Grain free cracker or bread like Yucan Crunch
1–2 cups pre-cooked shredded chicken
---
Instructions
Place a large stock pot on the stove on medium heat and add olive oil
Add the onion and garlic and sauté for 4-5 minutes or until the onions become translucent
Add in the parsnips, celery and carrot and sauté until lightly softened for 3-4 minutes
Pour in the broth and the remainder of the vegetables (reserving the basil and some parsley for topping) and herbs and stir
Place the lid over the pot and simmer on medium heat for 15-20 minutes, stirring occasionally
Once the veggies are cooked through, add in the spinach and stir until the spinach is wilted
Allow the soup to cool and top with extra parsley before serving
Notes
All nutritional information are estimations and will vary. Estimations do not include optional ingredients.
Nutrition
Serving Size: 1 serving
Calories: 163
Fat: 8.2g
Carbohydrates: 20.6g
Fiber: 6.1g
Protein: 4.5g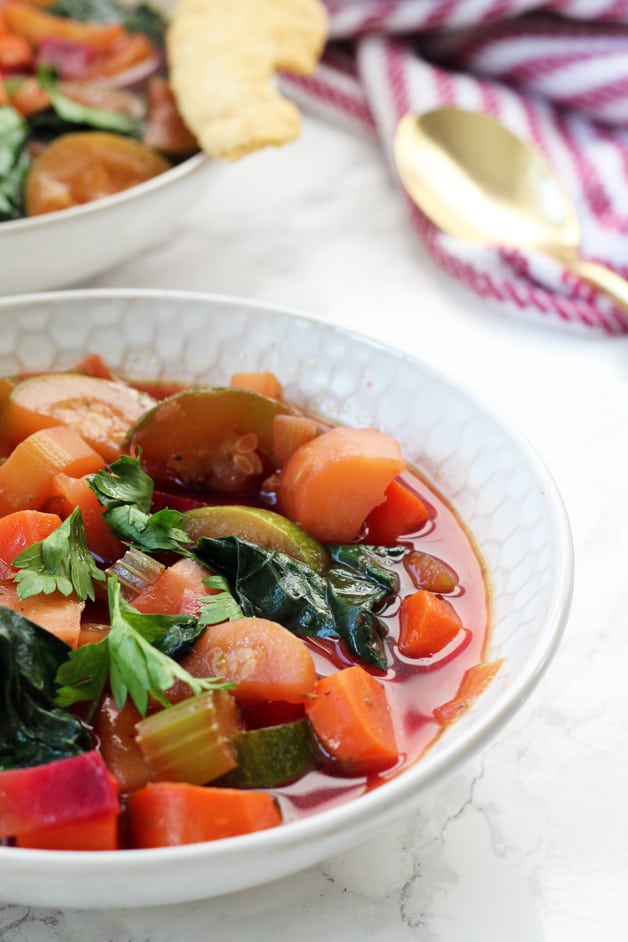 That's all there is to it! This soup is an amazing, and nourishing way to get in more vegetables while enjoying a nostalgic Italian classic. I hope you enjoy!
If you like this soup, be sure to also check out my Italian Zuppa Toscana!