Avocado Cilantro Lime Sauce (Paleo, AIP, Whole 30)
I was never a big sauce person… unless it was tomato sauce, of course. That is, until I got on the autoimmune protocol and married my husband. My husband loves sauces, and dipping, and I love adding extra flavor to spice up meals! The thing about sauces are they can be pretty hard to make if they don't feature cheese, milk, heavy cream, tomato, tahini, nightshade spices, flour… you get the point. Or they take tons of time to cook. I was really craving a creamy sauce that required no cooking, which is where this avocado cilantro lime sauce came in!
In my first two years in college (before I switched to a marketing BA route and then studied nutrition at the NTA) I studied to be an RD. Though I hated the non-real food approach that I was learning, I loved the cooking labs. Clearly I love to cook, and I loved being able to cook and call it school. There we learned the basics of making soups and sauces, how to make a roux and a slurry, and so forth. That's when I realized that sauces tend to take a lot of work. We would spend all of this time cooking the protein, the vegetables, any starches, and then we had to make a sauce too? Yeshh. No, thanks.
With all of the cooing that I do following an autoimmune protocol, and I just don't want to spend tons of time on a sauce. But I also recognize that my husband loves them, my guests loves them, and heck, I love them too!
So, what's the base for the perfect creamy AIP sauce? Avocado of course! It's creamy, delicious, full of healthy fats, and requires zero cooking.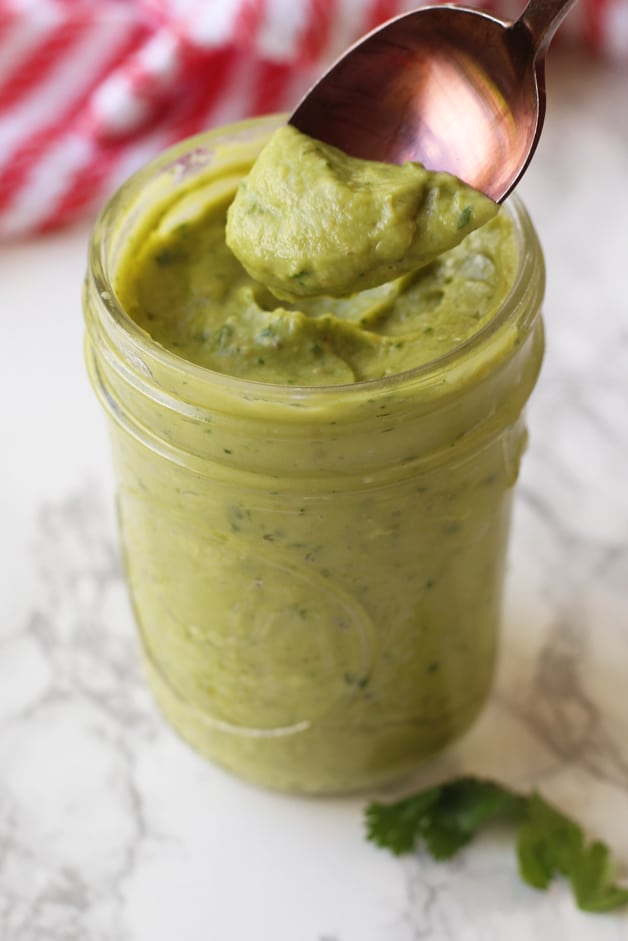 I wanted this sauce to be super thick so I use mostly avocado as the base, and then give it a little bit of flavor and zest with cilantro and lime. This sauce is very guacamole-esque, which is why it tastes so good!
How To Use This Avocado Cilantro Lime Sauce
I created this recipe to top with taco bowls that I always make for guests. At the time, it was really a way to spice up the taco bowls without just throwing avocado slices on there, and it worked so well that I kept working at it to perfect the recipe. Now I use it a ton of different ways…
On AIP taco bowls (recipe coming soon)
On compliant tacos or nachos
As a guacamole type dip with veggies or oven baked plantains
On top of fish, chicken, or any other fish that would last good with avocado!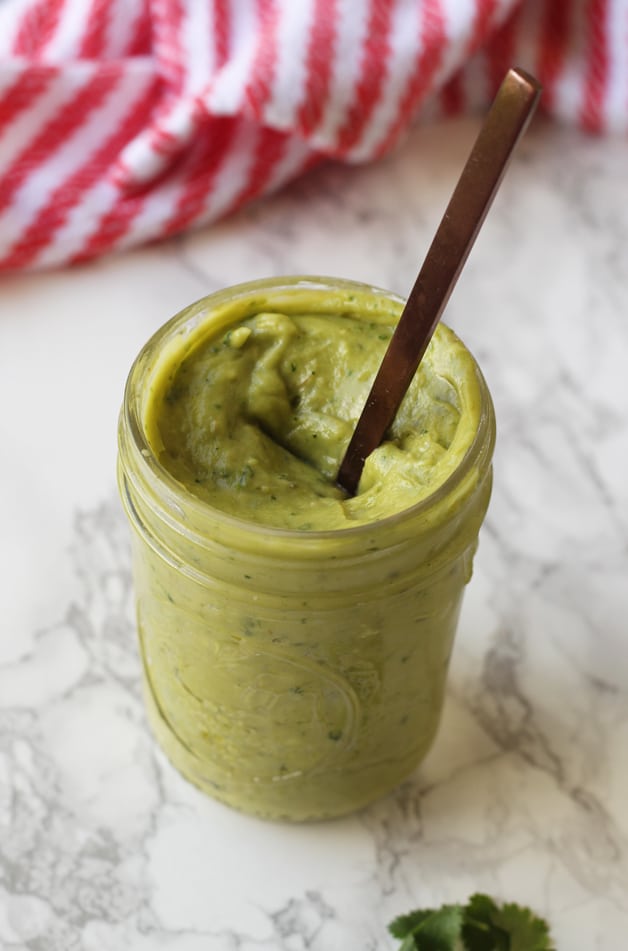 Avocado Cilantro Lime Sauce Recipe (AIP, Paleo, Whole 30)
Print
Avocado Cilantro Lime Sauce (Paleo, AIP, Whole 30)
---
3 medium avocados
1/4 cup avocado oil (or olive oil)
1/3 cup fresh cilantro
Juice of one fresh lime
1/2 tsp garlic powder
1/2 tsp onion powder
1/2 tsp sea salt
---
Instructions
Slice the avocados and remove the pits
Scoop the avocado into a high speed blender like a vitamix, or other blender
Add the remainder of the ingredients and blend on low until thoroughly blended. If using a vitamix, use the wand to stir the sauce.
Add more oil if desired to make sauce thinner.
Once the sauce is creamy and blended, remove from the vitamix
Use within 24-36 hours, and store in the fridge in an airtight jar or tupperware
And that's all there is to it! Creamy, dreamy sauce that's easy to make, and a total crowd pleaser for paleo, AIP, and Whole 30 folks, and everyone else in between. Enjoy, friends!