Chicken Fajita Bowls (AIP, Paleo, Whole 30)
It's not always easy to be confident about making your old favorites AIP friendly. I've often asked myself, "Can I really make a pizza without cheese?", "How can I make oatmeal without oats?" My most recent question was, "How can I make fajitas without peppers and nightshades?" Well, challenge accepted and conquered with these AIP Chicken Fajita Bowls!
Fajitas were a staple meal in my family growing up. It wasn't always my favorite (I was more of a pasta and pizza gal;) ) but fajita night was mostly fine by me. As I got older and realized that nightshade vegetables like bell peppers were seriously flaring my Hashimoto's and completely cut them out, I grew to hate fajita night. Not because I couldn't eat them, but because of the smell! A few minutes of being in the same house or building as cooking bell peppers and I get a full-on migraine. Not fun! I can't even go into a Mexican restaurant without getting a headache these days. Consequently, my Texas-raised husband loves Mexican food, and it's always a favorite here in Dallas. So that's why I decided to make these fajita bowls!
But what can swap out for a bell pepper? Zucchini, squash, and onion make a perfect fajita bowl swap! Throw on some avocado or AIP guac, green onion, cilantro, and some fresh lettuce, and you've got one heck of an AIP dish!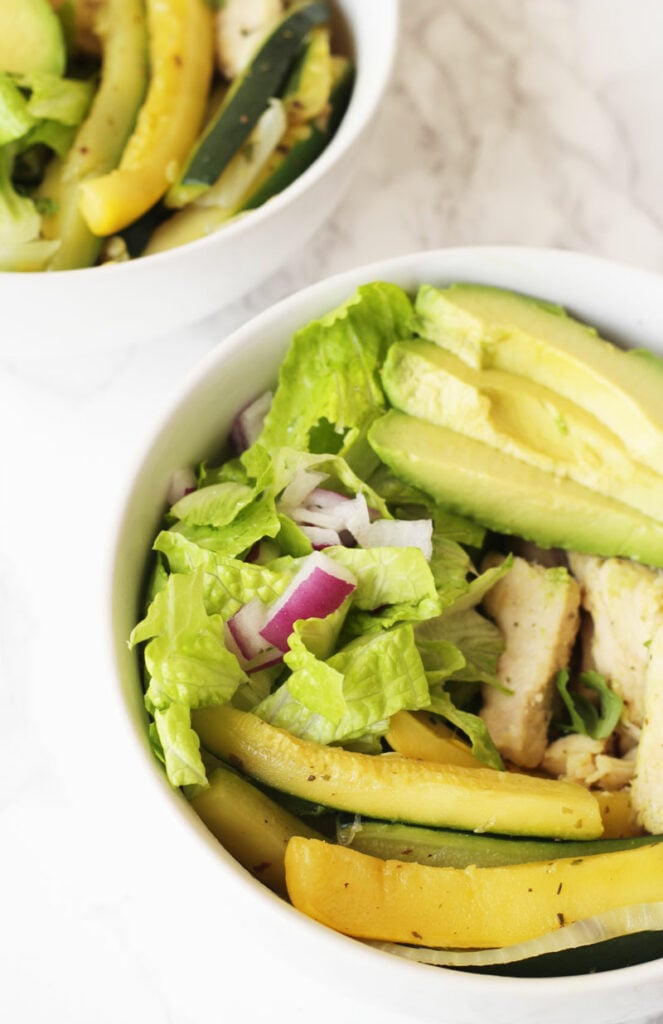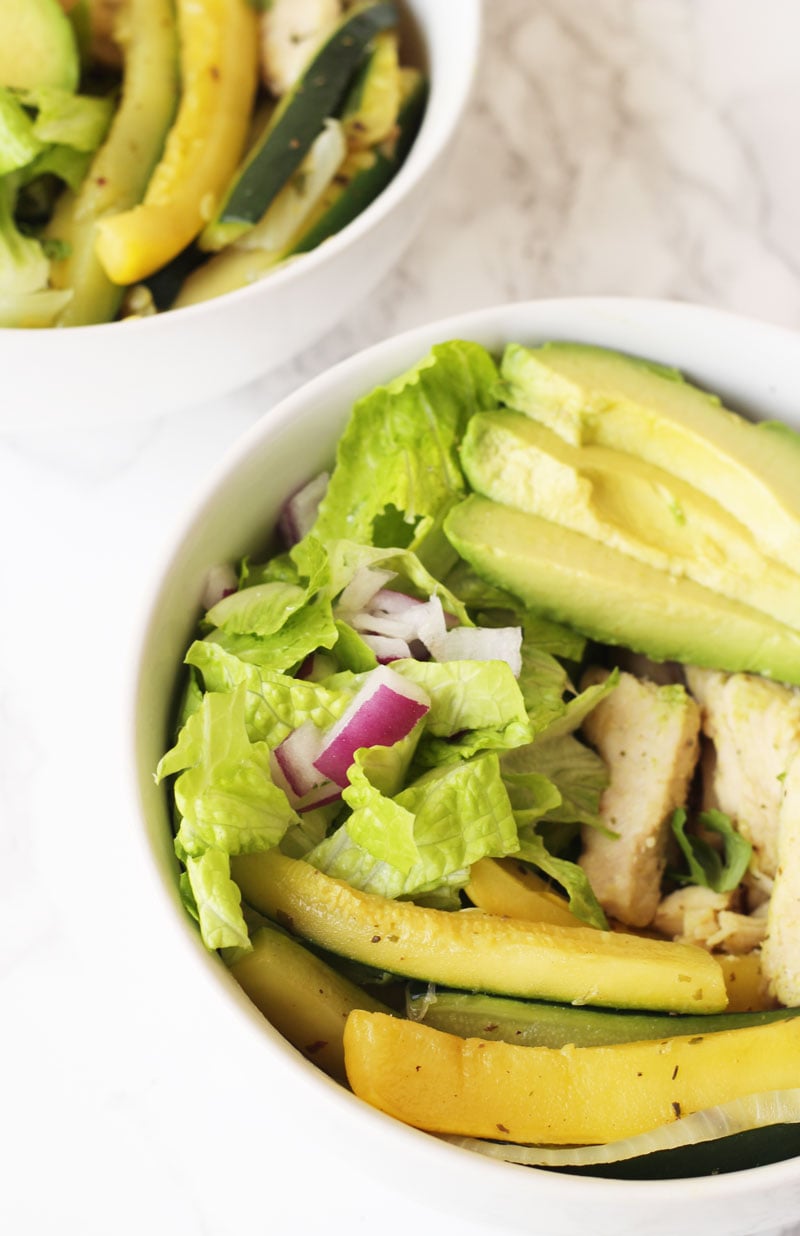 Print
Chicken Fajita Bowls (AIP, Paleo, Whole 30)
---
2 lbs chicken breast, sliced thin
2 medium zucchinis, sliced into vertical slices
1 medium yellow squash, sliced the same
1/2 white onion, sliced
2 garlic cloves, minced
1/2 tsp dried oregano
1/4 tsp turmeric
1 tsp dried cilantro
1 tsp salt (or more to taste)
1/8 cup (more or less as needed) avocado oil or coconut oil
1–2 heads romaine lettuce, chopped
1/4 red onion, diced
1–2 avocados
Fresh cilantro to garnish
---
Instructions
Add 2 tbsp of oil to a pan on medium heat.
Season the chicken with garlic, and half of the oregano, turmeric, cilantro and salt
Add the chicken to the pan, adding more oil as needed
Cook for 8-10 minutes or until internal temperature reaches 165 F
Remove the chicken from the pan and set aside
Add 2 tbsp of oil to the pan on medium heat
Season the white onion, zucchini and squash with the remainder of the ingredients
Cook until vegetables soften for about 5-6 minutes, reheating the chicken in the pan for the last minute or so if needed
Add the chicken and vegetables to bowls (about 4 bowls) with chopped lettuce
Top with avocado, red onion, fresh cilantro and more salt to taste
Taco bowls and fajita bowls just like this one are what I always serve when we have company over! Not only is it delicious all on its own for anyone, but it's the perfect base to modify for non AIP friends. You can easily add white rice, salsa, hot sauce or a good quality tortilla chip to those who want to spice it up a bit.
Regardless of how you modify, it's a low effort, easy to make meal that family and friends will both love!