AIP Coconut Flour Brownies (Perfect For Valentines Day)
Growing up, my mom was the brownie lady. It all started when I was in middle school or so, when she randomly found the one brownie recipe that changed the course of her entire baking and gifting career. Guys, these brownies were so fudgy, rich, and delicious, that she almost started a brownie business. They were so popular that she'd make them at least once a month for neighbors, coworkers, and the like, and always double a batch for the family. I loved these brownies. They were so gooey that you literally had to eat them with a spoon when they were hot, but the sugar was still so perfectly crystalized on top, that they still had a dense, sugary bite to them. Needless to say, I haven't had them in years since I've begun this journey of healing Hashimoto's and eating an autoimmune paleo diet. In the long run, I know I'm better off, but with a holiday coming up, I want some brownies, yo. So I made some AIP coconut flour brownies that are perfect for Valentines day!
Last year, I made AIP carob covered strawberries for Valentine's Day, which were cute and classic, but I must say that these brownies totally stepped it up. Though they're not at all reserved for just Valentine's Day and can easily be made any time of year, I just love that they're shaped like hearts! I seem to recall there's some over the counter processed cake shaped like a little heart with frosting on it too, right? It's been so long since I've indulged in a packaged gas station cake, so I could be totally making that up 😛 But come on… it's cute regardless!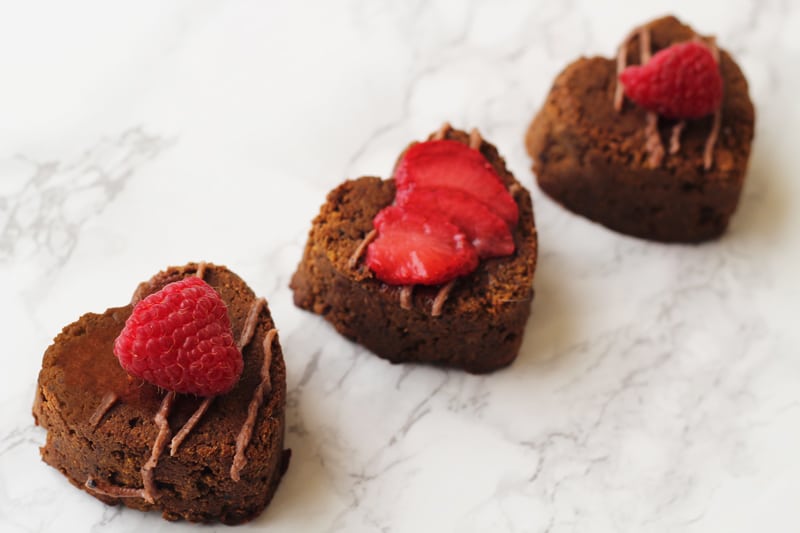 Either way, these are AIP coconut flour brownies are cute, nostalgic, dense and cake-y! It's not easy to make baked goods sans eggs, but these came out just perfectly without eggs!
It's worth mentioning that they're not overly sweet at all. They have minimal honey, and no other added sugar. That being said, they go perfectly topped with fruit like strawberries, or raspberries, and would be delicious in a coconut ice-cream brownie sundae too. Yum!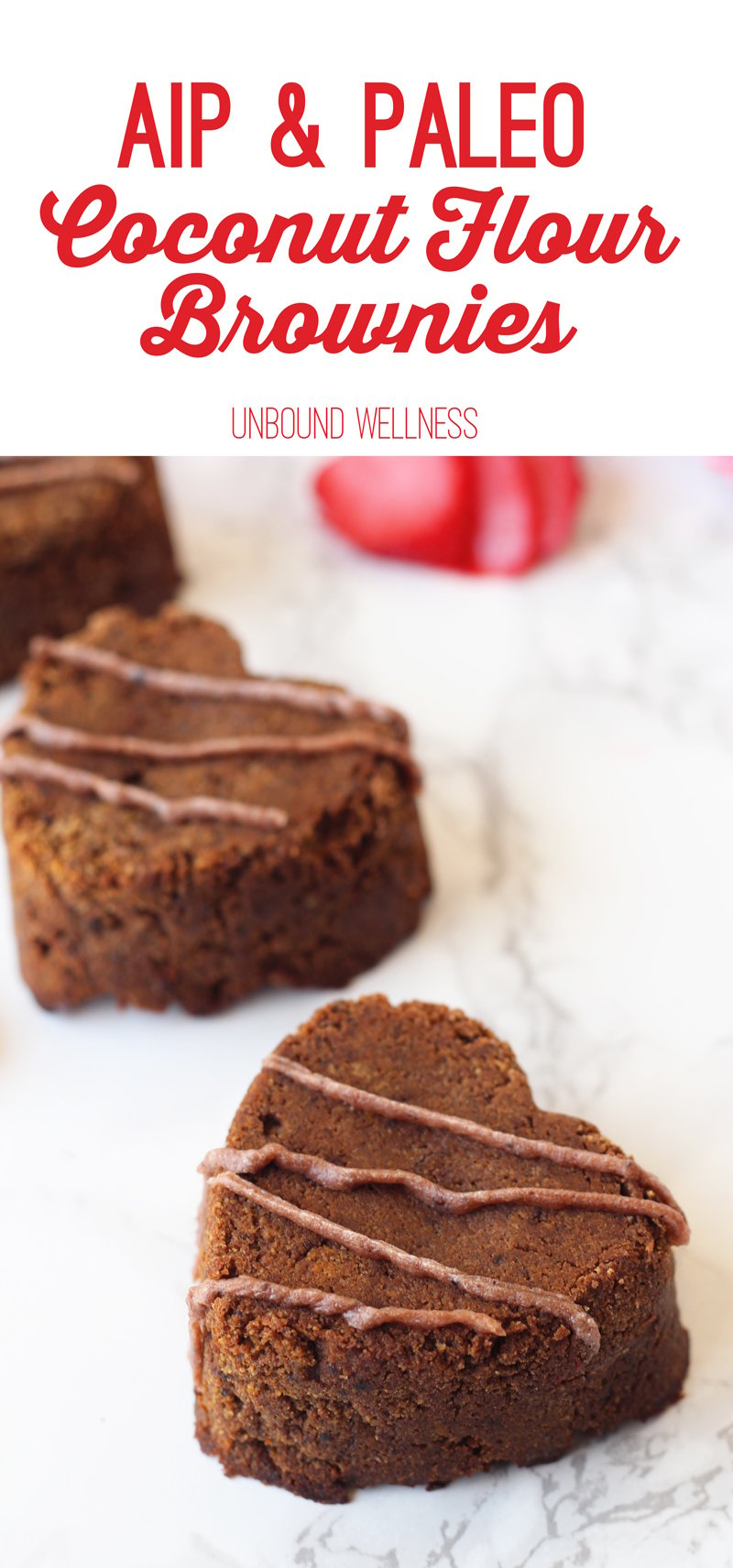 I also have to mention Martine from Eat Heal Thrive as the first AIP brownie recipe I tried that's also delicious and eventually inspired me to create these. I made this heart shaped version after my AIP Brownie Mug Cake to have something a bit lower in sugar and starch, but either three of these recipes are a great option for AIP brownies 🙂
Print
AIP Coconut Flour Brownies
---
1/2 cup coconut flour
1/4 cup tapioca starch
1/4 cup carob powder
1/2 cup pumpkin puree
1/3 cup coconut oil, softened (+ extra to grease the pan)
3 tbsp + 1 tsp honey
1/4 tsp baking soda
1 tbsp gelatin and 1/4 cup of water for the gelatin egg
Berries to top the brownies
FOR THE FROSTING
2 tbsp coconut oil (softened by not melted)
1 tbsp carob powder
1/2 tsp honey
---
Instructions
Preheat the oven to 350 F.
Combine the coconut flour, tapioca starch, carob, and baking soda.
Mix in the pumpkin puree, honey and coconut oil and stir until thoroughly combined
For the gelatin egg, pour the gelatin over 1/4 cup of water and allow to bloom for 1-2 minutes.
Turn the heat on low and allow the gelatin to quickly melt. Once the gelatin appears to have dissolved, whisk vigorously until the "egg" is frothy.
Add the gelatin egg to the mixture immediately and stir
Grease a baking dish (or these silicone heart molds) with coconut oil and spoon into the dish.
Bake for 25-25 minutes.
Remove from oven and allow to cool completely before removing.
Prepare the frosting (optional) by adding the ingredients to a bowl and mixing vigorously. Heat for just a few seconds to soften if needed, but don't allow it to melt.
Pour the frosting mixture into a piping bag or just a plastic bag with the tip cut off and drizzle over the brownies.
Top with berries and serve.
And that's all there is to it! If you're using the silicone heart molds, you'll have 4 brownies! Enough for you and your sweet heart to have 2 each!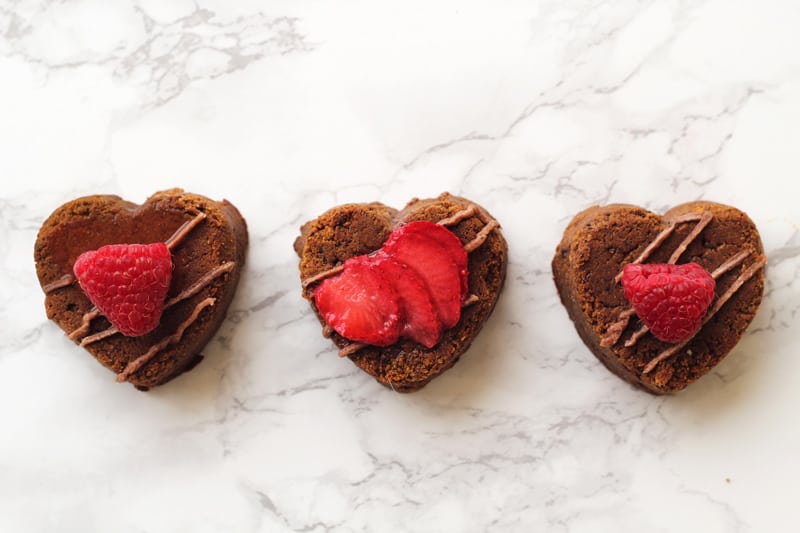 Enjoy the treats, friend!