January Healing Favorites
This post contains affiliate links. Learn what that means, here.
I took a big ol' break from sharing my monthly healing favorites for the past couple of months. With the holidays, going to Indonesia for ministry work, and then transitioning to an entire new lifestyle with leaving my full-time job, there was a lot going on! But, it's back! I love seeing others monthly favorites, so I'm happy to share my own favorites in the healing realm.
January was an amazing month! It marked my official transition to focusing more of my time on Unbound Wellness, I launched the 30 Day Gut Healing Guide, I celebrated my 2 year wedding anniversary with Hipster Husband, and we all started a new year! It was a good one, folks. And as always, to maintain my own health, I'm always still healing and practicing different things to influence my life long journey with Hashimoto's. Here's just some of what I've been loving this past month…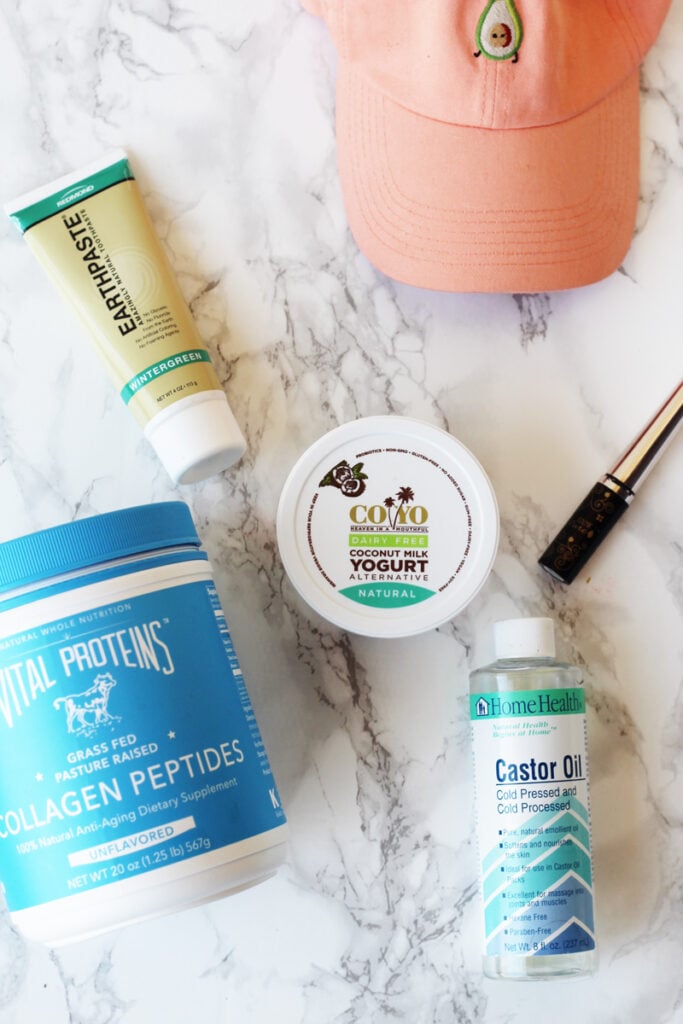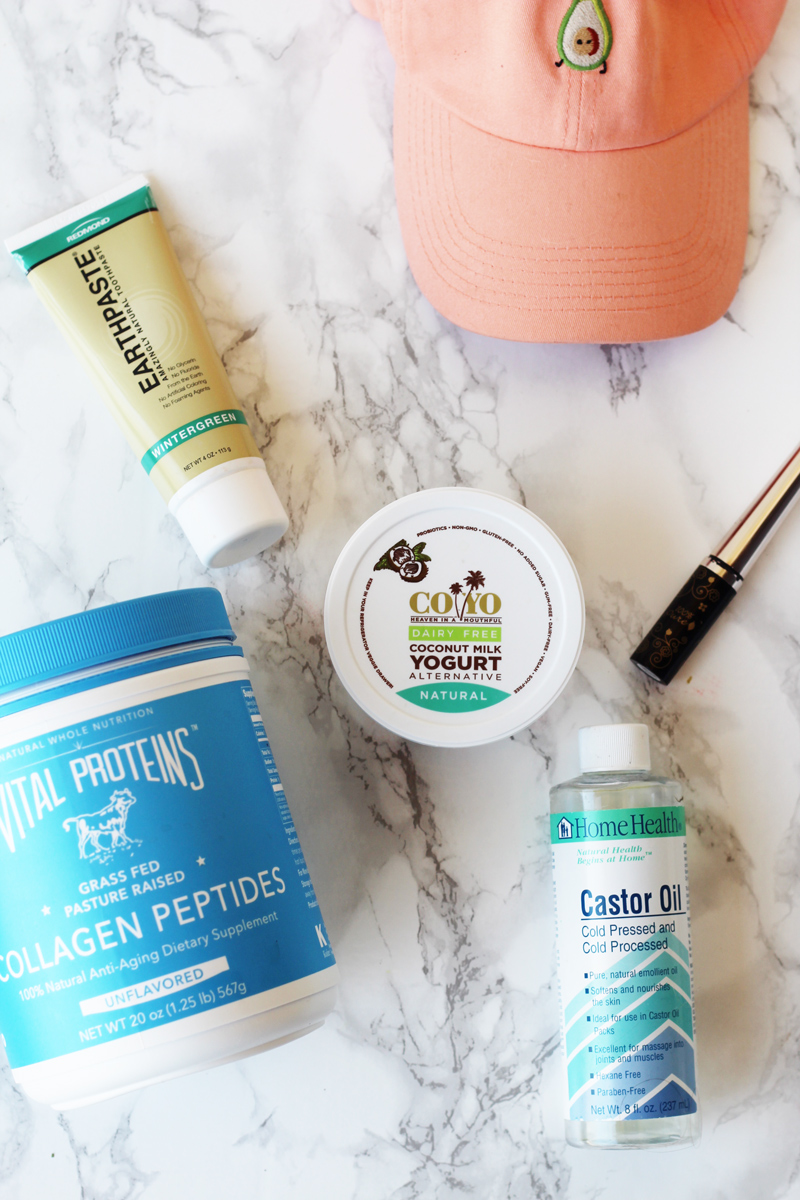 Coyo Coconut Yogurt
As an every day basic healthy girl, I used to love Greek yogurt. Just try to pick up a women's magazine that doesn't tell you that eating Greek yogurt, popcorn, and hummus is the key to be healthy and skinny? I dare you. Surprisingly enough it's only been a couple of years since I've been off dairy, and it was one of the last things to go in my diet, but it's made a huge difference in my digestion. But honestly, I missed Greek yogurt so much… until I found Coyo!
Coyo is a brand of coconut yogurt that has zero sugar and fillers, and tons of healthy fats and flavors! I'm obsessed with adding this to smoothies, and topping it with berries as a treat. Plus it's a fermented food which is amazing for our gut health 😉 Win, win, win! A delicious healing food indeed!
I've always found coyo sporadically at Central Market, but I'm starting to see it pop up more at Natural Grocers! YAY!
Vital Proteins Collagen
I assume you've heard of vital proteins by now, amirite 😉 ? It's everywhere and for a good reason! Grass-fed collagen is another wonderful healing food as it supports the health of our gut, joints, skin, nails, and hair. I also add this to smoothies, and most famously (not really famous, but several people shared photos of them making this recipe, so that's close enough for me) in my Collagen Protein Cookies that came out this month!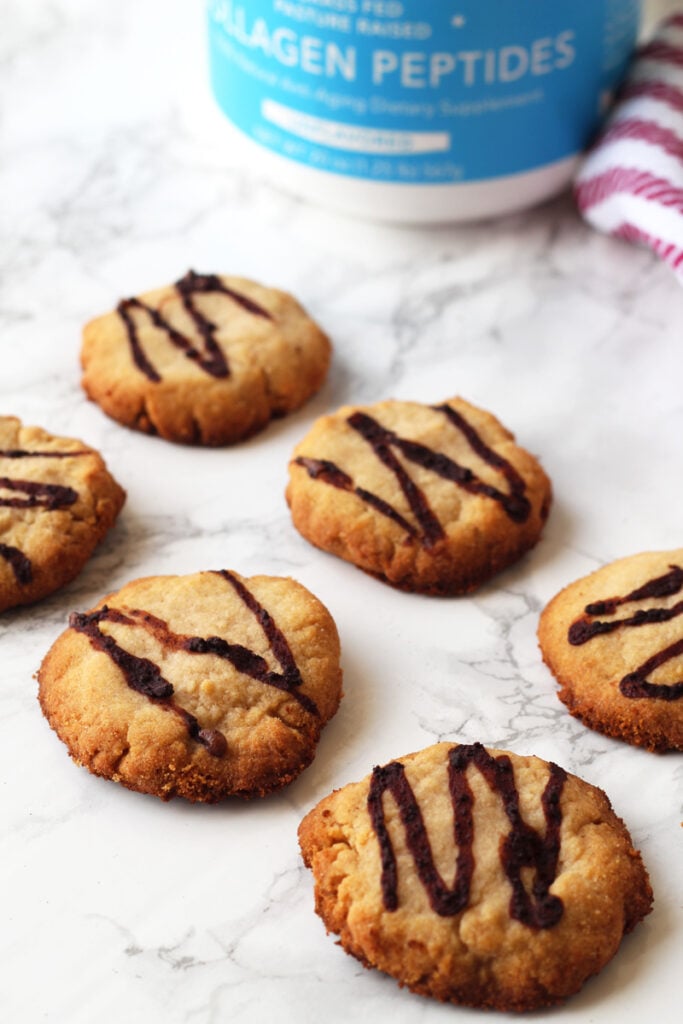 Three cheers for collagen!
Castor Oil Packs
If you're my client, you've probably heard me tell you to do a Castor Oil Pack, and that's because they're a healing powerhouse that's safe, easy and effective to do! Castor oil's use goes way back to Ancient Egypt and is used topically to get blood flowing which enhances detoxification.
I lay a castor oil pack over my liver/ gallbladder area as I'm still working on healing my gallbladder function and can literally hear and feel movement in the area after about 30 minutes! It's amazing! Not only that, but it's a great excuse to just lay around for an hour which is also pretty darn healing. Here's a video on how to do one 🙂
EarthPaste Natural Tooth Paste
Living a healing lifestyle is about so much more than just food. It's taken me a while to switch over my personal care products and makeup but, I finally switched my toothpaste to Earthpaste! Its free of fluoride, weird colors, and the ingredients are super clean. No, it's not uber minty fresh, but it does the job and makes me feel so much better about what I'm putting in my body.
100 Percent Pure Eyeliner
I've shared before that 100 Percent Pure is my favorite makeup brand, and their eyeliner does not disappoint! I just got this Long Last Liquid Eyeliner as a gift for Christmas and I am loving it. The black color comes from black tea, and the applicator is great!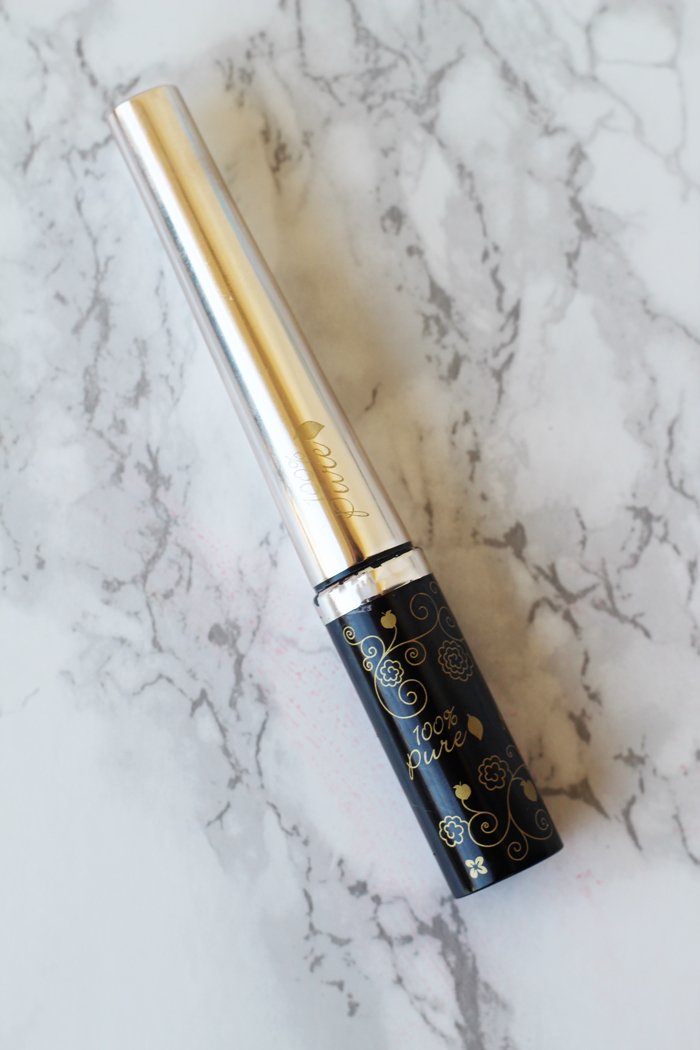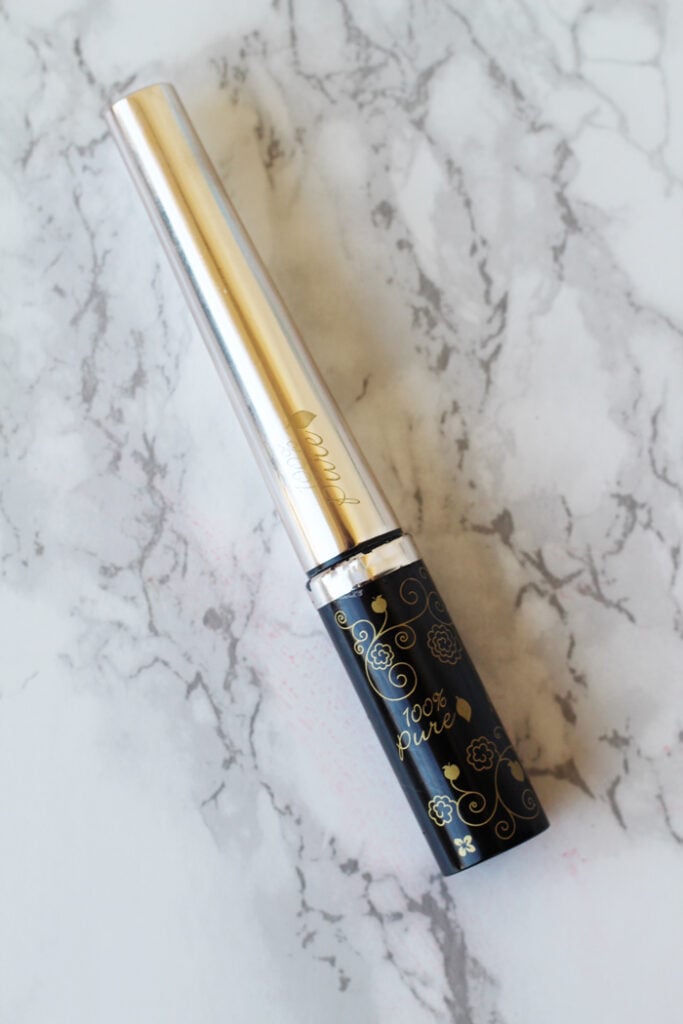 My old eyeliner (which I used for years) had parabens, and other nasties that I don't even want to think about. Yes, it was a great product as in application and staying power, but this eyeliner is comparable in quality and is a much cleaner option!
My Dorky Avocado Hat
This is random, but it makes me so happy which is healing in my book! I went to Indonesia without my husband to conduct a ministry training in December and was nervous about traveling so far alone. So what does a woman traveling to Indonesia alone need…. a … hat…? That was my logic at least. So I found the cutest hat I could find as my little Indonesia trip security blanket! Isn't this avocado hat adorable?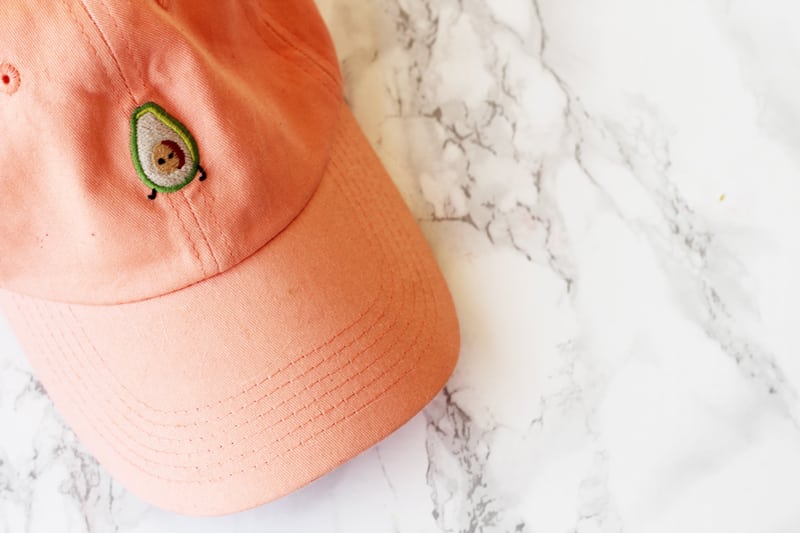 I still wear it on walks, grocery shopping, and just around town when I don't feel like making my hair more presentable! 😉
Favorite Healing Workout : CorePower Yoga
I plan to share more about my yoga journey as a part of healing my Hashimoto's, but know that I love it and find it super effective for both de-stressing and getting in some good movement. I had a great studio I was going to in Dallas for over a year, but after we moved into our house in the summer, it became really inconvenient to travel out to my old studio and found myself going less. I've been having a hard time finding a new yoga home and was adamantly against trying CorePower for some reason. This month, I caved and decided to try it. The verdict? I'm hooked!
CorePower is a blend of traditional yoga, hot yoga, and higher intensity strength building yoga. They have tons of classes and the location is super convenient. I carry a lot of stress in my neck and shoulders, and have found that I have so much more range of motion after going to CorePower more this month! The catch? The price! Eep!
I'm still iffy on pulling the trigger on a membership, but I'll keep you all posted if I do! In the meantime, it's an amazing drop-in option.
Favorite Healing Influencer/Blog : Nutrition Stripped
Though it's not a 100% "Paleo" or AIP blog, I love Nutrition Stripped. It's warm, inviting, cute, and still has lots of healing recipes and resources. I particularly love following McKell on Instagram, and her Golden Milk Recipe. Yum!
Favorite Words of Wisdom : John 6:27
"Do not work of the food that perishes, but for the food that endures to enteral life, which the Son of Man will give you…" John 6:27 ESV
In this health and healing world, we tend to get obsessed with improving our health. Myself included. We picture this perfect utopia if we can just get our antibodies down, if we can just eat nightshades again, if we can just get enough colon hydrotherapy, and on and on. Clearly I think that the pursuit of health and healing is SO worth it, and necessary. We're all here for a reason and being healthier and happier can help us to better live out our purpose and live a better life. So, please rest assured that I'm not saying that the pursuit of health is fruitless. It's so important…
However… no matter how low my Hashimoto's antibodies are right now, and no matter how many castor oil packs I do, or how much collagen I drink, my health will still decline one day. It may not be until I'm 98 and I die of old age, but my health is a still a temporary thing. It is food that perishes. I constantly check in with myself to be mindful about not just living my entire life just pursuing health. Health is important and God cares deeply about our health! But all worldly things perish. This verse just says that perfectly.
Even though I may not be totally healed of autoimmunity (and never will be) I continue to live this lifestyle, and am assured in the fact that I am healed eternally by the grace of God!
Favorite On Unbound Wellness in January : The 30 Day Gut Healing Guide!
My very first solo book, and my soul project, the 30 Day Gut Healing Guide came out in January! This book was years in the making of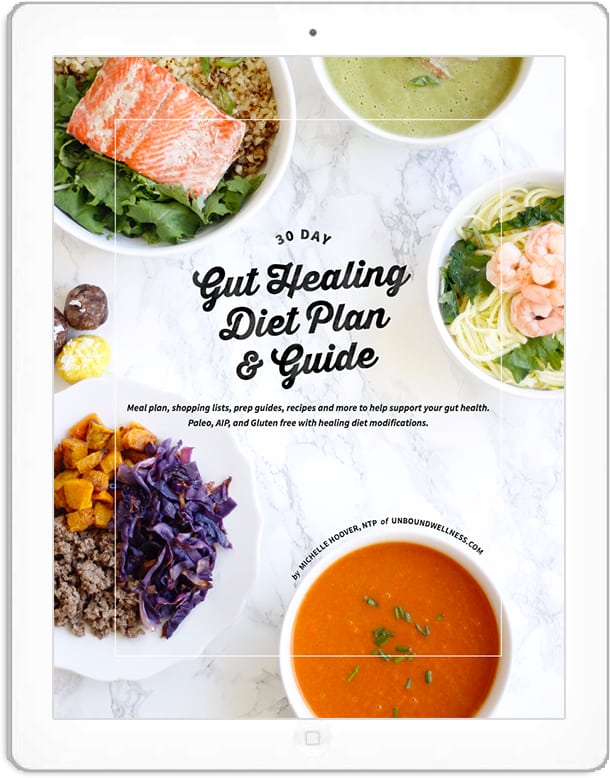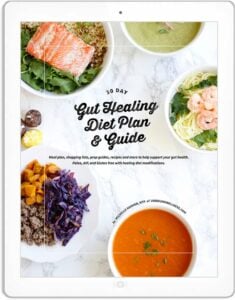 personal experience for me, and took me half a year to actually write, photograph, and produce it. It's a comprehensive guide in gut healing that comes with tons of info on healing the gut, 30 days of meal plans, shopping lists, pre guides, and recipes.
I'm honored and amazed at the response that my baby book has gotten! Tons of you have gotten your copy and have started your own healing journey, and some of my own personal favorites like Mickey Trescott and Sarah, The Paleo Mom have shown love to the book! I'm so overwhelmed with joy, love and gratitude. Grab your copy here if you don't have it yet 🙂
Thanks for hanging out with me in January, folks! Here's to a healing February <3