Collagen Protein Cookies (Paleo & AIP)
Real talk, I used to love store-bought protein bars and powders. I always had some on hand, and regularly used them as meal replacements. Rather than full, nourishing meals of quality proteins and roasted veggies, I was reaching for a protein shake and calling it a day. Though I adamantly speak against using protein snacks as meal replacements, and using poor quality protein snacks in general, I too am a busy woman on the go and need a good grab and go snack every so often. So rather than constantly eat beef jerky for every need, I got a little creative and made AIP and paleo collagen protein cookies!
These may look like cookies, but they're not the carb-y sugar bombs that are void of healthy fats that you're used it. These guys have no unnatural sugar, no fuss, and have only high quality protein from grass-fed collagen!
Collagen Protein Benefits
So, what is collagen protein anyway?
Collagen is the most abundant protein in the body, and comes from bones, muscle, skin, and tendons. This particular collagen that I use, Vital Proteins, is made from grass-fed cows. It's flavorless, easily dissolves in liquid of disappears in treats like these cookies, and is the perfect way to add a protein boost. Collagen is a super trendy ingredient right now, so what makes it so great?
Supports a healthy gut lining (it's found in recipes in my 30 Day Gut Healing Guide for this reason)
Supports healthy hair, nails, joints, and skin.
A natural source of high quality protein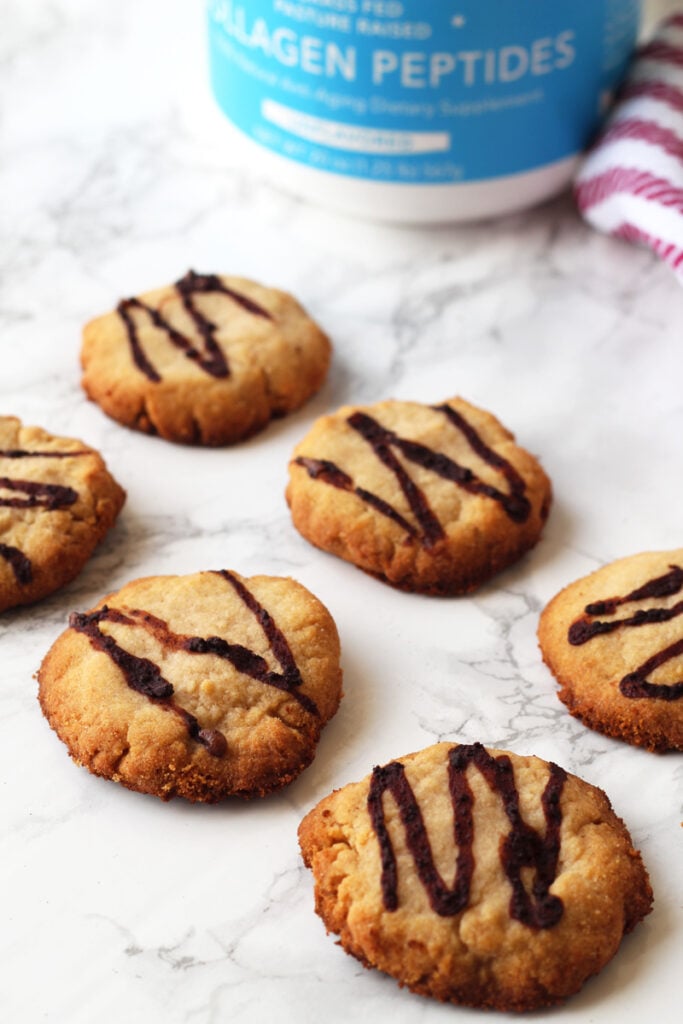 Why I Love These Cookies…
1. They're a great AIP/Paleo grab 'n' go snack.
Like most everyone who reads my blog, and everyone in general these days… I'm a busy woman. On top of working in digital marketing, working one on one with nutrition clients and writing my blog, I'm all over the place. Though I really value having at least three sit down meals filled with veggies and high quality protein at each meal, I can't deny that I also value having a little snack to have in my purse if I'm running around being clients.
It's not secret that the processed food world preys on people like us. With 100 calorie snack packs, protein bars, shakes, and convenient fast food restaurants on every corner, the odds are against anyone who's busy and also wants to stay healthy, Paleo, or even AIP.
Probably the number one question I get as a seasoned Autoimmune Paleo blogger is "what do I eat when I travel/ am on the go?" My answer is always to have real food that's travel friendly like sliced veggies, seaweed snacks, beef jerky, fruit, veggie chips, etc. I made these cookies to add to that mix! They're full of real food ingredients, and are the perfect thing to just throw in your purse and have a good fat and protein snack on the go.
2. They taste darned good.
Aside from being a good grab 'n' go snack, these taste like a treat, and do indeed have honey in them. They're also perfect for an actual treat to have on hand when you just really want a cookie, or need something sweet to throw in your kids lunch box!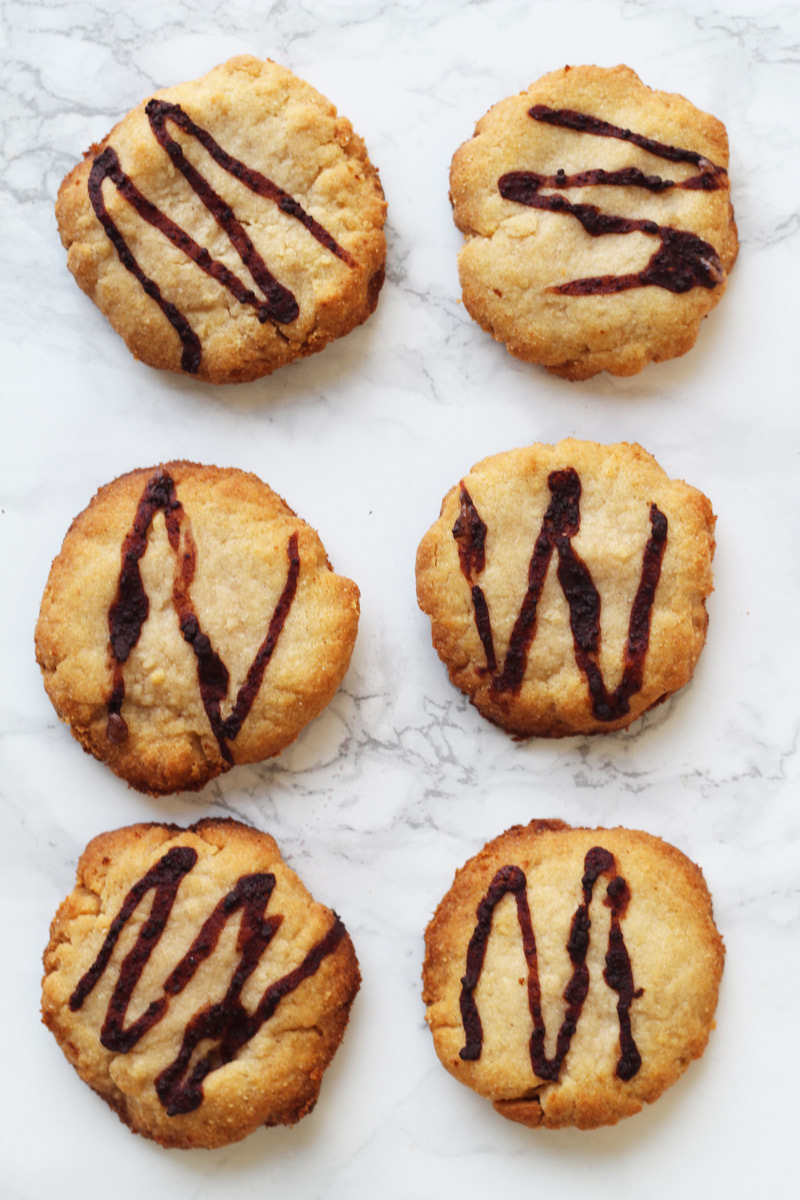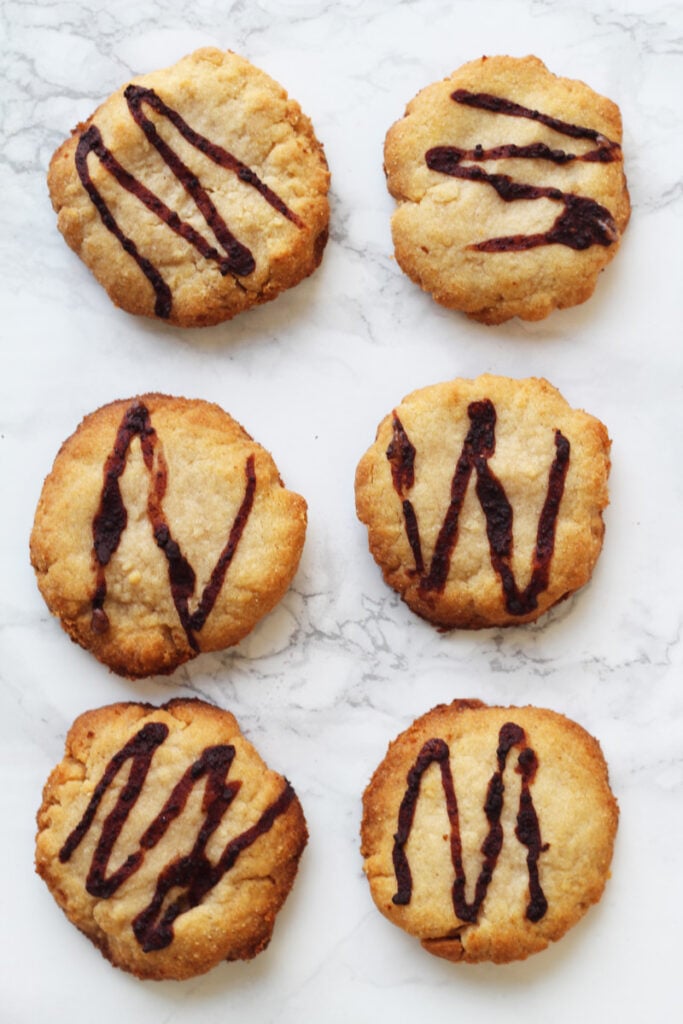 3. Collagen, duh.
That means these cookies have high quality protein rather than mystery protein powder. See above for all of the benefits of grass-fed collagen 😉 I just love getting it in my diet when I can!
4. They're full of healthy fat.
On top of collagen, these cookies have 3/4 cups of coconut oil, which we all know is a delicious healthy fat. Fats like coconut are vital for our hormone health, brain health, and helps to keep us satiated and full. The fat in these cookies really helps balance out the sugar in the honey to control your blood sugar more, and keep you full.
I also love coconut oil particularly as it's easier to digest for those who have issues digesting fats. In my experience, almost all of my clients struggle with this to some extent, and it's far more common than we may realize.
5. They're made with coconut flour.
Coconut flour is a great for baking! It has great flavor, it's grain free, Paleo, AIP and is much lower carb than more starchy flours. Though these cookies also have honey to sweeten them and help bind them as they're egg free, they're much lower in sugar and carbs than your average cookie, and coconut flour helps that tremendously!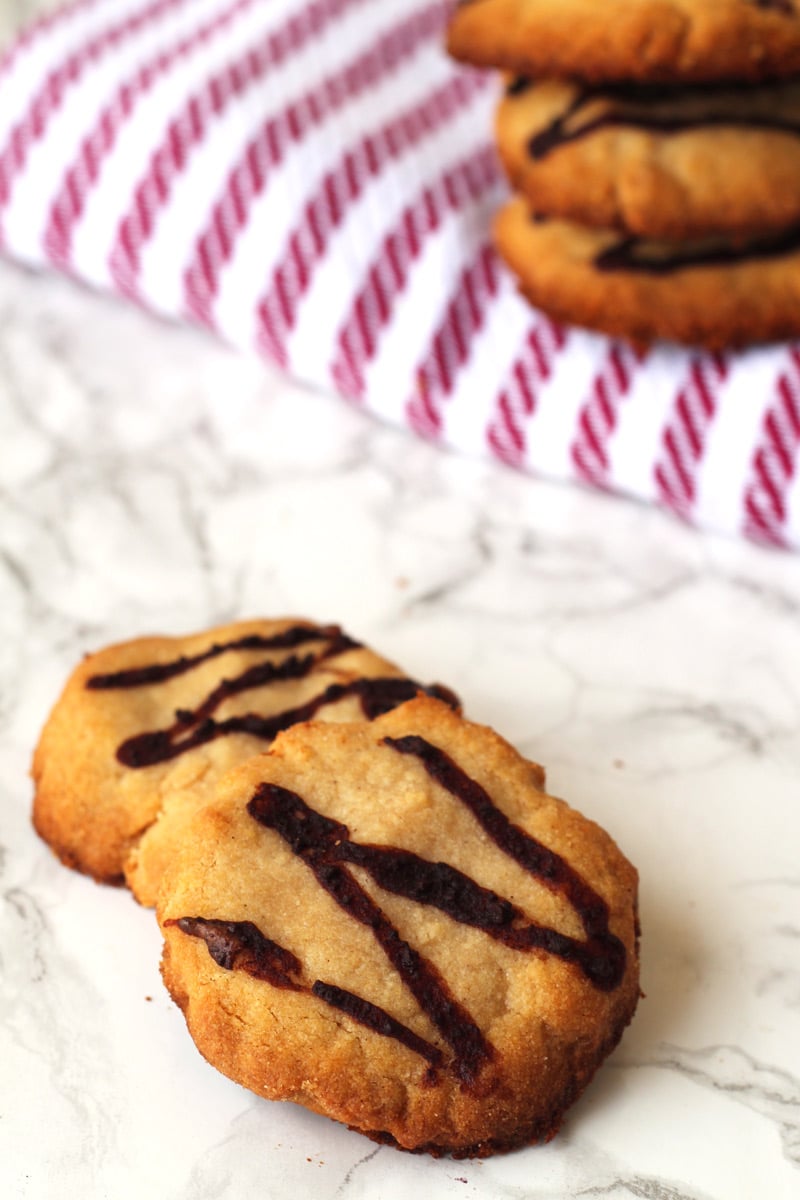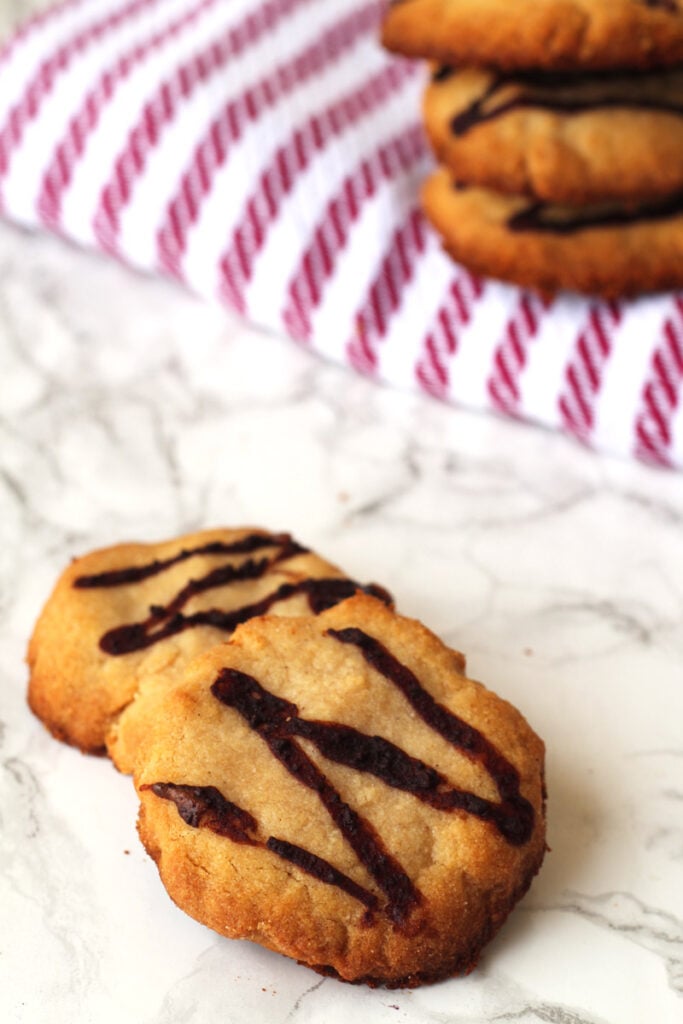 Print
Collagen Protein Cookies (Paleo & AIP)
---
1 cup coconut flour
3/4 c + 1 tbsp coconut oil
2 tbsp honey
3 scoops collagen peptides
1/2 ground tsp cinnamon
1/4 tsp vanilla extract (alcohol free)
1/8 tsp baking soda
For the frosting (optional)
2 tbsp coconut oil (softened by not melted)
1 tbsp carob powder
1/2 tsp honey
---
Instructions
Preheat oven to 350 F and lightly grease a parchment lined baking sheet with coconut oil.
Combine coconut flour and collagen in a mixing bowl
Add the coconut oil and stir vigorously until well combined. You want the coconut oil to be softened, but not melted.
Add the remainder on the ingredients and combine.
Form the dough into cookies (you'll have about 7-8 medium sized cookies) and place on the baking sheet.
Bake in the oven for about 8-10 minutes, being careful to not let them burn. Expect the edges to crisp a bit.
Remove from the oven and allow to cool on a cooling rack for 5-10 minutes.
While the cookies are still warm but not hot, prepare the frosting (optional) by adding the ingredients to a bowl and mixing vigorously. Heat for just a few seconds to soften if needed, but don't allow it to melt.
Pour the frosting mixture into a piping bag or just a plastic bag with the tip cut off and drizzle over the cookies. The heat from the cookies should help melt the frosting over the cookies.
Throw the cookies in your purse as a snack, in your lunch box, or eat them as a snack at home!
I hope you love these protein cookies as much as my husband and I do! They disappeared pretty quickly the couple of times that I've made them, and I can't wait to make them again 😉