Paleo & AIP Travel | Austin TX
One of the most common questions I get from clients, friends, and just readers of my blog is "how do you eat paleo/ AIP on the go?". It is hard isn't it? Especially with navigating cross contamination, weird oils, spices, and just the overall stress of it. I've blogged a few times now about my paleo/AIP travel adventures to Italy, Disney World, San Francisco, and I've shared a bit about my biggest trip to Indonesia… that was a tough one. This past weekend was one of my most enjoyable trips with the most paleo & AIP food success yet… Austin, TX!
My husband and I live in Dallas, TX so Austin is just a few hours south. With my big transition in my business and job, we didn't want to do anything too big and time consuming for our second anniversary this year, so Austin was an obvious choice.
I did all of my nutritional therapy training in Austin last year and was so consumed with class that I barely had any time at all to enjoy all of the amazing paleo/ AIP food that Austin has to offer, so we were long over due for a visit!
When I travel, I'm usually bringing a cooler, ice packs, and full prepared meals. However, since I knew that Austin would be so easy for eating I went pretty light on food to bring and road snacks.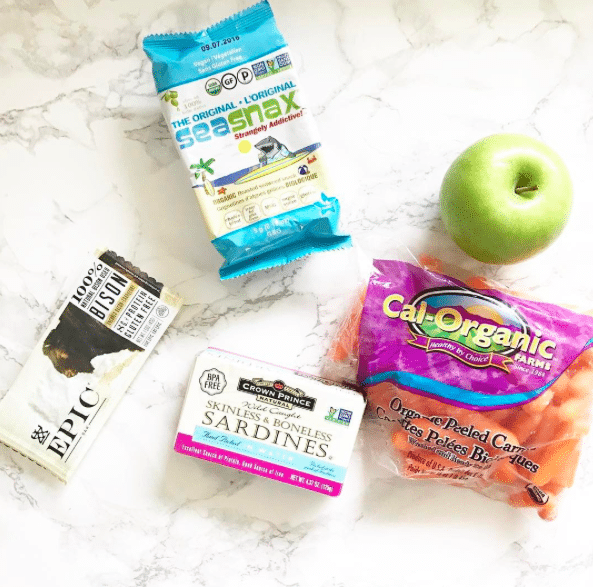 I brought along some epic bars, sea snax, sardines, carrots and fresh fruit!
Magnolia Market at the Silos – Waco, TX
Our first stop on our trip from Austin to Dallas was the incredibly popular (and super busy) Magnolia Market in Waco, TX. Waco is always a popular stop between Austin and Dallas as it's a larger town with plenty of gas stations to stop at on the long drive. There was never really any big tourist attraction for us in Waco (not football fans, sorry 😛 ) until Magnolia came around. It's Chip and Joanna's store from the show Fixer Upper, and it was too cute.
I thought it was so insane how many people were there and was thinking it was just all hype as I was walking up. Once I saw what all of the fuss was all about, I instantly became a pose-y tourist 😉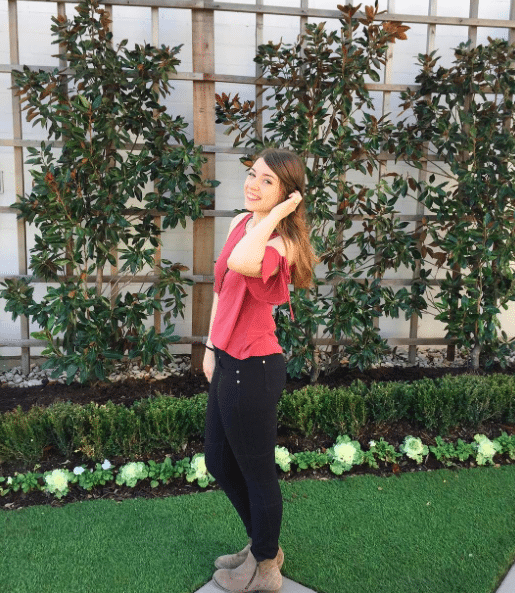 Magnolia is a home decor store with a cool industrial area outback that's filled with swings, food trucks, and areas to eat and to throw around some footballs. My husband went right for the cheesiest gluteniest thing he could find, and I gravitated towards Luna Juice Bar.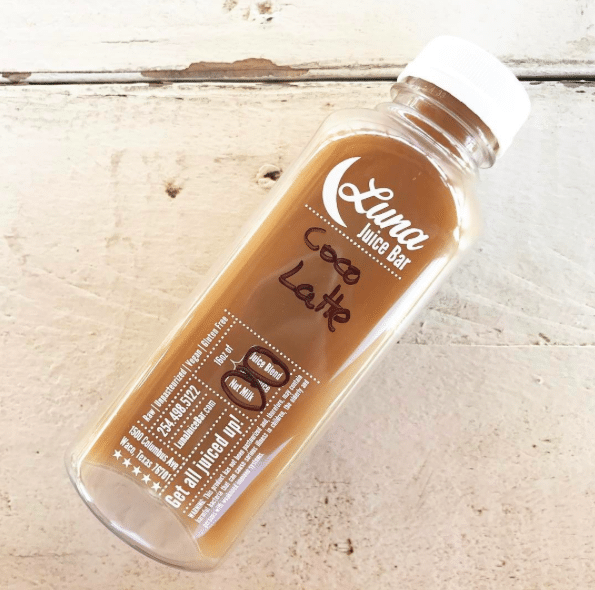 I wasn't feeling a juice, so I got a cold brew coffee with almond milk. I'm pretty sensitive to caffeine and didn't get too far into this before I was feeling it and had to pass it off to my husband… still delicious though!
Picnik Austin
Picnik is famous in the paleo world as one of the premiere paleo restaurants, and it felt like a pilgrimage coming here. Not only is it paleo, but they have an AIP menu! Everything is cooked in avocado oil, it's all high quality protein, and the veggies are local. Swoon.
My husband and I went twice… once for dinner, and for breakfast the next day. We gobbled up dinner so fast and the lighting wasn't really working for me, so I missed pictures of those, but our breakfast was the bomb.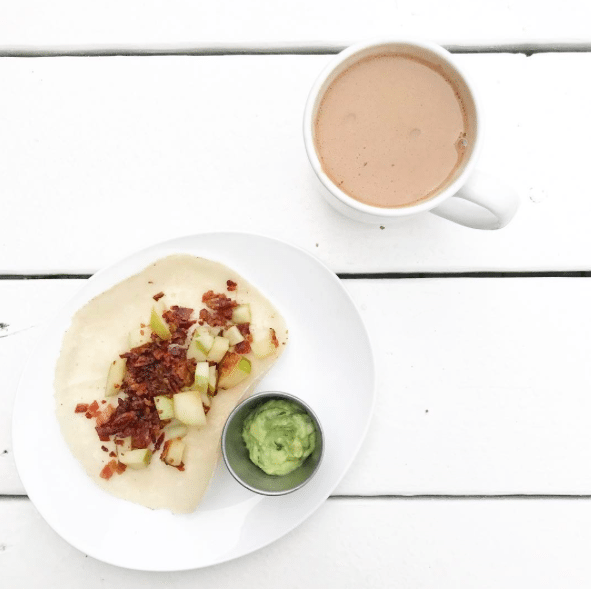 I ordered a custom taco off their AIP menu with a Siete cassava tortilla (not actually strict AIP as it has thickeners, but fine for me in moderation), bacon, apple, their incredible AIP guac, and a non AIP peppermint mocha. The mocha had decaf coffee, cocoa butter, cocoa powder, coconut milk, MCT, and peppermint essential oil. I'm still dreaming about it!
If you're planning on visiting Austin, make Picnik the first thing on your list! I guarantee you'll love it!
Koriente
For lunch after Picnik, we walked around downtown, shopped, and I wound up pretending to be a fashion blogger again for like a minute in this dress I got from Nordstrom. I like food AND clothes, okay 😛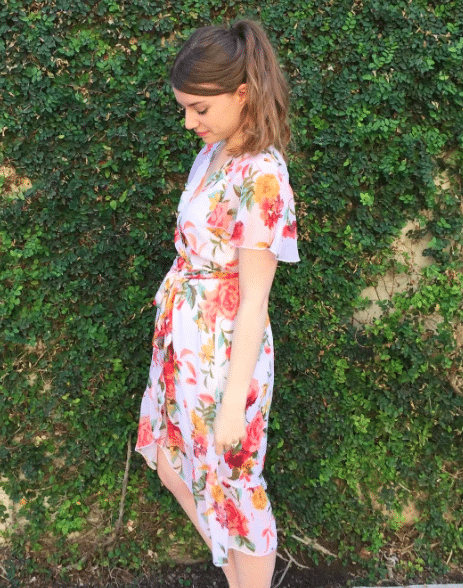 We eventually ended up at Koriente. It was a crowd favorite during my NTA classes, but I was always afraid to indulge. This time I went for it and got a super custom bowl.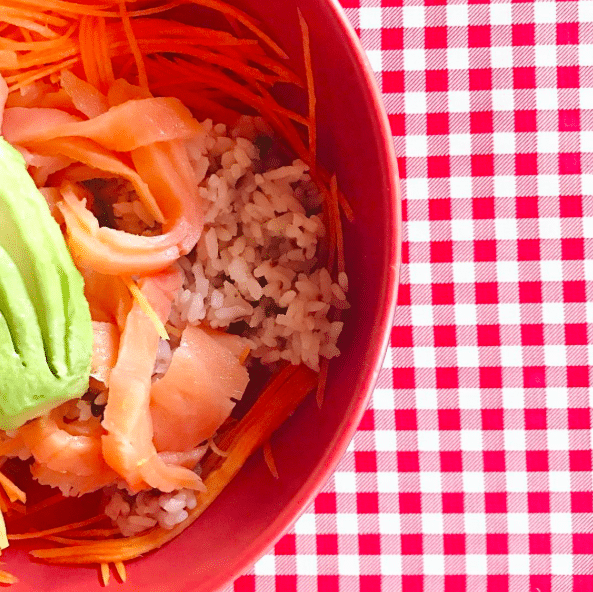 I requested something super safe for me and they delivered! I got smoked salmon, avocado, carrot, and rice. I asked to hold the sesame, and sauces, and I wound up with a meal with just one AIP reintro (the rice) and a really satisfying little meal!
Dolce Neve
This gelato shop was also high on my Austin bucket list as they seem to always have a vegan/dairy free option. This time, it was a mango sorbet!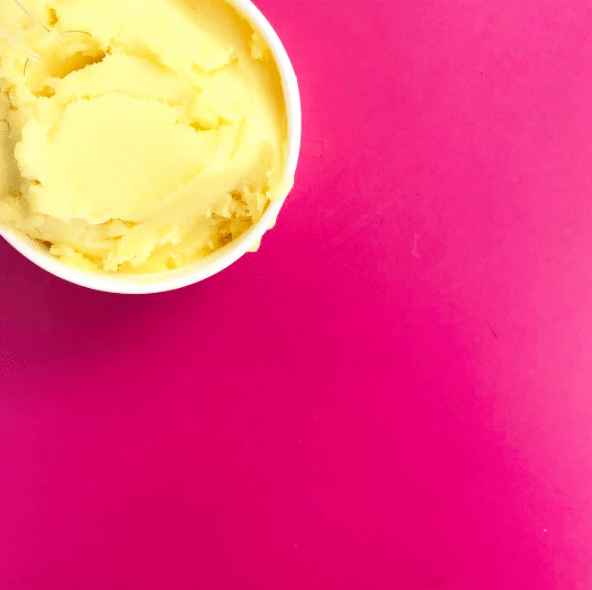 Though I would've preferred to have something coconut milk based, this sorbet hit the spot on an unseasonably warm day in Austin.
Needless to say, Austin kills it with Paleo/ AIP friendly eats. I can't wait to be back soon for Paleo FX in May!!
What are you favorite Paleo eats in Austin?