Paleo, Gluten Free and AIP Travel : Tips for International Travel and What I Ate
Do you ever get that feeling after being on the plane for hours and hours that when you're finally off, you still feel like you're on it? Like you still feel the turbulence, and can hear the baby screams ringing in the back of your ears? That's kind of how I feel right now after traveling 24+ hours from Florence, to Germany, to London, and finally home to Dallas. Being back home in my own space is bittersweet after an amazing Honeymoon, but I'm happy to report that any discomfort I'm currently feeling is due to merely just my jet lag and not from anything that I ate! Call it being prepared, or that the food in the EU is just better, but I'm so happy that I successfully traveled to Italy with my Paleo, gluten free, and autoimmune protocol restrictions and actually still felt good!
There's more to come on what I actually ate once I was in Italy, because trust me, it was much more lax than the travel. But, it's all just too much to share in one post, so here I wanted to share what I ate traveling to and from Italy as well as my best tips for doing it well.
First what did I actually eat?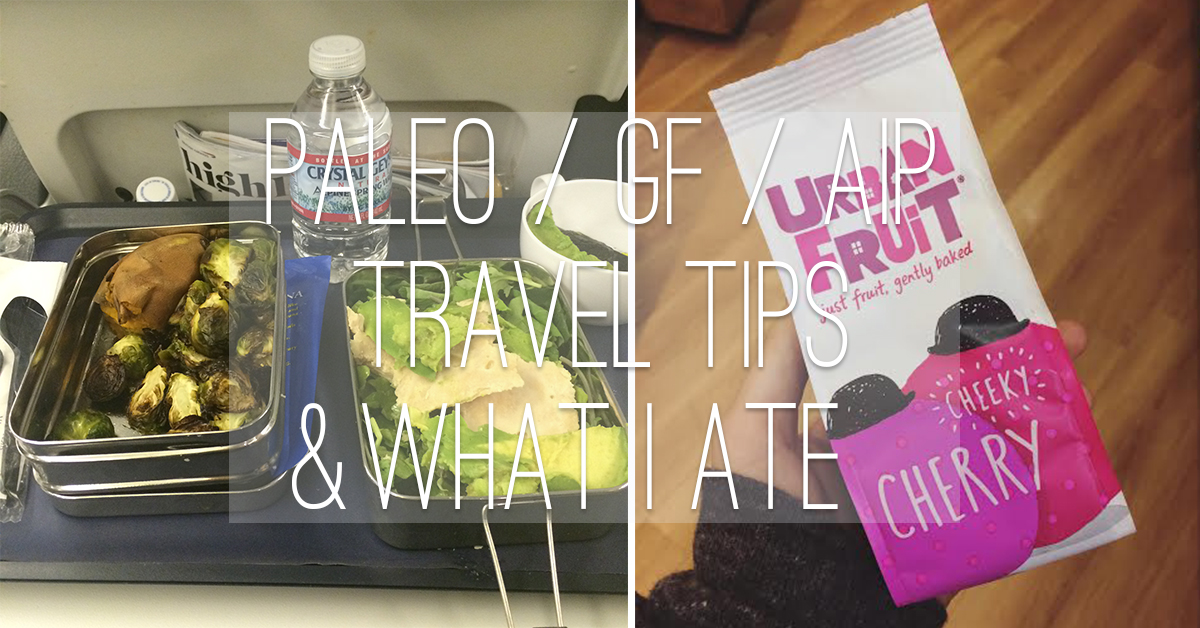 GETTING THERE
On the way there, I tried to come as prepared as humanely possible to get me through London and two German airports. Bringing food into the EU and through customs thankfully wasn't an issue.
We had an overnight flight to London, so I brought along dinner in my new Ecolunch box.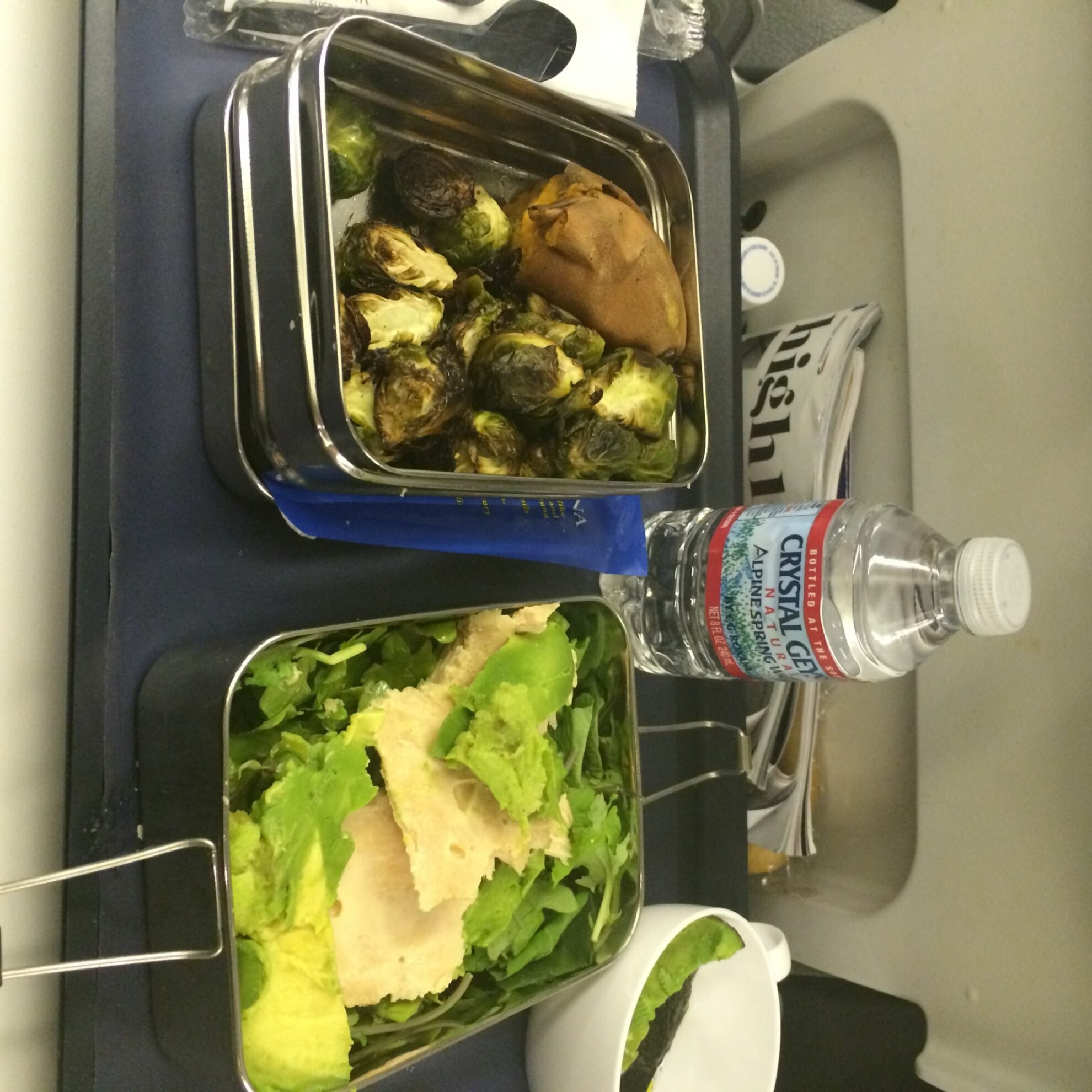 I had brussels sprouts that I roasted at home, half of a sweet potato, kale, avocado, and Wild planet tuna.
I also snacked on some dry Mango that I picked up at Target before I left.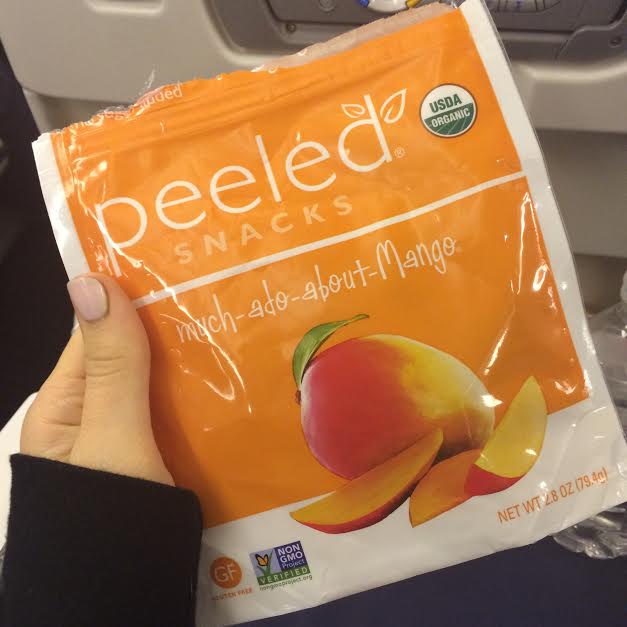 When I finally landed in London, I loaded up on healthy fats at the Giraffe restaurant in Heathrow terminal 5. They were kind enough to give me a side of avocado to add some more fats, and man, was this good! Now, I made a point to reintroduce eggs on my AIP diet before I traveled and it was incredibly helpful to have the option.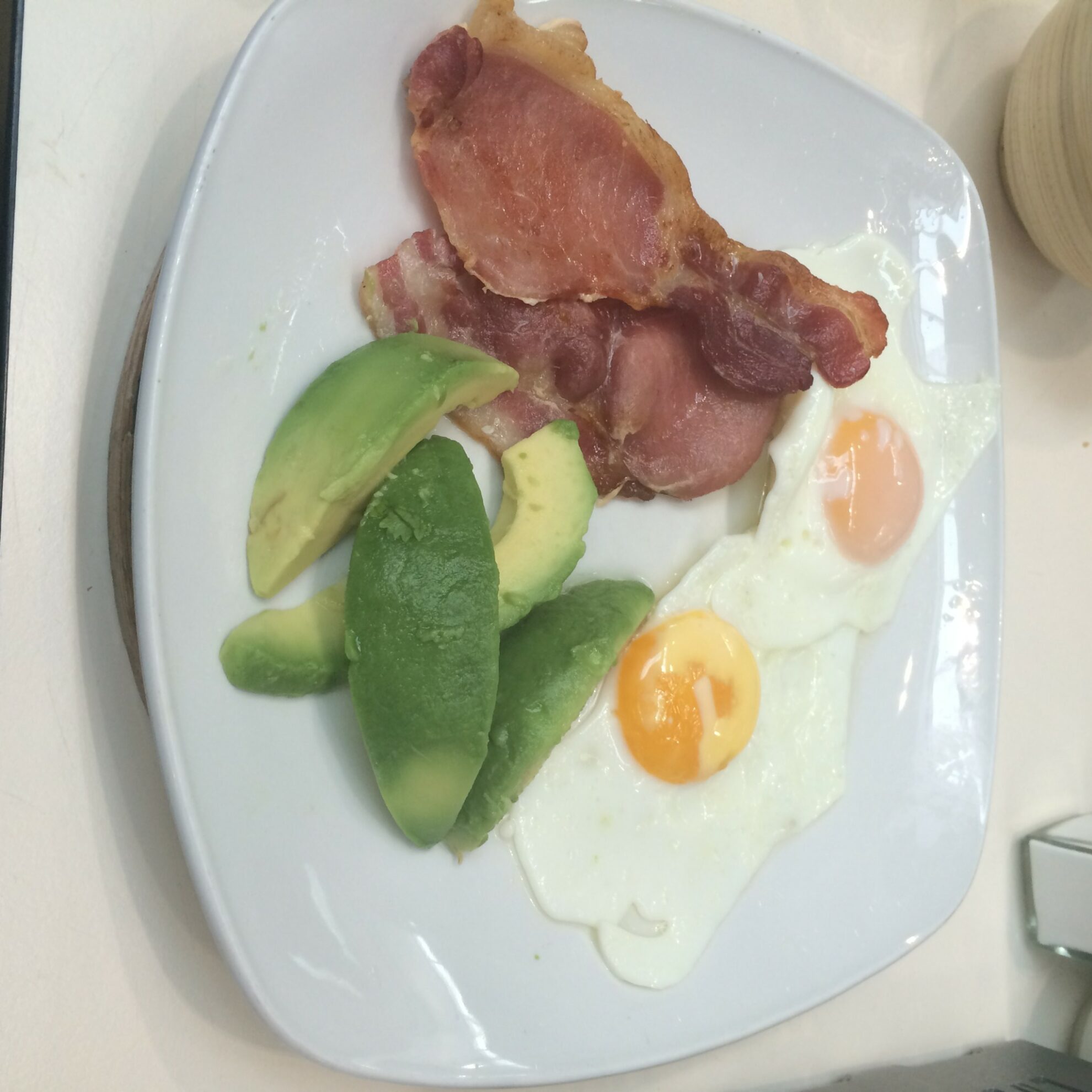 My high fat meal really filled me up through my next leg of flights onto Italy, so I just snacked on more Wild Planet Tuna and some fresh fruit and baby carrots for the rest of the way.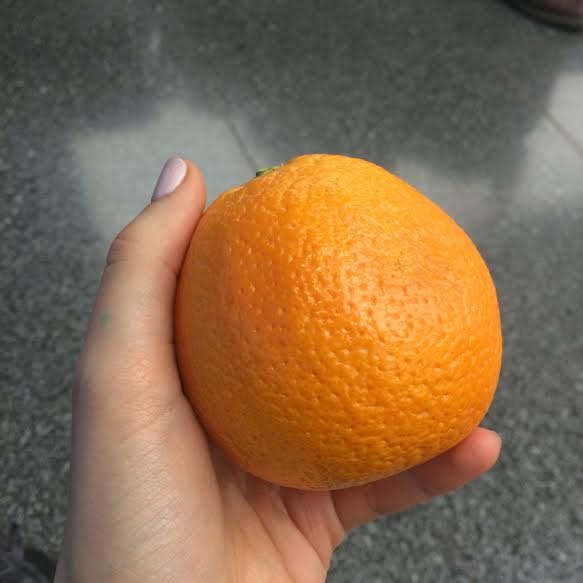 I also had some of these freeze dried strawberries which were a bit of a mess, so I can't really recommend it.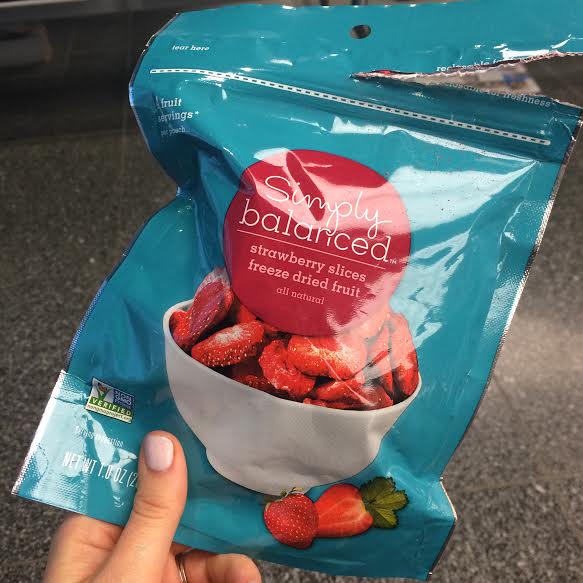 GETTING BACK
Eating out in Italy was a pleasant experience (which I'll explain more in my next post), so I had a great salad before my flight from Florence.
It consisted of fresh mozzarella, prosciutto, artichoke, and some corn that I passed on. Not really full AIP with the cheese, but again, I'll talk more about my experience with non-AIP foods in Italy like cheese. Still a solid gluten free travel option!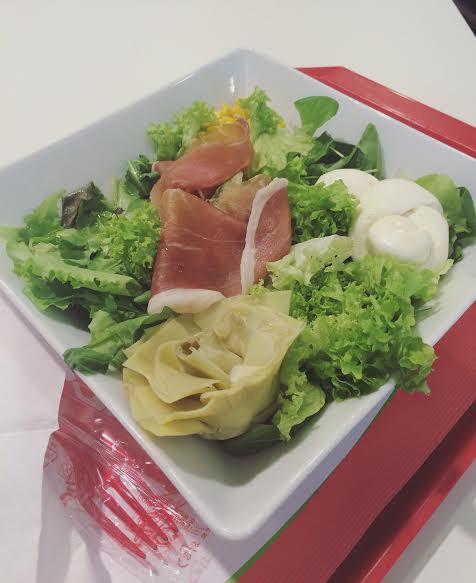 We had a connection to make in Stuttgart, Germany before we got to London, with an incredibly short layover and the task to get through customs and security again. I emptied all of electronics, tupperware, and liquids as I should have going through security, but was surprised when a German TSA agent held up my purse and asked, "Madam, is this your bag?". I wondered what I had forgotten to remove as I answered, "yes". He stared at the x-ray machine for a few seconds as if he was trying to make sense of what he was seeing. With one finger on his chin and the other making a bottom heavy oblong shape in the air he asked, "Is that… an avocado?"… "…yes" I responded. He paused another moment and I was too tired to remember if he actually took it out to inspect it, but the exchange all ended with him relaxing his face and saying, "well… okay". I guess not everyone brings avocados through security?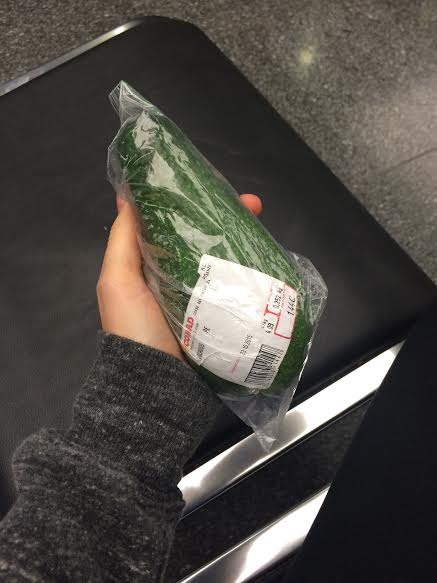 We stayed overnight in London and I was way too tired to snap a picture of my poached eggs that we ordered room service, but I had yet another good experience eating at Heathrow.
We got to through security around 10am and I had only had an apple that morning, and I was disappointed that were weren't in terminal 5 again for giraffe. However, I'm lucky to have husband who shares my love of non-traditional breakfasts and jumped at the opportunity to go to Yo-Sushi.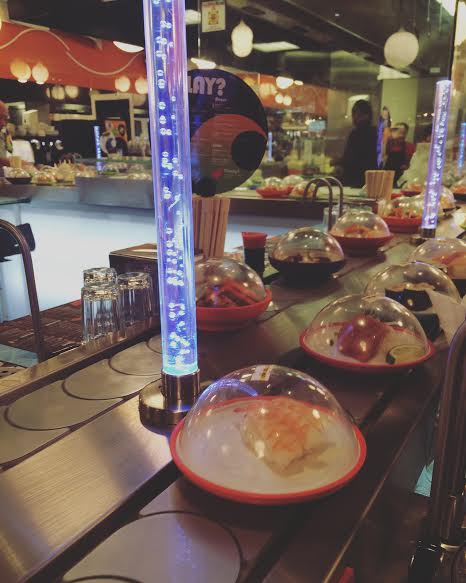 A conveyor belt sushi bar, Yo-Sushi was fresh and had a great selection. It's an experience as much as it a meal, and we stayed there for quite some time just watching the options roll past.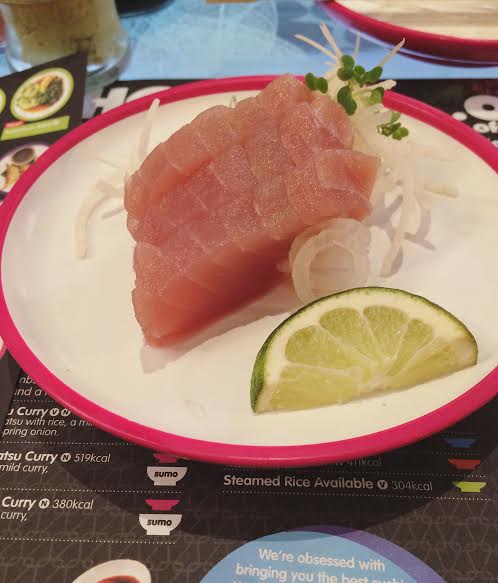 I kept it simple with two plate of tuna sashimi and thoroughly enjoyed it.
I was running low on dried fruit from my first leg of the journey and was happy to find a really awesome option in Heathrow. Urban Fruit seems to be specific to England and the baked cherries were so yummy. It was the perfect AIP travel snack option as it wasn't sweetened further with any added sugars.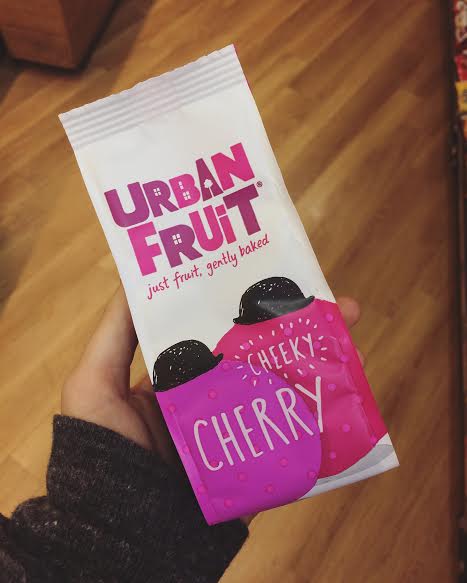 My meal on flight back to Dallas looked a lot like the one that I had on the way there, so I didn't really even bother snapping a picture. It was just more wild planet tuna, brussels sprouts that I made back at my Air BNB in Florence, and avocado.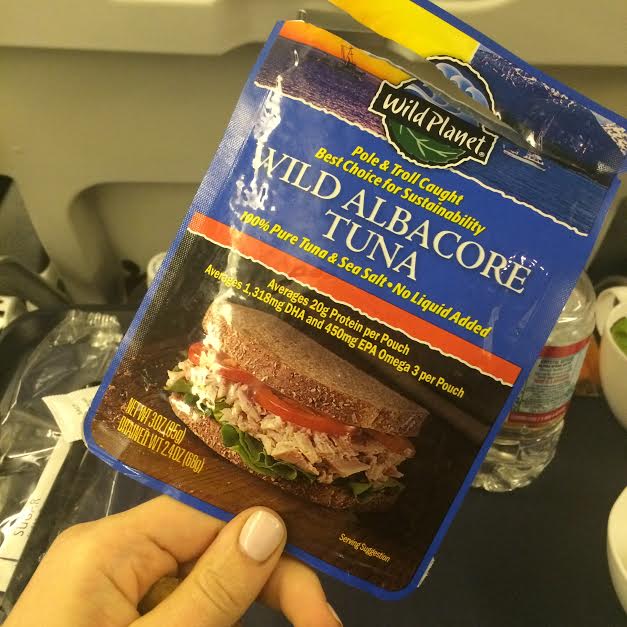 So, I've traveled a fair amount here are my top tips for traveling internationally on a restricted diet.
5 TIPS FOR TRAVELING INTERNATIONALLY ON A GF, PALEO, OR AIP DIET
Come prepared with protein like Wildplanet Tuna packs and Epic Bars. These were a life saver. I didn't have to worry about getting through security with them and they're so delicious!
Load up on healthy fats. On my first day in London I loved having my breakfast of eggs, bacon and avocado as it kept me full for hours! I didn't have to worry about having to run and get food during my connecting flights with short layovers.
Bring along good tupperware. As I mentioned previously, my Ecolunch box was a great investment. It was perfect for traveling as it retained the temperature and I didn't have to worry about breaking glass.
Bring a mix of dried and fresh snacks. The dried fruit that I brought with me from the US and picked up in London were great for just throwing in my pursue. However, as it's so easy to get dehydrated traveling, try to grab some fresh fruits and veggies like apples and celery as well.
When it comes to eating at a restaurant, keep it simple. Sashimi is your friend. If it's not available, ask exactly what's in the dish. I had a lot of surprises in Italy when a menu said "calamari and spinach" and it showed up with potatoes and red pepper flakes. Keep it as simple as possible.
I can't wait to share more from my trip to Italy, and my wedding! So many pictures and thoughts to unload as well as so much recipe inspiration. Until then, friends!
What are your favorite travel snacks?