AIP and Paleo Travel | Disney World With Food Allergies
Walt Disney World is one of my first loves. The rides, the nostalgia, the Disney magic, and of course, the food. I don't know which I loved more as a kid visiting Disney… the actual Mickey or a Mickey pretzel. Things have changed drastically and I've gone from gluten-free, to nightshade and then some. So when my awesome in-laws announced that we'd be going to Disney, I had to come up with a game plan to navigate Disney World with food allergies.
I've done Disney gluten-free before, and anyone who is gluten-free can tell you that it fairly do-able these days. Disney is incredibly accommodating, but full on paleo? That was more of a challenge and far more restricting.  Lucky for me, food prep and planning is another love of mine.
With planning, prep, and some Disney magic, I managed to go three days full AIP and never once felt anything but amazing.
First, here are some tips to get started
1. You can bring food in the park. 
Okay, let out your sigh of relief now. The Mouse feels for us food allergy people. Disney world and food allergies do live together in harmony.
2. Prep the weekend before. 
You're about to be on vacation! Get all the work done before hand to make it less stressful before you leave.
3. Bring as much food as you'll need.
Disney is very, very accommodating of food allergies, but to be on the safe side, I brought as much food as I'd need. No need to get myself in a tight spot and stay hungry.
4. Bring both fresh foods as well as preserved.
Though my beef jerky, apple chips, and sweet potato chips were delicious, you just can't replace fresh foods. They're not always available in the park and would require an extra trip to the grocery store, so it's best to bring as many portable fresh foods as you can.
5. Make sure you have multiple adequate protein sources and healthy fats.
Fruit is mostly readily available in the park, which is a good carb source, but protein and healthy fat sources can be tougher. To be sure that all of my meat was grass fed and didn't have any weird seasonings, I made sure to bring a least 115g of protein a day. I also brought along almond butter, and avocado to make sure I was getting around 65-70g of healthy fats a day.
6. When in doubt, hit up a grocery store.
My in laws had a car so it was convenient to just swing by Target or Publix to grab some things that didn't travel well like blueberries and bananas. There's also a Whole Foods near the park, but Publix is great!
7. Make reservations before hand.
This applies to everyone, but Disney will ask about allergies when you make your reservations. The chef or manager comes out to the table and they do everything they can to find something for you.
So, what did I bring?
Here's my list of what I brought and recommend you bring: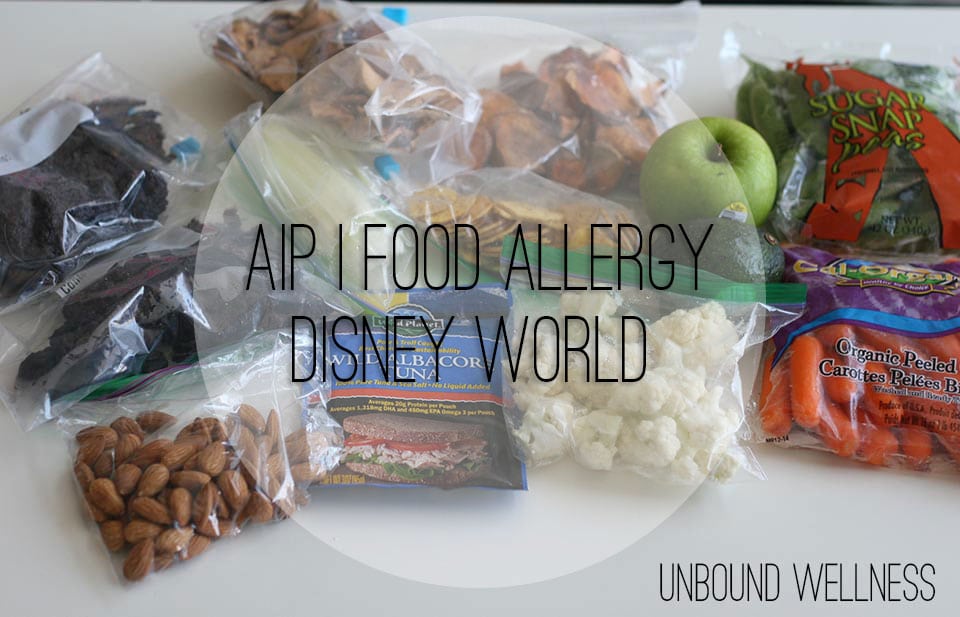 PROTEIN
Homemade beef jerky (I bought a jerky gun so I could make it with my grass fed, local ground meat that I get from a local farmer)
Homemade bison jerky
Wild Planet Tuna (they sell these super convenient to-go pouches!)
Wild caught sardines
VEGGIES
Raw cauliflower
Sugar snap peas (AIP reintro)
Baby carrots
Celery
FRUITS
Organic apples
Apple chips
Bananas (I didn't bring any, but I grabbed a few at Hollywood Studios, and at a Target)
Blueberries (I was also able to buy some at Target)
STARCHES
HEALTHY FATS
Raw almonds (AIP reintro)
Almond Butter (AIP reintro)
Avocado
DAY 1
I had beef jerky, almond butter, an apple, and some carrots in the room before we took off.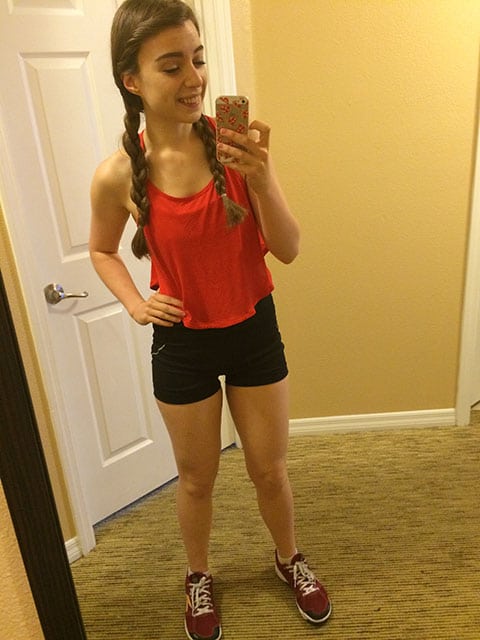 And of course I wore Lululemon, and my nanos to the park.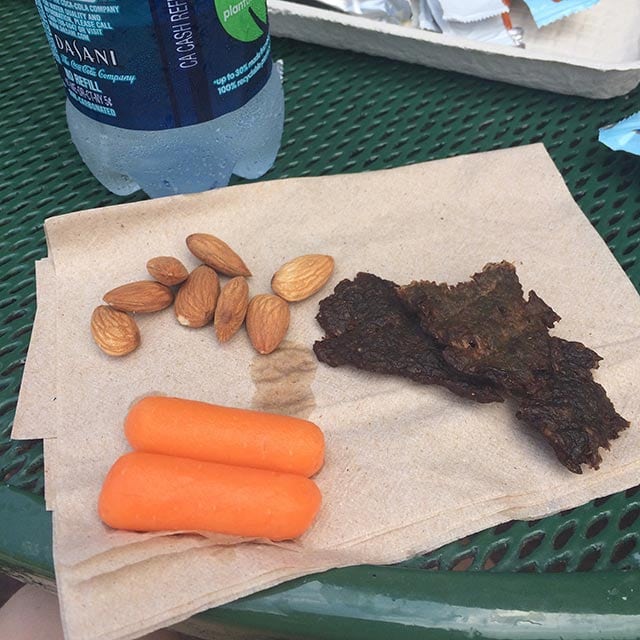 I mostly snacked all day because the jerky was way too delicious to resist, but I broke out just a napkin to eat a small lunch on while everyone else had fish and chips in London.
After I depleted all of my jerky stores, I was looking forward to the reservations that I made for all of us at Tokyo dining in Japan.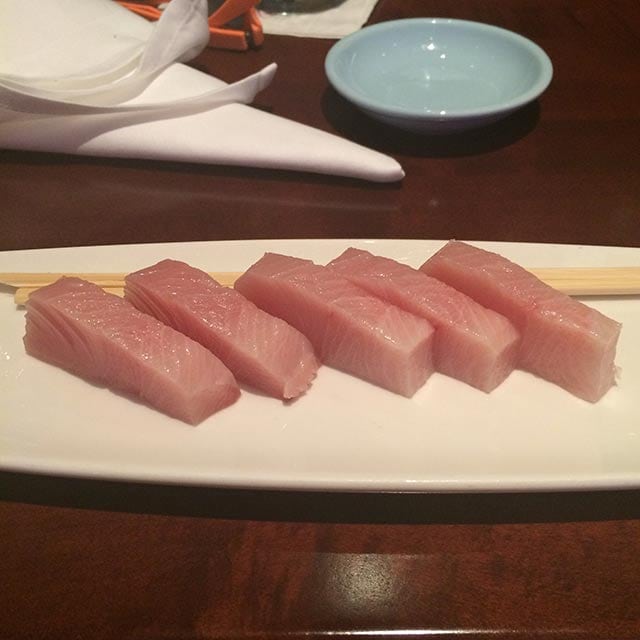 Since I'm totally grain free and intolerant to rice, I asked for just plain sashimi. The restaurant was very accommodating, and the yellow tail was super tasty.
For dessert, I was determined to get some ice cream. Luckily, France had an ice cream shop that offered sorbet, and an allergen list!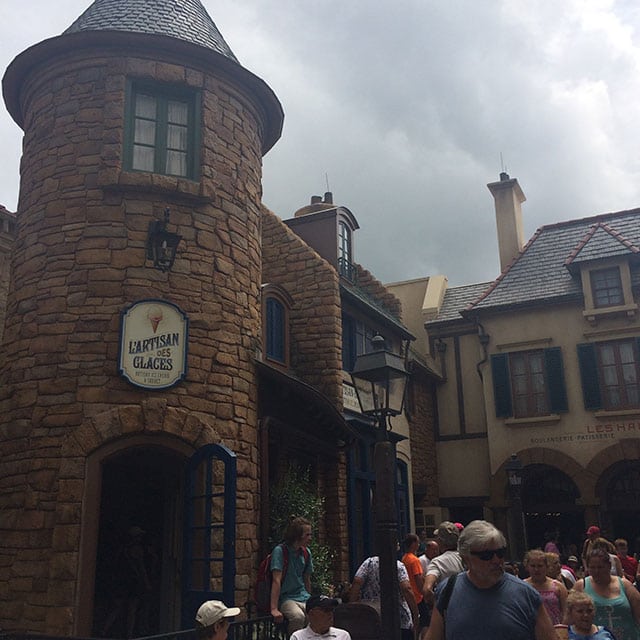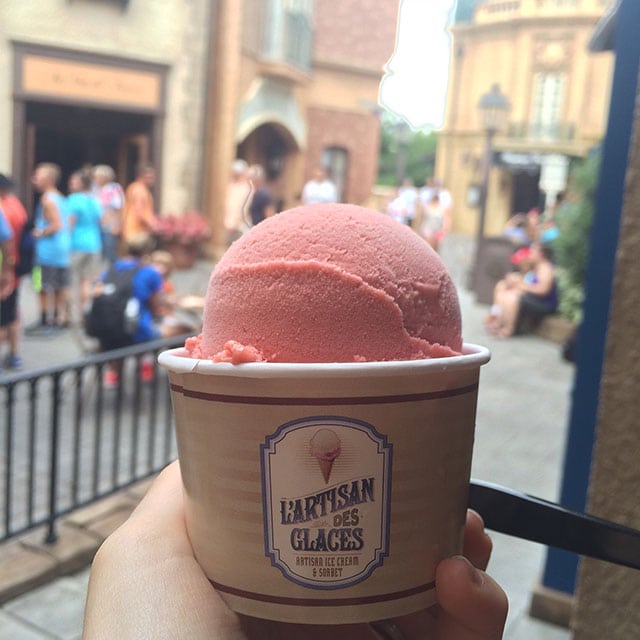 I went with the strawberry sorbet and it was so sweet and yummy! I told the shop that I had an allergy and they went to the back to scoop the sorbet fresh to avoid cross contamination with any wheat, dairy or soy. I can live with dairy if it's goat and raw, but wheat or soy would have seriously knocked me out for the rest of the trip, so their care was greatly appreciated! They also had mango, lemon, and berry flavors.
Day one was success! I left without any reactions at all, and smiling! Epcot is the best.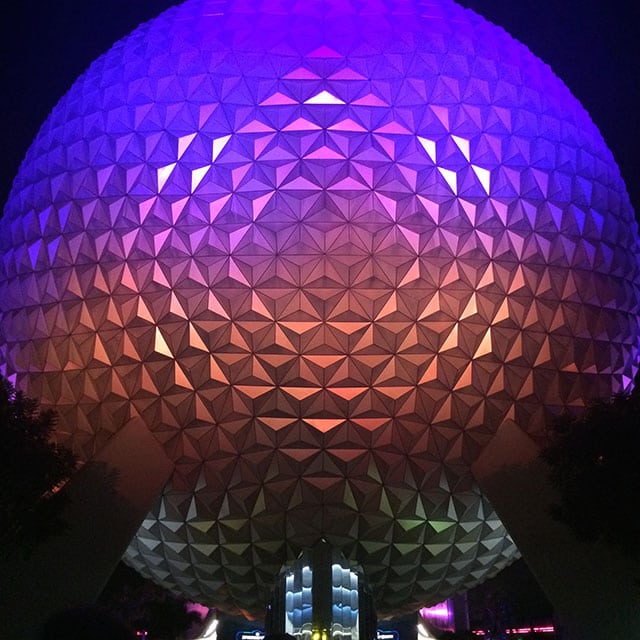 DAY 2
HOLLYWOOD STUDIOS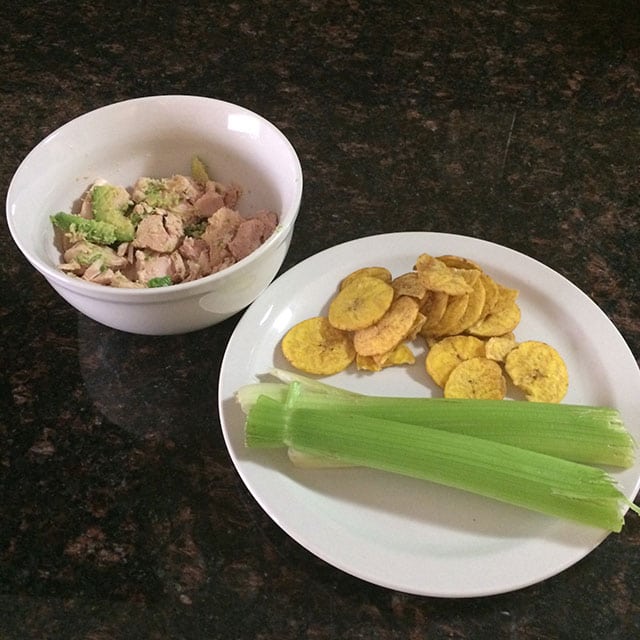 I didn't snap as many pictures day two, but it was wild planet tuna, avocado, plantain chips, bananas, and celery. I'm on a rotation diet which is why I couldn't just do beef jerky all three days, though I wish I could have 😉
I was able to eat all of my own food and just carry it around in my purse on this day. The only thing that I grabbed as extra was a banana from a stand.
DAY 3
MAGIC KINGDOM/ EPCOT
I finally got my photography game on point on the last day as I was up way before everyone else.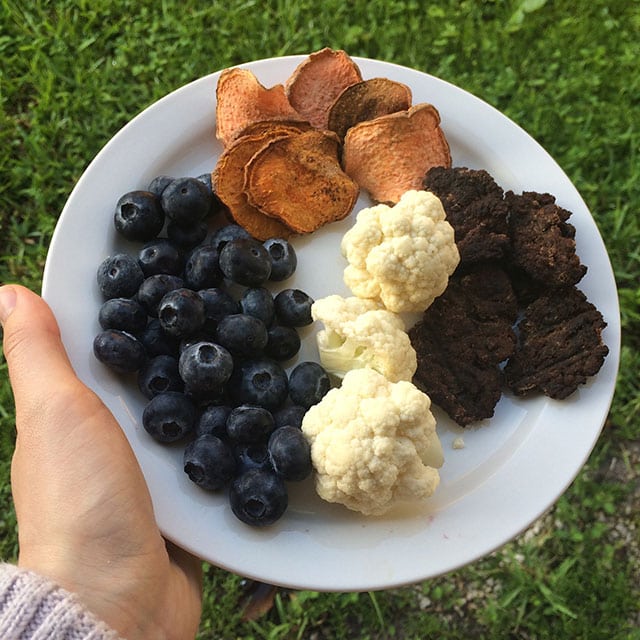 My menu for my last day was bison jerky, blueberries, cauliflower and sweet potato chips.
My husband and I had been married for 6 months, so we decided to celebrate at the Coral Reef Restaurant back in Epcot. The restaurant itself was so cool!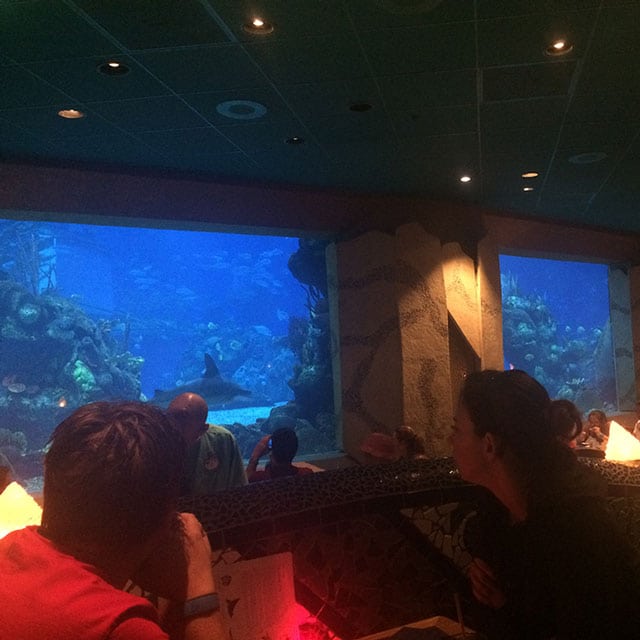 Again, the chef was super accommodating and actually brought out a full ingredient list for me to thumb through. A lot of stuff was pre seasoned, so no fish for me. I wasn't really that hungry anyway so I just opted for an appetizer.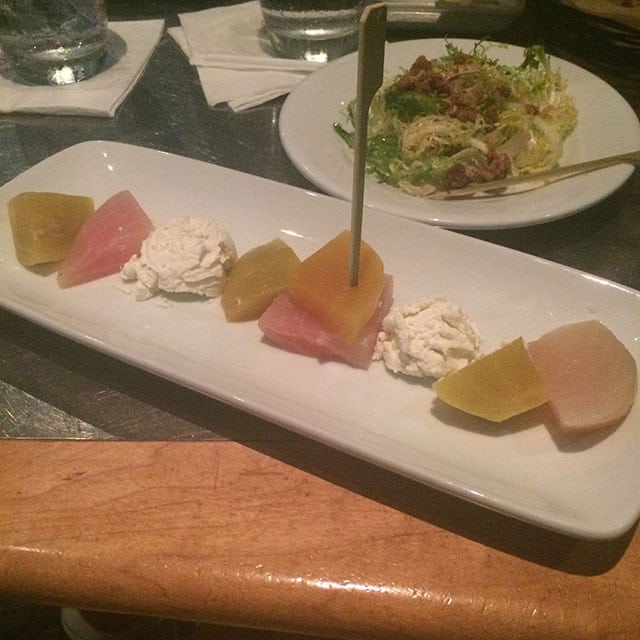 I got the heirloom beets and goat cheese. I asked to put the lettuce garnish, dressing and pecans on the side. I have a nut allergy and oddly enough, one of my food intolerances with my leaky gut is lettuce!
After another quick walk around the world showcase and ride on Spaceship Earth, it was time to head to the airport. So sad to leave but always happy to have gone.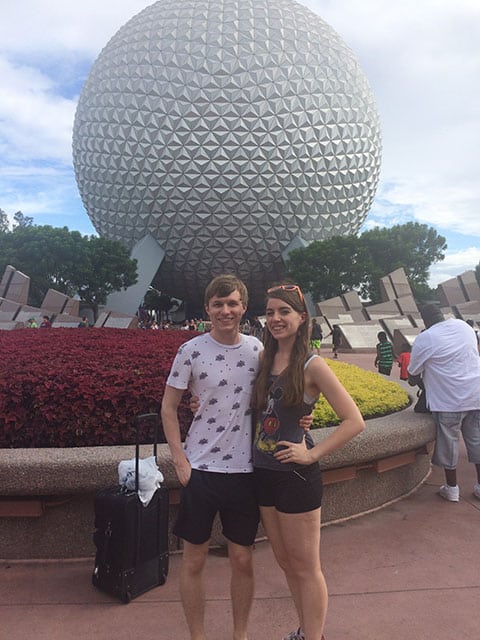 I hope that this is help to those of you who are traveling to Disney and are paleo, AIP, and have food allergies!
Tell me, what are your favorite travel food tips? Have you ever made homemade jerky before?