Oven Baked Plantains Recipe | Autoimmune Paleo
This post contains affiliate links. Learn what that means, here.
I get a lot of questions when I eat plantains. And I eat a lot of plantains so I get a lot of questions. "Are those baked bananas", "How do you make those?", "Why do you eat them?". Plantains have quickly become one of my favorite starches so it's high time that I share all the deets on why I eat them, and my favorite recipe for making them.
First of all, why eat plantains?
Plantains are a delicious starchy carb. Though too much starch can be excessive and not the best for our blood sugar, we still need carbs. This is especially true for women with hormone regulation issues, or thyroid problems. We literally need glucose to convert T4 to T3 which is crucial for proper hormone regulation. Carbs get a bad rap in the paleo world, but truth is, we still need 'em in balance. Nothing is going to change that. Find the perfect balance for you is obviously different for everyone, but remember that starchy carbs still have a place in a healthy, healing diet.
Plantains a great substitute for grains and your typical sweet potato on a real food diet, paleo diet, or autoimmune protocol. When I first went gluten free (which was way before I even went grain free), I substituted the carbs that I losing from bread with gluten-free bread. This seemed like a logical enough choice, but I didn't really have a grasp on real food at the time. Long story short, gluten free bread and other processed carbs are not real food, nor are they a healthy carb source. It's not nutrient dense, it's not nourishing to our bodies, and it spikes our blood sugar and wears out our adrenals. Finding healthy carb sources.
Plantains are relatively cheap, and easy to prepare. I get plantains for $.99 a lb which I think is a great deal compared to the expensive gluten free bread I used to get.
They're a real, traditional food in Latin American culture rather than a manmade, fake food. Plantains have a very prominent place in latin American cuisine and are a traditional, real food.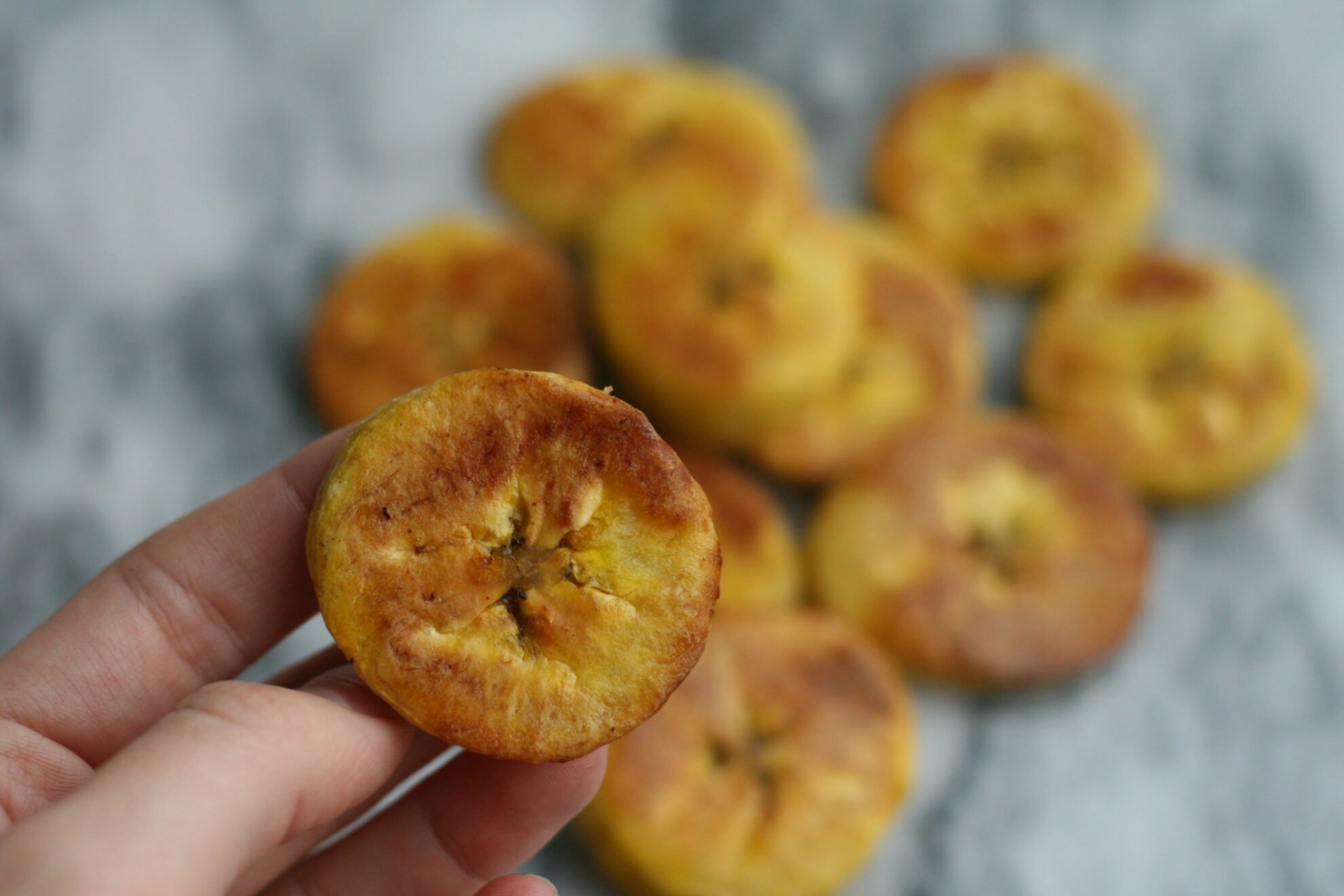 Typically, I opt for foods that are locally grown at least half of the time… lettuce and veggies for my local farmer, grass-fed beef from a local source, etc. It's more sustainable, cheaper, and ethically responsible. However, I just can't say no to plantains. I like having that variety. And oh what the hey… it's 2016, I want to enjoy the modern grocery store from time to time.
So, where can you get plantains?
Locally at a farmers markets if they're grown locally to you
Whole Foods
Sprouts
Fiesta
Kroger
etc!
How do you choose these bad boys? Green or yellow?
Green plantains. They're great for the following recipe that I'm about to share. These are more starchy and less sweet. They're great for chips, baked plantains, and are better for savory foods. These are the ones that I opt for whenever I'm looking to have plantains with a meal.
Yellow/darker plantains. These are better for desserts as they're much sweeter. I don't find myself using them as often, but there are tons of great recipes out there for these.
So, how do you cook these bad boys? First, I started with some yellowish/green beauties and my favorite cooking fat, Tin Star Foods Ghee!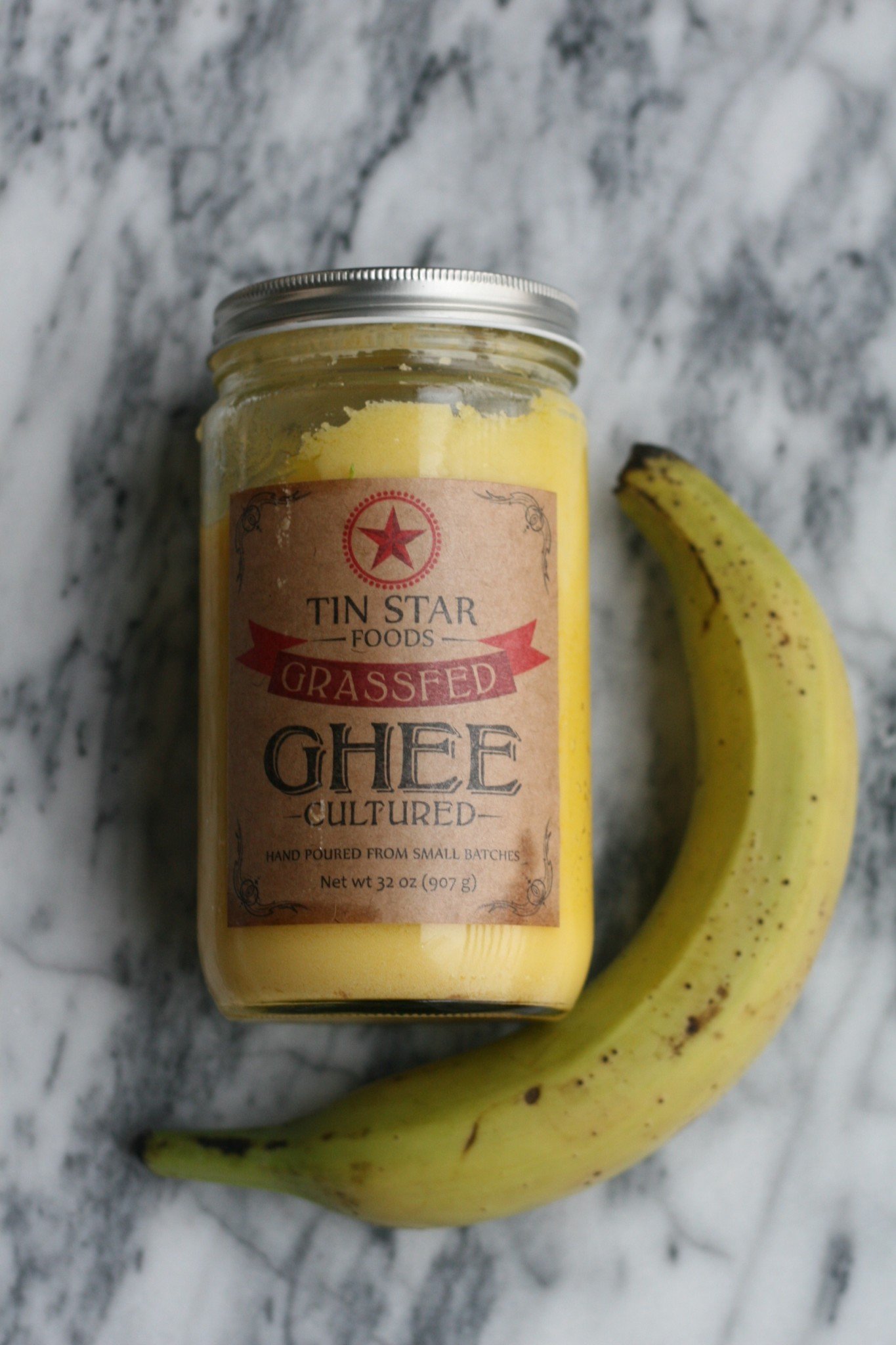 I know that many on AIP still may be avoiding ghee, but I urge you to try this brand if you're looking for ghee. It's lab tested casein and lactose free, and I always feel great when eating it.
However, you can opt for coconut oil if you're following the first stages of AIP! The flavor will still be great!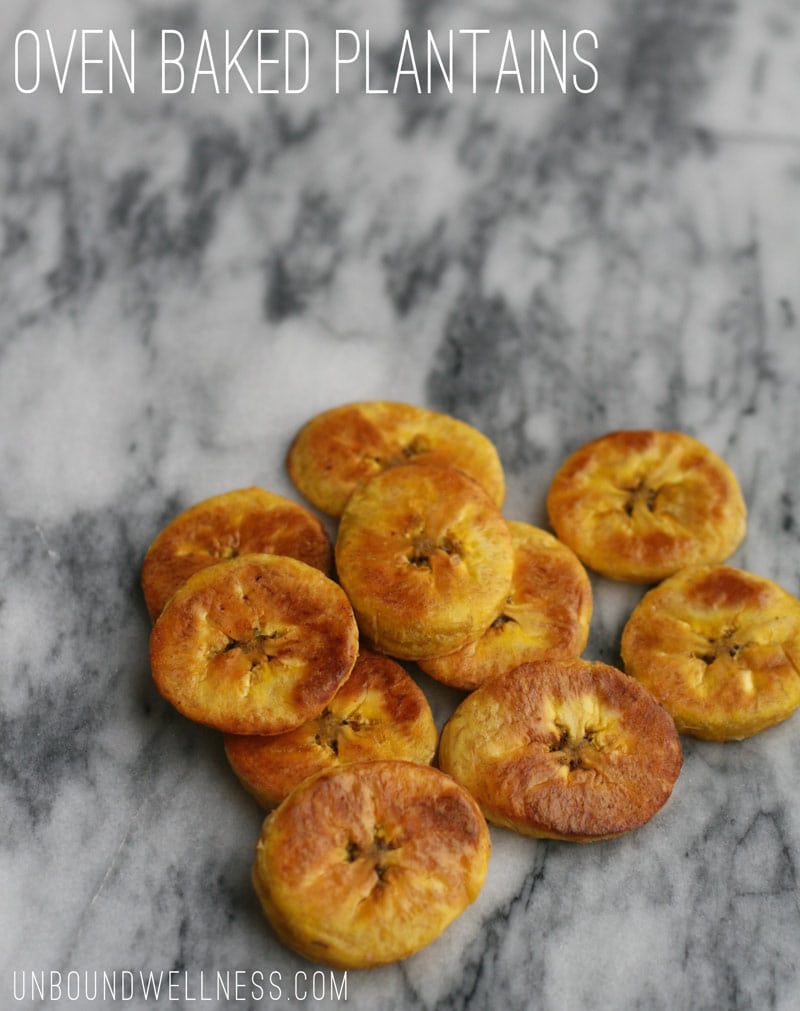 Oven Baked Plantains Recipe
Ingredients 
2 large green (or slightly green/yellow) plantains
1 tbsp Tin Star Foods Ghee (OR coconut oil for strict AIP)
1 tsp pink salt
Instructions
Preheat oven to 400 F
Slice plantains into slices that are thicker than chips… about 0.25 inches thick
Place plantains on baking sheet and top with cooking fat and salt
Bake for 25 minutes and flip halfway through. Plantains should be golden brown, so bake longer if necessary
Serve and enjoy!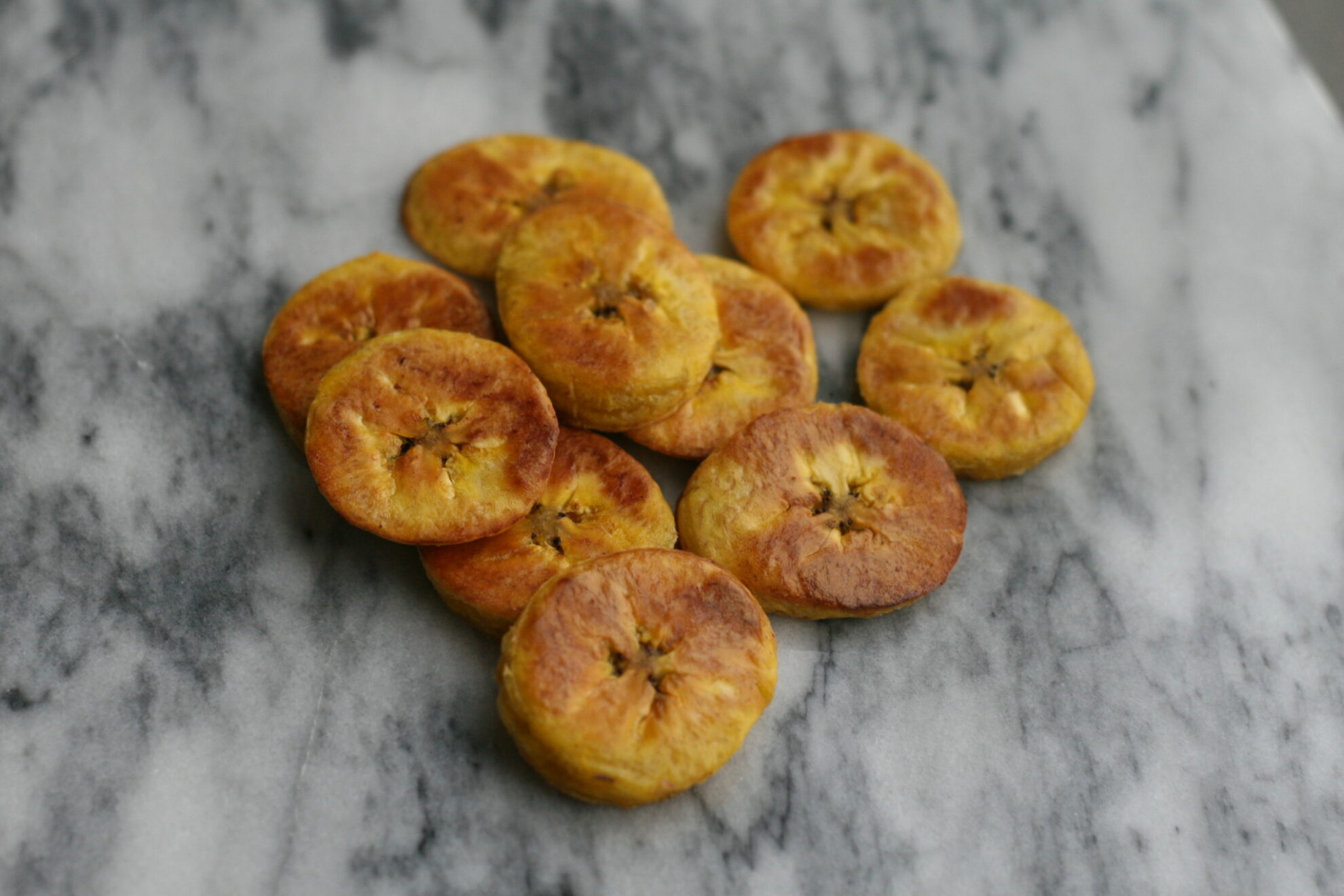 So, so good. I eat these guys with any meal! Tuna and avocado, beef and veggies… whatever you'd usually have with starch, these fit in perfectly.
Have you ever had plantains before? What's your favorite way to eat them?
This post was shared and featured on the Phoenix Helix AIP Recipe Roundtable.