There are a lot of excuses as to why someone doesn't stick to a diet. It's too expensive, time consuming, they don't know what to cook, it's inconvenient, they don't have enough variety, the list goes on and I've used them all. After a long time of skirting around the root of the problem, I eventually accepted that if I was going to live a healthy lifestyle and manage my Hashimoto's Thyroid Disease naturally, I had to stop making excuses. I had to find a way to make healthy eating easier, less time consuming, and more sustainable… that's where meal prep came in.
Why Meal Prep?
Following an autoimmune protocol, a paleo diet, or any way of eating healthy isn't easy. It strips away all of the convenience that the world has built into our modern way of eating. No more
We've all been there… it's Thursday night, after a crazy long day. The last thing you want to do is stand around in the kitchen for an hour to prepare a meal. This is so often the source of unnecessary stress and
But doesn't it lack variety?
Then there's the issue of variety. Search, #mealprep and you'll probably think it's total bro science and is only for people that count their macros and just eat the same thing over and over again all week. However, meal prep can be full of variety, and made to be as nutrient dense as possible.
You don't have to cook one main dish and eat it all week. I embrace cooking separate proteins like a pork shoulder and chicken thighs and pairing it with different roasted vegetables and starches. Most meals can be different with minimal effort.
More questions before we get into the routine? Get my free download, Easy AIP/ Paleo Meal Prep Guide!
I've put together a free guide on meal prep that features my top tips to make it budget friendly, healthy and sustainable, a shopping list, a step by step guide and a printable checklist to help fit your own specific needs!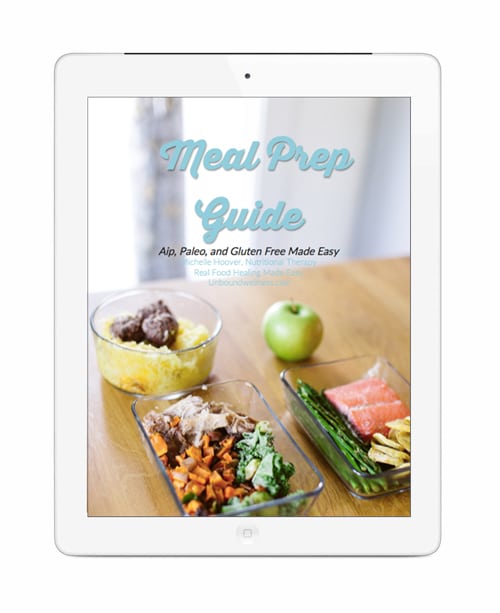 It's free! Download it here!
Here's a peek at what I actually prep in a week…
My AIP/ Paleo Meal Prep Plan for a Week
My meal prep routine varies by season, availability and budget that week. It never has to be the same, and you can make it as varied as possible.
Here's a sample week to get an idea for how I do it…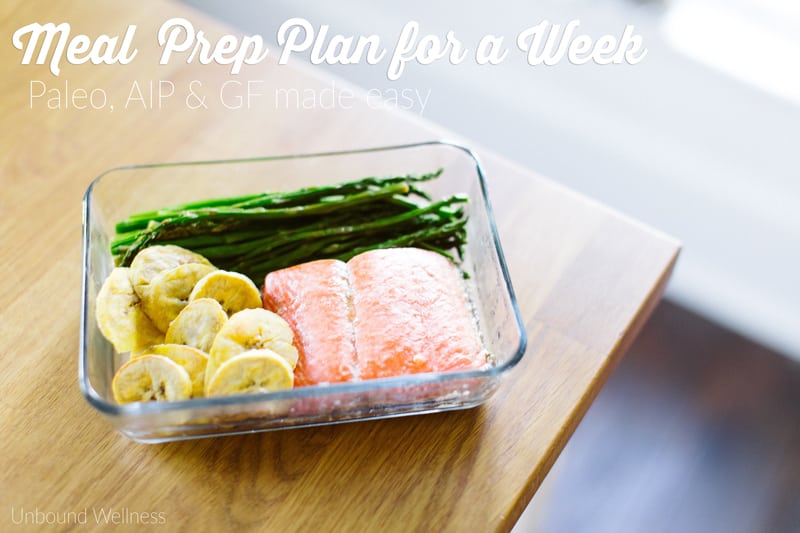 The Shopping List
(feeds 2 adults… scale to fit your needs)
Protein
Pastured pork shoulder
Beef Chuck roast
Bone broth (homemade preferable)
Beef liver (or chicken liver)
Pastured chicken thighs
Wild Planet Tuna
Vegetables/ starches (seasonal, seasonal!)
Kale/ spinach
Beets
Parsnips
Carrots
Sweet potato
Plantains
Cauliflower
Onions
Radishes
Brussels Sprouts
Cucumber
Kholrabi and/or jicama
etc.
Fruit
Apples
Bananas
Seasonal Berries
Avocado
Pantry Staples
Coconut oil
Coconut butter
Ghee (if tolerated)
Avocado/olive oil
Sample Menu
Mains
Sides/ Veggies
Oven roasted brussels, caulflower, sweet potato, etc.
Side salad
Sliced cucumbers and carrots
Breakfasts
Breakfast Soup
Breakfast Hash
Any meat, plus veggies
Treats/Snacks
The Step By Meal Prep Plan
Wednesday/Thursday
Step One, prepare the bone broth:
I save chicken carcasses from the week before or buy bones at the Farmers market.
Saturday Night
Step two, cook the pork shoulder:
Add the pork shoulder to the crock pot and let it cook overnight for 8 hours.
Sunday
Step three, cook the pot roast:
Remove the pork shoulder and clean the crock pot.
Add the pot roast to the crock pot. Do this early in the day as it will take 8 hours.
Step four, prepare the vegetables and starches.
Wash, peel and chop the vegetables and preheat the oven to 400 F. Prepare the following…
Brussels Sprouts

Roast in coconut oil (or other fat like bacon fat) for 20-25 min.

Cauliflower

Roast in cooking fat for 15-20 min.

Beets

Roast in cooking fat for 30+ min.

Other vegetables to your liking.
Tip: Cook these one after another to make it faster!
Step five, prepare the chicken thighs .
Lower the temperature 375F to season the chicken thighs to your liking and roast in the oven for about an hour or until done.
Step six, prepare the pate, the breakfast hash and a breakfast soup.
Cook the pate on the stovetop.
Prepare the breakfast hash to your liking
Prepare a breakfast soup

Use veggies like kale, spinach, carrots and sweet potatoes and cook in broth. Add some of the chicken thigh and serve with coconut oil or avocado
Step 7, prepare and side salads, and snacks.
Use the greens to prep a full salad, or side salad.
Chop up veggies, and portion fruit to make snacks
Prepare any treats like avocado mousse or bacon wrapped apples
How long does this all take?
It depends on your own rhythm but this will typically take me 3-4 hours depending on how easy/complicated I want to make it.
I also did a meal prep video on Facebook live! Go check it out, because I'm apparently obsessed with meal prep.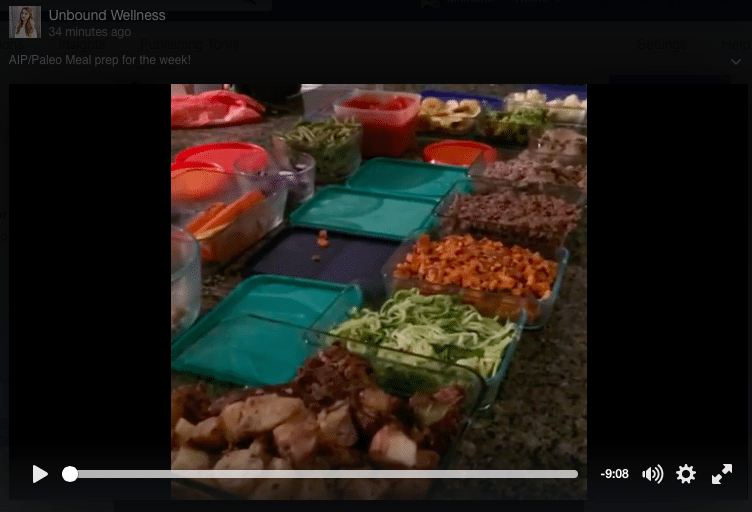 So, I'd love to know… what are your favorite meal prep tips and tricks?