No-bake Cookie Dough Collagen Protein Bites (Paleo, AIP, Gluten Free)
Thank you Vital Proteins for sponsoring this post! All opinions are my own.
These No-bake Cookie Dough Collagen Protein Bites are the perfect no-bake snack to satisfy your sweet tooth, while also adding protein. They're paleo, AIP, and gluten-free.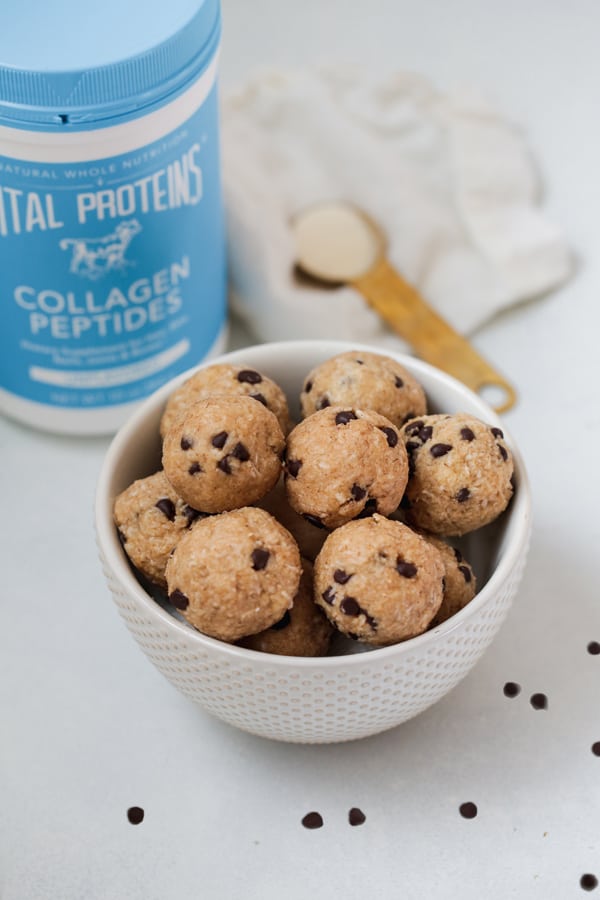 I could probably eat cookie dough by the spoonful. I mean… I'm sure I have on multiple occasions. My mom used to buy pre-made cookie dough that you would bake at home, and it would rarely make it being a full-on cookie. Cookie dough has always been one of my favorite indulgences, ice cream flavors, and protein bar flavors. Seriously, who doesn't like cookie dough?
Needless to say, cookie dough is pretty much just pure sugar and has little redeeming qualities, nutritionally speaking. I would always just feel like junk whenever I had it! So why not make a cookie dough from all real food that features fat and protein as well?
These cookie dough collagen protein bites are such a fun and simple snack for cookie dough lovers!
Why I love these no-bake cookie dough protein bites
No-bake… need I say more?
Not only does that mean not turning on the oven, but let's face it, unbaked cookie dough just tastes amazing.
They feature Vital Proteins Collagen Peptides
I never let myself run out of Vital Proteins Collagen! This collagen is amazing for supporting the health of your hair, skin, nails, gut lining, and it adds a protein boost. I always find myself feeling more satiated whenever I add Vital Proteins to snacks. The added protein helps keep you full and it ups the overall nutrient factor of this snack.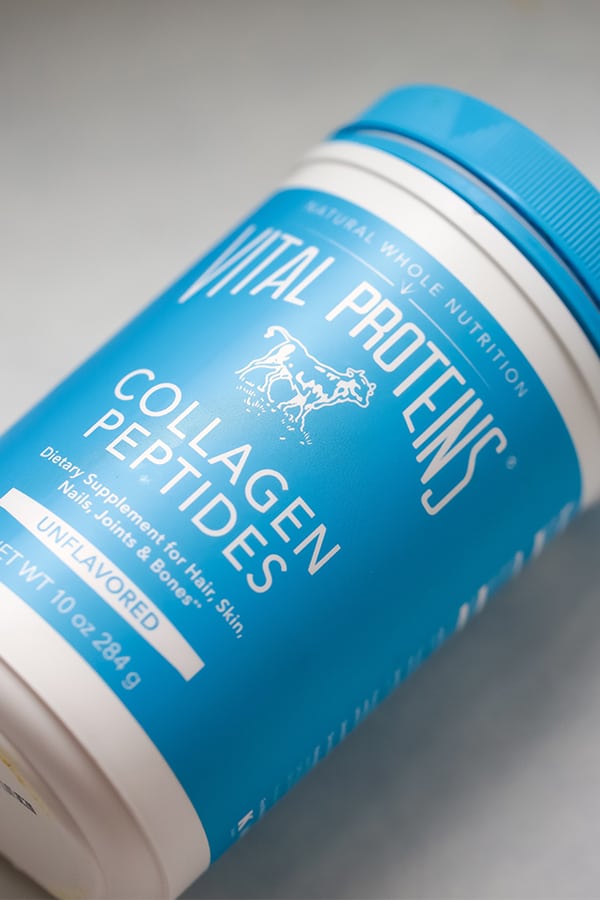 They're easy to make
Just combine all of the ingredients, roll them into balls, and you're good to go!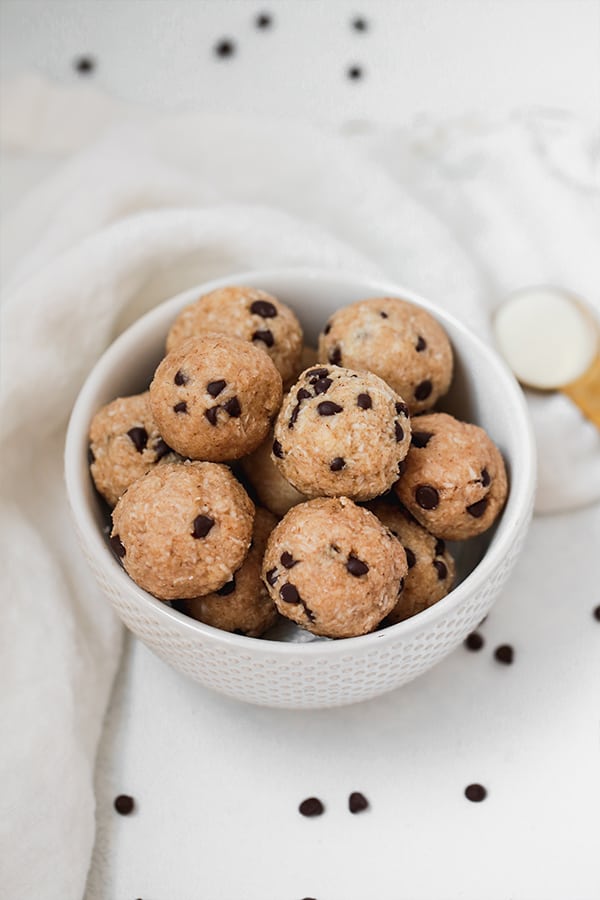 The Ingredients You'll Need
Shredded Coconut
This is the base of the protein bites, and I have not used any other substitutes.
Tigernut flour
Tigernut flour is a nut free flour (tigernut are a tuber) but you can also sub almond flour if you're not AIP and tolerate nuts.
Coconut oil
Coconut oil acts as a binder and a boost of healthy fat! The healthy fat helps to keep you full and balance your blood sugar. Snacks with healthy fats and protein
Vital Proteins Collagen Peptides
Just two scoops are all you need to up the protein in this snack.
Maple syrup
This acts as both a binder and a natural sweetener.
Dairy-free chocolate chips (sub carob for AIP)
You can either use dairy-free mini chocolate chips if you tolerate that or if you're AIP, you can use the recipe listed here to make your own at home!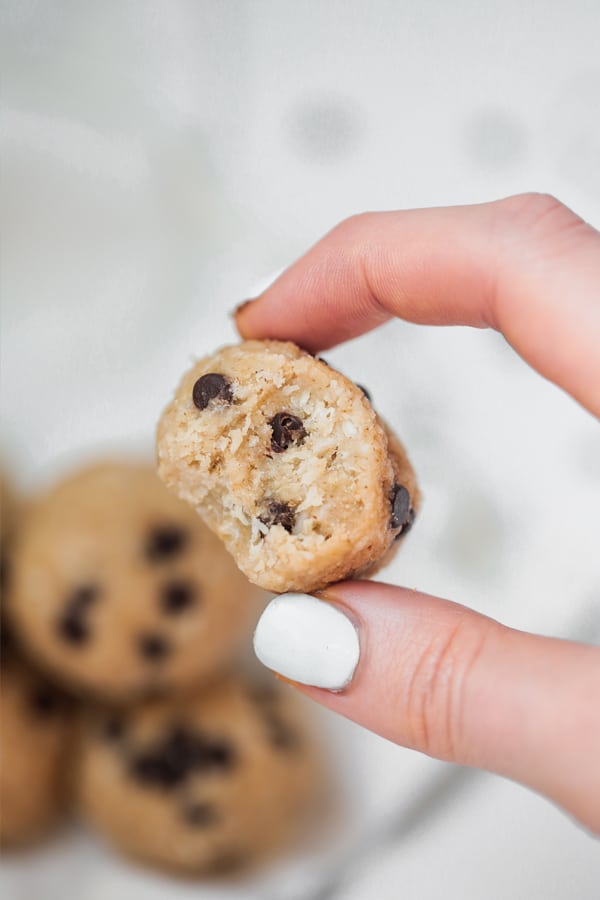 No- Bake Cookie Dough Protein Bite How-to Video
Print
No-bake Cookie Dough Collagen Protein Bites (Paleo, AIP, Gluten Free)
---
Author:
Total Time: 5 minutes
Yield: 8 bites 1x
For the protein bites
1 cup shredded coconut
1/3 cup tigernut flour (sub almond flour for non AIP/nut free)
2 scoops Vital Proteins Collagen Peptides 
1/4 cup maple syrup
3 tbsp coconut oil, melted
1/4 cup mini dairy free chocolate chips (sub the recipe below for AIP)
1/4 tsp sea salt (optional)
For the AIP friendly carob chips (optional)
1 cup carob powder
1/2 cup coconut oil
2 tbsp maple syrup
---
Instructions
For the cookie dough bites
Combine the tigernut flour, shredded coconut, and collagen in a medium bowl and mix.
Stir in the maple syrup and coconut oil and stir until well combined.
Mix in the mini chocolate chips (or the carob chips below for AIP).
Prepare a plate lined with parchment paper. Begin rolling the mixture into balls (you'll have about 7-8) and place them on the plate. Finish with sea salt if desired.
Chill in the fridge for 1-2 hours or until solidified.
Eat chilled and enjoy!
For the carob chips (optional)
Prepare an 8×8″ pan lined with parchment paper.
Melt coconut oil on low heat in a saucepan on a stove top and stir in the maple syrup when liquid. Set aside.
In a separate bowl, add the carob powder. Slowly pour in the liquid and stir to combine with the carob powder.
Pour the mixture into the pan and chill for at least an hour in the fridge.
Carefully remove from pan and chop up into small chips to add to the bites.
Notes
All nutritional information are estimations and will vary. Estimations do not include optional ingredients.
Cook Time: 5
Category: snacks
Cuisine: American
Nutrition
Serving Size: 1 serving
Calories: 208
Fat: 12.7g
Carbohydrates: 16.7g
Fiber: 1.3g
Protein: 4.2g