Mexican Breakfast Skillet (Paleo, Whole30, AIP, Egg Free)
Eggs are such a staple for breakfasts, and were probably one of the only real foods that I ate as a kid. Who doesn't love scrambled eggs for breakfast or a hard boiled egg for a quick snack? They're easy, convenient, and nutrient dense… but so many people (myself included) have egg sensitivities and allergies! The question arises "what are you supposed to eat for breakfast if you're egg free?!". Breakfast is one of the hardest meals if you're egg free, on the autoimmune protocol or just egg free on a paleo or Whole30 type diet. So I'm adding to my egg free breakfast recipes with this Mexican Breakfast Skillet! It's Paleo, AIP, Whole30, and the perfect egg free breakfast.
When I announced that I was doing a Whole30 (I'm on day 6 right now!!) during February/March, I was asked "why the heck do you need a Whole30 if you're already Paleo and mostly AIP?". Main answer… treats! There are tons of recipes for AIP treats (I have plenty of my own!) and I was really feeling like I needed a break. My second reason was to show you guys how you can do Whole30 mostly AIP! No eggs, no nuts, no nightshades, and no premade bars. So an egg free breakfast dish was one of my top priorities to share with you!
This Mexican Breakfast Skillet is such an amazing and balanced breakfast. It feature green veggies, a starchy veggie, healthy protein, and healthy fat, to keep you satiated throughout the day, and much less likely to experience blood sugar spikes and dips.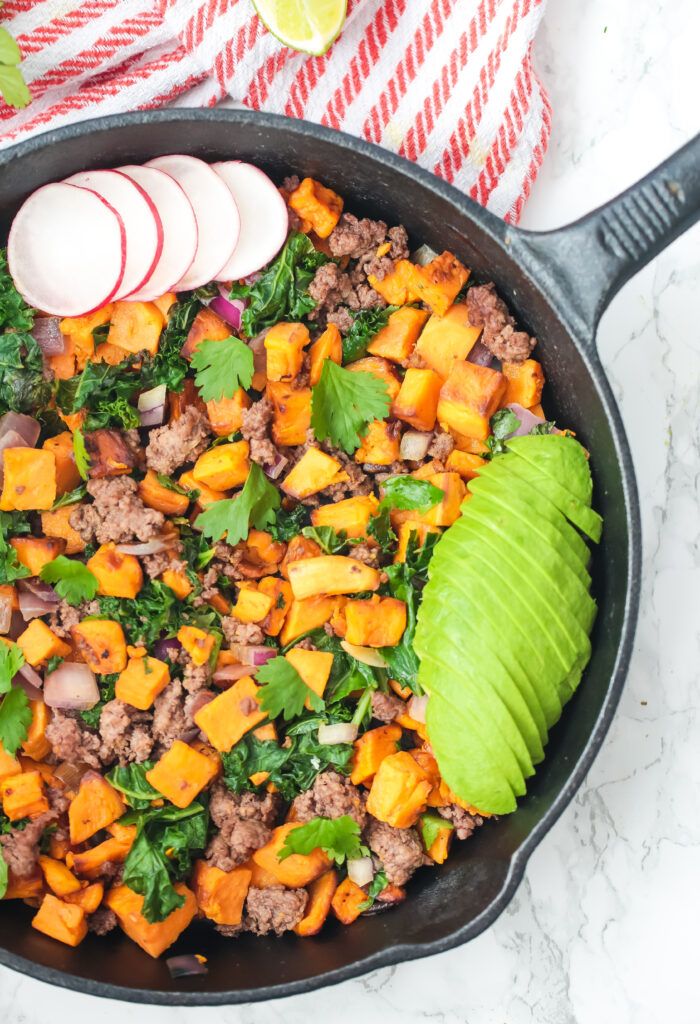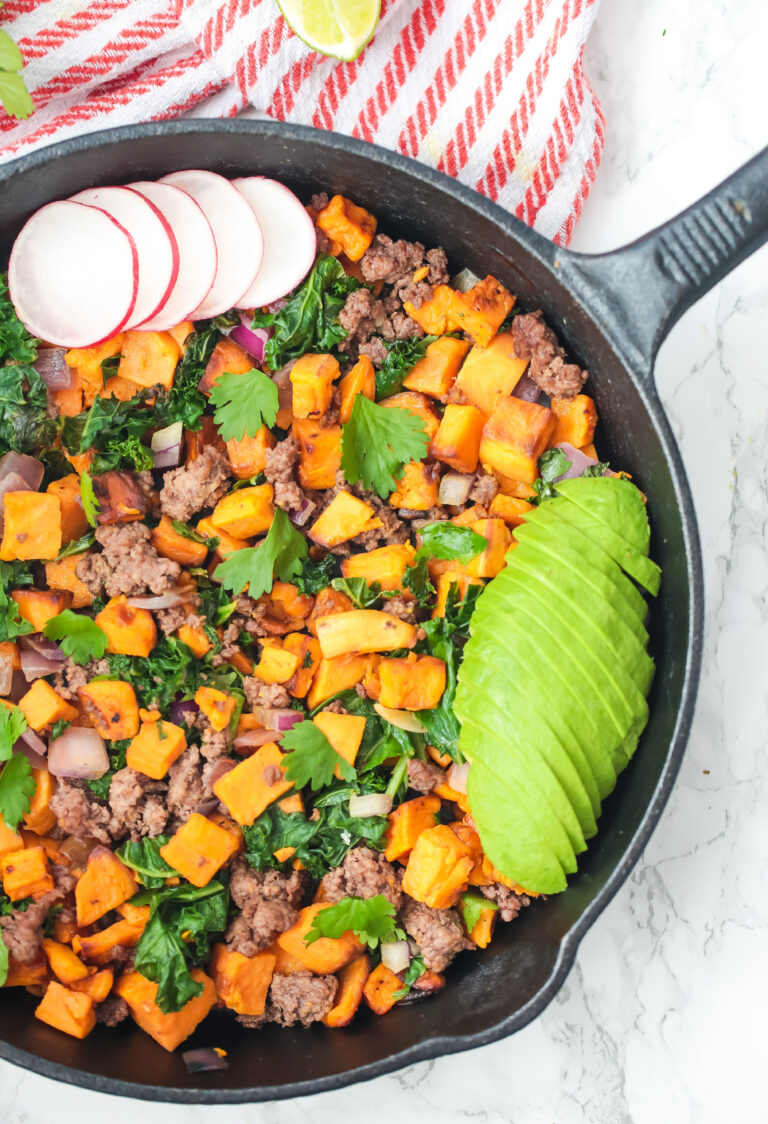 What You Need For This Mexican Breakfast Skillet
Ground beef
Grass-fed ground beef was my protein of choice for this skillet, but you can also use something like turkey, chicken or even compliant chorizo… I just think beef provides the best flavor here!
Sweet potato
The starchy veggie of choice in this skillet.
Kale, red onion, radish, and cilantro
These veggies add nutrient density, and tons of flavor to the dish.
Avocado
What would a taco skillet be without avocado??
Optional : Salsa, or fried eggs
As this dish is AIP, it's nightshade free and egg free. However, if you can tolerate salsa and eggs, go for it!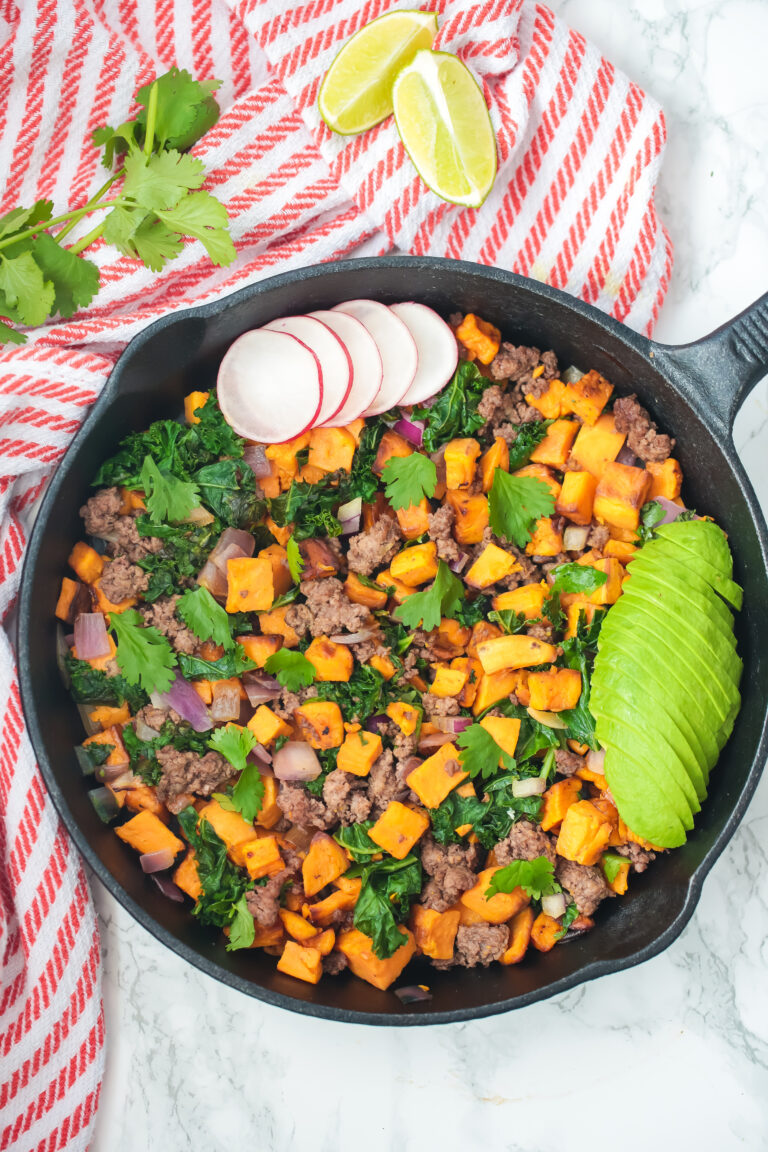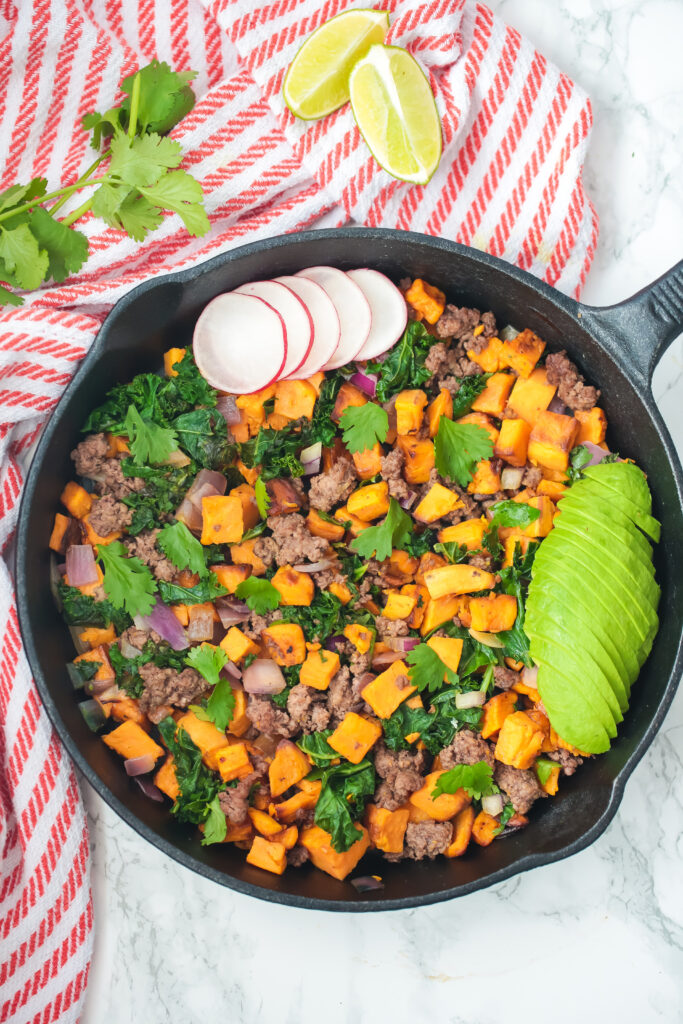 Print
Mexican Breakfast Skillet (Paleo, Whole30, AIP)
---
1 lb ground beef
2 medium sweet potatoes, diced
1 medium red onion, finely diced
2 stalks kale, destemmed and chopped
2 tsp cumin (omit for AIP)
2 tsp dried oregano
2 tsp garlic powder
2 tsp onion powder
1 tsp sea salt
1/2 tsp black pepper (omit for AIP)
Juice of one lime
For garnish
2 tbsp cilantro, chopped
1–2 radishes, sliced
1 medium avocado
Optional
Fresh salsa
---
Instructions
Set the stove top to medium heat and prepare a large skillet
Add the ground beef to the pan and lightly salt. Cook on medium heat until browned, and set aside, reserving most of the fat in the pan to cook the vegetables.
Add the sweet potatoes and cook until softened and crisped (but not burnt), stirring frequently
Next add in the red onion and cook until the onions are translucent
Finally, add the kale and cook for 2-3 minutes or until wilted
Add back in the beef, as well as the salt, pepper, cumin, oregano, onion powder, garlic, lime juice and stir for until well combined
To serve, top with avocado, cilantro, and radish
Eat as a breakfast skillet, or lunch leftovers!
Notes
All nutritional information are estimations and will vary. Estimations do not include optional ingredients.
Nutrition
Serving Size: 1 serving
Calories: 278
Fat: 8.8g
Carbohydrates: 22.8g
Fiber: 5.7g
Protein: 27.7g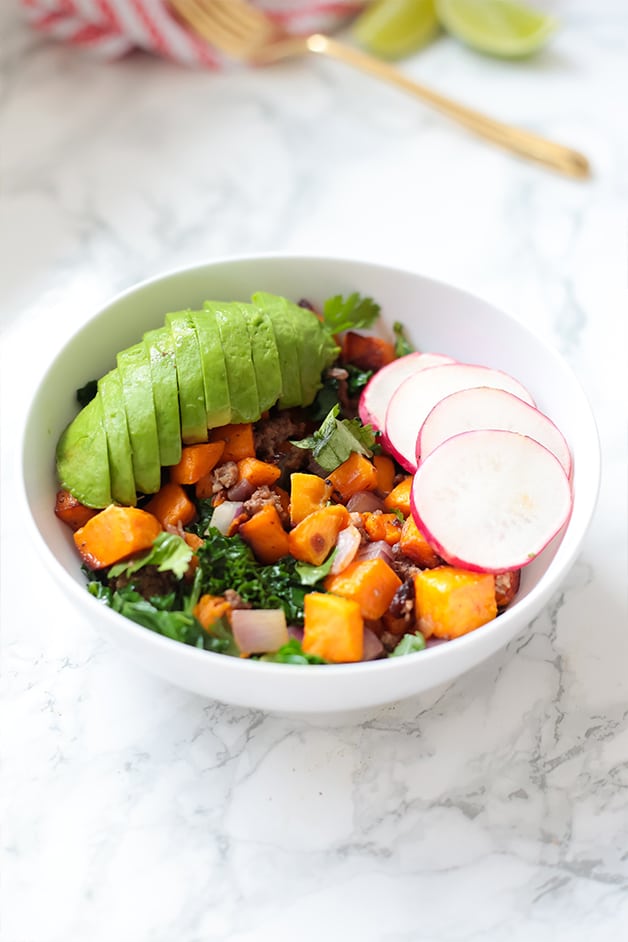 This taco skillet is so perfect for serving as a nourishing breakfast and saving later for leftovers! Perfect for putting in a bowl for taco Tuesday lunch or dinner 🙂
I hope you like this tasty taco skillet! Be sure to tag me on Instagram or share a photo on Pinterest if you try it!