Carrot Apple & Bacon Breakfast Hash (Whole 30, Paleo, AIP)
Back in the day, if I wasn't eating bagels or cereal for breakfast, I was eating some sort of hash brown. Shredded, diced, patties, whatever form it was in, it was all basically breakfast french fries to me. I would load up half my plate with these crispy little taters and smother them in ketchup! Not only was that a huge bomb to my blood sugar early in the morning, but little did I know, I was super intolerant to nightshades, including potatoes!
I can't tell you exactly when it started, but discovering my nightshade intolerance changed my life. I was less fatigued, my gut and hashimoto's stabilized, and I had less seemingly random pain and headaches. The issue was replacing potatoes. How would I ever replace this starchy little bit of heaven? Luckily, there are tons of options, and today I'm sharing one of my newfound favorites for a lower carb, nightshade free, and all real food breakfast hash… Carrot Apple Bacon Breakfast Hash! It's Whole 30 compliant, paleo, AIP, and oh so good.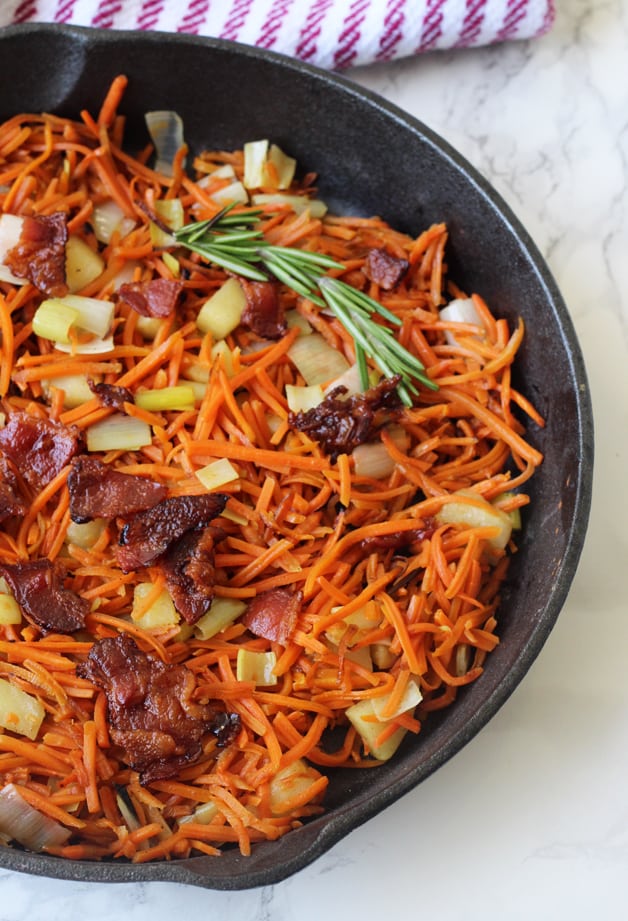 The Ingredients You'll Need for the Carrot, Apple & Bacon Breakfast Hash
Shredded Carrots
Carrots are our stand-in for potatoes in this recipe. They're lower in carbs than sweet potato which makes them a better option for those on low carb diets, and just a great way to mix it up for those of us who overdo it on the sweet potato! You can shred the carrots at home with a food processor, or buy them shredded.  
Apples
The apples add a touch of sweetness to this recipe which I love in a mostly savory hash. You can easily use any apples you have on hand, but I think it works particularly well with pink lady or granny smith apples.
Leeks
Leeks are easily one of my favorite vegetables! They add an onion flavor without being too overpowering. You can also use actual onions, or a leafy green like kale in this hash in place of leeks, but I think leeks are the best choice.
Bacon
What would a breakfast hash be without bacon?!  Bacon really rounds out this hash and makes it nice and savory, but you can easily sub out the bacon and use coconut oil for the cooking fat instead.
If you like this recipe, you may also like…
Print
Carrot Apple & Bacon Breakfast Hash (Whole 30, Paleo, AIP)
---
Scale
Ingredients
2 cup carrots, shredded
1 medium apple, diced
1 leek, sliced into half moons
4–5 slices of bacon, chopped
2 tsp sage
1 tsp rosemary + extra for garnish
1/2 tsp sea salt
---
Instructions
Using a large skillet or cast iron pan, add the chopped bacon on medium heat and cook until crispy. Set the bacon aside and leave the fat in the pan.
Pour in the carrots and cook for 3-4 minutes or until they begin to soften.
Add in the apple, leek, and seasoning and cook for 4-5 more minutes or until the ingredients are lightly crisped.
Add the bacon back in to reheat for 30-60 seconds.
Serve with eggs (if tolerated), sausage or enjoy by itself!
---
Notes
All nutritional information are estimations and will vary. Estimations do not include optional ingredients.
Nutrition
Serving Size: 1 serving
Calories: 182
Fat: 11.5g
Carbohydrates: 16.3g
Fiber: 3.6g
Protein: 4.6g
This hash is so easy, delicious and versatile. You can top it with a couple of eggs (if tolerated), serve it with some sausage, or just eat a big heaping helping by itself! It's become one of the favorites in my house, and I hope you love it too.