Jicama Breakfast Hash (Paleo, AIP, Whole 30)
I'm a serious potato girl at heart. I loved french fries, mashed potatoes, and hash browns growing up. Oh, hash browns! I've eaten so many potatoes in my life… that is up until I was about 20. That's when I started embarking on the journey to take control of my Hashimoto's by healing my gut and discovered my nightshade intolerance. I was devastated to learn that I had to avoid potatoes for a short time, and was even more devastated when I slowly began to realize that nightshades like potatoes, peppers, and red spices were my biggest food intolerance. Yes, I feel worse when I eat potatoes than I eat gluten. No lie.
So, what's a girl to do when she can't have potatoes anymore? Cry? Pout? For a while, maybe. But in the end, you have to pick up your potato loving self and find alternatives. Like sweet potato, parsnip, and one of my new favorites jicama! The main ingredient in my new jicama breakfast hash!
One of the main questions that I get as an AIP blogger (which means I'm egg and grain free) is "what do you have for breakfast if you can't have eggs or oatmeal? Well… anything! But in this case, Jicama Breakfast Hash, baby 😉  It's packed with veggies, healthy fats, and is totally Paleo, AIP, and Whole 30 compliant. Not a potato, egg, or grain in sight.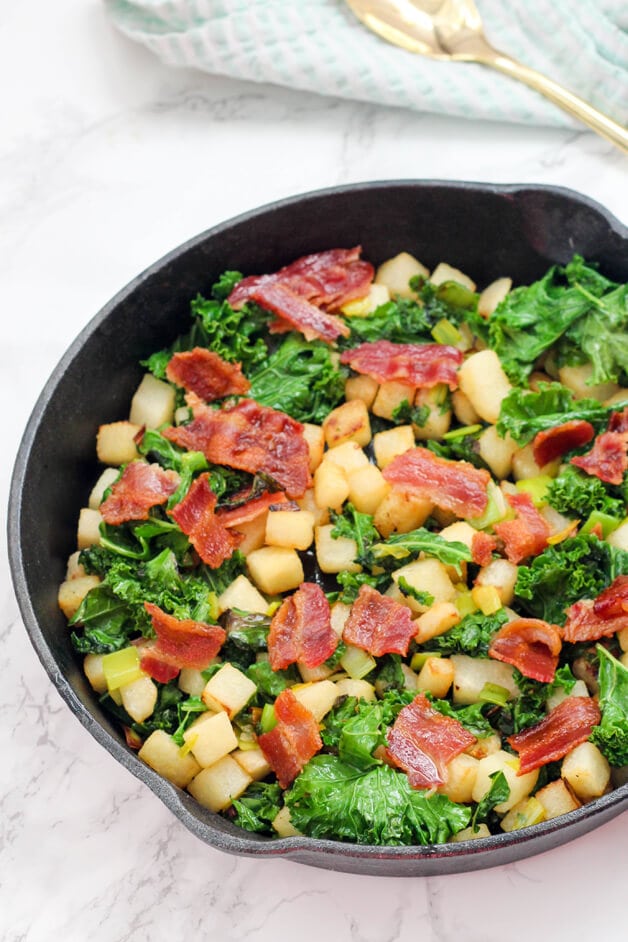 Why I love this Jicama Breakfast Hash…
Jicama is nightshade-free, and a prebiotic food
Unless you choose to add in any nightshade spices, this hash is totally AIP. Plus jicama is a prebiotic that helps feed our good gut bacteria.
It's full of veggies
Three different kinds of veggies at breakfast alone! Take that bowl of oatmeal.
It won't spike your blood sugar
Most American breakfasts are carb heavy and spike your blood sugar first thing in the morning. This hash is lower in carbohydrates to keep your blood sugar stable.
It tastes amazing!
So, so good!
The Ingredients in the Jicama Breakfast Hash
Jicama
Jicama is a tuber vegetable, and it's texture is similar to an apple, with a far less sweet flavor. It's crunchy, hydrating, and much less starchy than a potato. It's great for making fries, hash browns or even eating raw. Plus, it's an amazing prebiotic that feeds our good gut bacteria!
You can easily find jicama at health food stores, and I often find it at regular grocery stores as well. Stores like Whole Foods and Trader Joes sell it precut into fries, which is a great option for this recipe
Bacon
Bacon is what I used for this hash, but you can also use breakfast sausage, ground turkey, shredded chicken, etc. Whatever you have on hand works!
Kale and leeks
Two of my favorite ingredients for making breakfast hashes, and amazing nutrient-dense veggies to start the day with!
Salt, pepper, garlic and onion powder
Plain and simple seasonings! Omit the pepper for AIP.
Optional – Spices like cumin or red pepper (omit for AIP)
Personally, I can't have any nightshade spices, but I'm often told how delicious it is with jicama. So if you can tolerate it, go ahead and give it a try!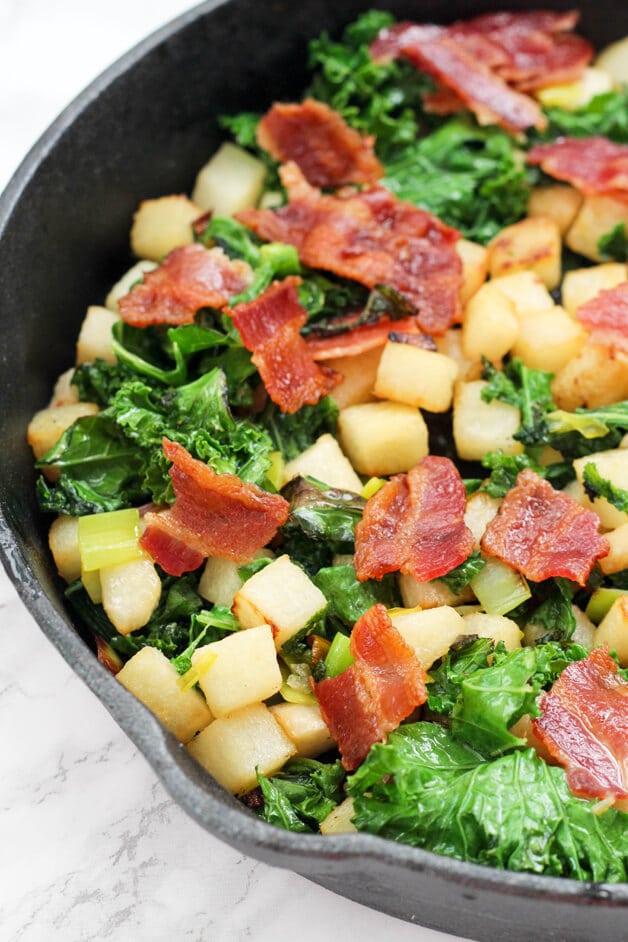 Print
Jicama Breakfast Hash (Paleo, AIP, Whole 30)
---
4–5 slices of bacon (use sugar free for Whole 30)
1 lb jicama, peeled and diced
1.5 cups kale, destemmed and chopped
1 large leek
1 tsp garlic powder
2 tsp onion powder
1/2 tsp salt
1/4 tsp pepper (omit for AIP)
Optional – 1/2 tsp cumin or red pepper (omit for AIP)
---
Instructions
Using a large cast iron skillet, cook the bacon on medium heat until crispy.
Set the bacon aside and remove some of the fat from the pan, leaving 1-2 tbsp to fry the jicama
Pour the jicama into the pan and fry for 5-6 minutes on medium heat, rotating often with a wooden spoon or spatula to avoid burning
While the jicama is cooking, prepare the kale and leek. Remove the greens and the root from the leek, slice the white stalk of the leek into half moons, and wash them thoroughly.
Add in the kale and leeks and season with salt, pepper, onion, and garlic powder. Cook for 2-3 minutes or until the greens are soft
Chop the bacon and add it back into the hash
Serve warm
Notes
All nutritional information are estimations and will vary. Estimations do not include optional ingredients.
Nutrition
Serving Size: 1 serving
Calories: 367
Fat: 22.7g
Carbohydrates: 31.3g
Fiber: 12.9g
Protein: 10.4g

When I first made this hash, I couldn't believe that I wasn't looking at actual potato hash browns! The jicama looks exactly like potato in this hash. The texture is crispy all the way through, different than a starchy potato, but it's a whole different kind of delicious.
This hash is awesome for breakfast, but I've also saved leftovers for lunch and dinner as well. Good food is good food! It doesn't matter what time of day you eat it.
I hope you love this hash! Be sure to tag me on Instagram if you try it out.