Duck Fat Parsnip Fries (AIP, Nightshade Free, Paleo)
I have a thing for parsnips. I didn't always, though. I was a hardcore white potato lover through and through for quite sometime until I realized that nightshades were anything but my friend. With nightshade intolerance being common among those with Hashimoto's thyroid disease and long-term gut issues, the internet gave me my answer for what to replace white potatoes with for potato fries… parsnip fries! And with my recent discovery of the wonders of duck fat, my duck fat parsnip fries are my new favorites for an AIP, nightshade free fry option.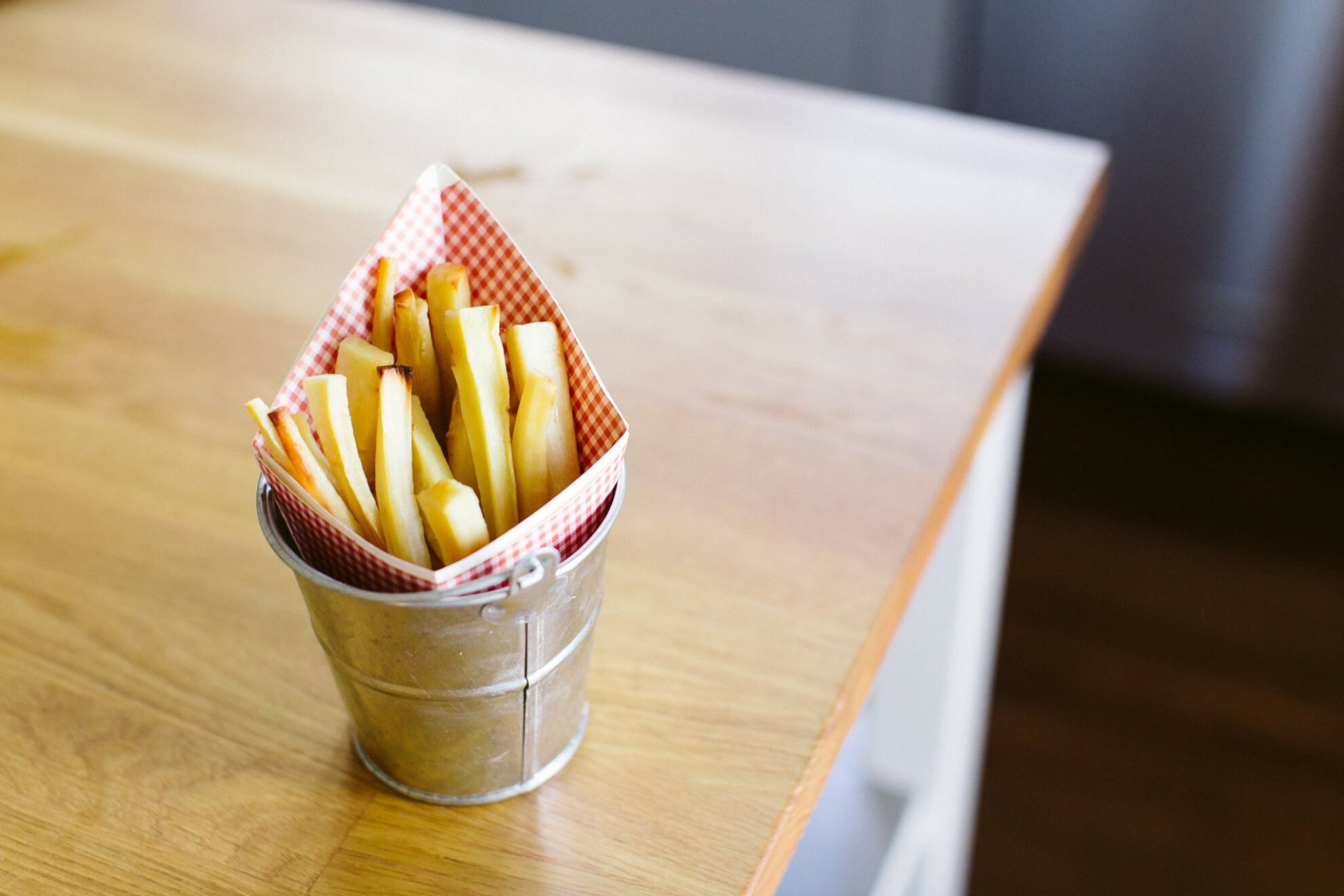 So, why duck fat? I've heard of duck fat fries for years and though of them as a terribly unhealthy option. However, I had no idea that they were a much better option than your average fry which is deep fried in some sort of unhealthy oil. Seed oils like canola oil, vegetable oil and soybean oil found in all friers very unstable at high heat, and highly inflammatory. Frying in "oil" is seen as bad, but really, it's what kind of oil you're frying in. Seed oils are a highly processed, manmade food, where as duck fat from a good source is stable at high heat, and rich in healthy fats to help nourish our cell membrane and brain.
Not only is duck fat a better option health wise, but the flavor it adds is just incredible. It's rich, without adding any sort of "weird" flavor. There's a reason that you find duck fat fries on high priced menus!
Duck fat fries don't have to be reserved for pricey occasions out though. The popular brand, EPIC sells duck fat and it's amazing! It also doubles as a great oil fat for cooking vegetables.
If I still haven't sold you on duck fat, I also have a recipe for herbed parsnip fries cooked in avocado oil… but let's get onto to the Duck Fat Parsnip Fries!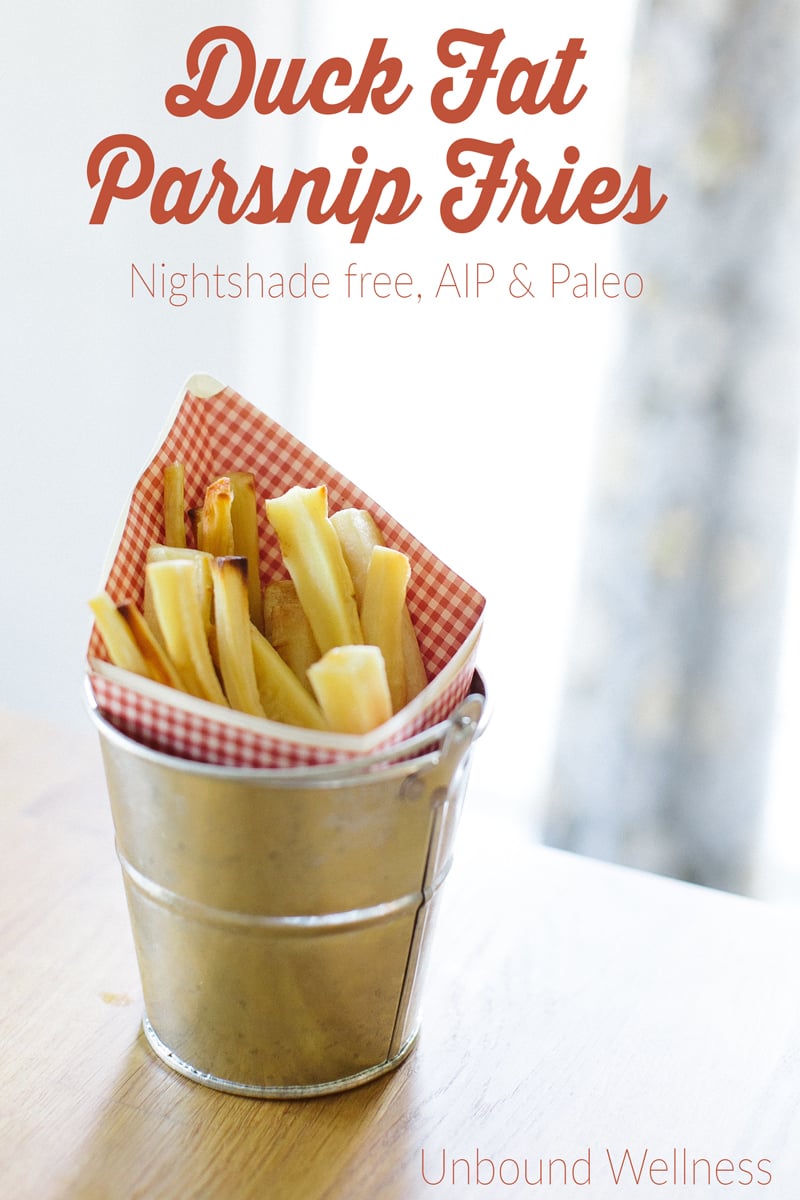 Print
Duck Fat Parsnip Fries (AIP, Nightshade Free, Paleo)
---
Total Time: 40
Yield: 2 servings 1x
2 large Parsnips
2 tbsp duck fat
1 tsp sea salt
---
Instructions
Preheat the oven to 400 F and line a baking sheet with parchment paper
Prep the parsnips by peeling, chopping off the ends, and slicing into thick fries.
Place the parsnip fries onto the baking sheet and evenly coat the fries in the duck fat and top with sea salt, mixing to coat and combine.
Bake in the oven for 35 minutes (rotating half way through) or until fries are soft and slightly crisped to your liking.
Add extra salt to taste any enjoy!
Prep Time: 5
Cook Time: 35
Category: Sides
Method: Baked
Cuisine: American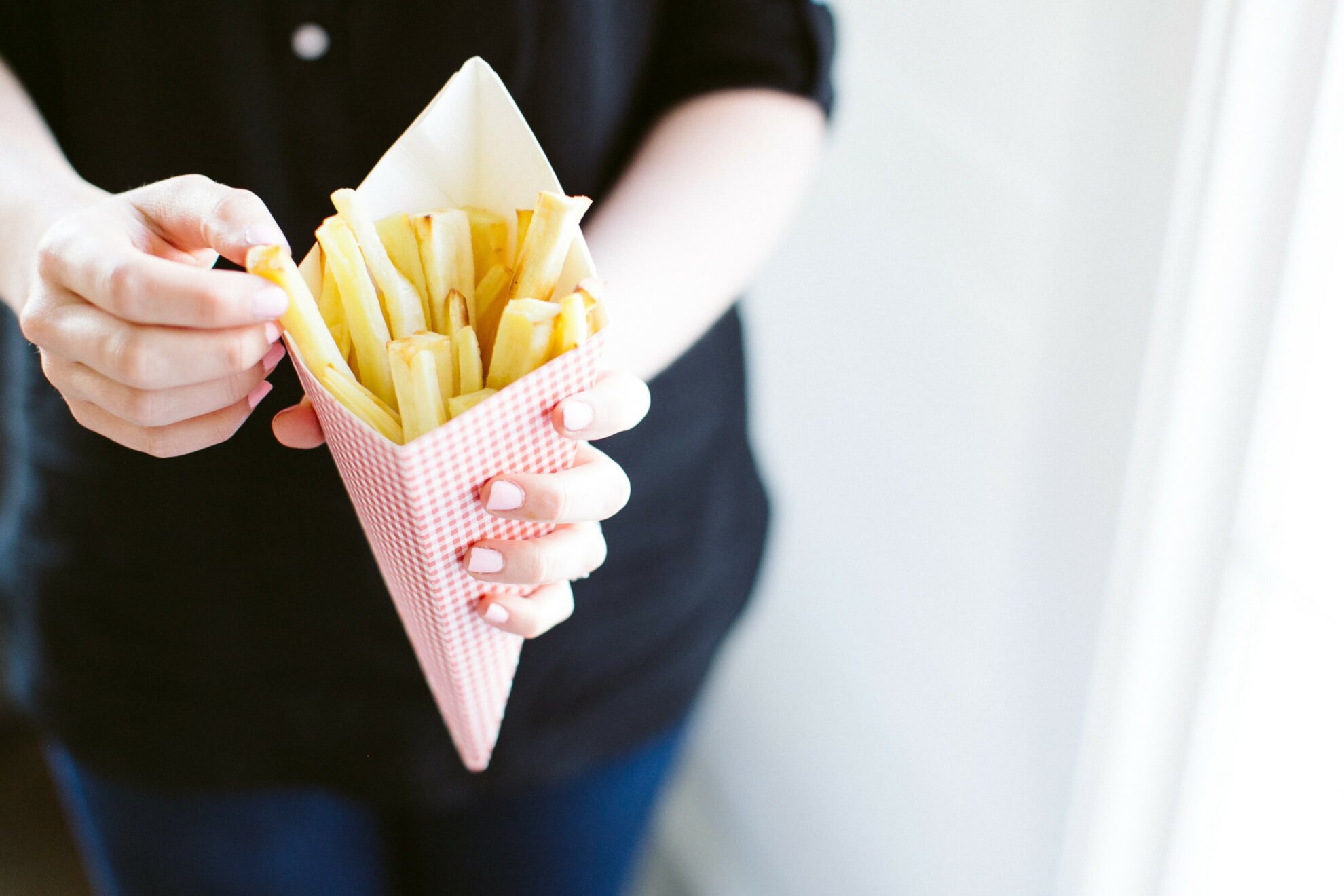 Have your tried duck fat parsnip fries yet? 
P.s. If not, what are you waiting for?