AIP Avocado "Potato" Salad
Few things say summer like a backyard BBQ, and one is never complete without a cool, rich potato salad. Back in my potato days, I was more of a potato chip gal, than potato salad. But seriously, if something is both creamy, and starchy, sign me up. After figuring out my nightshade intolerance, and realizing what a huge difference it made with my Hashimoto's, I've gone years without having a potato salad. This summer, I've decided that wasn't going to happen anymore and created an AIP Avocado "Potato" Salad.
So, why no Potatoes?
Potatoes seem fairly harmless. They don't come anywhere close to the list of top 10 most common allergens, and they are a real food. So, what gives? Potatoes are a member of the nightshade family which all contain a compound called solanine which can be highly inflammatory to many people. Common symptoms and risk factors associated with nightshade intolerance include:
Joint pain
Joint inflammation
Autoimmune disease (like RA, hashimoto's disease and more)
Prolonged food allergies
Migraines
So, what are nightshade vegetables? Nightshades include:
Potatoes
Tomatoes
Eggplant
Bell Peppers
All peppers and red spices
Goji berries
Ashwaganda
Nightshades are avoided on the autoimmune protocol, and have been out of my diet for years. Truthfully, eliminating nightshades has been one of the things that I've done that has had the biggest impact on my health. Breaking my french fry addiction wasn't easy, but there are indeed alternatives!
Why I love Parsnips
When it comes to sweet potato substitutions, I'm as much of a sweet potato fan as the next. Even though sweet potato seemed like a fine option for a nightshade free/AIP potato salad, I decided to go with parsnip instead.
Not only do parsnips make amazing fries (I have recipes for both avocado oil parsnip fries, and duck fat fries), but I feel like both the flavor and the consistency of parsnip is much closer to that of an actual potato than a sweet potato. Parsnips just aren't that mainstream yet for some reason though. I swear, I've explained what the heck the "white carrots" are to every cashier in a 6 mile radius, and once had an especially long teaching with highschooler asking if they were Bok-Choy. I've even gone as far as to memorize the code at Sprouts as to make the parsnip process easier. So, I guess you can say I'm #teamparsnips and take them pretty seriously. So, I guess this is more of a parsnip salad, but shh, don't tell and your guests likely won't even notice.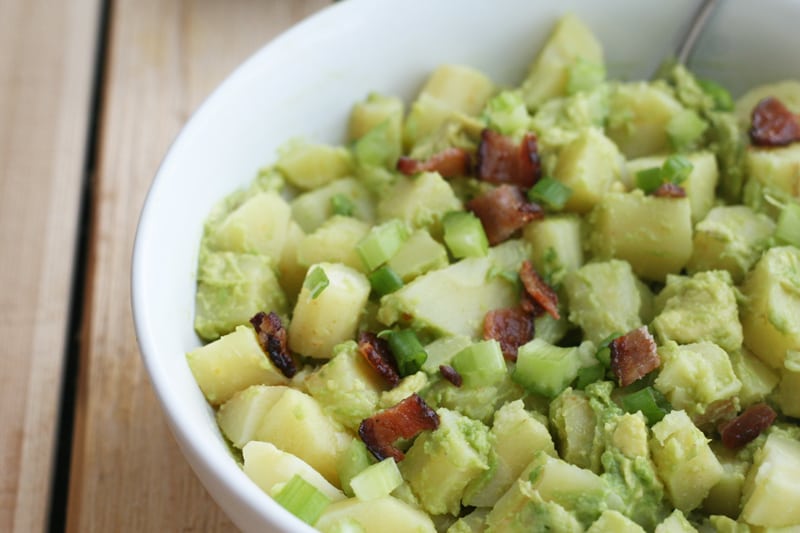 I also added bacon to this potato salad, because who doesn't love bacon? It gives the potato salad a savory flavor and that much more crunch. I would add bacon to just about everything if I could… avocado too, really.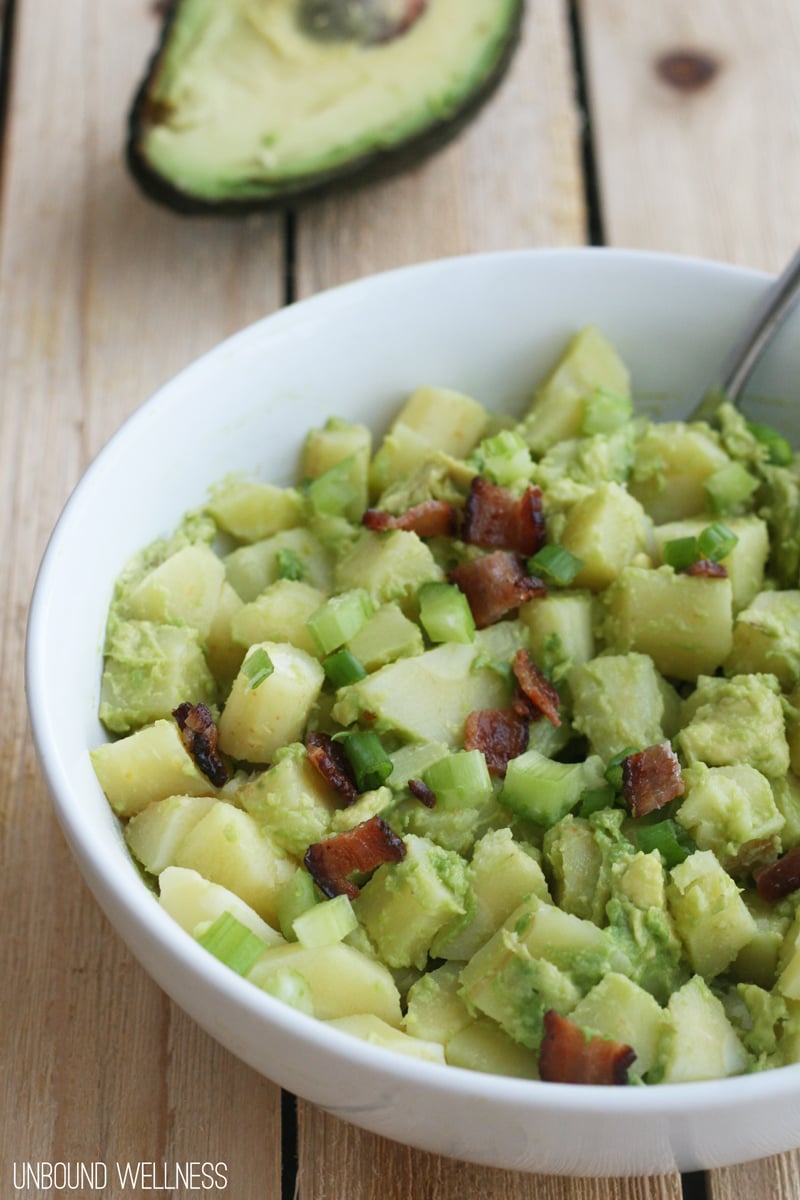 AIP Avocado "Potato" Salad
INGREDIENTS
1 and a half lb of parsnip, peeled
3-4 strips of crispy bacon, chopped
1 large stalk of celery, chopped
1/2 large avocado (or 1 small avocado)
1 tbsp green onion, chopped
1 tsp apple cider vinegar
1/2 tsp sea salt
INSTRUCTIONS
Set a medium pot of water on med/high heat and bring to a low, rolling boil. Add the parsnips and boil for 10 minutes, or until fork tender. Strain and set aside to cool.
In a separate bowl, add the avocado and ACV and mash until well combined.
Add the parsnip to the avocado mixture along with the remaining ingredients and stir until well combined.
Cover with plastic wrap or place in a glass tupperware and chill in the fridge for at least 2-3 hours.
Serve cold and enjoy.