Grain Free Cauliflower "Oatmeal" (Paleo, AIP)
Oatmeal used to be one of my staple foods in my teens, and in college. I would eat it at breakfast, lunch and dinner, and would go crazy with toppings! Peanut butter, chocolate chips, jam, blueberries, you name it. I was an oatmeal junkie through and through. When I first started transitioning to a grain free lifestyle to get my gut healed, I thought "well… all grains but oatmeal!". But, when I started to realize how much oatmeal really was setting me off, I had to call it quits and go for other breakfast options like my breakfast poppers, and carrot hash. However, that doesn't mean that oatmeal inspired dishes are out the window! This grain free cauliflower "oatmeal" is my answer to being able to enjoy oatmeal again for those of us who are grain free!
This cauliflower oatmeal has the look and consistency of oatmeal, but with far more nutrients than traditional oatmeal. Not only does it elevate the nutrient density of your breakfast with cauliflower, but it also has gut healing collagen, and is much lower in sugar than your average breakfasts.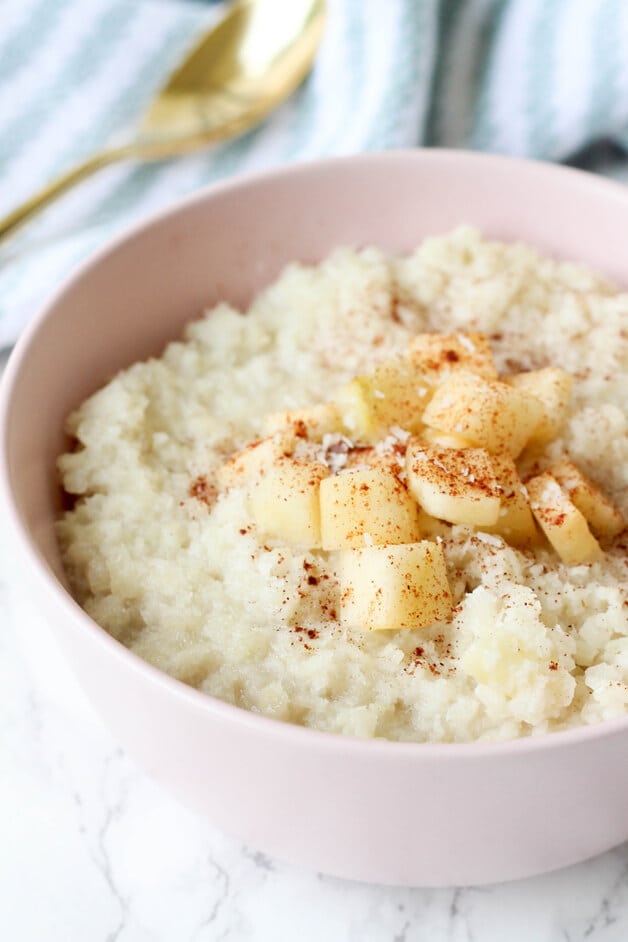 The Ingredients You Need
Riced Cauliflower
Cauliflower can be riced in your food processor, of you can by it already riced. I get mine from Whole Foods, and have gotten it at Trader Joes and Sprouts. It's a nice short cut!
Apple
Apple adds a touch of sweetness to the oatmeal!
Shredded coconut
This helps add more body to the oatmeal. I do not have a coconut free version of this particular recipe. 
Coconut milk and coconut oil
This is for liquid, and extra healthy fats.
Collagen Peptides
This adds more gut-healing nutrients, and protein. I use Vital Proteins, but you can use Great Lakes as well.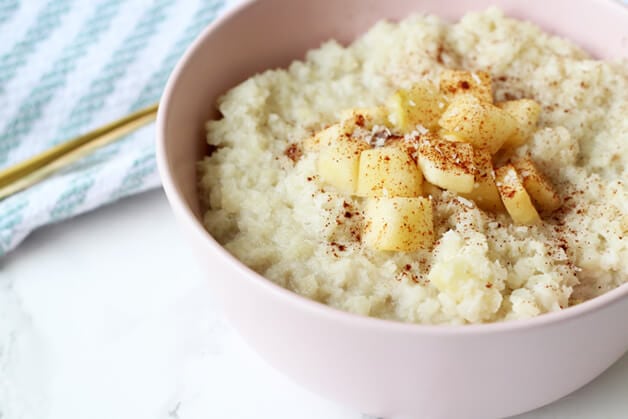 Print
Grain Free Cauliflower "Oatmeal" (Paleo, AIP, Whole30)
---
1.5 cups cauliflower, riced
1/2 cup shredded coconut flakes
1/2 cup apple, finely diced (plus extra for topping)
1 cup coconut milk
1 tbsp coconut oil
1 tsp cinnamon
4 tbsp collagen powder
---
Instructions
In a medium sized pot, melt the coconut oil on medium- low heat
Add the ingredients (reserving the collagen) to the pot, and stir well to combine
Allow to simmer on medium-low heat for 10-12 minutes, stirring every few minutes
Stir in the collagen and top with extra dried apples and cinnamon if desired
Serve warm, and enjoy!
Notes
All nutritional information are estimations and will vary. Estimations do not include optional ingredients.
Nutrition
Serving Size: 1 serving
Calories: 359
Fat: 34.4g
Carbohydrates: 15.5g
Fiber: 15.5g
Protein: 4.9g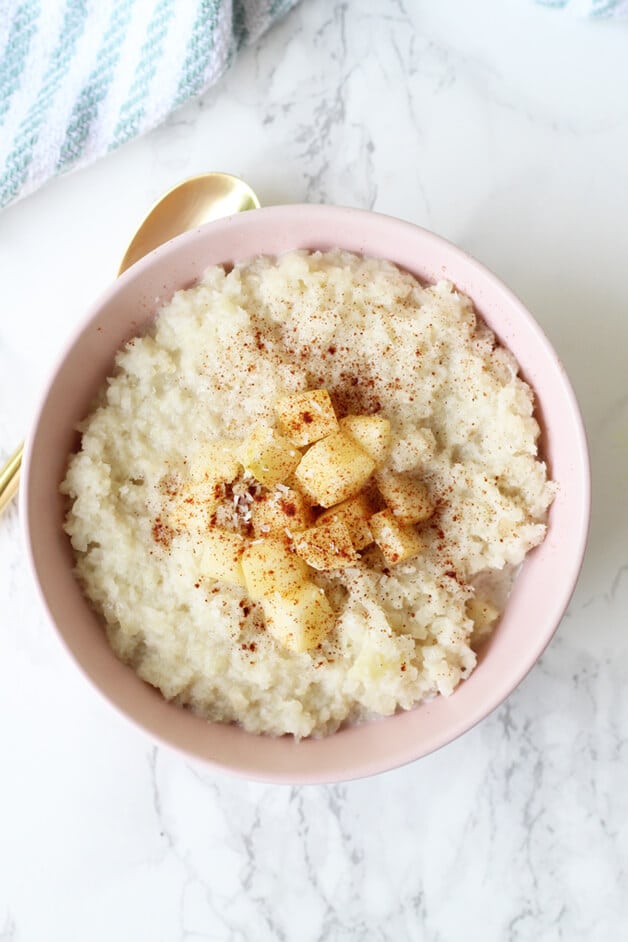 This cauliflower oatmeal is so nourishing and delicious, and looks exactly like the real thing!
It's been one of my new favorite breakfasts to make when I want a fast, and easy treat, but it's still filled with nutrient dense ingredients… the best of both worlds 😉
I hope you love this preview recipe from the program as much as I do! Enjoy!